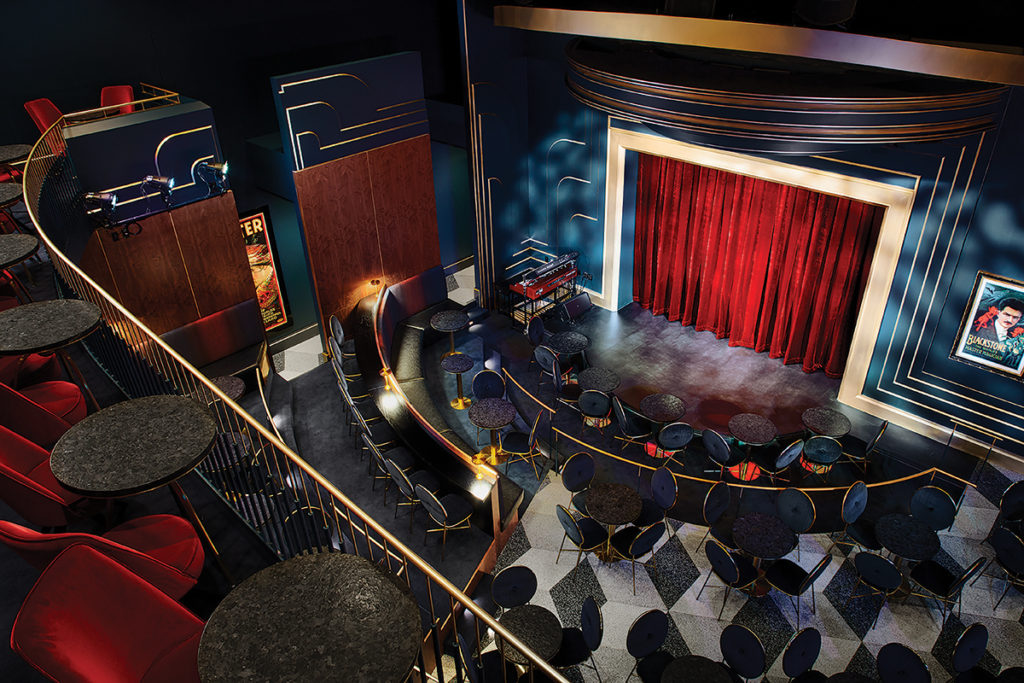 The Chicago Magic Lounge building, located in Chicago's Andersonville neighborhood at 5050 N. Clark Street, is easily overlooked by the uninitiated. Its unremarkable brick exterior sports no signage except for a plain white rectangle with an open circle in the center.
Old magic show flyers peeling from the brickwork cover the doorway. The door opens into a 77-sq.-ft. laundry room lined with what appears to be working washers and dryers. Then a secret door swings open. Guests step into a richly appointed space, called David's Bar, and the adjacent Magician's Library, with its two chairs and a flickering fireplace. Their guide for the evening welcomes everyone to the Lounge. When he selects a particular book from the shelf, another secret entrance reveals itself, granting access to the heart of the building. The inner sanctum includes the 118-seat Harry Blackstone Cabaret, the 43-seat 654 Club, plus a full kitchen and a service bar with a walk-in beer cooler and storage.
"Everything in this 7,200-sq.-ft. building is original to us, from the plumbing, AC, gas lines, grease traps, walls, and even our second fl oor," says co-owner and visionary for the project Joey Cranford, an actor, director and marketer who is now well-versed in building construction and kitchen and bar equipment. The theater reinvents the "magic bar" of Chicago's past. Shows include magic performances at the bar, table-side and on stage, showcasing the talents of about 40 local professionals and touring acts.
Four months into operations, the new venture is going gangbusters. "On Fridays and Saturdays, our two bars pour a combined 600 drinks per night, and the kitchen cranks out about 180 food orders," Cranford says. "With each show, once everyone is seated, it's instant rush. The kitchen and bar light up at once."
Sleight Of Plan
Planning for the Chicago Magic Lounge building began in 2016. Cranford and co-owner Donald Clark, Jr., a Chicago businessman and entertainment producer, tapped theater designers David Burns and John Morris, Morris Architects Planners (the design firm behind Chicago's well-known Steppenwolf and Lookingglass theaters) for the overall vision and layout. Lo Destro Construction, led by Nick Santarelli, handled general contracting. Alpha Design worked on the kitchen and bar drawings. In June '17, workers began gutting the interior of a 1940s commercial laundry facility for its eventual "presto, change-o" into theater. Eight fast and furious months later, the Chicago Magic Lounge opened for business.
Tight construction schedules required crews install core foodservice elements—plumbing, ventilation—early in the process, before the team finalized the kitchen design. And for someone new to foodservice, like Cranford, some of the elements contained surprises.
Case in point: the grease trap. "On the day of its installation, contractors dug a giant hole in the ground," Cranford recalls. "When the unit was delivered, it stood as much as 6-ft. tall, the size of one of our two-door reach-ins. Everyone was freaked out by the size. Our plumbers had never seen one that big and wondered what on earth we would be cooking. At that point we said, 'we don't actually know yet.' Our architect reassured me that this mammoth was indeed what code required, and so it was installed."
Cocktails & Card Tricks
Getting the space right, for performers, bartenders, and cook staff, was a priority for Cranford and his team.
"A bar consultant early on told us we were wasting money on our bar, that we could do the same thing for far less," Cranford recalls. "I told him, 'I'm sure you're right. But this is an investment, and we want the best for our team.
"If we're going to ask our bartenders to make the very best cocktails, we need to give them the best tools," Cranford adds.
For Chicago Magic Lounge bartenders, the real magic can be found in the Tobin Ellis Cocktail Station by Perlick. "It's the Rolls-Royce of bars," Cranford says. "You can reach everything with only one or two steps. Bartenders dream about this system."
Highlights of the high-volume cockpit include two low-temperature refrigerated drawers, an insulated bottle well, a three-compartment ice bin to hold various types of ice, a rounded, concave speed rail so bartenders can stand closer to their work counter and guests and a prep sink fitted with a glass rinser, tool caddy and foot-operated faucets.
During the tour, Cranford introduces house magician Al James, who's worked in Chicago bars for more than 40 years (many spent at Schulien's), performing card tricks for customers at a green baize semi-circle at the center of the bar. "In the old days, magicians stood on milk crates and leaned over the ice bins," Cranford says. "But here, we put in a cutout area with casino-grade felt and padding, plus a built-in step for the performer to stand on."
Well-Appointed Kitchen
The foodservice elements morphed in size and location during the build-out.
"We had an idea of what food we'd be serving, but it wasn't final," Cranford says. "Initially the kitchen was going to be the size of a large walk-in. But in the end, we opted for a larger space at the back of the building." The result: an extremely well-equipped kitchen and dishroom covering 480 sq. ft. of space, plus a 105-sq.-ft. pantry.
The menu, however, puts little demand on the kitchen. "The Cabaret's 26-in. tables, the compressed serving time frame (one hour before the show), and the fact that magicians doing table-side card tricks prefer customers with clean fingers, led to an 11-item small-plates menu. The kitchen is large enough for our current and future menu needs," Cranford says.
The kitchen includes a hotline, prep area, warewashing and cold storage. The hotline comes equipped with self-filtering, self-timing Pitco fryers and dump station, a four-burner range, double-deck countertop pizza oven and a salamander. Reach-in refrigerators and freezers keep cold items at proper temperatures. A pair of double-door reach-in refrigerators keeps cold items; a reach-in freezer stores extra ice as well as frozen ingredients.
The dishroom features a full-sized three-compartment sink, and Cranford's pride and joy: a ventless, self-locking Jackson door-style dishwasher. "I visited other dishrooms and saw steam was just pouring out from the top [of the warewasher]," Cranford says. "But this one captures all the steam, then cools and condenses it before the locking mechanism releases."
Because of the dishroom's position below the building's main ventilation intake air duct, a typical vented dishwasher would have been physically impossible to install. The ventless model, relatively rare in the area, required some intense education of local health inspectors before it passed inspection to go in without a Type II hood.
Looking at what's coming up, Cranford expects the kitchen will see plenty of use for private events that come with their own chef or caterer. "We didn't know where we were going, but we wanted to be prepared," he says.
Expect The Unexpected
Early on, unexpectedly high bar service volumes led to an ice shortage crisis. "On opening weekend, we ran out of ice," Cranford says. "Nick, my kitchen manager, told me the ice machine was broken. We called our dealer rep for help, and he rushed over with 500 lb. of ice to get us through the evening. But then, the same thing happened the next day. When our rep inspected the machine on Monday, he found it working perfectly."
Kitchen consultants had figured a 500-lb. ice machine would produce sufficient ice for daily use. But they had not expected such booming bar business, nor had they realized two menu items would be served on beds of shaved ice.
The kitchen floorplan included a specific slot for the specified ice machine. A wider unit would have required removing a newly built wall and disrupting kitchen flow. Luckily for the new business, the dealer could swap in a Hoshizaki 1,200-lb.-capacity ice machine, paired with a 700-lb. Follett ice bin. "The ice machine problem consumed two weeks of my life," Cranford says. "It's always the thing you don't think about that trips you up."
Parlor Tricks
The design team's attention to detail shows throughout the Chicago Magic Lounge—but only by those paying attention—in elements such as flooring, bathrooms and décor.
Flooring becomes increasingly fancy after each secret door. In the laundry room, the flooring is nondescript black and white linoleum tiles. The area by David's Bar and the Library features a terrazzo floor done in a 3D cube pattern, with each color offset by black dividing lines. And in the heart of the building, the terrazzo floor's "cube" pattern continues—but now is offset by gold dividing lines.
Restrooms get equal attention. Their lighting levels tie in with the performance lights. "When lights dim in the theater, they'll dim in the restrooms too," Cranford says. The men's room met an ADA space requirement by using a heavy curtain instead of a partition to separate sink from urinal. The women's room toilets feature lighted bowls—and heated seats (at the request of Cranford's wife, who hates cold restrooms).
And throughout, the Chicago Magic Lounge serves as a love letter to the art of close-up prestidigitation. Authentic posters of famous magic acts, menus and signage from Chicago magic bars, and playing-card wallpapers fill the space. Everywhere you look, there's something to delight the eye.

SPECS
MENU/SEGMENT: Small plates/bar
HEADQUARTERS: Chicago
FOUNDED: 2018
NUMBER OF UNITS: 1
SIZE: 7,200 sq. ft.
SEATING: 161 seats (including 118 in Harry Blackstone Cabaret, 43 in 654 Club)
KITCHEN CONSULTANT/DESIGN: Alpha Design, Arlington Heights, Ill.
ARCHITECT: David Burns, John Morris, Morris Architects Planners, Chicago
CONSTRUCTION: Nick Santarelli, Lo Destro Construction Co., Chicago
INTERIOR DESIGN: Ami Kahalekulu, Twofold Studio, Chicago
WEB: ChicagoMagicLounge.com
Equipment
Bar & Service Bar
Perlick Tobin Ellis Cocktail Stations, glass racks, glass washer, ice bin w/sink combo units, hand sinks, beer towers, remote beer system, trash receptacle, back bar coolers, 3-comp. sink, back cabinets
Imperial walk-in cooler, remote refrigeration
Supplier provided coffee makers, bag-n-box system, soda guns
Cooking & Prep
Eagle Group cook's counter w/hot food wells, sink, overshelf
Arctic Air raised rail refrig.
Hatco heat lamp
Sharp microwave oven
CaptiveAire hood
Pitco/Middleby fryers
Royal griddle top range oven, 4-burner range/convection oven, salamander
Blodgett/Middleby countertop pizza oven
Zeny ice shaver machine
Warewashing & Storage
Stor-Tec shelving, dunnage rack
Cambro dunnage rack
Arctic Air reach-in freezer, reach-in refrig.
Eagle janitor cabinet, hand sink, 3-comp. sink, shelving, soiled dishtable
Jackson dishmachine
T&S hose reel
InSinkErator disposer
Hoshizaki ice machine
Follett/Middleby ice bin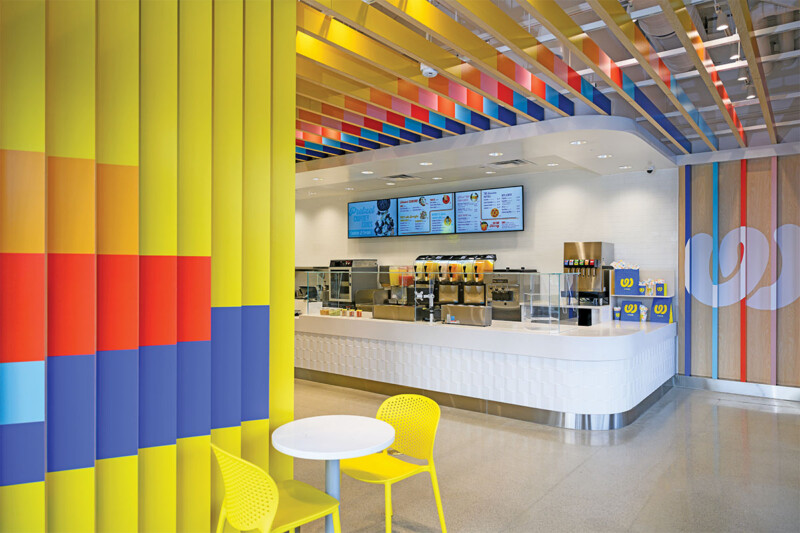 Kitchen Design
Wetzel's Pretzels, the multiunit bakery of shopping mall fame, now offers its soft pretzels and more at street-side through its latest concept.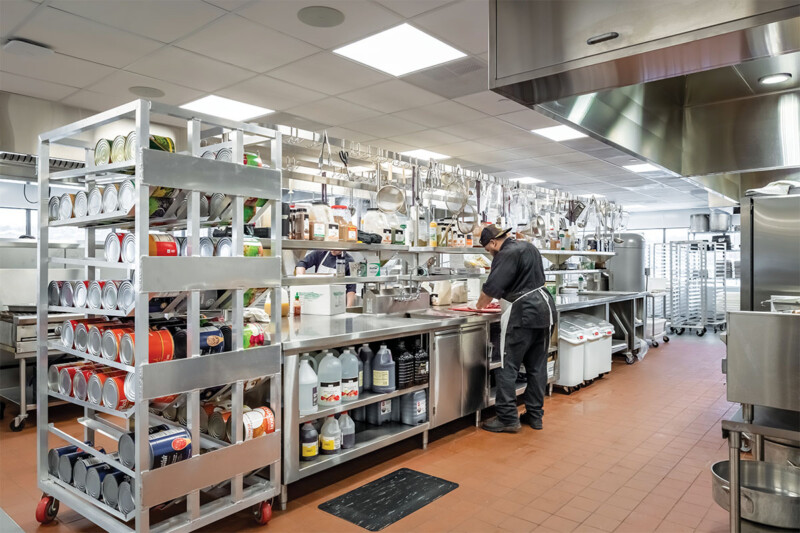 Kitchen Design
Open Arms of Minnesota—a volunteer-powered, nonprofit organization that provides meals to critically ill Minnesotans—needed more room.