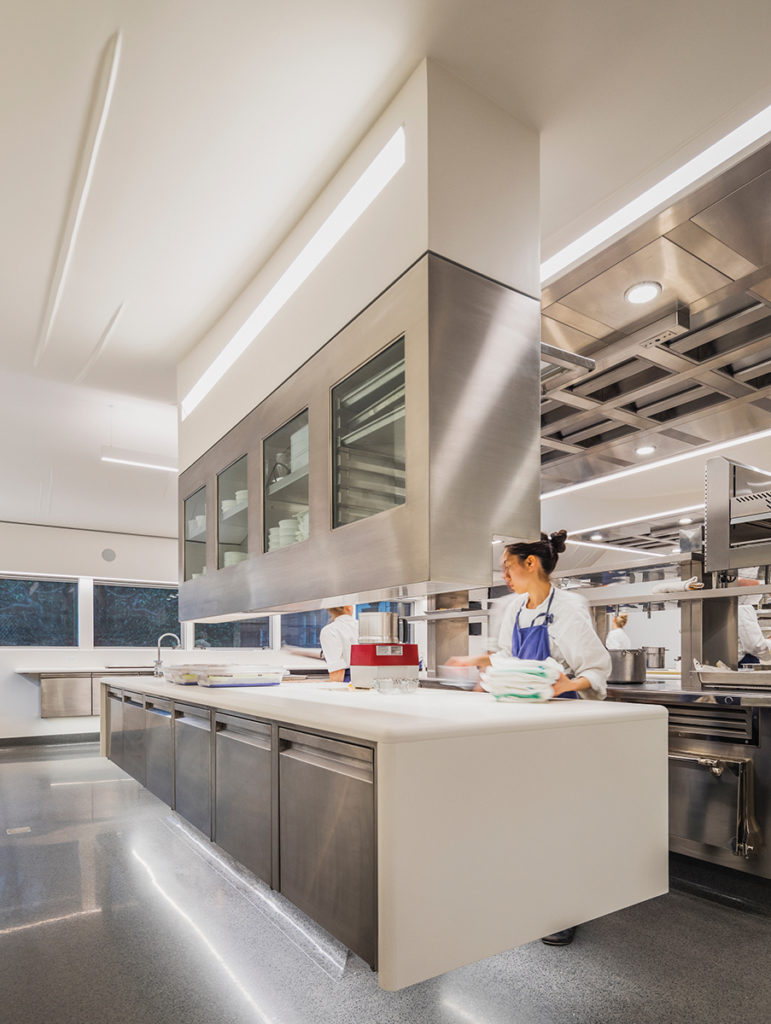 In Yountville, Calif., Chef Thomas Keller's award-winning, Michelin-starred The French Laundry restaurant has leapt into its next 20 years of operation with a re-invention/ renovation that spanned four years and cost some $10 million. The resulting project preserved the original, historic stone building and its 62-seat dining room. Everything else was rethought, razed to the ground, expanded and rebuilt.
The French Laundry's new 1,980-sq.-ft. kitchen, re-opened in early 2017, is 25% larger than its predecessor and many times more contemporary. State-of-the-art equipment, immaculate white walls and countertops, and terrazzo flooring practically glisten in the light-filled space, topped by a show-stopping curved ceiling and skylight. A ribbon window connects cooks with the surrounding gardens, while giving guests a peek into the kitchen's inner workings.
A short walk-way connects the kitchen to the Annex, home to The French Laundry's support functions: prep kitchen, butchery, produce breakdown and offices. In its (above ground) wine cellar, the Annex has space to store up to 16,000 bottles.
Architecture firm Snøhetta helped bring to life Keller's vision to marry the classic with the contemporary. (The Louvre Art Museum, Paris, with its iconic glass pyramid entrance created by I.M. Pei, was a key inspiration.) Envelope A+D, Berkeley, Calif., served as executive architect. Tim Harrison, Principal at Harrison, Koellner LLC, Mill Valley, Calif., provided kitchen details, including layout and equipment specifications.
Keller's new kitchen combines aesthetics with efficiency. Some of its lesser-known attributes include its ventilation, construction and cold storage.
White-On-White Kitchen
Designing the kitchen details and layout took much of two years of back-and-forth, and "about 18 iterations before we reached a plan that addressed all of Keller's needs," recalls Harrison, who has worked with the chef for more than two decades on various restaurant projects. An open floorplan provides a single, flowing work area for the entire culinary team. Low walls allow visual connections between stations.
Anchoring the work space are two Bonnet island suites, one for pastry, the other for savory items. "The pastry suite is all electric and induction, while the other has the standard solid tops, planchas, ranges and ovens," Harrison says. The French cooking suites were chosen, he says, for their simplicity and durability. "Keller wanted equipment that would last 20 more years," Harrison notes.
New to The French Laundry are a wood-burning hearth, rotisserie and cheese humidor. ("The solidfuel hearth, which can burn wood or charcoal, is small by comparison to other places," says Harrison.) Designers expanded areas for butchery, prep and dessert.
Ceilings, Swooping & Ventilated
Unique to The French Laundry, and visible through kitchen windows to guests strolling in the garden, are custom-made organically-shaped ceilings. Made of curved gypsum, fiber-reinforced panels by Kreysler & Associates, American Canyon, Calif., their daring curves are meant to evoke an unfurling linen cloth. They also hide ductwork along with electric and constructional elements. The ceiling soars to about 20 ft. at its highest point. At the top, skylights allow natural light to pour into the space. As a bonus, built-in sound baffles help dampen ambient noise.
A different overhead solution was required when it came to ventilating the kitchen's two cooking suites, however. "A traditional hood would have been 7 ft. above the floor— really low compared to the other half of the kitchen with its 20-ft.-high peak," Harrison says. He reached out to Halton, which had pioneered ventilated ceilings in Canada and at a few U.S. culinary schools. "Halton sent a team to California to meet with (and educate) local health inspectors and engineers. In the end, we prevailed."
The resulting ventilated ceiling is 9 ft. above the floor, continues the kitchen's open, airy feel, and ensures direct sightlines between work stations. The ventilated ceilings include sensors that monitor heat levels and adjust air flow accordingly. Even the Ansul fire suppression nozzles, which typically hang down from hood canopies, are hidden. "All the fire-suppression nozzles sit below the cooking suites' overshelves, aimed at the cooking surfaces," Harrison says.
Below The 'Floating' Work Stations
One hallmark of Keller's kitchen is how equipment and counters appear to float above the floor thanks to installation on high concrete curbs rather than wheeled casters. In addition to aesthetics, the design choice also makes cleaning and maintenance much easier.
"At The French Laundry, everything sits on 14-in.-high concrete curbs, more than double the usual 6-in.-high curbs or casters," Harrison says. "In addition, Keller also asked that the curbs be set back enough from the front to be hidden."
The request meant curbs had to be both tall and narrow, yet still strong enough to support counters and equipment, and still wide enough for the various pipes, drains and utility lines to be laid as needed.
The solution lay in steel framing. Installers built curb forms using ¼-in.-thick stainless. "Then piping, chases, and so on, were added. Finally, crews poured concrete," Harrison says. Craftsmen then welded counters to the frames. A terrazzo finish on the curbs blends them seamlessly with the flooring. And voila, floating counters.
Roomy Reach-Ins, CPU Controlled
The French Laundry has long relied on custom-built reach-in refrigerators and freezers rather than walk-ins. "We worked with a refrigerator supplier to create 102- in.-tall, single- and double-door units with custom-built shelving," Harrison says. (And, in keeping with Keller's white kitchen aesthetics, the units all have white exteriors.) "Our goals are to isolate product to prevent cross-contamination; and to use every inch—in a walk-in, by contrast, you lose all the aisle space," Harrison says. Dedicated reach-ins include one for produce, for dairy, for meat, for fish. Employees store pre-prepped product in clear, Lexan bins. "Nothing is combined, everything is organized," Harrison says.
The modern update to The French Laundry cold storage adds CPU connectivity. "If a temperature variance is detected, or a defrost cycle fails to run, managers will get a notice on their phones," Harrison explains. "The refrigerator installers also get notified. That way they can give repair support from afar, saving on service calls."
Green Aspects
Guests strolling the grounds would never notice one of the restaurant's coolest (literally) aspects. A geothermal ground-loop system and solar panels help offset heating and cooling costs. The geothermal system uses a series of deep holes and coolant running through pipes to carry the naturally cool underground temperatures to the restaurant's remote refrigeration systems. While not new to Keller's restaurant, the system was expanded considerably from its former scope. "Keller is always looking for energy-saving options," notes Harrison. On the Annex roof, solar panels by NRG Energy, Houston, provides up to half the electricity demand.
The project touched on nearly every aspect of the property. "By designing and constructing a new kitchen, arrival courtyard and auxiliary building that will complement… the historic value of our beautiful French Laundry," Keller was quoted, "we've cleaned the slate, begun anew and readied ourselves for the next 20 years."
SPECS
MENU/SEGMENT: French Fine Dining
HEADQUARTERS: Yountville, Calif.
FOUNDED: 1994
SIZE: Kitchen, 1,980 sq. ft.; Annex, 2,450 sq. ft.
SEATING: 62 seats
DESIGN & LANDSCAPE ARCHITECT: Craig Dykers, Founding Partner; Snøhetta, New York
EXECUTIVE ARCHITECT: Envelope Architecture + Design, Berkeley, Calif.
FOODSERVICE CONSULTANT: Tim Harrison, Principal; Harrison, Koellner LLC, Mill Valley, Calif.
INTERIOR DESIGN: Kallos Turin, San Francisco
GEOTECHNICAL ENGINEER: RGH Consultants, Napa, Calif.
SOLAR PANELS: NRG Energy, Houston
LIGHTING CONSULTANT: George Sexton Associates, Washington, D.C.
CONSTRUCTION: Wright Contracting, Napa, Calif.
WEB: frenchlaundry.com
EQUIPMENT
Kitchen
Berner air curtain
Sodir/Equipex finishing salamanders
(by fabricator) fish sous chef counter
(by fabricator) undercounter refrigs., freezers
Bonnet cooking suite (w/heated sauce niche, heated plate cabinet, solid tops, static oven pass-thru, plancha, range, overshelf system), pastry/garde manger cooking suite (w/ambient plate cabinet, induction plates, static oven pass-thru, static oven, induction generator cabinet, technical cabinets)
Halton hoods for cooking suites, wall oven, stone hearth oven, pastry/garde manger suite & prep cook line
Everpure water purification system
RATIONAL combi oven
Electrolux faucet
Rotisol infrared rotisserie
KitchenAid 5-qt. mixers
PacoJet batch freezer
Traulsen/ITW FEG reach-in freezer, refrigs., meat aging cooler
(by fabricator) cheese humidor
(by fabricator) herb, spice shelving niche
(by fabricator) wood-burning hearth
Scotsman/Ali Group ice maker
Robot Coupe food processors
Koch cryovac machine
OmniTemp refrig. control CPU system
Vitamix blenders
Hestan range/ovens, flue riser shelf assembly
Imperial stock pot ranges
Berkel/ITW FEG slicer
Omcan meat grinder
Annex
Traulsen/ITW FEG reach-in refrigs., freezers
CookTek/Middleby induction burners
Halton pastry prep cookline hood
RATIONAL combi oven
Scotsman/Ali Group ice maker, condenser
Everpure water filtration system
Koch cryovac machine
Glastender wine cellar cooler
OmniTemp remote refrig. system
Photos by Michael Grimm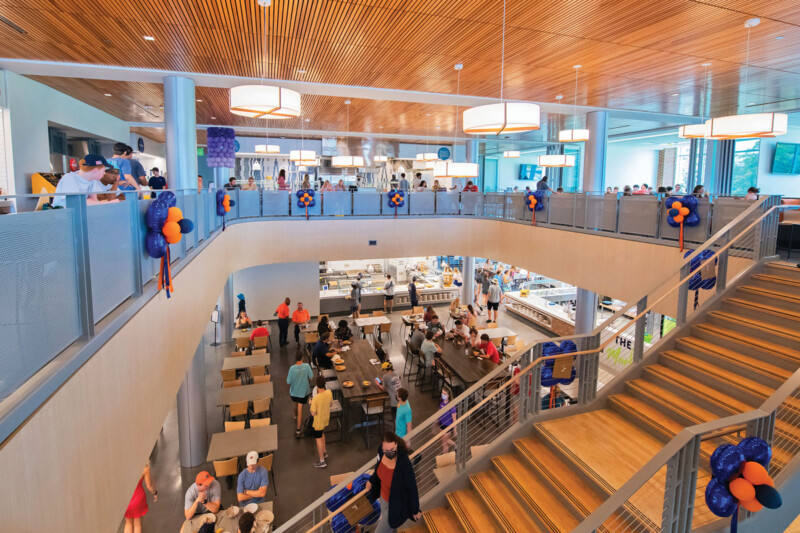 Design
Auburn University's new dining hall boasts an efficient layout with a variety of platforms, featuring a tortilla maker, Mongolian grill and other specialty equipment.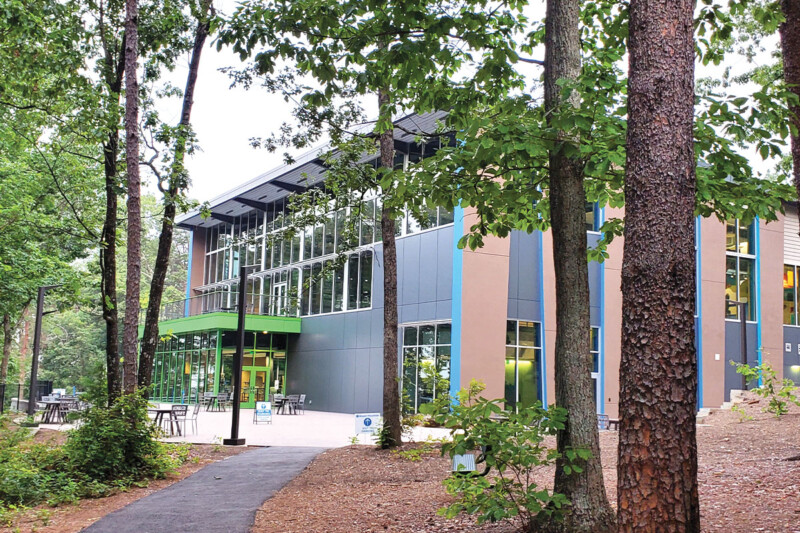 Kitchen Design
A dining facility at the Roper Mountain Science Center, part of Greenville County Schools, delivers freshly made meals to crowds on field trips while preparing students for a foodservice career.