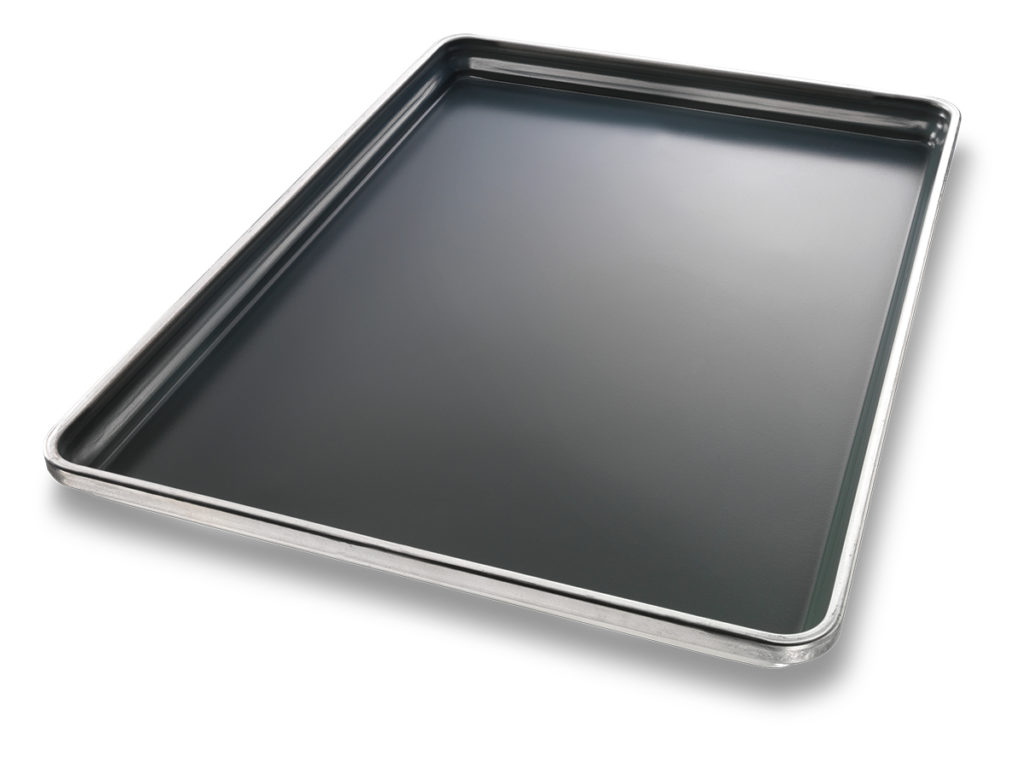 Sheet pans may all look similar, but they're anything but the same. Look for these differentiating factors:
● Size: A classic half sheet typically measures 18-in. x 13-in. edge-to-edge leaving an actual cooking surface around 16¼-16½ in. x 11¼-11½-in. This is the range if you want wire racks and Silpat liners to fit snugly. (Some makes are larger and racks and liners can slide around.)
● Special technologies: All pans will warp a bit in the oven, but some more than others. Warping occurs because metal expands when it gets hot. In the case of a pan with a bottom and sides, the bottom usually expands more quickly than the sides. Once heat distributes evenly, the pan flattens right out again. Cheaper makes will stay warped longer, pooling juices in corners or delivering an uneven bake. The best defense against excessive warping is a heavier (lower) gauge of aluminum and special engineering. For example, the bottom of Chicago Metallic's award-winning NSF StayFlat® sheet pan has a slightly concave bottom that flattens quickly as it heats and resists bowing.
● NSF certification: Very few manufacturers have sheet pans that are NSF certified. That's because it requires investment and care in manufacturing. Some NSF sheet pans are designed with an open bead (or rim that's just curled over, not fully rolled and sealed) and, to compensate for weaker rim design, have to use a heaver material to prevent the pan from warping extensively. Others, like Chicago Metallic Bakeware's NSF-certified sheet pans, feature a high-strength steel wire completely enclosed in the pan rim, which results in a stronger pan. It prevents the collection of water and debris (that can cause corrosion or harbor bacteria). The company's NSF pans also include Stay-Flat® technology that means that they are continuously reinforced with a horizontal, engineered rib that increases sidewall strength up to 30% over non-reinforced.
BAKING SHEET STYLES AND MATERIALS
You'll find pans are available in different materials and they're typically suited to different purposes and produce different results.
In a commercial kitchen, half-or full-sheet aluminum pans are the most versatile to do everything from roast meats and vegetables, toast nuts, and bake regular cookies and cookie bars. Bakers often pair them with Silpat sheet-pan liners or parchment to keep the pans in mint condition and ease cleaning. The lower the gauge of the aluminum, the sturdier the pan.
Jelly roll pans are slightly smaller versions of half-sheet pans. They're so called because they turn out perfect thin sheet cakes that are ready to roll.
Cookie sheets have no sides, just a slightly raised lip along one edge. They're designed to let you slide cookies off and they're really only good for cookies. Some have an insulated layer of air inside; they will prevent cookies from burning on the bottom but also prevent the nice browning and crisping desired in certain cookies.
Some pans are dark colored; those will bake and roast items faster and might require a 25°F lower oven temperature to achieve the best results.
Nonstick: Most commercial kitchens rely on parchment or a Silpat instead because metal utensils used so commonly in commercial kitchens will damage sheet pan coatings. If you want a nonstick, switch to non-scratching plastic utensils (nylon, silicone) and enjoy the nonstick advantage. Nonstick coatings such as silicone glaze or fluoropolymer coatings will certainly lower your outlay for parchment paper and/or oil that you'd use to get foods to release properly.
PAN UPKEEP
● To avoid corrosion and glaze wear, only wash your pans when you really need to. And don't use acidic cleansers, alkaline detergents or abrasive scrubbing pads on your pans. Go for pH neutral soaps.
● Dry your pans immediately after washing; you can even pop them in your still-warm ovens.
● Stack and store dry pans upside down and flat. Check the stack for pans that are beginning to warp.
AVOID A STICKY SITUATION
When food begins sticking to your pans or pans begin to warp and stay warped, product quality and consistency start to go down. Rather than tossing the pan or stocking up on more parchment or oil, send it in for cleaning, straightening and re-coating with Chicago Metallic's Pan Glo® process.
Sponsored Content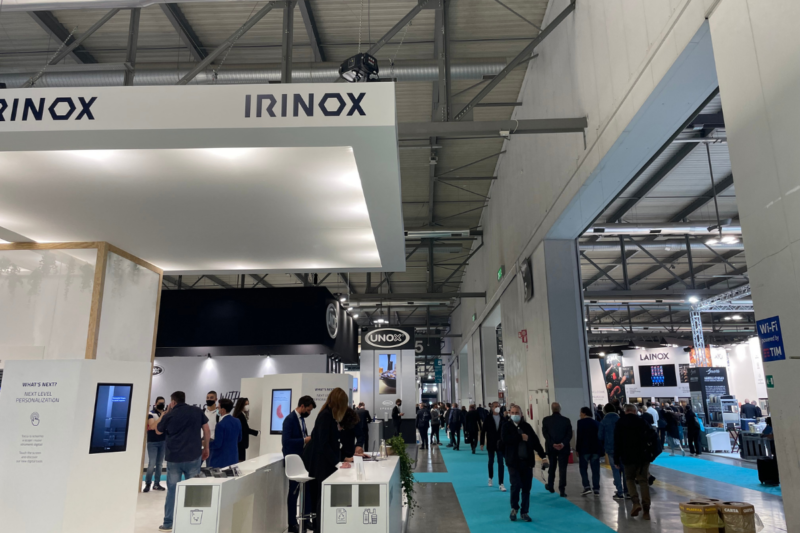 Events
HostMilano, one of the largest foodservice equipment shows in the world, kicked off today in Italy, and FER is on location.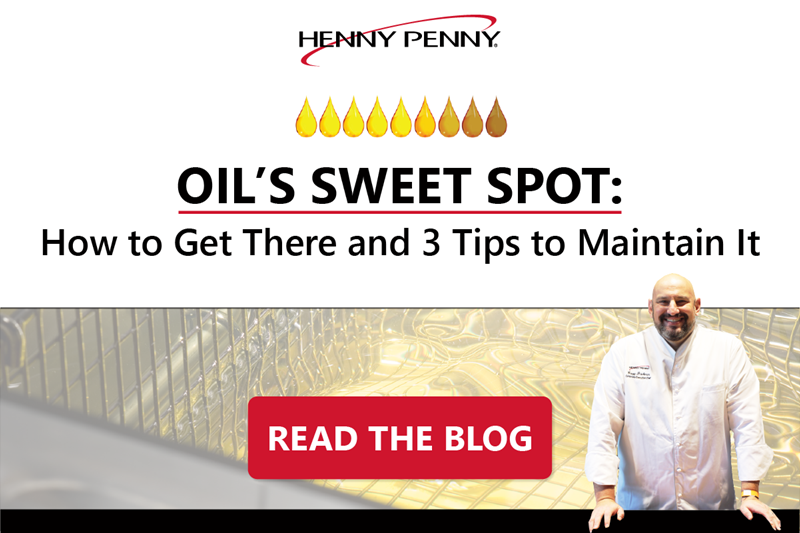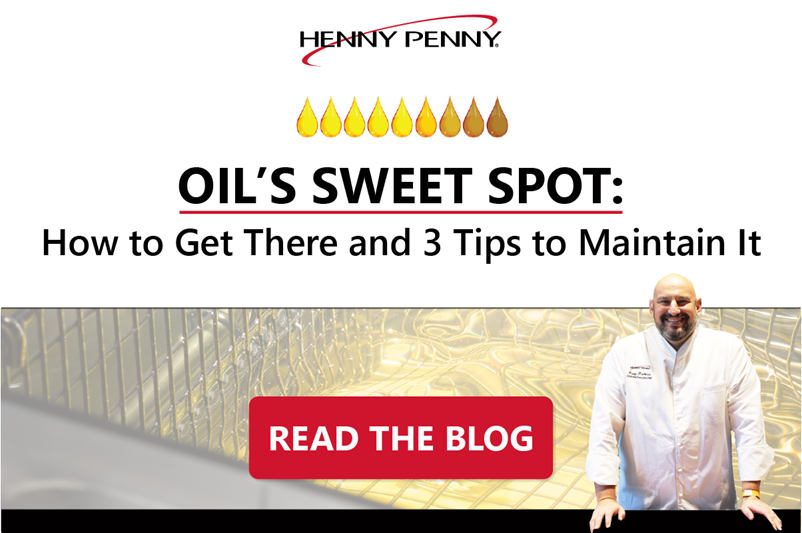 Uncategorized
Like many in the world of foodservice, you may assume that cooking oil performance is at its peak when you first start using it — but did you know there...