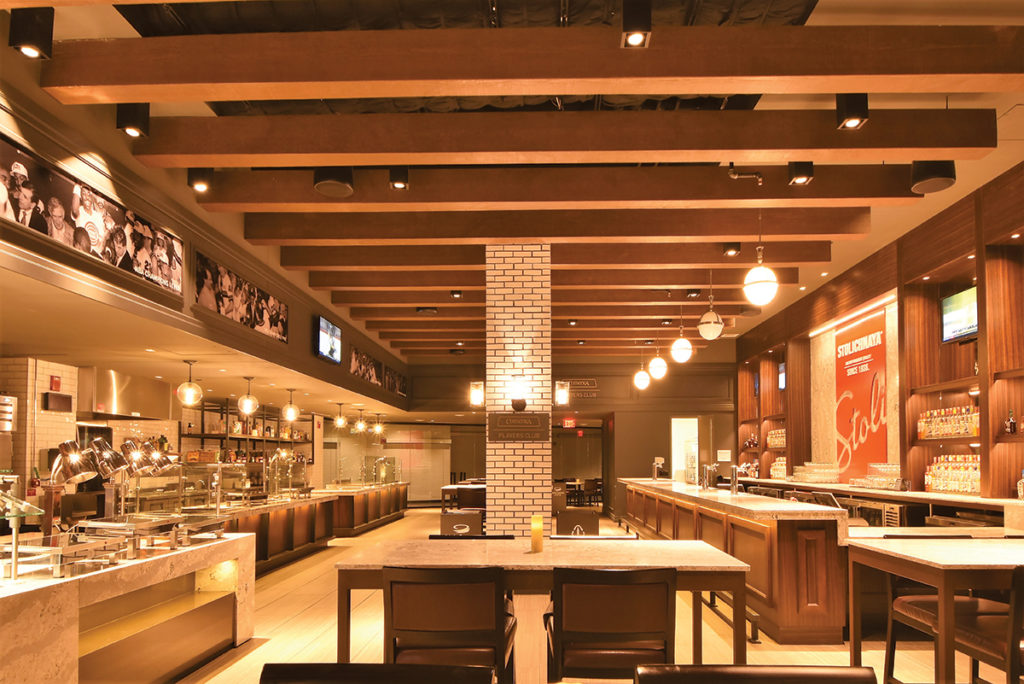 Arenas are usually all about sports and entertainment. But for Little Caesars Arena, opened one year ago in downtown Detroit, the venue has a larger mission: to serve as the heart of a city.
The 20,000-seat Little Caesars Arena, home to both the NHL's Detroit Red Wings and NBA's Detroit Pistons and winner of the Sports Facility of the Year award at the 2018 Sports Business Awards Ceremonies, anchors one of the country's largest sports and entertainment developments. The District Detroit, slated to cover 50 blocks at completion, will include three professional sports venues (home to four teams), five neighborhoods and six theaters. The Ilitch family, owners of the Little Caesars pizza empire, backs the $1.4 billion project.
What sets Little Caesars Arena apart from other similar sports and entertainment venues is its deconstructed design, where the actual arena is surrounded by buildings. A two-story-high glass-enclosed galleria connects the ring of buildings and the arena in the center. Called the Via, the covered space draws visitors year-round with restaurants and shops. The Via's dining array includes the District Market food-court-style eatery, Kid Rock's Made In Detroit restaurant, Mike's Pizza Bar, Sports & Social Detroit, and 313 Grill Co.
"We are focusing on the culinary here," says Tim Martin, G.M. for Delaware North's foodservice operations at Little Caesars Arena, in a pre-opening interview with the *Detroit Free Press*. "We want to move away from the traditional hot dogs and sausages [and expand to offer] items like macaroni and cheese, house-smoked brisket and pulled-pork sandwiches."
Within the arena proper, an array of concessions offerings feature an unprecedented amount of display cooking. Concessions can be found not only on the main concourse level, but also the upper concourse levels.
The team behind the arena's foodservice design includes Randall Lippe, Sr. Executive, and Robert Stefanski, V.P. of Food & Beverage and Retail Merchandise, for Olympia Entertainment, Detroit; Robert Thormeier, V.P. Operations for Delaware North Sportservice, Buffalo, N.Y.; and Marcin Zmiejko, Sr. Assoc. FCSI, Project Manager, and Steve Young, FCSI, Director of Design, for WC & Partners, Denver.
"By far the element that sets Little Caesars Arena apart from other arenas is its very aggressive F&B point-of-sale ratio, which translates directly to an enhanced guest/ fan experience and exponentially increases sales," Young says.
Hitting The Goal
The main foodservice goal requested by the arena's owners and operators was a tall one: to provide "as many cooking outlets as possible to serve Detroit Red Wings fans," Zmiejko says. "Typically, concessions put cooking equipment behind walls to cover ventilation requirements. But the clients wanted us to find a way to *show* people our cooking, even in areas where ducting for ventilation would be impossible.
"We researched ventless cooking and came across a ventless teppanyaki-style electric griddle made by Evo," Zmiejko says. The griddles feature downdraft ventilation around the perimeter with a self-contained, self-scrubbing exhaust filtering system—so no hood needed overhead—plus a self-contained fire suppression system. "The griddles look like a grill-topped table where the chef can cook facing guests. The units allowed us to design concessions outlets with the griddle at the front, and only the glass food shield between chefs and customers," Zmiejko says.
The ventless griddles soon became anchor pieces for more than 80% of the concessions outlets and most Club Level operations at Little Caesars Arena. As an added benefit, the display cooking, with its tempting aromas, would prove to be boosters for not only food items, but beverage sales as well.
And Then, The Rim Shot
Construction began in September '14. By summer '16, major design work on foodservice elements of the arena had been mapped out and installed. Then a surprise announcement in November '16 threw everything back up in the air again: the NBA's Detroit Pistons would also be making the Little Caesars Arena their home. This change had huge implications for foodservice planning, especially since the grand opening was less than 11 months out.
"With two teams, it's not just the team colors, branding and merchandise that had to be doubled," recalls Zmiejko. "We also had to increase the points of sale by about 10%." (Basketball games include more breaks than hockey games, i.e. more sales opportunities.) "Our infrastructure was already in place to serve the hockey team," Zmiejko says. "Plumbing, ductwork, electric had been laid. And we had already received permits from authorities for restroom access, emergency exits and so on."
Luckily, the infrastructure (starting with underground greasetraps) had been sized with growth in mind, so adding extra bar outlets was no problem. And because the building and health department people were so excited about the project, they provided help and suggestions for how to meet code."
When the arena finally opened in September '17, food offerings proved so compelling to guests that "TV announcers would have to explain why so many seats were empty, saying the people had stepped out for food and to explore the new venue," Zmiejko says with a laugh.
Arena Is Better With Pizza
With the Little Caesars name on the arena, pizza—made on site, from scratch, for four Little Caesars Arena restaurants—was on deck from the start. To achieve the complicated process behind producing pizza-from-scratch for a sports venue, the designers created a pizza commissary, covering 1,300 sq. ft. on Level 2.
There, employees make the dough needed to support the arena's Little Caesars outlets. "They bring in the dry and cold ingredients, prepare the dough, sauce and toppings, then transfer the components to the restaurants," Zmiejko says.
Fitting all of the equipment used at a Little Caesars restaurant into the arena's pie slice-shaped footprints (resulting from subdividing an oval ring), with its non-standard angles and ventilation and ducting challenges—while also staying in compliance with ADA and OSHA requirements—"was a challenge," Zmiejko says with some understatement.
The company's custom-built heated pass-thru cabinets had to be redesigned to hold personal pan pizzas and slices. But all other equipment—dough rounders, the triple- decker conveyor oven, prep tables, etc.—matches any Little Caesars store. "We also added beer towers, soft-drink dispensers and frozen drink dispensers to the standard equipment package," Zmiejko says.
Little Caesars Arena Design Highlights
The arena includes more than 50 fixed and portable food stands, premium dining in five club areas, 24 loge boxes (each with seating for six and room for catering), 62 suites (each accommodating up to 18 guests and with an ice maker, bar, induction cooking and heating stations) and two rows of unique gondola seating suspended from the arena's ceiling.
Within the arena proper, Level 1, also known as the Event Level, features a Press Kitchen and dining area. This 3,000-sq.-ft. space doubles as a catering and event space and can be used by visiting chefs, caterers traveling with bands or for other events taking place at the arena. "Designed servery-style, with a fully equipped kitchen behind scenes, the Press Kitchen's stations are equipped to produce nearly any menu," Zmiejko says. "This also is one of the few spots in the complex where you can find a non-Little Caesars pizza."
Level 2, Club Level, holds the 12,700-sq.-ft. East Club and the 10,000-sq.-ft. Players Club. "All sports bars and individual cooking areas run by chefs are equipped with stone-hearth ovens, induction cooking, as well as the usual fryers, pizza-pasta stations, antipasto stations and more. All cooking is in full view of guests," Zmiejko says.
Level 3, the Main Concourse, on the same level as the Via, holds a series of concessions stands, two Little Caesars outlets, the Detroit House Marketplace, a chicken fries concession, and four grill concessions (three of them ventless).
Level 4, home of the Legends Club, blends hockey and basketball design images by means of a series of short dividing walls, where hockey images can be seen from one end of the space, and basketball images from the opposite end.
Level 5, the Upper Concourse, features island bars that can be accessed either from the bowl side or concourse side. This level also features Little Caesars outlets, grill concessions, chicken fries outlets, and a taco stand and bar with deli operation.
Level 6, Premium Level 1, features a draft-house-style bar with a ventless gourmet sausage stand. (Foodservice at this level is only available on one side of the arena; the higher the level, the less space available.) Doors on Level 6 grant access to the surprises of Level 7…
Level 7, Premium Level 2, is the hanging gondola seats. Suspended high above the arena, this birds-eye view gives guests, press and coaching staff an incredible experience. Two small pantries supply limited F&B offerings.
SPECS
MENU/SEGMENT: Sports & Entertainment Venue
HEADQUARTERS: Detroit
OPENED: 2017
TOTAL SEATS: 20,000
ARENA DINING OPTIONS: 50+ fixed and portable concession stands; 4 Little Caesars restaurants; 5 premium dining club areas; 24 loge boxes; 62 suites; plus 3 full-service restaurants and 1 market-style restaurant
FOODSERVICE EQUIPMENT BUDGET: $13.8 million
OLYMPIA ENTERTAINMENT: Randall Lippe, Sr. Exec.; Robert Stefanski, V.P. Food & Beverage/Retail Merchandise
FOODSERVICE OPERATOR: Robert Thormeier, V.P. Operations, Delaware North Sportservice, Buffalo, N.Y.
FOODSERVICE DESIGNERS: Steve Young, FCSI, Partner & Dir. of Design; Marcin Zmiejko, Sr. Assoc. FCSI, Assoc. Principal; Renate Siekmann, Director of BD & Strategic Marketing, WC & Partners, Denver
ARCHITECT: HOK, Kansas City, Mo . GENERAL CONTRACTOR: Barton Malow/Hunt/White, Southfield, Mich.
KITCHEN EQUIPMENT CONTRACTOR: H-Mak, Inc., Pittsburgh
WEB: olympiaentertainment.com
Little Caesars Arena, Detroit
EQUIPMENT
The following lists represent only a portion of equipment at the arena.
PLAYERS CLUB BOH
John Boos dish tables, 3-comp. sink, worktables, shelving
Champion/Ali Group conveyor dishwasher
T&S Brass pre-rinse assembly
InSinkErator/Emerson disposer
Cres Cor heated cabinets
True reach-in dual temperature cabinet
Nor-Lake/Standex walk-in cooler
Perlick water-cooled power pack, draft beer & wine dispensing towers
Perfection beer line bracket, cup holders, keg racks
Ice-O-Matic/Ali Group ice bins, cubers
Everpure water filter
FOH
True u/c refrig., sandwich/salad prep table
Evo griddles
CookTek/Middleby induction ranges
BSI food shields
Krowne back-bar coolers, ice bins, speed rails, hand sinks
Structural Concepts refrig. merchandisers, ambient display cases
Halton hoods
Wood Stone stone-hearth oven
True reach-in freezer & refrig., refrig. equipment stand, cold prep table, pizza prep table
Frymaster/Welbilt fryers
Southbend/Middleby countertop griddle
Alto-Shaam rotisserie oven
Hatco heated shelves, heat lamps
Vollrath h/c food wells
GRILL CONCESSION
Perlick draft beer & wine dispensing tower
Keystone cooking islands
Hatco decorative lamps, fry station warmer, heated shelf food warmer
True sandwich/salad prep refrig., reach-in u/c refrigs., reach-in refrigs., reach-in freezer
Evo griddle
BSI food shields
Town round griddle/fry top
Ansul fire suppression systems
John Boos work tables, 3-comp. sink, wall shelf, mop sink cabinet
Krowne hand sinks
Halton hood
Frymaster/Welbilt fryer
Dean spreader cabinet
Ice-O-Matic/Ali Group ice cuber, ice bin
Lakeside open-tray truck
Cambro shelving
Everpure water filter
Eagle, a broadline manufacturer of commercial foodservice equipment, is pleased to sponsor FER's Kitchen Design feature. To learn more about us visit eaglegrp.com.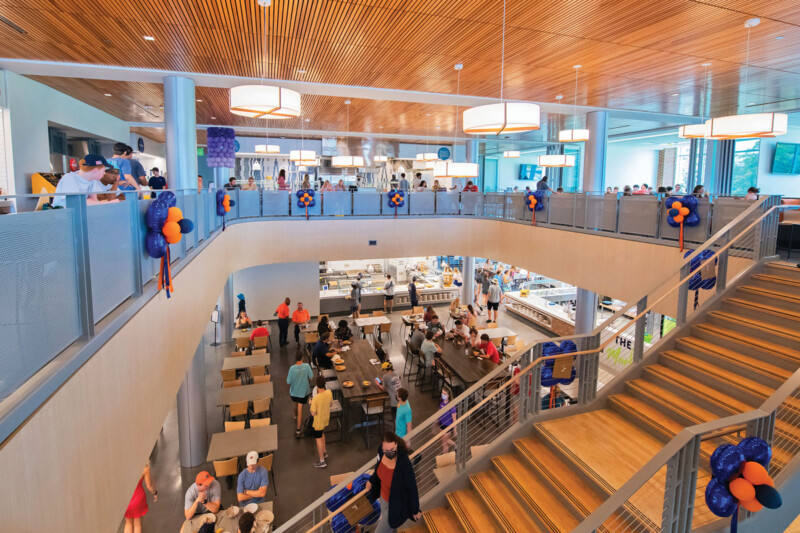 Design
Auburn University's new dining hall boasts an efficient layout with a variety of platforms, featuring a tortilla maker, Mongolian grill and other specialty equipment.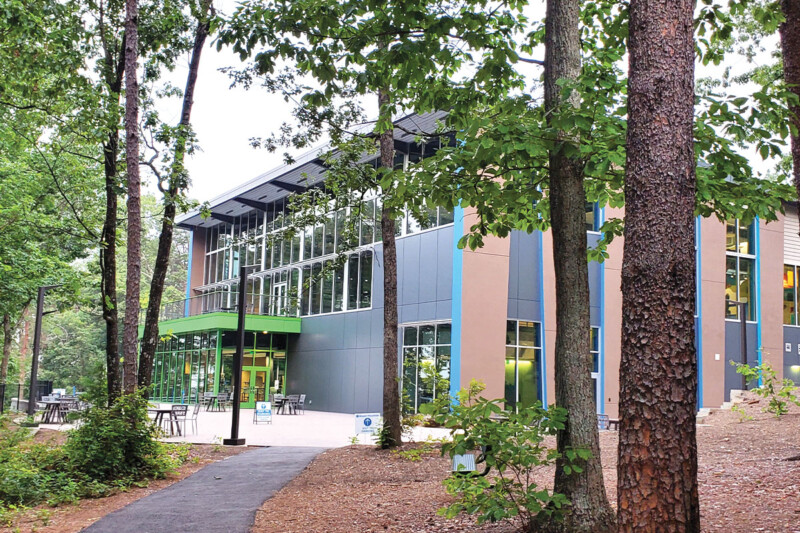 Kitchen Design
A dining facility at the Roper Mountain Science Center, part of Greenville County Schools, delivers freshly made meals to crowds on field trips while preparing students for a foodservice career.