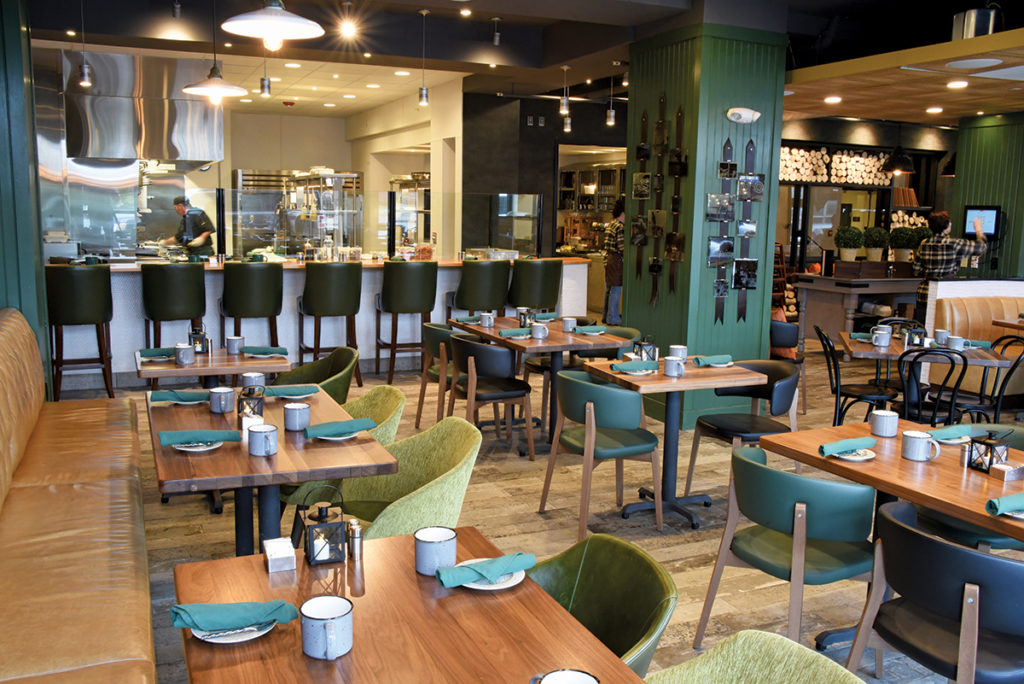 When the Roedel Cos. purchased Hotel Saranac, it was a ghostly presence at the heart of the mountain village of Saranac Lake, N.Y., looming over the tranquil lake of the same name. Ever since its opening at the height of the Roaring Twenties, the hotel had been a vital part of the local scene. It hosted countless meetings, conferences, balls and soirées—and accommodated not just one, but two Winter Olympics. For a time, it served as a hospitality college, where students trained to cater to visitors all around the Adirondacks.
But by the time the new owners stepped in, the historic hotel had gone dark except for a giant electric sign on the roof spelling out HOT SARA—all that was left of the HOTEL SARANAC name once proudly emblazoned in letters several feet tall.
The New Hampshire-based Roedel family had generations of history in Saranac Lake, so this would be a labor of love, not just another national-brand hotel to renovate and profitably manage. Armed with a $5 million New York State redevelopment grant and their own nearly $30 million refurbishment budget, Roedel executives put together a large team: multiple experts from their own construction, renovation, interior design and management divisions, as well as outside architects, interior designers, engineers, a branding consultant, an expert in historic preservation—and Colburn Guyette, a Massachusetts-based foodservice design and consulting firm with extensive experience in hotel projects. "I've never worked with a larger design team in the 20 years I've been doing this work," says Edward Arons, FCSI, Principal/Managing Director for Colburn Guyette and point person on the project.
The various firms tasked with reviving the hotel were scattered all over New York and New England, but they had a clear directive: express the soul of Saranac Lake and the rugged Adirondacks, while honoring historic preservation. "The Adirondacks and the Saranac area are known for lakes, camping and outdoor activities," Arons explains. "That definitely was a focal point."
Adjusting To Realities
Arons' first walk-through of the derelict property with the design team and contractors was more of an adventure than anyone had anticipated—a frozen pipe had burst and caused a flood, with water pouring down a stairway. It was fortunate so many experts were there to quickly locate and solve the problem, but it dinged both the budget and the schedule.
Once Arons and the team delved into the details of gutting the antiquated existing kitchen and planning modern foodservice facilities within the same space, a more consequential issue arose. In keeping with the Adirondacks theme, the plan was to turn the stately old hotel dining room into the informal, glamping-themed Campfire Adirondack Grill + Bar, with an open kitchen centered on a showy, aromatic wood-fired grill. But the required ventilation—fire-rated ductwork with a shaft up through the six-story building—turned out to be impossible logistically, as well as impossible to fit within the $800,000 budget for foodservice equipment. "We had to switch gears and redesign the open kitchen, removing that focal point," Arons says. "We, and the owners, were really disappointed."
Nevertheless, to maintain the informal vibe and maximize food production within the constraints of the infrastructure—without cutting back on seating in the dining room—designers retained the open kitchen. The display kitchen produces all of the made-to-order meals for the restaurant and bar. There's a custom stainless chef's counter and wait station, along with key cooking items from Vulcan (a charbroiler with convection oven, six-burner range with convection oven and a griddle with a refrigerated base and salamander), a Pitco fryer assembly, and True refrigerated prep tables and undercounter refrigeration.
Arons says the Campfire Adirondack Grill + Bar is his favorite part of the project. It "features an Adirondacks-totable locavore menu based on the North County's game, fish, produce and even maple syrup, along with local craft beer," he says. "Everything in this space reflects a real glamping atmosphere complemented by a great menu."
The first-floor back-of-house is for bulk prep and food production for the restaurant, room service, banquets and catering. Yet Arons says it's a simple setup with, at its core basically, "four pieces of equipment and an exhaust hood." Kitchen appliances include an Alto-Shaam double-stacked combi with a smoker function, as well as a six-burner range with oven and 20-gal. kettle and 30- gal. tilt skillet, all by Vulcan. There's also room for prep tables, walk-in refrigeration and dishwashing.
Additionally, on the first floor is the lobby bar, with a fabricated glass-rack wall shelf, an under-bar liquor display, back bar coolers and underbar ice chests by Krowne, and a Perlick six-head beer dispenser for a rotating selection of local craft beers. The second-floor bar, adjacent to the wood-beamed Great Hall and a seasonal outdoor dining terrace, has a similar setup, with a Krowne bottle display, underbar cocktail station and back bar cooler, a CMA undercounter dishwasher and a Perlick three-head beer dispenser. On the lower level is the beer system for the taps in the first- and second-floor bars, a beer cooler and refrigerated wine storage.
Being Chill About Banquets
Designers charged the second-floor banquet kitchen with preparing meals for up to 300 diners at a time, often during restaurant and room-service rush periods. To make that logistically possible with the limited space and labor available, Arons sold the owners and their F&B operations executives on the idea of a cold plating system from Alto-Shaam. "It's the most interesting equipment used in the design of this project," he says. "Having the ability to cook, chill and plate cold reduces labor and provides the flexibility needed to retherm just before an event with just-in-time food quality."
The pre-plating system allows employees to cook food in the first-floor production kitchen before the event at a convenient time (the night before or up to two or three days before an event), plate it and send the carts full of plates up the service elevator to the walk-in cooler on the second floor. Then, when it's time to serve the banquet, employees retherm plates right before service. The only cooking equipment in the second-floor kitchen is the Alto-Shaam roll-in combi for the retherm process; there also are two mobile roll-in Halo Heat holding cabinets from Alto-Shaam. The banquet kitchen has its own dishwashing room, storage room, wait station and ice machine.
Feeling The New-Old Vibe
Having successfully combined 21<sup>st</sup> century amenities with an early 20<sup>th</sup> century vibe, the revived Hotel Saranac is now affiliated with the "boutique" Curio Collection by Hilton as well as with the Historic Hotels of America list of the National Trust for Historic Preservation, substantially extending its brand impact.
Arons returned to the hotel as a guest in the early spring of 2018 for a final run-through with the owners, managers and foodservice staff. He dined at the Campfire Adirondack Grill + Bar. At the same time, he was "just kind of drinking it in; knowing the history of the hotel and what it took to restore it."
Not so long ago, Arons says, foodservice wouldn't have gotten so much attention in this type of historic renovation. "The emphasis on the menu might have been less a decade ago," he says. "The farm-to-table movement, and adapting that to the campfire theme, show a real emphasis on the guest's experience and not just the food—but the food as part of the experience." Some other hotel amenities, such as the spa, might also have received less space and emphasis in the remodel without the current focus on customer experiences, he believes.
Some guests might take a pass on the spa or other hotel amenities, but there's one experiential aspect nobody can possibly miss: the new, full HOTEL SARANAC sign blazing over the town and the lake. HOT SARA has been awakened, not with a kiss but with an expert, respectful restoration.
SPECS
MENU/SEGMENT: Boutique Hotel
LOCATION: Saranac Lake, N.Y.
OPENED: Originally 1927; reopened January 2018 after 3½-year renovation
SIZE: 1st floor, 2,500 sq. ft.: display kitchen and full bar for Campfire Adirondack Grill + Bar, production kitchen, storage, dishroom, wait station; 2nd floor, 1,200 sq. ft.: banquet staging kitchen with walk-in cooler, plate retherm system, plating area, dishwashing, wait station, full bar; Basement, 300 sq. ft.: beverage systems, storage
TOTAL BUDGET: $34 million
FOODSERVICE EQUIPMENT BUDGET: $800,000
FOODSERVICE DESIGN CONSULTANT: Colburn Guyette, Rockland, Mass.
ARCHITECTS: Freeman French, Burlington, Vt. & Group One Partners, Boston
CIVIL ENGINEER: North Woods Engineering, Saranac Lake, N.Y.
MECHANICAL ENGINEER: Christopher Wheeler, Gardiner, Mass.
ELECTRICAL ENGINEER: Kirick Engineering Associates, Williston, Vt.
INTERIOR DESIGNER: RJS Associates, Hilton, N.H.
KITCHEN EQUIPMENT CONTRACTOR: Trimark United East, Attleboro, Mass.
FABRICATION: Custom Metals, Whitman, Mass.; BSI LLC, Denver; Krowne, Wayne, N.J.
BRANDING CONSULTANT: Korn Design, Boston
CONCEPT CONSULTANT: Grill Ventures, Palm Springs, Calif.
HISTORIC PRESERVATION CONSULTANT: Landmark Consulting, Albany, N.Y.
CLIENT: Rick Dean, Operations Analyst; Jason Jette, Corp. Exec. Chef; Martin LeGay, Dir. of Operations; RGH Hospitality, Roedel Cos., Wilton, N.H.
EQUIPMENT
FLOOR ONE
Display Kitchen
Fabricated wait station w/dump sink, wall cabinet, chef's counter w/double overshelf, display kitchen work counter, bus tub cart
3M water filtration system
True u/c refrig., u/c freezer, reach-in freezer, sandwich prep stations
Wunderbar soda gun assembly
Cambro ice cart
Hatco conveyor toaster, overhead warmer
Krowne dipper well
Vulcan/ITW FEG griddle w/refrig. base & salamander, 6-burner range w/convection oven, charbroiler w/convection oven
Randell/Unified Brands hot food well
Waring slot toaster
Panasonic microwave oven
CaptiveAire exhaust hoods
Ansul fire suppression systems
Pitco/Middleby fryer assembly w/dump station
Eagle Group hand sinks
BSI food shields
Production Kitchen
American Panel walk-in cooler/freezer, condensing units, coils
Centaur walk-in shelving, dry storage shelving, mobile pot shelving, janitor shelf
Alto-Shaam combi bulk food carts, double-stack combi oven, roll-in blast chiller
Fabricated stainless wall flashing, work tables, work counter w/sink, over shelves, wall shelves, clean dishtable & pot sink, soiled dishtable w/scrap sink, double-sided glass rack
Eagle Group hand sinks, mobile mixer stand, mop sink
Rubbermaid trash bins, dolly
Ansul fire suppression system
CaptiveAire exhaust hood
Vulcan/ITW FEG 6-burner range w/oven, 20-gal. tilt kettle, 30-gal. tilt skillet
Hobart/ITW FEG slicer, 20-qt. mixer
Robot Coupe food processor
Ventless dishmachine (by owner)
T&S Brass hose reel
Salvajor disposer/controls
Hoshizaki ice flaker/cuber w/bin
FMP cutting boards
Bar
Custom fabricated bar counters, POS station
Architectural fabrication display counter
Vitamix bar blender
Krowne underbar blender station, glass rack, underbar ice chests, underbar dry waste, soda gun assembly, back bar coolers, underbar liquor display, hand sink
True reach-in refrig., reach-in freezer
CMA/Ali Group u/c dishwasher
BUNN espresso cappuccino machine
Perlick 6-head beer dispenser
SECOND FLOOR
Banquet Kitchen & Expediting
Fabricated stainless wall flashing, shelves, soiled dish table w/scrap sink, clean dish table, mobile sorting table, mobile plating table, mobile expediting table, wait station w/dump sink
True reach-in freezer, u/c refrig.
American Panel walk-in cooler, coils, condensing unit
Centaur walk-in shelving, dry storage shelving
Alto-Shaam roll-in combi oven, combi plate carts, mobile roll-in holding cabinets
CaptiveAire exhaust hood
Ansul fire suppression system
Eagle Group hand sinks, banquet carts
Salvajor disposer/controls
T&S Brass hose reel, glass filler
Ventless dishmachine (by owner)
Cambro dish carts, ice cart
Hoshizaki ice machine w/bin
Wunderbar soda gun assembly
3M water filtration system
Lakeside rack dolly
Lobby Bar
Architectural fabrication lobby bar, back bar
Fabricated work top fillers
Krowne underbar POS cabinet, soda gun assembly, underbar dry waste, underbar cocktail station, back bar cooler, storage cabinet, bottle display
Perlick 3-head beer dispenser
CMA/Ali Group u/c dishwasher
BASEMENT
Beer Cooler/Liquor Storage
Metro/Ali Group keg rack, dunnage racks
American Panel walk-in cooler, coils, condensing unit
Centaur walk-in shelving
Krowne bar die system
Perlick beer system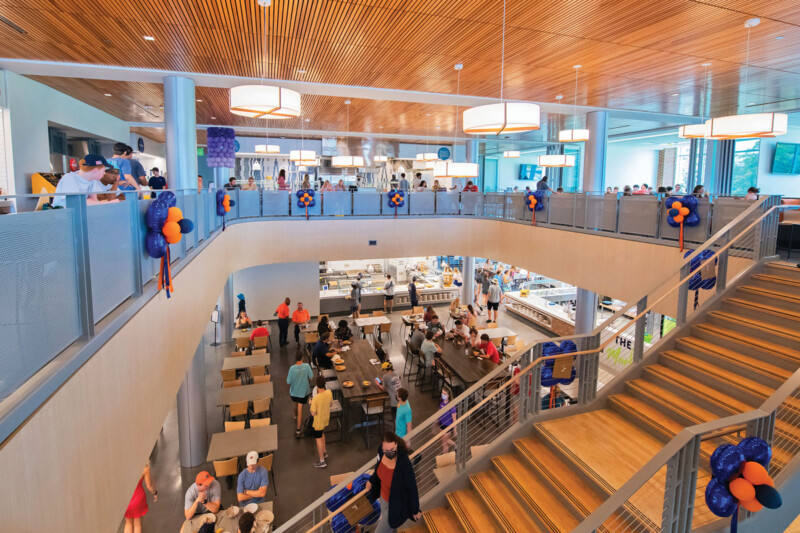 Design
Auburn University's new dining hall boasts an efficient layout with a variety of platforms, featuring a tortilla maker, Mongolian grill and other specialty equipment.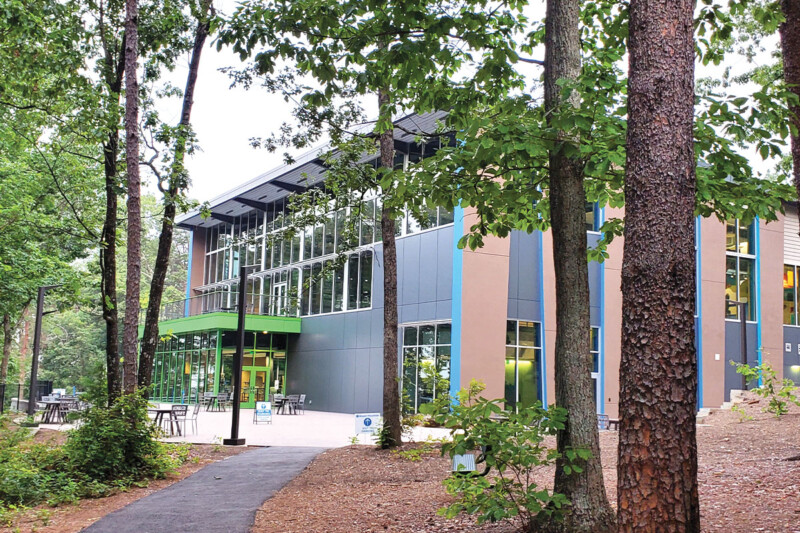 Kitchen Design
A dining facility at the Roper Mountain Science Center, part of Greenville County Schools, delivers freshly made meals to crowds on field trips while preparing students for a foodservice career.