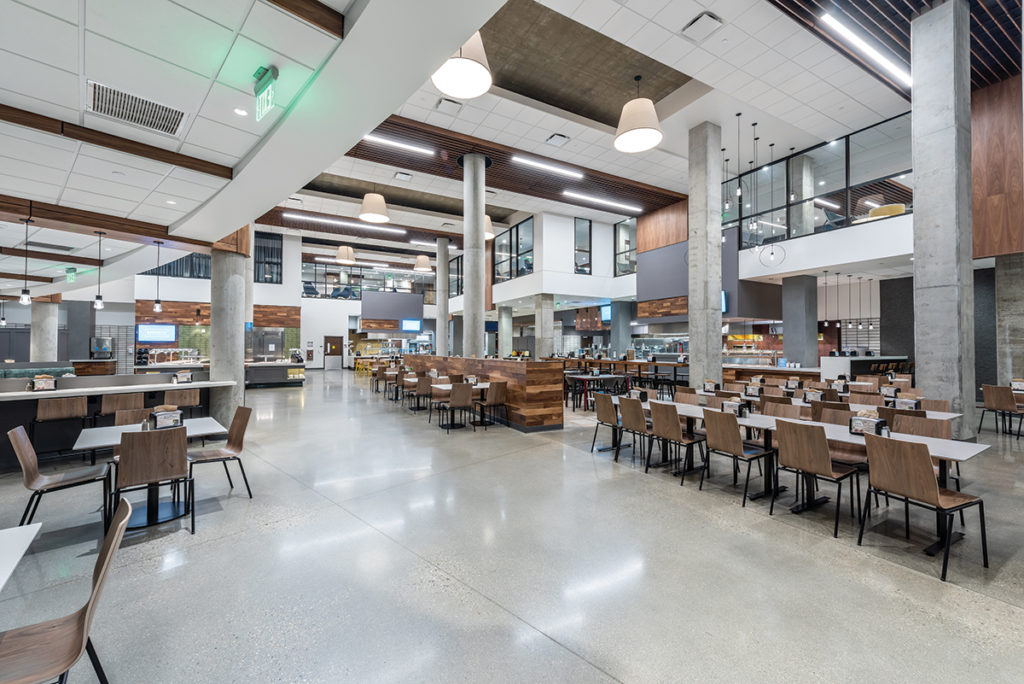 The Commons, the new dining hall at Marquette University, Milwaukee, is a study in contrasts.
Built on sloping land in the middle of the city, the servery is half underground—yet the space is flooded with light from two-story-high windows overlooking a green lawn. The servery is a 24/7, all-you-care-to-eat buffet for students on meal plans—and yet delicious food, an attractive setting with an array of seating styles plus competitive prices attract people from all parts of the urban campus and beyond. Designers built the servery to serve nearly 900 students in two adjoining residence halls, and yet despite the high-volume food production demands, most culinary action takes place in full view of customers rather than behind scenes in an institutional kitchen.
The Commons opened in August 2018. Sodexo manages dining services.
One secret to The Commons' success lies in the way designers configured and arranged its platforms to evoke individual eateries. "The back-of-house is condensed with most of the prep and cooking happening in full view of students. And by dispersing seating throughout, the servery becomes a place to explore," says Tarah Schroeder, FCSI, LEED AP, Senior Principal for Ricca Design Studios, Greenwood Village, Colo., and lead designer for the foodservice areas.
"Students walk to each platform to discover menu options," Schroeder says. "And there are nooks of seating that make each platform feel like a unique dining experience rather than just a traditional servery."
The Commons' blend of display-cooking platforms backed by a scratch kitchen has proven so successful that Sodexo uses the servery as a regional training facility.
"We couldn't be happier with the way the dining room at The Commons turned out," says Rick Arcuri, Executive Director of Student Affairs Operations at Marquette. "It has become a focal point of the Marquette community and an incredibly active student hub."
Common(s) Goals
The planning team included Marquette's Project Manager Katherine Kugi-Tom along with Arcuri and Mary Janz, Executive Director of Residence Life; Donato Guido, Sodexo's G.M. for the account; Ricca Design Studios' Schroeder and Kathleen Seelye, FFCSI, LEED AP, Founding Executive Principal, overseeing foodservice design; and architects from Workshop Architects, Milwaukee, and Design Collective, Baltimore, responsible for creating the overall layout, look and feel. The $108 million project went from concept to reality in 22 months thanks to the close working relationship between the design and construction teams.
Marquette had at least three goals in addition to developing a cutting-edge, super-cool dining experience: to make the new servery a campus-wide dining destination (and boost meal-plan buy-in); to offer an allergen-aware platform inclusive enough to compete with other platforms; and to create a showcase outlet for baked goods produced at Marquette's campus bakery.
Two Levels, Then One
Planning and design work on The Commons and its two residence halls began in early '16. Because everything had to be operational by August '18, a close partnership with the general contractor led to a design-as-you-build project. "I remember coming out of design coordination meetings to go see the site where they'd already started breaking ground," Schroeder says.
Budget constraints led to a major—and ultimately positive—shift in plans partway through the project.
"We had started design work planning for a two-level servery," Schroeder recalls. "A two-level dining facility, along with an integrated 'social stairway' and large screen for watching sports, would better activate community space on each floor. Two levels would support late-night dining options, and we had planned to locate the main kitchen on the second level adjacent to the delivery dock."
Then, a major blow to the budget required foodservice designers to cut costs. With a shift of the proverbial gears, "we began planning a single-level servery instead, minus a specialty retail coffee venue and with some seating reductions," Schroeder says. Additional cost savings came from eliminating redundancies in warewashing and cold storage. The team backed platforms against the kitchen to share refrigeration. And they paired freestanding stations (Deli and Dessert, for example) for the same reason.
Hillside Construction Ups & Downs
The building site's relatively steep grade posed challenges early on. "The loading dock had to be located in the center, on the second level, to allow delivery trucks to be able to turn, away from busy urban corners," Schroeder says. "As a result, the dock is at grade, while the dining hall is one floor down." A freight elevator connects the dock with the kitchen. And at the dock level, two walk-in bulk storage coolers fitted with sliding doors hold just-delivered pallets of food.
An unexpected plus of building into a hillside is that architects have free rein when it comes to ceiling height. "They were able to dig as deep as they needed to," says Schroeder. The servery's resulting high ceilings—two stories high in the main area, where south-facing floor-to-ceiling windows look out onto the green lawn, and 91/2 ft. Around the stations—give a wide-open feeling to the space. The extra height also made ventilation duct work easy to accommodate.
The Commons dining area curves around the green space, with the residence halls towering above on either side. Multiple entry points and vertical connections—including interior windows overlooking servery action below—link the first and second floor spaces.
Smart Adjacencies
What sets The Commons apart from other campus dining areas the most is the way designers interwove platforms and seating to give the impression of individual eateries.
Subtle design elements—colored tiles, for example— plus seating tailored to each platform gives each area its own personality. "Pockets and zones of various types of seating help break up the scale of the dining hall," says Senior Interior Designer Lindsay Lisowski, Workshop Architects. "Students can eat or hang out at everything from casual wood community tables with benches at the BBQ platform, to counters and banquettes, to soft sofas in front of a fireplace near the dessert station."
The nine platforms, which average about 500 sq. ft. To 700 sq. ft. In size, include Simple Servings (the allergen aware station), Salads, Classics, Grill, BBQ, International, Hearth, Deli and Desserts. Overall, the servery and dining areas cover 20,380 sq. ft. With seating for 600.
Fresh greens and colorful salad offerings are the first thing guests see as they enter the space," Schroeder says. At the start of the U-shaped station, a pair of lazy susan-inspired cold pans add movement and play, tempting students with the healthiest options as their first stop. Anchoring the station's center is a massive butcher block-topped table where vegetable prep action takes place in full view.
Simple Servings—where every menu item is free of the eight top allergens—"was placed on the opposite side of the servery from Hearth (away from any free-floating wheat flour), and closest to the loading dock elevator so food deliveries for this station can bypass the entire kitchen," Schroeder notes. "With its own cold and dry storage areas, and an undercounter dishwasher, Simple Servings is essentially a self-contained restaurant."
Veering to the right from Salads leads to the Grill and BBQ platforms, tucked more in the back and but still magnetic in drawing people in. "The Grill features a chef's counter in the center, giving the feel of being at the heart of a kitchen," Schroeder says. The BBQ platform includes an Ole Hickory Pits smoker. The décor at the platform could almost come straight from a Kansas City barbecue joint, with its benches, shared tables and pendant lights.
Designers equipped stations for flexibility. "I recall a conversation with Rick [Arcuri] where he said, half-jokingly, 'what if we want to serve Norwegian food?'" Schroeder says. The Hearth platform, for example, includes the stone hearth oven for pizza—but also a front-facing fire-and-ice unit and a griddle that can be used by visiting chefs. Along the same lines, Classics features an island cooking suite.
Farthest away from main action are Deli and Desserts. "When we switched to the single-level servery plan, we had to wrap foodservice around all three sides surrounding the green space," Schroeder says. The team paired Deli and Desserts because both could operate without hoods, which residence halls blocked above. The location also turned out, ideally, to be closest to the university's bakery facility across the street. The seating area here features a two-sided, enclosed fireplace—a big lure on Wisconsin's cold winter days.
SPECS
MENU/SEGMENT: University dining
LOCATION: Milwaukee
CAMPUS POPULATION: 11,500 students
FOH/SERVERY SIZE: 20,380 sq. ft.
BACK-OF-HOUSE SIZE: 3,170 sq. ft.
SEATING: 600 seats
HOURS OF OPERATION: 24/7
OPENED: August 2018
FOODSERVICE EQUIPMENT PACKAGE: $2.5 million
MARQUETTE UNIVERSITY: Katherine Kugi-Tom, Project Manager; Rick Arcuri, Executive Director of Student Affairs Operations; Mary Janz, Executive Director Residence Life
FOODSERVICE CONTRACTOR: Sodexo
CONSULTANT/DESIGN FIRM: Tarah Schroeder, FCSI, LEED AP, Senior Principal; Kathleen Seelye, FFCSI, LEED AP, Founding Executive Principal, Ricca Design Studios, Greenwood Village, Colo.
ARCHITECT: Workshop Architects, Milwaukee & Design Collective, Baltimore
DEALER: Brett Kleczewski, Regional Manager, Stafford-Smith Inc., Elkhorn, Wis.
WEB: marquette.sodexomyway.com
EQUIPMENT
BOH & Dishroom
American Panel walk-in coolers, freezers
Metro/Ali Group shelving, dunnage racks
Salvajor trough collector, scrap basin
Power Soak/Unified Brands power-soak sink
MEIKO flight-type dishmachine
Eagle Group hand sinks, floor troughs
Hobart/ITW FEG pot washer, food cutters, slicers, mixers
Robot Coupe food processors
Accurex hoods
Vulcan/ITW FEG tilt steam kettles, steamer, range, refrig. base, griddle, convection oven
Alto-Shaam combi oven
Carter-Hoffmann/Middleby heated holding cabinet
Simple Servings, Salads, Beverages
American Panel walk-in coolers
Hobart/ITW FEG warewasher
Accurex hoods
Alto-Shaam combi oven
Pitco/Middleby fryers
Vulcan/ITW FEG range, griddle, refrig. base, drawer warmers
OptiPure water filter assemblies
Traulsen/ITW FEG reach-in refrig./freezer, roll-in single-door refrig.
Winston u/c hot-holding pass-thru, refrig. pass-thru
BSI food shields, drop-in rotating cold pans
Randell/Unified Brands hot/cold pans
Vollrath dish dolly
Jade/Middleby fire & ice range
Hatco hot/cold shelf, heated black glass shelf, heat lamps
Silver King/Marmon Group milk dispenser
Manitowoc/Welbilt ice machine
Classics, Grill/BBQ & Beverages/Cereal
American Panel walk-in coolers
Accurex hoods
Vulcan/ITW FEG charbroiler, griddles, refrig. base, broilers, double-deck convection oven, drawer warmers, island suite, fryers, hot top, range
Pitco/Middleby fryer
Randell/Unified Brands hot well, drop-in cold pans, hot/cold pans
Hatco heat lamps, display lights, heated black glass shelf
BSI front-serving counter, food shields
Ole Hickory Pits smoker
Henny Penny rotisserie
Wells/Middleby soup well
Silver King/Marmon Group milk dispenser
Manitowoc/Welbilt ice machines
OptiPure water filters
International & Hearth
Beech/Middleby stone hearth oven
American Panel walk-in coolers, freezers
Accurex hoods
Town wok range, rice warmers
Alto-Shaam combi oven
OptiPure water filters
Vulcan/ITW FEG double-deck convection oven, griddle
Jade/Middleby fire & ice range
Pitco/Middleby fryers
Traulsen/ITW FEG u/c freezers, refrigs., cold prep tables, roll-in refrig.
Winston u/c hot-hold pass-thru
BSI front-serving counter, food shields
Randell/Unified Brands drop-in cold pans, hot/cold pans
Hatco heat lamps, heated black glass shelf, cold built-in flush-top shelf
Desserts, Deli, Beverages
American Panel walk-in coolers, freezers
OptiPure water filters
Hobart/ITW FEG slicers, mixers
Alto-Shaam ventless combi oven
BSI front-serving counter, food shields
Randell/Unified Brands drop-in frost top, hot/cold pans
Hatco heat lamps
Taylor/Middleby soft-serve machine
Atlas Metal cold food pan
Oscartek display cases
Equipex panini presss, ventless exhaust systems
TurboChef/Middleby microwave/convection oven
Manitowoc/Welbilt ice machines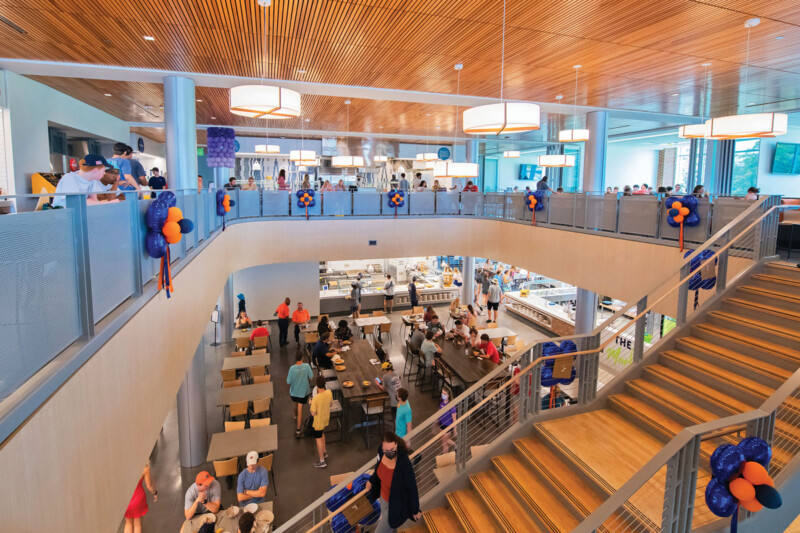 Design
Auburn University's new dining hall boasts an efficient layout with a variety of platforms, featuring a tortilla maker, Mongolian grill and other specialty equipment.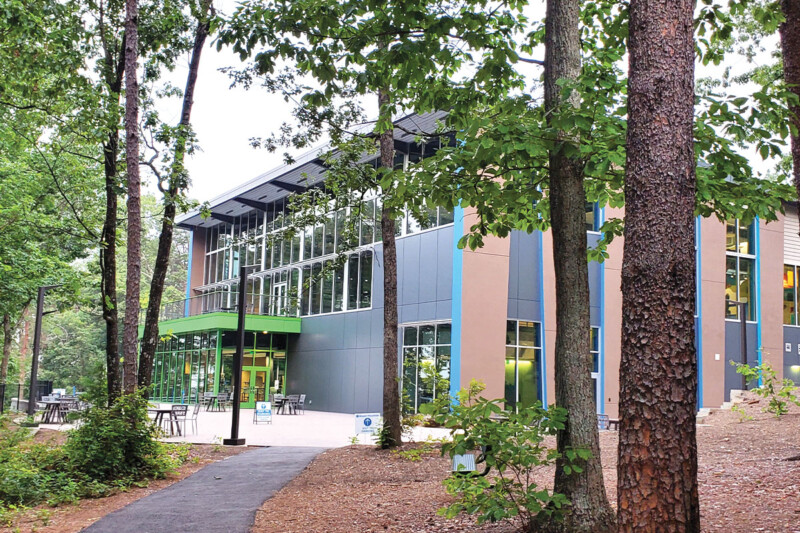 Kitchen Design
A dining facility at the Roper Mountain Science Center, part of Greenville County Schools, delivers freshly made meals to crowds on field trips while preparing students for a foodservice career.