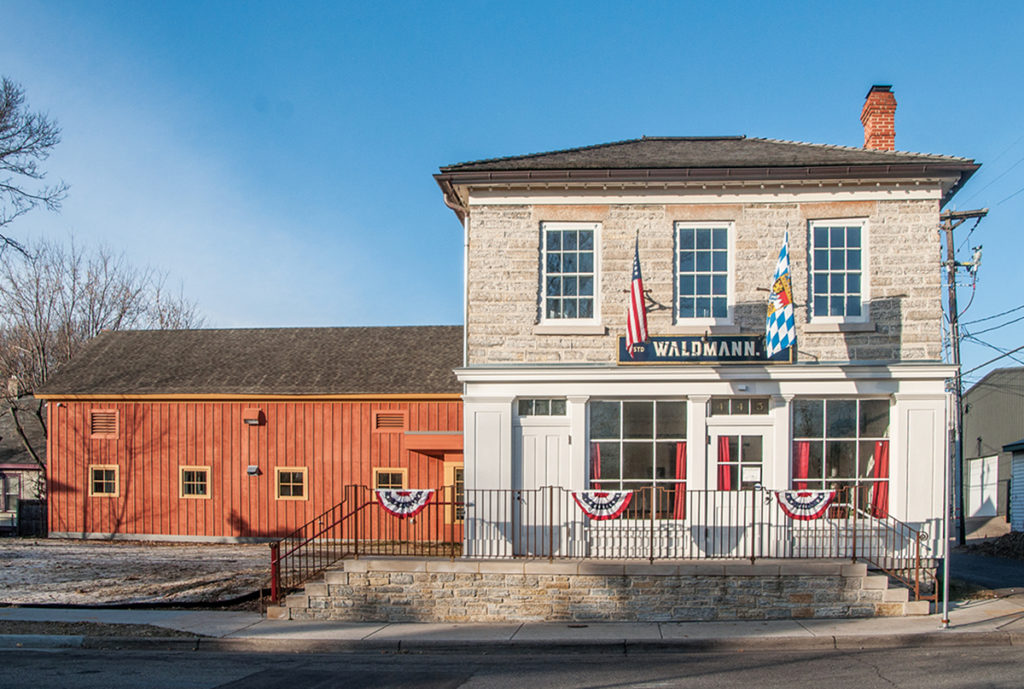 When Tom Schroeder decided to buy and restore a historic limestone building at 445 Smith Ave., St. Paul, Minn., he had no idea of the journey that lay ahead to become a brewery and restaurant operator.
Actual history is woven into daily operations of Waldmann Brewery, opened in 2017 in St. Paul's oldest surviving commercial building, a former German lager saloon. "People get to time-travel while enjoying our beer and food from a modern—albeit tiny—kitchen," Schroeder says.
"Waldmann Brewery sports the largest collection of mid-19th century saloon chairs that you'll find anywhere, whale-oil lamps (burning paraffin) on tables, and period hand-blown glass," Schroeder says. On the walls hang framed antique maps and engravings, along with portraits of original owner Anton Waldmann and the saloon's master stonemason Jacob Amos. Wood-burning cast-iron stoves complement the building's HVAC system to warm dining rooms during winter.
"The building itself features hand-planed woodwork and many of the structure's original square-cut nails. Customers may not notice these details, but the combined feel is palpable," Schroeder says.
Some 19 months after opening, the 110-seat brewery serves up about $900,000 in annual sales with check averages hovering at $36-$38. Waldmann's menu features smoked sausages, cheeses and other small bites that pair well with lager.
In The Beginning
The project began in '08 as a way to save the pre-Civil War-era limestone structure from demolition. "It had been used as a residence for 154 years, but in its first life had clearly been something other than a house," says Schroeder, a dedicated supporter of historic preservation in the St. Paul area. When Schroeder's research revealed the building's origins as a lager beer saloon dating back to 1857, restoring it as a brewery became his goal.
Schroeder enlisted St. Paul-based architect John Yust, AIA, a specialist in historic restorations, along with a team of volunteer and professional historians, archeologists, craftsmen-carpenters and other contractors. Restoration work on the 1,020-sq.-ft. building began in 2012. But getting permission from the city became a project unto itself. "The lot had been zoned as a residential site for decades," recalls Schroeder. "We worked with the city to address the zoning problem by proposing an ordinance that would allow historic structures to be used for their original purposes. It took about four years for the ordinance to be enacted." St. Paul officially designated the structure a Heritage Preservation Site in '15. After 11 hearings before the zoning board and two public hearings before the City Council, it granted the building a Historic Use Variance permit in '16, opening the way for a brewery to set up operations in a neighborhood.
To create space for a brewery, kitchen and restrooms, the limestone building would need an addition. The St. Paul Heritage Restoration Commission set strict parameters for the addition to ensure that it did not overwhelm the historic structure. It limited the footprint to about 1,508 sq. ft., demanded the roof peak not be higher than the original stone building, and required a specific pitch of the roof "to make the exterior walls seem shorter," Schroeder says.
Equipping Waldmann's Kitchen
For the foodservice side of the project, Schroeder tapped Connie Dickson, FCSI, Principal, Rippe Associates, Minneapolis, to design the kitchen layout. Karl Gerstenberger, a chef and butcher with a background in traditional sausage making, joined the team shortly after the first round of architectural drawings was completed.
At that stage in the project, the kitchen footprint was compact—about 200 sq. ft. Its initial cooking line-up consisted of a smoker, grill and two burners.
"The limited kitchen space was challenging," Dickson says. "I fell in love with the goals for this project and with Tom, John, Drew [Ruggles, a brewer], and Karl's passion for history, food and beer. This team proved resourceful and flexible in determining how to get the most from a tight footprint."
Gerstenberger developed a menu for Waldmann Brewery inspired by an '05 visit to a historic restaurant in Regensburg, Germany. "I put together a set of images and food concepts based on smoked sausage, cheese and beer that clicked with everyone. Then it was a matter of working with Connie to design a kitchen with adequate work surfaces for food prep, and enough hot power to execute," Gerstenberger says.
Once the menu was set, the kitchen still needed a walkin cooler. Space constraints resulted in locating the cooler in the stairwell near the kitchen, right in the spot that would have otherwise been used for a lift to transport bags of grain up and down for brewing operations—but only after epic discussions between the brewing side vs. the culinary side.
"We ended up with a production-oriented space that could manufacture a fine-textured German-style bratwurst," says Gerstenberger, whose background with the USDA makes him a self-proclaimed "meat nerd." The team replaced the smoker with a pair of stacked, half-size convection ovens. They added a buffalo chopper, used for sausage production, in the back corner, along with two high-output burners.
History, Flavor
Waldmann's may have been billed as a brewery, but before long, the restaurant side of operations became as important as the lager side.
"When you design a space, you have a preconceived notion of how it will operate. Then it opens and people start coming in. That's when you discover what it really is," Gerstenberger says. "Most breweries tend to take an industrial space, make it feel modern and cool, with seating around the beer tanks. With Waldmann, though, we've got charm and history. We worked hard to capture the traditional side of a brewery, but once we opened, people perceived us to be a restaurant first." Indeed, some months, the restaurant side of the business accounts for up to 60% of sales, Schroeder reports.
Waldmann's house-made sausages dominated the production schedule from the beginning. "Early on, we started with a one-day-a-week sausage making. This soon changed to two days a week—Sunday mornings and all Monday— where we would crank out up to 150 lb. of linked sausages," Gerstenberger says.
A year into operations, Schroeder and Gerstenberger concluded that on-site food production put a too-high demand on reliable labor. The solution: to purchase sausages made to Waldmann specs from Red Table Meat Co., Minneapolis. After launching Waldmann's kitchen and menu, and then working with Red Table owner Mike Phillips to transfer Waldmann's recipes and techniques, Gerstenberger has since returned to working in coop grocery management.
"Outsourcing is more expensive in terms of food cost, but not when labor is factored in. Plus, it's reduced our business risk. If anything had happened to Karl during that first year, we would have been in trouble. We had no plan B in sourcing our sausages."
With sausage production outsourced, the team could streamline Waldmann's kitchen even more. They sold the meat slicer, which required considerable time and labor to keep clean, in favor of hand-slicing meats and cheeses. And they sold the buffalo chopper, which helped establish Waldmann's claim to culinary fame. The result of the changes: more space for more food prep and an even better work environment.
A Look Ahead
These days, the Waldmann team is working to maintain the saloon's balance as both a restaurant and a brewery. Customers are drawn to the experience of drinking and dining in a living museum.
"It's not a competition between the two," Schroeder emphasizes. "Both beer and food were important parts of German lager beer saloons historically. And both are still important today in terms of differentiating ourselves in the market."
SPECS
MENU/SEGMENT: Craft beers + German- American fare
HEADQUARTERS: St. Paul, Minn.
FOUNDED: 2017
SIZE: Taproom, 986 sq. ft.; Brewing space (including kitchen), 1,756 sq. ft.
SEATING: 60 seats + 50 in biergarten
HOURS: Tuesday-Sunday, 12 p.m.-9 p.m.; closed Mondays
FF&E PACKAGE: $150,000
WALDMANN BREWERY: Tom Schroeder, Proprietor; Charles McElveen, Chef; Drew Ruggles, Brewer; Karl Gerstenberger, former chef/g.m.
KITCHEN DESIGN: Connie Dickson, FCSI, Principal; Mark Nilson, Sr. Project Manager; Rippe Associates, Minneapolis
ARCHITECT: John Yust, AIA, John Yust Architecture, St. Paul, Minn.
DEALER: TriMark Hockenbergs, Omaha, Neb.
WEBSITE: waldmannbrewery.com
EQUIPMENT
Hoshizaki refrig. worktop, refrig. base, reach-in freezer, ice cuber w/bin
Southbend/Middleby half-size convection ovens
Vulcan/ITW FEG charbroiler
Imperial 2-burner range
CaptiveAire hood
Hobart/ITW FEG food cutter, u/c dishmachine
Globe/Middleby 20-qt. mixer, food slicer
Leer walk-in cooler/freezer
Perlick beer equipment, counter w/refrig. bases, bottle coolers, hand sinks
John Boos 1-comp. sink, 3-comp. sink, sorting shelf, hand sink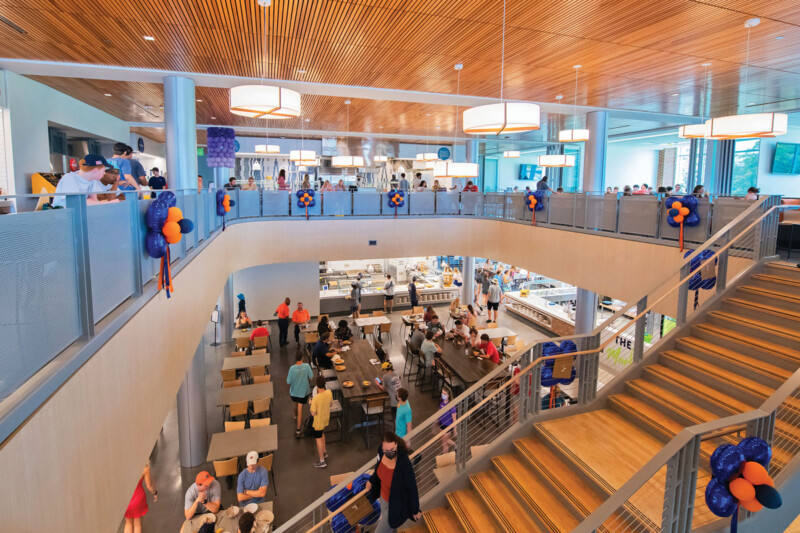 Design
Auburn University's new dining hall boasts an efficient layout with a variety of platforms, featuring a tortilla maker, Mongolian grill and other specialty equipment.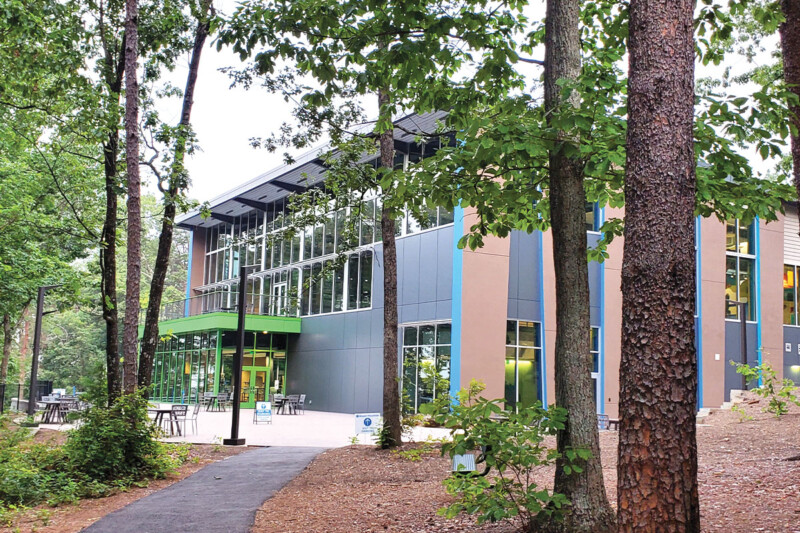 Kitchen Design
A dining facility at the Roper Mountain Science Center, part of Greenville County Schools, delivers freshly made meals to crowds on field trips while preparing students for a foodservice career.