9 Ways To Trim Ticket Times
Foodservice consultants point to design and operational improvements that help speed service.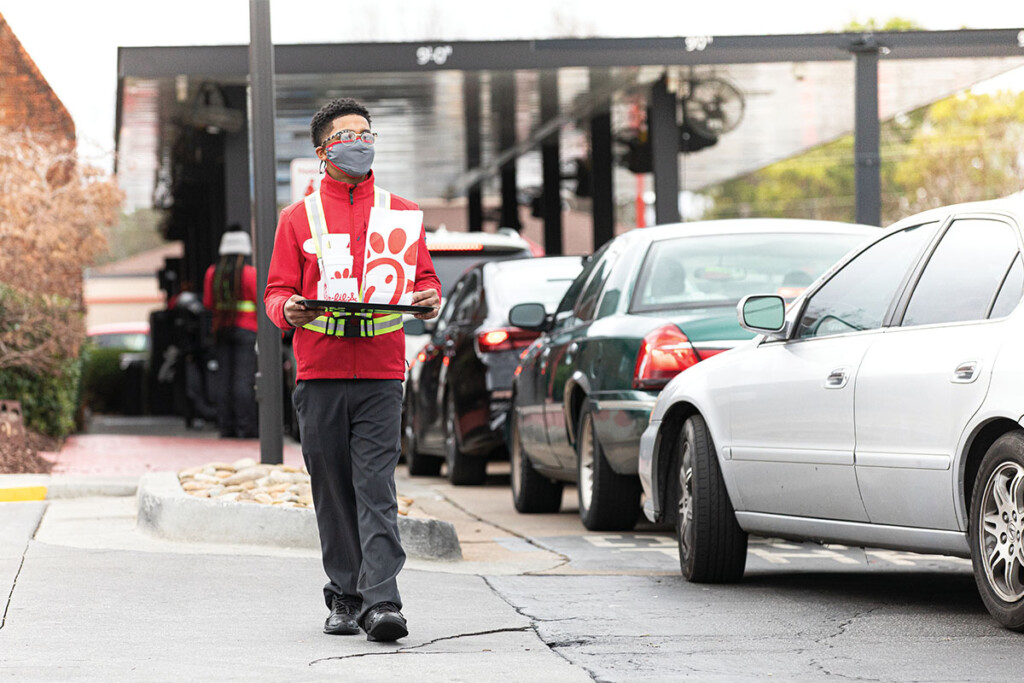 Drive by your local Chick-fil-A at lunchtime and you'll likely see a line of cars stretching past the drive-thru. Former Chick-fil-A CEO Dan Cathy told the Atlanta Business Chronicle that he estimates that 30% of the chain's potential customers see the queue and drive away, not wanting to wait. In today's world of high-speed technology and instant gratification, consumers demand speedy service.
Recent research indicates that customers are becoming more impatient. In August 2020, consumers reported that they were willing to wait an average of 10 minutes for drive-thru, curbside or in-store pickup, according to a nationwide survey by Bluedot, a mobile app location tech provider. In 2021, that plummeted to six minutes. Three out of four consumers stated they will leave or consider leaving a restaurant if they see a long line. "Slow speed of service looks like a dealbreaker for consumers," a Bluedot press release states.
With labor and food costs skyrocketing, operators are under pressure to increase their sales volume. "To survive today with all the changes in the industry, you've got to be able to speed up your throughput or else you are not going to be financially solvent," says Karen Malody, founder/ principal of Culinary Options foodservice consultancy.
Today's operators must juggle orders from multiple platforms: in-house, website, mobile apps, third-party delivery and phone. "Customers are just more demanding," says foodservice designer Gregory Golem, president of Interactive Restaurant Consulting. "People are using their devices more and more. When they walk into a restaurant and they've texted their order in, they expect it to be ready."
But speed is not enough. "I could give a dozen ways to speed up service, but that's not the goal," says Steve Starr, chief/president of Starr Design, a restaurant design and consultancy firm. "The goal is to consistently provide quality food quicker."
Check out these nine ways to trim ticket times, without sacrificing quality:

1. DESIGNATE TO-GO AREAS
To-go orders accounted for 78% of foodservice traffic in September 2021, up from 61% pre-pandemic, according to the National Restaurant Association. Foodservice consultant Ashley Rosenfeld, principal of A' La Carte Foodservice Consulting Group, saw to-go sales catapult for some clients from a mere 10%-15% of their business to 30%-35%. If space allows, she recommends creating a separate production line to prepare and package to-go orders efficiently, without slowing on-premise service. Expand or modify your pickup area so customers can get orders swiftly, suggests Golem. Warming cubbies offer rapid no-contact pickup; express mobile-order drive-thru lanes help staffers fulfill orders quickly.

2. COOK, CHILL, RETHERM
One timesaver is to precook items, chill them, and then reheat and finish them to order. Today's technology makes this easier and safer than ever. Equipment such as combi ovens cook products to the perfect internal temperature. Blast chillers rapidly cool items to 41°F or below, retaining quality and adhering to food safety guidelines. To quickly prepare made-to-order tacos, Hiya Taco in Wisconsin uses the cook, chill and retherm process. "We pair it with food theater … with a hero piece of equipment," says Starr, whose firm designed the restaurant that opened in 2020. Menu items are finished to-order in front of guests on a large plancha grill. "You get the cues of freshness and quality," he says.

3. IMPROVE YOUR KITCHEN FLOW
A simple kitchen rearrangement also can boost an operation's efficiency. Rosenfeld recently helped a client increase its throughput by improving back-of-house flow. "Instead of having a salad prep station on the far left of the kitchen, we moved it next to the flattop grill," she explains. "That way things like pancakes would come off the flattop and be finished with sauces or toppings right next to it, instead of having to take the plate to the other side of the kitchen." Stock ingredients by each station—using undercounter refrigeration when needed—to avoid time-consuming trips to the walk-in and prep areas.

4. INVEST IN RAPID-COOK TECHNOLOGY
A high-speed oven can shave minutes off your ticket time while producing a high-quality product. These speedy machines typically combine heating methods, like impinged airflow, convection and microwave pulses. Starbucks famously uses countertop high-speed ovens to reheat premade breakfast sandwiches and wraps. These speed racers are great for warming a variety of dishes that can be made ahead. "You've already saved time on the line by having premade items, and then on top of that, if you can heat it in 90 seconds, it's a beautiful combination," says Malody.
Rapid cook is not just for reheating. Golem brought speed-cook technology to Caltech Dining Services when he redesigned its facilities, replacing panini grills with ventless high-speed ovens. Paninis that previously required four to six minutes to cook now take a mere minute. Caltech's high-speed ovens incorporate radiant heat for enhanced browning and panini-press plates that embed traditional grill marks.

5. HOLD IT HOT
Speed up your operations by cooking larger batches and holding them ready to serve. This tried-and-true strategy is more effective than ever with today's technology. One line of hot holding cabinets, for example, features a cavity wrapped in thermal cables for thorough, consistent heat.
"You can hold things for a lot longer without the quality degrading," says Starr. "There's a lot more focus on not just holding items hot, but holding them hot and at the right texture—so hot and juicy or hot and crispy." Gone are the days when the only options were heat lamps that dry out food and steam tables that suffer from fluctuating temperatures. "Now I can hold something at 140 degrees and it's always at 140 degrees," he says.

6. DOUBLE YOUR GRILL THROUGHPUT
Increase production with a clamshell grill or griddle. Also known as double-sided grills, clamshells feature a top plate, allowing both sides of an item to be cooked simultaneously, be it a burger, steak, sandwich or quesadilla. "You can get the same quality in half the time," Starr says. "You're doing it faster and you're doing it more consistently." Similarly, operators can swap an open charbroiler with a conveyor charbroiler that cooks both sides at the same time.
"One of the positive outcomes of COVID is that bloated menus have been greatly reduced."
—Karen Malody, Culinary Options
7. STRATEGIZE YOUR MENU
"Part of what slows speed of service is that the menu is too big," Malody says. "One of the positive outcomes of COVID is that bloated menus have been greatly reduced." As operators pared down menus, production became more efficient.
Eliminate items strategically, developing a menu mix that team members can execute efficiently. Malody recently reworked the menu at a retirement community where residents faced long dinner waits. The facility replaced some labor-intensive sauteed dishes with items that could be cooked ahead and reheated quickly, like lasagna, shepherd's pie and coq au vin. Rosenfeld suggests cross-use of products to improve efficiency, highlighting the same sauces, dressings or proteins in multiple menu items.

8. UPGRADE TO A HANDHELD POS
Mobile POS systems are a game-changer for full-service operators. Servers no longer have to trek over to a stationary POS to enter an order—adding minutes to the ticket time. "You can use the technology to place an order right as the guest says it," notes foodservice consultant William Bender, founder/principal of W.H. Bender & Associates. Payment also can be done tableside. "You don't have a credit card disappearing for five minutes," Bender adds. That's less waiting for guests and faster table turns for the operator. Likewise, QR codes can speed up ordering and payment.
"It's amazing watching the difference in the sense of urgency people have when they are working a station that they want to be at as opposed to a station that they don't enjoy as much."
—Ashley Rosenfeld, A' La Carte Foodservice Consulting Group

9. INVEST IN YOUR EMPLOYEES
Motivated and trained workers tend to be more efficient. Let kitchen staffers choose which station they work, suggests Rosenfeld. "It's amazing watching the difference in the sense of urgency people have when they are working a station that they want to be at as opposed to a station that they don't enjoy as much," she says.
Train servers and counter workers to listen closely to guest requests, recommends Bender. "How many times have we ordered something and we asked for sauce on the side, but it didn't come?" he asks, rhetorically. Quick but inaccurate is not a win; it's time-consuming to fix an order.
"Speed cannot mean being sloppy," says Malody. "It has to mean that you've been strategic in what you're cooking and how you're cooking, so that every single thing comes out consistently correct and delicious."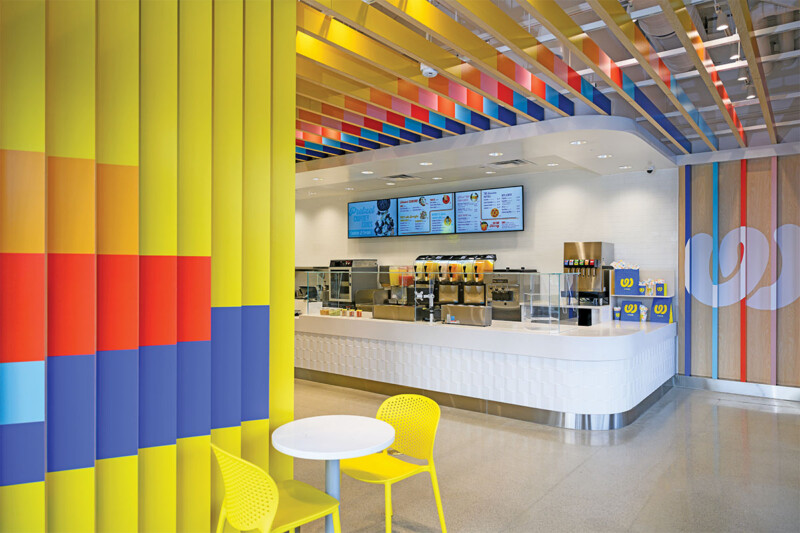 Kitchen Design
Wetzel's Pretzels, the multiunit bakery of shopping mall fame, now offers its soft pretzels and more at street-side through its latest concept.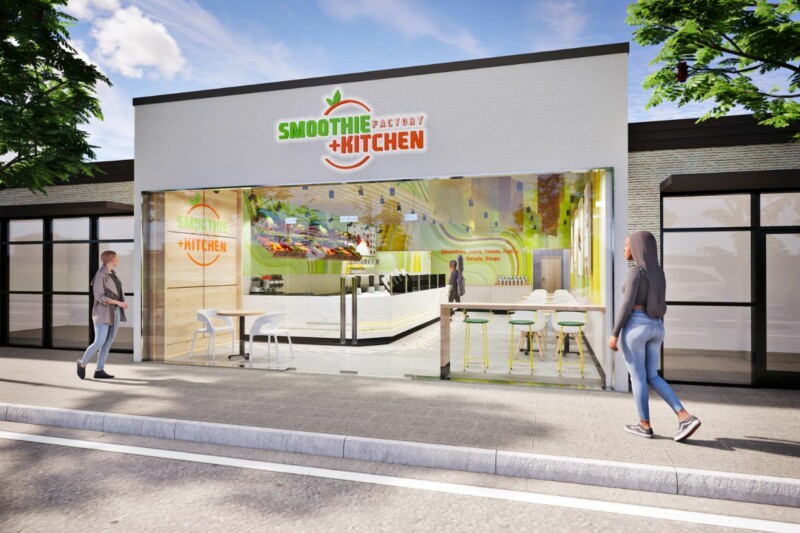 Design Trends
Originally a juice bar concept, the brand will lean on this equipment to offer guests grilled "folds," toast options and salads.