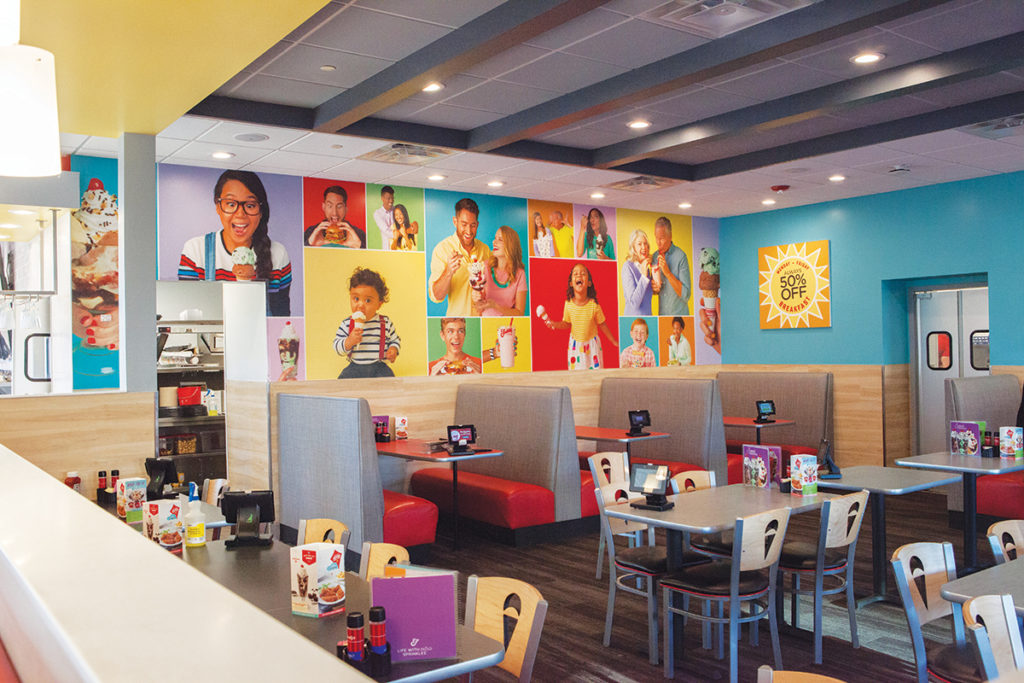 Gray-on-white cone graphics. LED lighting. Settee seating. Online ordering. Friendly's has come a long way from its staid New England origins.
Friendly's new prototype, opened in Marlborough, Mass., marks a great leap forward for the iconic ice-cream-and burger chain that dates back to 1935. The prototype easily handles fullservice dining, drive-thru and carry-out service from its compact kitchen. The Friendly's of the future also features high-efficiency cooking equipment, LED lighting throughout, fiber-cement panels for the exterior build, and an updated interior décor.
The Marlborough store design proved itself out of the gate, "meeting and exceeding sales projections despite being the first business in the new shopping development to open," says David Panella, V.P. of Domestic Development for the Wilbraham, Mass.-based chain. The results were so solid that Friendly's immediately began work on renovating two existing stores with the new cooking platform.
Sundae Travelers
The inspiration behind Friendly's contemporary new direction comes from a most unlikely spot: Boston's Logan Airport, Terminal A.
"People love our burgers and ice cream, but for the airport setting, we needed to be able to serve everything faster," Panella recalls. Designers fitted Friendly's Logan Airport outlet, opened in April 2015, with the speediest cooking equipment available, including a Marshall Air chain broiler and Ovention ovens. The footprint was super-small compared to typical friendly's kitchens.
"Friendly's [back-of-house] standard for many years had been a roomy, mirror-image kitchen with two matching cooklines in order to meet the higher volumes from the larger dining rooms," adds Panella, a 25-year veteran with the company. "Even after we began adding drive-thru windows, the layout was still linear, divided between dine-in and the carry-out window."
The Logan Airport project sparked ideas. "We began thinking about station cooking, with a grill cook, a fry cook and an assembly person. And we started exploring speed-cooking equipment, which led to smaller hood sizes and a 25% less expensive equipment package," Panella says. The addition of a kitchen display order system, which allowed orders to be divided between stations, tied everything together.
Work on the Marlborough prototype started in late '16. The design team included Panella along with Restaurant development Manager John Sypek and Design Project Manager Kyle Tobin from Friendly's, as well as Robert Medeiros from Upland Architects, Norton, Mass.
"The new design needed to be more open, with a brighter, more modern interior and exterior feel," Panella says. "We wanted to appeal to a younger demographic, always on the go, which meant faster in-store service in our traditional sit-down dining area, a new drive-thru experience, and better fountain ice cream service. At the same time, the building itself had to be more energy efficient and easier to keep up with lower maintenance requirements to deliver an improved ROI to our franchise partners."
Friendly's Golden Triangle
The biggest piece of the puzzle was how the compact kitchen and fountain area could each serve three directions at once. The solution was a "service core consisting of kitchen, fountain and drive-thru," Panella says. "We designed a triangle of efficiency and built the building around it."
First challenge: a friendlier fountain area capable of supporting the three service areas. "In the past, ice cream would be separate from the rail. Workers would scoop, then turn around to add toppings," Panella explains. The Marlborough prototype puts the fountain on full display at the entrance. "Our new Randell cabinets have a landing spot for scooped ice cream, so workers never have to turn around."
Facing front are twin ice cream cabinets—one dedicated to dine-in customers, one for walk-ups and drive-thru customers. The shared back line—where employees make Fribbles, Friendly's signature milkshakes—comes equipped with mixers, additional ice cream storage and bar sinks. "Now that it's all in one spot, workers rarely turn their backs on guests and speed of service for ice cream is way up," Panella says. Next, the kitchen. Designers organized the layout so product flows to the right, then a left turn into a pass-thru window for the server pick-up or a right turn toward the drive-thru area.
The team settled on four pieces of high-efficiency cooking equipment: a Taylor clamshell griddle, Proluxe panini presses, Henny Penny fryer and a Marshall Air fry warmer. The more efficient equipment meant the griddle could shrink to 3 ft. Compared with the 8 ft. Expanse of older stores. Overall, the new kitchen covers 235 sq. ft. Compared with 295 sq. ft. Of the previous prototype.
The cooking equipment has collectively slashed ticket times. Panella shares details for each:
• Clamshell griddle: "They've revolutionized our protein cooking. Production is 40% to 60% faster, which enables us to reduce the size of flat tops and hoods," Panella says. "Bacon takes about 30 seconds on the clamshell, vs. three minutes on the griddle. Burgers cook in 50 seconds, vs. up to five minutes on the griddle. Chicken cooks in under two minutes, vs. more than five minutes. There's no need to cook anything in advance."
• Panini presses: "They've freed up griddle space, reduced cook times for hot sandwiches and melts by about half, and have increased consistency," Panella says. "The presses improve quality because you're not grilling chicken one minute then a panini the next minute—there's no flavor crossover."
• High-efficiency fryers: "We changed from traditional two-well units to three-well fryers with an automated filtration system. One of the three wells can be filtering while the other two continue to operate," Panella says. "There's no downtime and the filtration cycles are based on the number of product drops. Our overall oil quality and oil life have improved, and oil costs are considerably lower."
• Fry dump: "The unit heats fried product from above and below, enabling us to serve better quality product at just-cooked temps," Panella says.
"Our enhanced equipment package costs 25% less than the previous package," Panella says. "And the tighter layout means workers save on steps. In slow periods, they also can share labor between stations—the drive-thru person can slide over and take an ice cream order and vice versa."
Not Plain Vanilla
The front-of-house and building envelope also earned a makeover.
The FOH's new décor, called Summit, echoes the ice cream array with reds, yellows and turquoise accents. High ceilings and natural light give the interior a warm, inviting look. Chair backs have cut-outs in the shape of the cone graphic as a handle.
The décor includes some cool, cost-saving tweaks to floor and wall coverings. Carpeting plank tiles made by Milliken cover the dining room floor. "We've used carpet tiles before but the plank look works better for our new design," Panella says. As with carpet tiles, managers can replace the planks as needed in high-traffic areas or if one gets damaged.
Designers did the wall coverings in wood-look vinyl as a half-wall around the perimeter. "Vinyl gives us cleanability and durability without the scratching or staining that wood suffers," says Panella, himself a veteran of many childimposed FOH clean-ups.
Lighting, inside and out, is all LED, done in partnership with Capitol Light. "The food production areas use flat-panel LEDs—they're easy to clean, there are no bulbs to change, they're brighter," Panella says. "But most of all, they're strong. You can jab them with a mop handle and they don't break. That's what sold us."
The FOH also relies on LEDs for ceiling-mounted pendants as well as emergency and exit lighting. "Our biggest improvement, however, was our exterior," Panella says. "We added LED lights under the eaves so light washes down to illuminate the building at night."
The company plans to retrofit existing restaurants with LED. "The payback in energy savings is about two to three years," Panella says.
SPECS
MENU/SEGMENT: Family dining w/drive-thru
HEADQUARTERS: Wilbraham, Mass.
FOUNDED: 1935 by the Blake brothers
NUMBER OF UNITS: 214 (109 company, 105 franchise) restaurants in 13 states
SIZE: 3,272 sq. ft.
SEATING: 130 seats
FF&E PACKAGE: $245,000 (FF&E package includes foodservice equipment, hood, walk-ins, booths, furniture, millwork, carpet artwork, lighting, POS, music, soda, signage, digital menu board and drive-thru canopy/height bar/menu board)
2019 PLANS: Currently working on new sites for the future development of this drive-thru prototype building
ARCHITECT: Upland Architects, Norton, Mass.
WEB: friendlys.com
EQUIPMENT
Cookline
Hoshizaki sandwich prep table, refrig. worktop, refrig., freezer
Eagle Group work tables, passthru shelf
Star/Middleby conveyor toaster
ACP/Ali Group microwave oven
Marshall Air holding cabinet, French fries warmer
Proluxe panini press
Advance Tabco work tables
CaptiveAire grill exhaust hood
Silver King/Marmon condiment rail
Henny Penny fryers
Continental refrig. base
Vulcan/ITW FEG griddle
Taylor/Middleby clamshell grill
FOH
Hoshizaki u/c refrig.
Server food warmers
Randell/Unified Brands ice cream fountain
Advance Tabco blender station, work table
Vitamix bar blenders
C. Nelson ice cream dipping cabinet
Hamilton Beach drink mixer
BUNN coffee brewer
BOH/Drive-Thru Window
Hoshizaki refrig., ice machine, ice bin, water filtration system
Premier glass rack
American Panel walk-in cooler/ freezer/dry storage
Eliason swing doors
Eagle, a broadline manufacturer of commercial foodservice equipment, is pleased to sponsor FER's Kitchen Design feature. To learn more about us visit eaglegrp.com.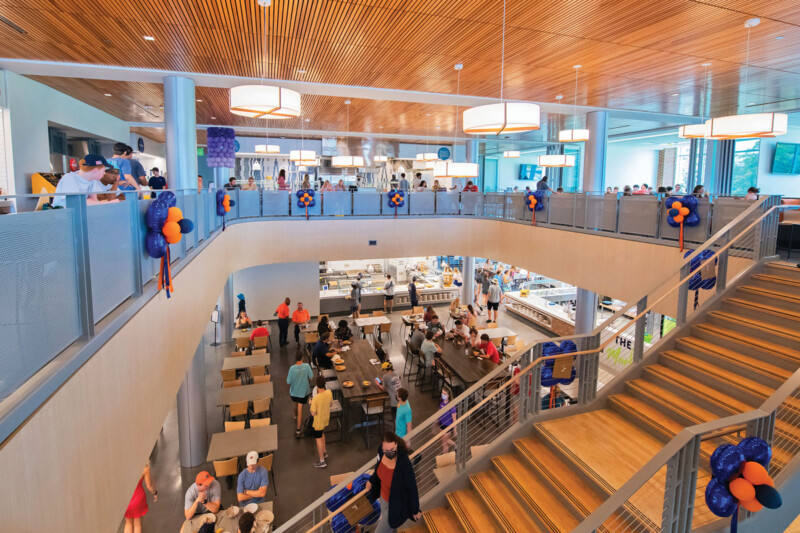 Design
Auburn University's new dining hall boasts an efficient layout with a variety of platforms, featuring a tortilla maker, Mongolian grill and other specialty equipment.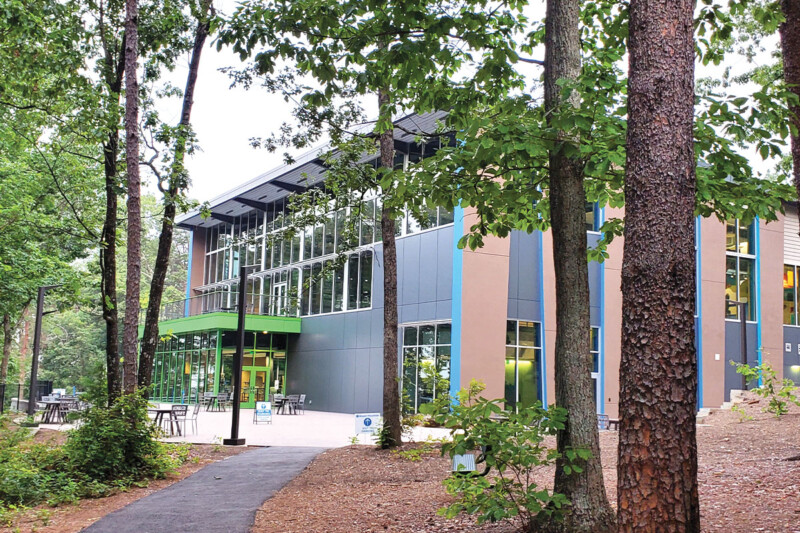 Kitchen Design
A dining facility at the Roper Mountain Science Center, part of Greenville County Schools, delivers freshly made meals to crowds on field trips while preparing students for a foodservice career.