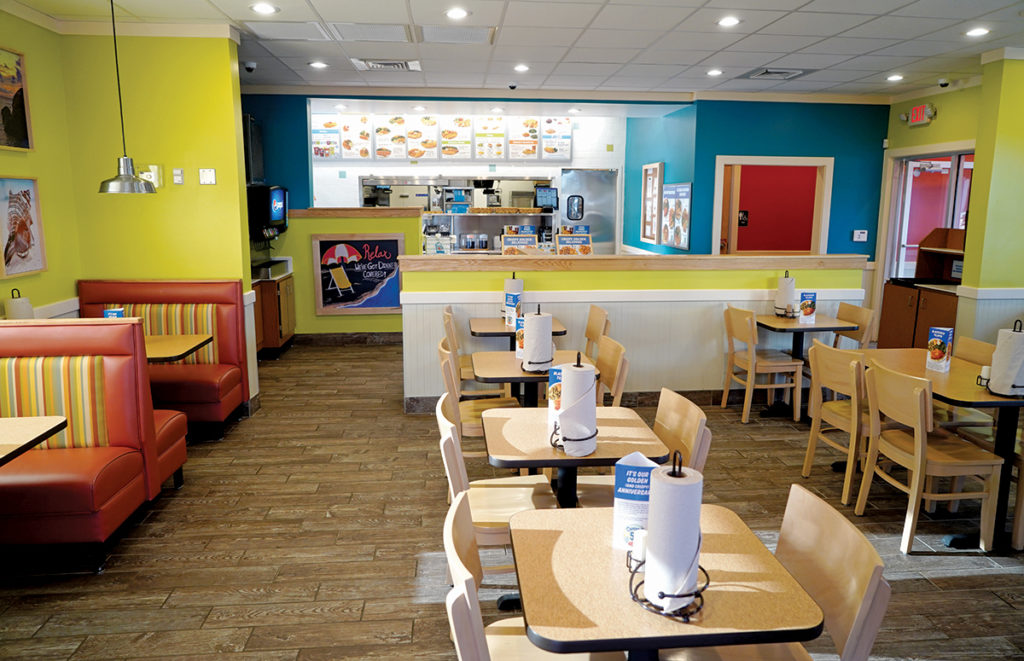 When Captain D's new seafood restaurant opened in December 2018 in New Iberia, La., its table count was down by only one, but its 1,950-sq.-ft. foot- print was nearly 30% smaller than previous 2,800-sq.-ft. prototypes. A dramatic kitchen reduction cut development costs by more than $10,000.
The Nashville, Tenn., seafood chain, which celebrates its 50th anniversary this year, operates more than 530 restaurants in 22 states. Its menu centers around quality seafood, including signature batter-dipped fried fish, grilled seafood, hushpuppies, desserts and southern- style sweet tea.
The emphasis lies on fried items, which are featured throughout the menu.
To the delight of Captain D's execs, the New Iberia restaurant has been a hit from day one.
"We've been delighted to see such outstanding performance and efficiency from our new building," says Captain D's Construction V.P. Larry Jones. "This new prototype is quite the [proverbial] quarter horse. Our new kitchen power plant can sustain any volume level or sprint through any peak period demand. Unit economics are greatly improved through lower building costs and higher employee efficiency. We are excited to build many more."
The company's '19 plans call for 30 new stores—nearly double the 16 restaurants it opened in '18.
The Challenge(s)
To explain the new prototype's evolution, zip back to about three years earlier, when Jones was investigating ways to boost cookline efficiency.
"Our fry cooks had to take too many steps," Jones says. "Commercial fryers are built to standard cabinet dimensions, and the cabinet space is typically filled with built-in filtration. In a typical fryer suite deployment, cold storage has to be on the right or left side of the cookline, or across the aisle. We filter once or twice a day. By contrast, team members open fridge or freezer doors hundreds of times a day, not to mention the number of extra steps they were taking to reach product."
Jones and his team challenged several manufacturers to come up with high-capacity countertop fryers and matching freezer bases. Two manufacturers stepped up: Vulcan and Traulsen. Many months of R&D later, Vulcan had developed a modular, electric countertop fryer that not only used 25% less oil, but tested at 96% efficiency. And Traulsen developed supporting freezer bases in 48-in., 72-in. and 84-in. widths.
Captain D's team retrofitted the new fryers and freezer bases into an existing store, where they proceeded to both "meet and exceed our food quality requirements," Jones says. As a major side bonus, the super-efficient new fryers reduced exhaust needs by more than 300 cfm and overall HVAC needs by 5 tons in the new prototype building.
When considering how equipment innovations could apply to building design, Captain D's Chief Development Officer Brad Reed asked Jones to optimize the building and bring down costs. "Essentially, Brad challenged us to take advantage of our equipment innovation and development to reduce the kitchen footprint without constraining throughput," Jones says. And so, they did.
The Hollywood Influence
"Brad described creating a visual representation of the changes," Jones recalls. "I said, 'Do you mean like that scene from 'The Founder' [the McDonald's creation story starring Michael Keaton], where they draw out the kitchen in chalk on the tennis court? You're kidding, right?'" But that was exactly what Reed had in mind.
"So, we taped a layout of the entire kitchen to the floor in an unused area at our corporate office," Jones recalls. Dykes Foodservice Solutions, which supplies Captain D's equipment and installations, provided exact measurements and helped with the "tape-down." The layout was dimensionally precise "down to wall widths," Jones says. "We used different colors of tape to represent hot and cold equipment, water lines, gas lines, and so on. Our IT team added cardboard cutouts to represent kitchen display monitors."
Interaction ensued. "Any stakeholder who came to the office, including franchisees, company operators, training team members and inter-departmental team members, was invited to engage with the layout," Jones says of the nearly four-month process. "As changes were suggested, we would pull up the tape to move things around, then 'work' with the new layout to see how it felt."
Design Fine-Tuning
The 2D replica led to at least two unexpected design tweaks. "Our menu makes limited use of microwaves, and ideal placement is an endless topic," Jones says. The team agreed that two microwaves would be ideal, but there were three equally desirable locations. "No one could agree, so we provided power outlets for each of the three locations. Now our operators can position the microwaves as they think best—or even purchase a third unit if sales warrant."
Another upgrade involved the hood and timers. "We weren't happy with product-timer cord management—the way the cords had to snake along atop the ventilation hoods to power outlets," Jones recalls. This led to consultations with hood manufacturer Marshall Air. "The result was that Marshall created a bull-nose for the hood face so that timers could be powered from a common source and mounted flush within the hood face. Now we have a clean install, no cords showing anywhere.

"The resulting production platform, with the countertop fryers on freezer bases at the heart, optimizes vertical space, allowing us to 'wrap' the kitchen around the new equipment," Jones says. "The outcome is a comfortable, efficient kitchen in a much smaller space. This ultimately leads to lower construction costs and improved unit economics."
Other upgrades include new finishes that increase wearability and reduce construction time, point-of-use water heaters, larger staging area for carryout and delivery, and a scalable dining room. The standard building has 44 seats, but can grow to accommodate unique market demographics. This can be accomplished without having to purchase a larger lot. The team currently has two new buildings under construction that will feature slightly larger dining rooms.
"Upon reflection, this was a fun and effective approach to innovation," says Jones, who has worked in restaurant design and construction more than 20 years. "Everyone embraces change—until it happens to them, as the saying goes. Successful restaurant operators excel at relentless repetition. Change increases the potential for errors and requires more training while elevating risk."
Jones says the team's process, however, gave everyone a voice and created ownership. When they performed their final walk-through before opening in New Iberia, their punch list was only three items long. "That's unheard of!" Jones says.
SPECS
MENU/SEGMENT: Fast-casual seafood HEADQUARTERS: Nashville, Tenn.
FOUNDED: 1969
NUMBER OF UNITS: 533 restaurants in 22 states SIZE: 1,948 sq. ft.SEATING: 44 seats
FF&E PACKAGE: $275,000
2019 PLANS: 30 planned openings
DEALER: Dykes Foodservice Solutions, Huntsville, Ala. WEB: captainds.com
---
EQUIPMENT
Vulcan/ITW FEG countertop electric fryers Groen/Unified Brands steamers
Traulsen/ITW FEG refrig. equipment stands
Turbo Air dual-temp reach-in, u/c refrig., refrig. sandwich prep table, microwave
Marshall Air conveyor broiler, exhaust hoods w/integratedproduct timers, hot holding cabinets, assembly table Kitchen Brains product timers
Lancer beverage dispensers
Ice-O-Matic/Ali Group ice makers
Metro/Ali Group shelving, dunnage racks Advance Tabco sinks, shelving, 3-comp. sink Commercial Laminations furniture
Falcon Fabricators work tables
T&S Brass faucets, pre-rinse unit
MEIKO u/c dishmachine
Polar King walk-in cooler/freezer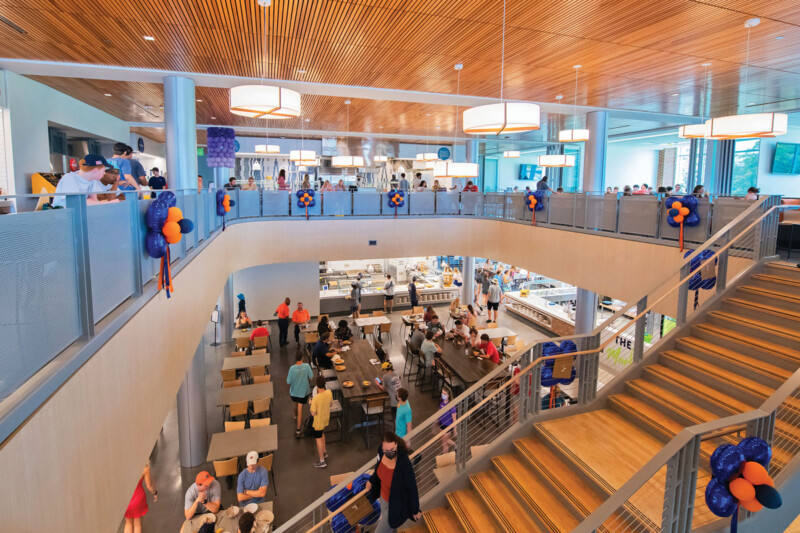 Design
Auburn University's new dining hall boasts an efficient layout with a variety of platforms, featuring a tortilla maker, Mongolian grill and other specialty equipment.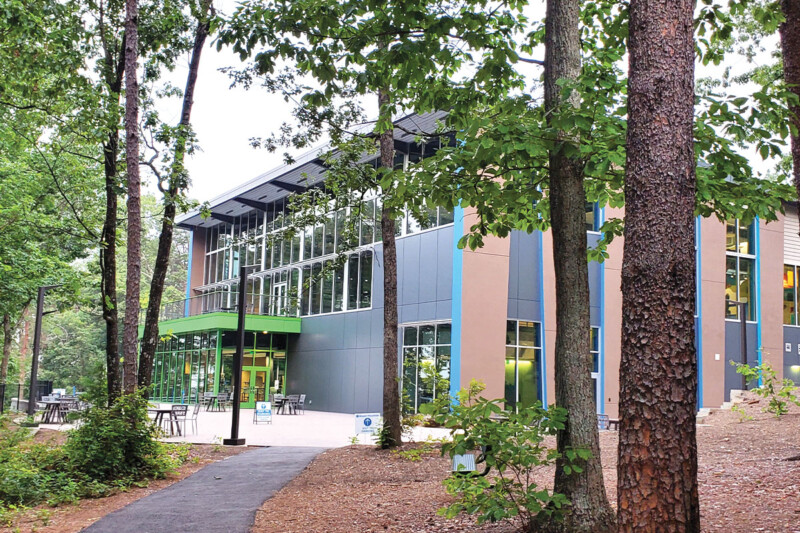 Kitchen Design
A dining facility at the Roper Mountain Science Center, part of Greenville County Schools, delivers freshly made meals to crowds on field trips while preparing students for a foodservice career.