USDA Loosens Labor Rules For Smaller School Districts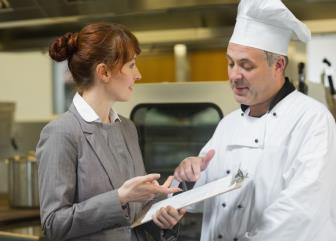 The U.S. Department of Agriculture is giving smaller school districts more flexibility in hiring qualified foodservice directors by changing experience requirements and other rules.
The changes were announced by Agriculture Secretary Sonny Perdue during the School Nutrition Association's Legislation Action Conference last month. He noted that an individual working in a restaurant "may be an expert in putting together nutritious meals that kids may enjoy even if they have not worked in a school cafeteria before. But the previous rules said this experience was not relevant and a district could not hire that person. To me, that just did not make sense. Urban and suburban school districts have lots of highly credentialed people competing for these jobs but unfortunately, in our rural areas and smaller towns don't have a large pool of credentialed candidates."
The USDA rule changes have gone into effect, and can be found here. They include:
For districts with 2,499 students or fewer, new directors now must only have relevant foodservice experience rather than school nutrition program experience.
State agencies now have the discretion to consider documented volunteer or unpaid work as relevant experience for new school nutrition program directors in these small districts.
State agencies now have the discretion to accept less than the required years of foodservice experience for a new director applicant at a school with fewer than 500 students if the applicant has the minimum required education.
Applicants for state directors of school nutrition programs can now be considered if they have a bachelor's or advanced degree in specific field.