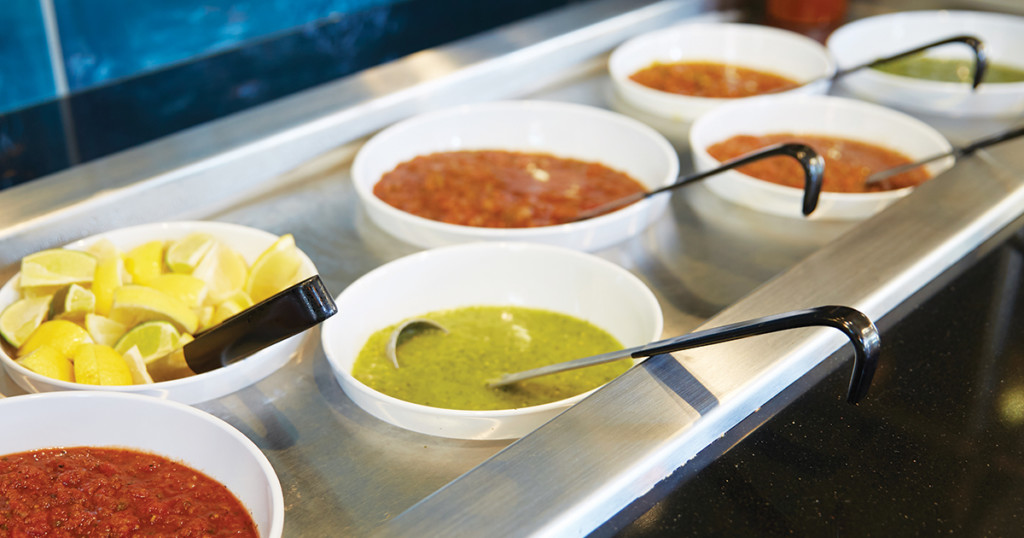 In a time where many multiunit chains are shrinking kitchens, Moe's has gone in the opposite direction. Its prototype and test restaurant, The Oasis, which opened November 2018 in Kennesaw, Ga., features a display kitchen that's about 14% larger than the display kitchen of the previous prototype. In addition, the prototype sports a second makeline dedicated to carryout and online orders, a double-wide queue line and fewer seats. That, plus an expanded self-serve chips-and-salsa bar and a colorful interior design package, dubbed "Untamed Southwest," aim to capture the attention of Moe's guests and franchisees alike.
In the early months of operation, the Kennesaw prototype is holding its own. "We are pleased with the results we've seen so far from the prototype," says Sunny Ashman, Moe's Director of Strategic Initiatives. "We are continuing to test several elements from an operations, design and menu perspective and after evaluating, will make any additional changes based on results."
The Atlanta-based fast-casual chain, a division of Focus Brands, plans to add about 10 to 15 of the Oasis prototype restaurants to its 720-plus units this year. It will remodel about 25 existing Moe's restaurants in the same time period. (Its remodeled Sandy Springs, Ga., store is pictured throughout this story along with the Kennesaw prototype.)
The path to Moe's Oasis prototype started with in-depth conversations and suggestions from customer focus group studies conducted in '17. Focus group feedback became the launching point to establishing design goals. These included, Ashman says, "a new emphasis on our middle name—'Southwest'—plus heightened convenience for guests, a visual emphasis on our menu's freshness, and improved throughput and kitchen efficiency, especially regarding online orders."
Moe's design team included Ashman as project lead, Lauren Taliaferro, Director of Design, and Karen Bustios, Director of Operations. The Moe's team worked with Sterling-Rice Group, Boulder, Colo., to develop a marketing direction, and GPD Group, Atlanta, for architectural plans.