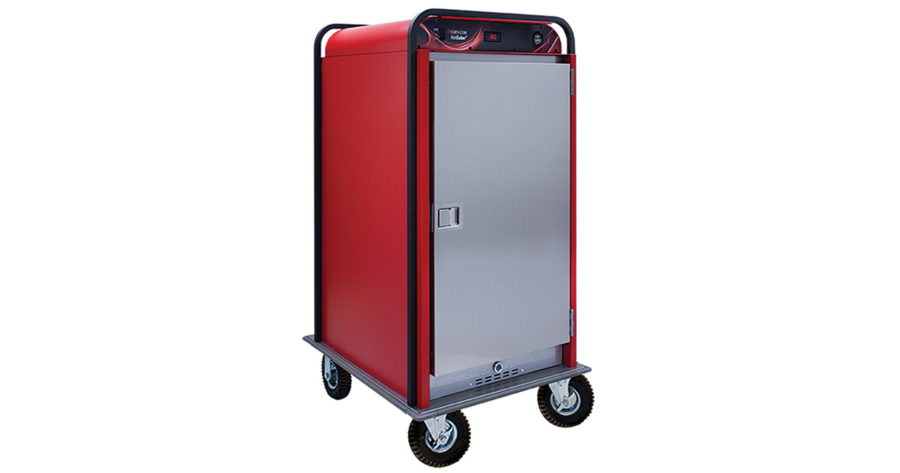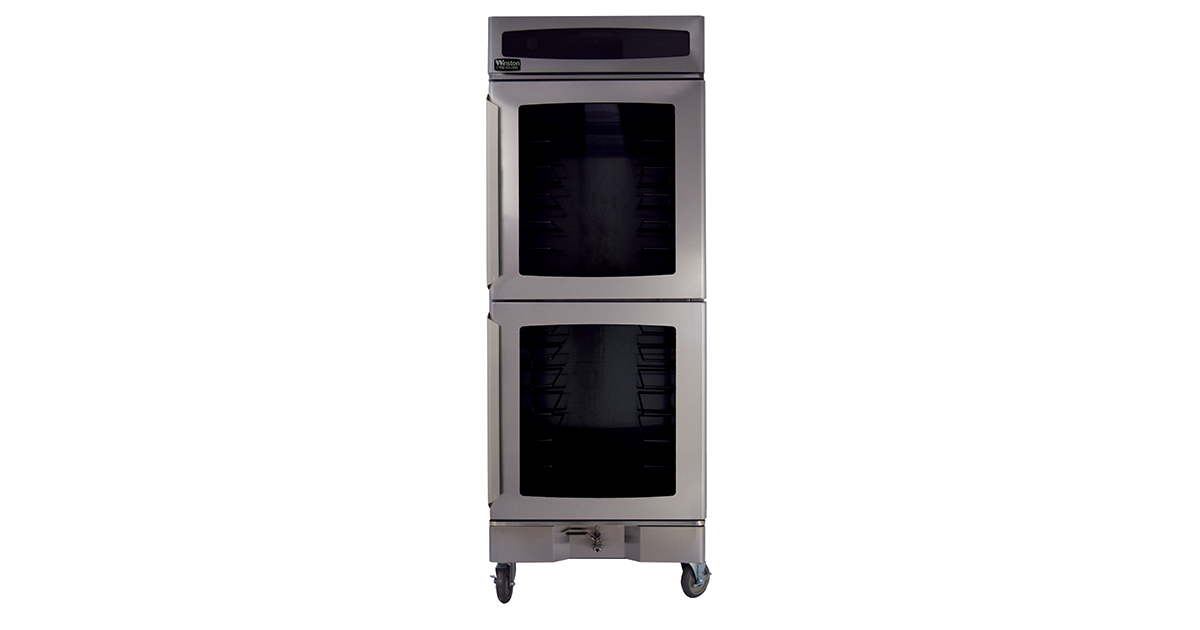 WINSTON HOV5 SERIES
Winston's CVap technology enables operators to control how crispy or soft foods stay. Units use C-Touch control with processor to control calibration-free thermistors to adjust evaporator and air temperatures in 1°F increments. Other highlights include a minimum of eight programmable channels, USB port to download data for HACCP compliance and a convection fan. Models in the series hold 4, 5 or 14 18-in. x 26-in. pans. Cabinets come standard as back-of-house models.
---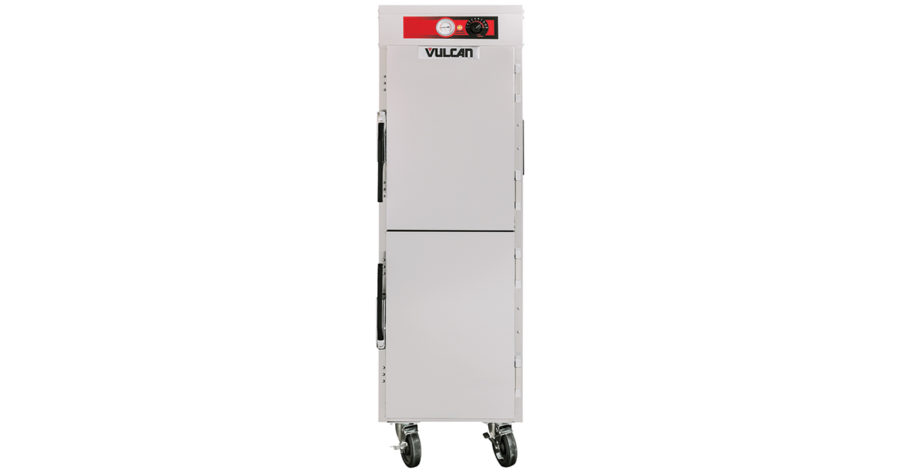 VULCAN VHP SERIES
Vulcan Holding & Transport cabinets keep foods hot from cooking to serving. Features include energy-efficient cabinet design for quicker preheating and recovery times; a blower motor for gentle, even heat; rugged tubular steel frames; recessed side-mounted lift handles and narrow footprints to take up less space. The VHP7 holds 7 12-in. x 20-in. pans while the VHP15 holds 15.
---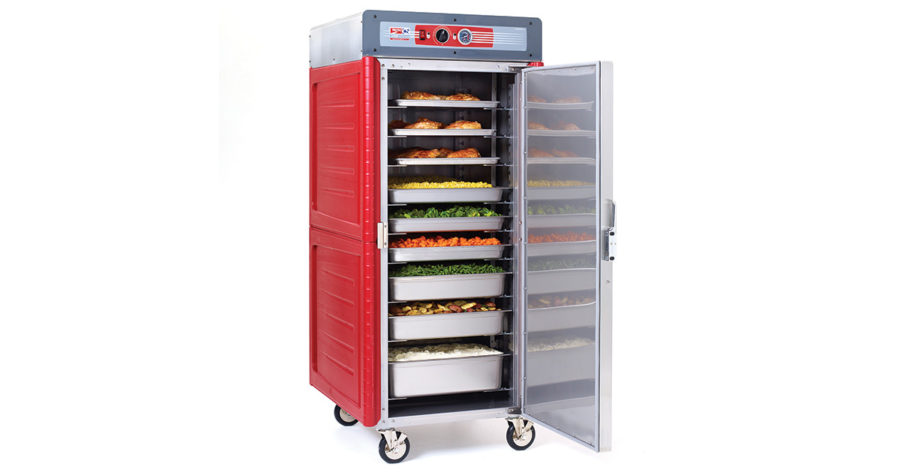 METRO C5 4 SERIES WITH INSULATION ARMOUR PLUS
This transport cabinet sports a polyurethane foamed-in-place polymer exterior on a stainless interior to eliminate a potentially costly layer of sheet metal and to give this cabinet an Energy Star rating. The polymer exterior provides built-in handles for improved maneuverability and full body protection. Top-mounted controls thermostatically regulate forced convection hot air for improved temperature consistency. Heat is channeled to the bottom of the cabinet, allowing it to rise naturally without it blowing directly over the food. Capacity ranges from five to 17 18-in. x 26-in. pans.
---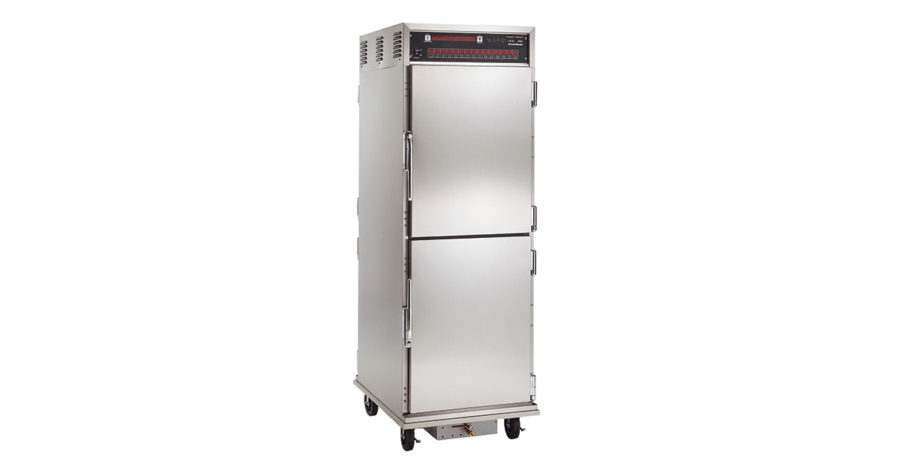 HENNY PENNY SMARTHOLD 990 SERIES
Henny Penny's SmartHold 990 Series comes with automatic humidity control. Choose levels in 1% increments from 10%-90% relative humidity. The precise humidity control results in longer holding times, which enables operators to cook in larger quantities during off-peak hours while maintaining food quality. Multiple countdown timers let operators program shelves separately. The full-size model holds up to 15 18-in. x 26-in. pans while the stacked unit holds 10 pans and the half-size cabinet holds 5. Use this series in the back-of-house.
---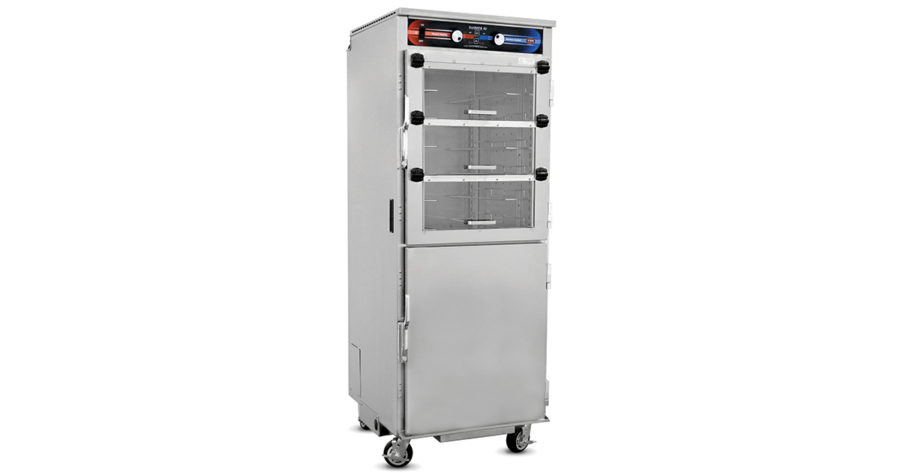 FWE PHTT SERIES PHTT
Series humidity and temperature control cabinets feature a push-pull air distribution system to provide uniform heat and moisture on every level. The system heats and recovers quickly for peak performance during meal service. Color-coded controls let you set relative humidity from 0%-90% and temperature from 90ºF-200ºF, and include a low-water and temperature alarm. Removable water pan makes cleaning easy. Series includes a range of capacities, from 4 to 12 18-in. x 26-in. pans. These cabinets are designed primarily for back-of-house but caterers do use them off-site so, they strap in and travel well.
---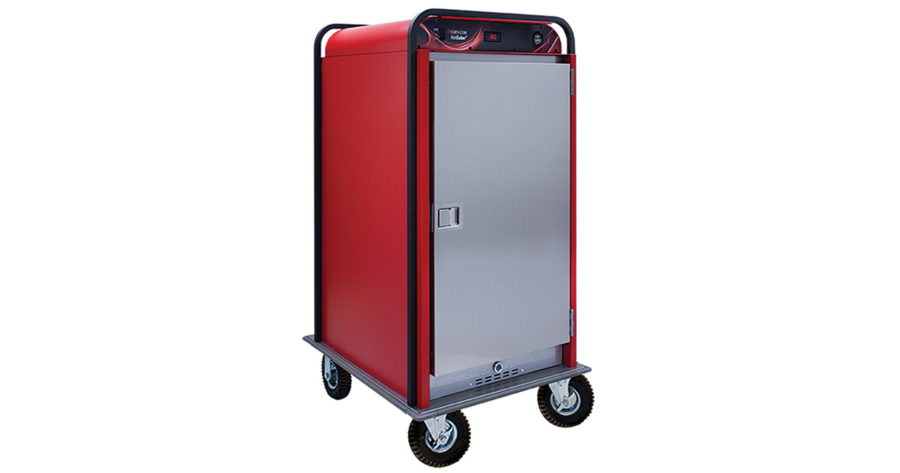 CRES COR HOT CUBE 3 INDOOR/OUTDOOR HOT CABINET
This ¾-size hot cabinet switches easily from a standard 120V outlet for indoor use to an 8,000-Btu 1-lb. propane tank for outdoors. The insulated cabinet and 1-lb. propane tank provide up to eight hours of unplugged hold time at up to 200ºF. An extra built-in tank receptacle carries a spare tank; increase the tank size to 20 lb. with an optional adapter set. HC-UA-11 accommodates 11 18-in. x 26-in. pans, and 8-in. casters with never-flat foam-filled wheels provide easy mobility.
---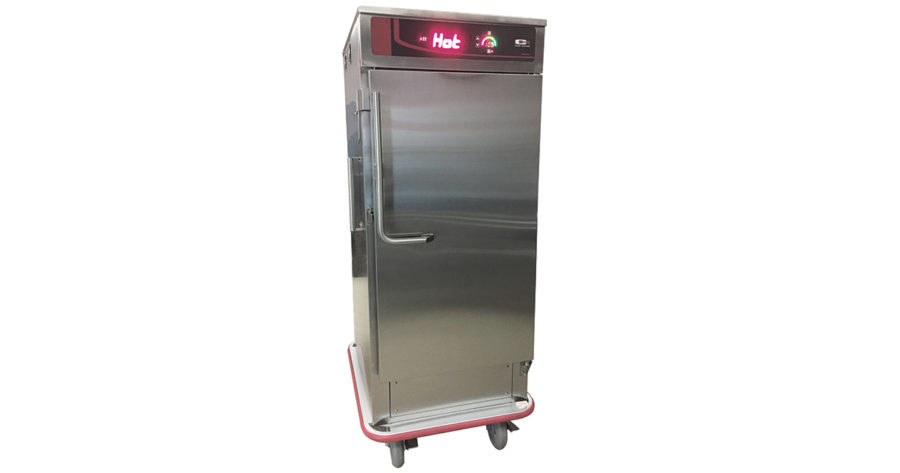 CARTER-HOFFMANN GRIDLESS HEATED TRANSPORT CART
The Gridless Heated Transport Cart operates for four to six hours, unplugged. When unplugged, two onboard batteries operate the heating element, fan and controls, so the cabinet stays just as warm as it would when plugged in. It features all stainless construction, heavy-duty balloon casters, ergonomic tubular handles, ramping roller latch and transport latch and a full wrap-around bumper. Temperature ranges from 160ºF-200ºF; eight-hour charge time. GTH7 holds 7 18-in. x 26-in. pans while GTH12 holds 12.
---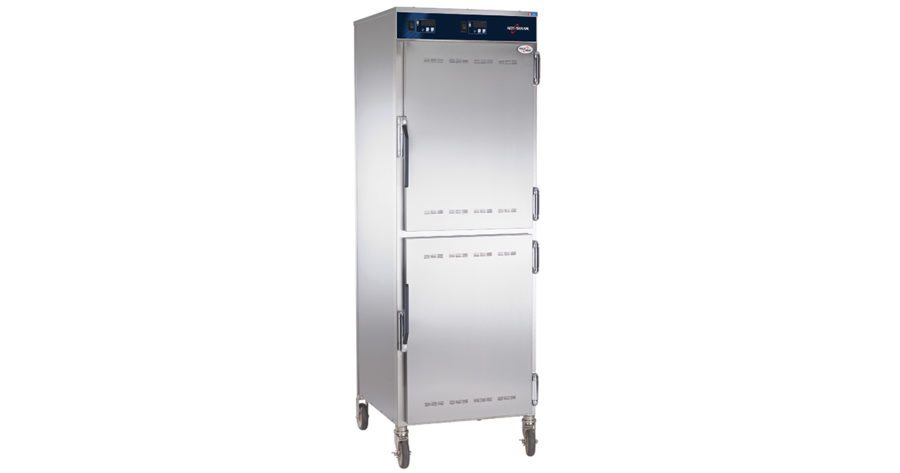 ALTO-SHAAM 1200-UP
With two individually-controlled units, the 1200-UP transport cabinet helps operators hold more with less effort while reducing footprint in the kitchen. Halo Heat technology provides a controlled, uniform heat source that maintains precise temperatures throughout the holding process without harsh heating elements, added humidity or fans. Precision controls and SureTemp technology ensure that food is held at exactly the right temperature until service. Each compartment holds 16 18-in. x 26-in. pans maximum.
---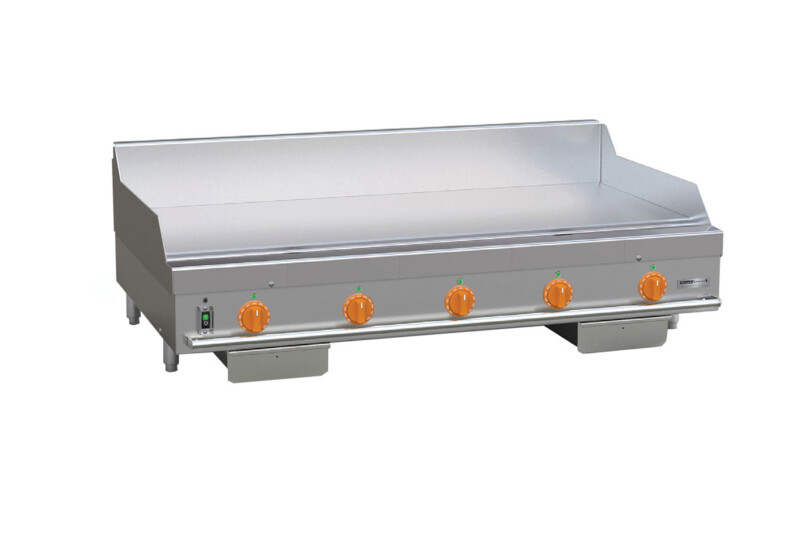 Cooking Equipment
Planchas, though convincing clones of their better-known sister product the griddle, quickly set themselves apart.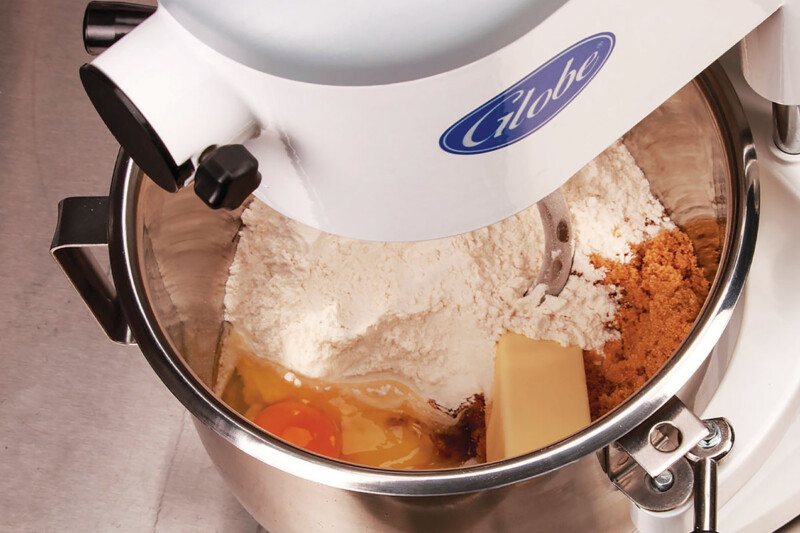 Equipment
The countertop mixer is the Swiss Army knife of the kitchen—small but mighty, with the power to perform various functions.