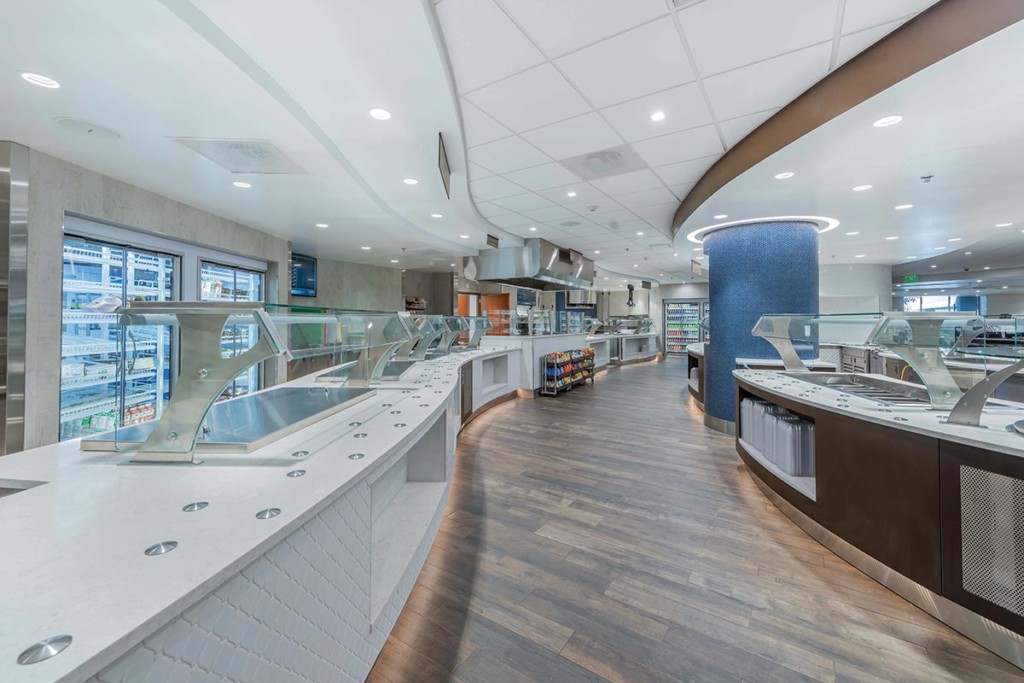 Porter Adventist Hospital in Denver resides in a building first constructed in 1930 and later expanded. While dining inside the hospital's cafe, though—with its undulating white counters mirrored by curving soffi ts and round columns—you wouldn't have any inkling that much of the building was approaching 90 years old.
The new cafe's $9.6 million makeover was part of a larger, hospital-wide $30 million renovation that kicked off with the design phase in 2016 and wrapped up construction in 2018. "We were just growing out of our current cafe, and we were due for a bigger space," Foodservice Manager Celina Nicholson says. "Our grill station in the old cafe was always slammed, and there was not a lot of space for people to walk around. Sometimes you'd walk into the cafe in the middle of lunch and you couldn't even move."
Operations also were disjointed, with the kitchen on the ground floor and two dining spaces—a full-service cafe and agrab-and-go bistro—across the hall from one another a floor above.
This meant foodservice employees prepared the cafe's full menu in the downstairs kitchen and sent items upstairs via a dumbwaiter that was known to malfunction, holding food hostage inside while staff waited for maintenance to arrive. "We would have to either make more food, or take whatever food they still had [prepared in the kitchen] and put it on a cart, take it up the elevator and around the long way to get it to the cafe," Nicholson says.
A modern and clever design by Systems Design Int'l. not only gave the 5,150-sq.-ft. cafe an additional, dedicated 4,000-sq.-ft. kitchen on the same floor, but it also incorporated $1.8 million in new equipment that has increased cooking efficiency substantially.