Notes on Selecting Food Waste Disposers
Foodservice operators have a couple ways of getting rid of food waste: send it out the back door or down the drain. Food waste disposers are the simplest, most common way to prepare food waste for its trip down the drain. They're more sanitary and convenient than trash cans; they also reduce facilities' hauling fees. Some areas even require them.
In the market for a food waste disposer? You'll find manufacturers have made several recent advancements in the equipment category. Newer models include sensors that detect when an employee steps away, reducing water flow and turning the machine off automatically if the user doesn't return. Other available technology senses the load of the disposer and regulates the amount of water necessary for grinding, leading to water and energy savings.
When researching models, study horsepower, controls, construction and measurements. Following best practices after installing the unit will ensure you make the most of the investment.
PRO TIP:
It's better to oversize than undersize a food waste disposer.
Horsepower and Controls
How much and what type of food waste your facility processes will determine the right amount of horsepower for a disposer. Many restaurants use a 2-hp or 3-hp machine, says Monica Thesing, senior equipment specialist with foodservice design and consulting firm Rippe Associates in Minneapolis. A small cafe with little waste may specify a 1-hp motor. A high-volume foodservice operation, such as a casino buffet or stadium, could choose anywhere from a 3-hp disposer if it mainly handles fruit up to a 10-hp model for processing meats and seafood.
High horsepower is not the only solution for handling a large volume of food waste. Having multiple disposers in separate locations also works well, and may provide added convenience for employees as well. Install one unit in the dishroom and another in the food prep area, for example.
Asked about the advantages of automatic versus manual controls, Thesing says, "It really depends on the application. Manual controls with staff training work fine in low-to medium-volume operations. In high-volume operations, automatic controls assist with the units keeping debris continually running through the disposer."
Choosing whether to specify automatic or manual controls may come down to price. Manual controls are less expensive and, if used properly (that is, turned off every time the machine is not in use), can save water—although some disposers with manual controls have sensors or automatic water-saving features. Automatic controls offer convenience and often include the option of reversing the direction of the grinders, which doubles the life span of the cutting teeth.
Be sure to specify disposer systems with a time-delay relay, Thesing says. This feature allows a post flush of the waste line after the disposer stops. Post flush helps prevent drain blockages that result in service calls. It's particularly important with long horizontal pipes or pipes with many bends.
Match Horsepower to Application
Limited-Service, Fast-Casual Restaurants: 1 hp – 3 hp
Full-Service Restaurants: 2 hp – 5 hp
Buffets, Cafeterias: 3 hp – 10 hp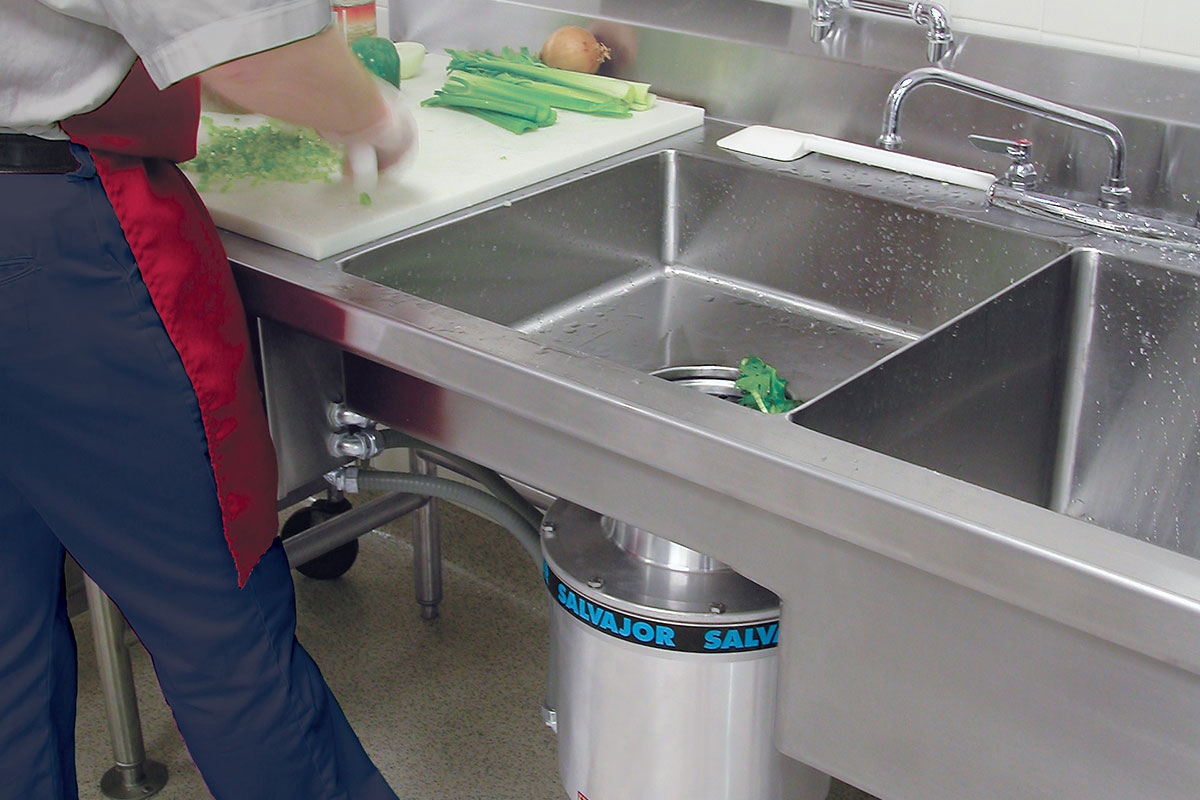 Notes on Construction
Find a disposer comprised of materials that are corrosion resistant and easy to clean. An accessory to consider is a magnetic silverware saver, which can help ward off costly repairs. One manufacturer notes that a removable baffle (the rubber guard that covers the mouth of the disposer) can help with maintenance, as it's easy to clean.
If you're worried about whether a disposer will fit under your sink, simply check and recheck measurements, especially height. But as long as you have the height correct, manufacturers offer a range of attachments to help with making all the necessary connections from disposer to sink.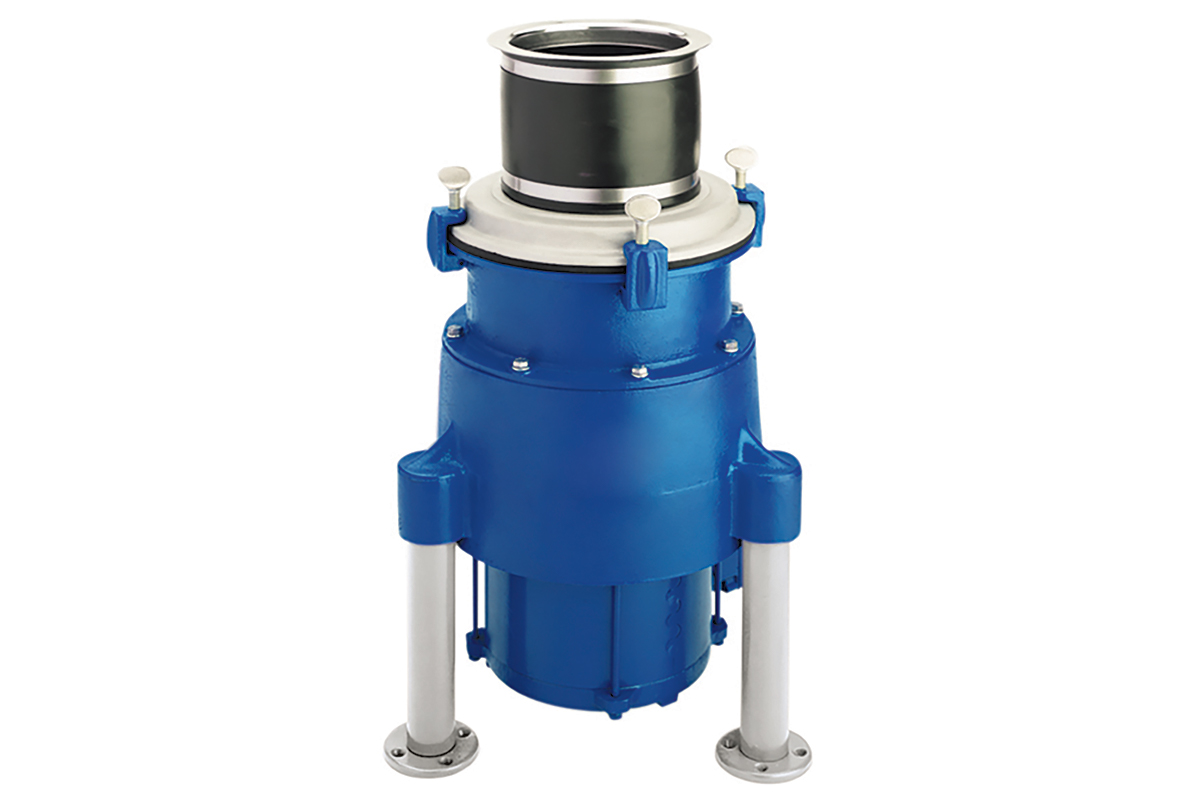 Maintaining Disposers
Once installed, some common-sense practices will ensure the disposer performs well on a daily basis. Train employees to never let it run dry. Start by running cold water, then turn on the machine and begin pushing scraps (food waste only) into the opening. Make sure employees or the after-hours crew don't aim a hose at the disposer or its control box as water can damage the electronics.
Periodically, check that the baffle is fully seated and in good shape. Look for cuts and holes in the connector sleeve that attaches the unit to the sink and make sure it doesn't need replacing. Ensure tight connections, especially the drain coupling that connects the disposer to the drain. Look under the disposer for leaks or excessive noise or vibration; call a service company if you notice either.
PRO TIP:
Disposers with dual-direction grinding can double cutting-teeth life.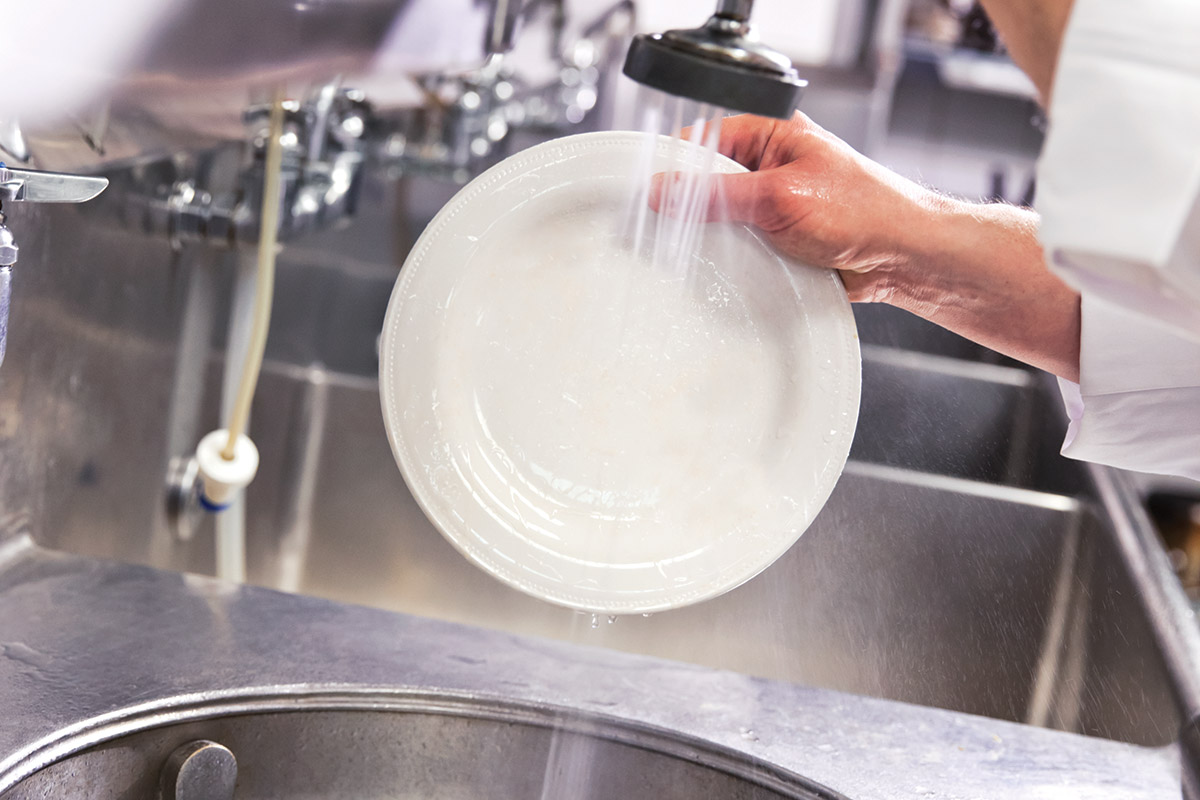 ---
Disposer Gallery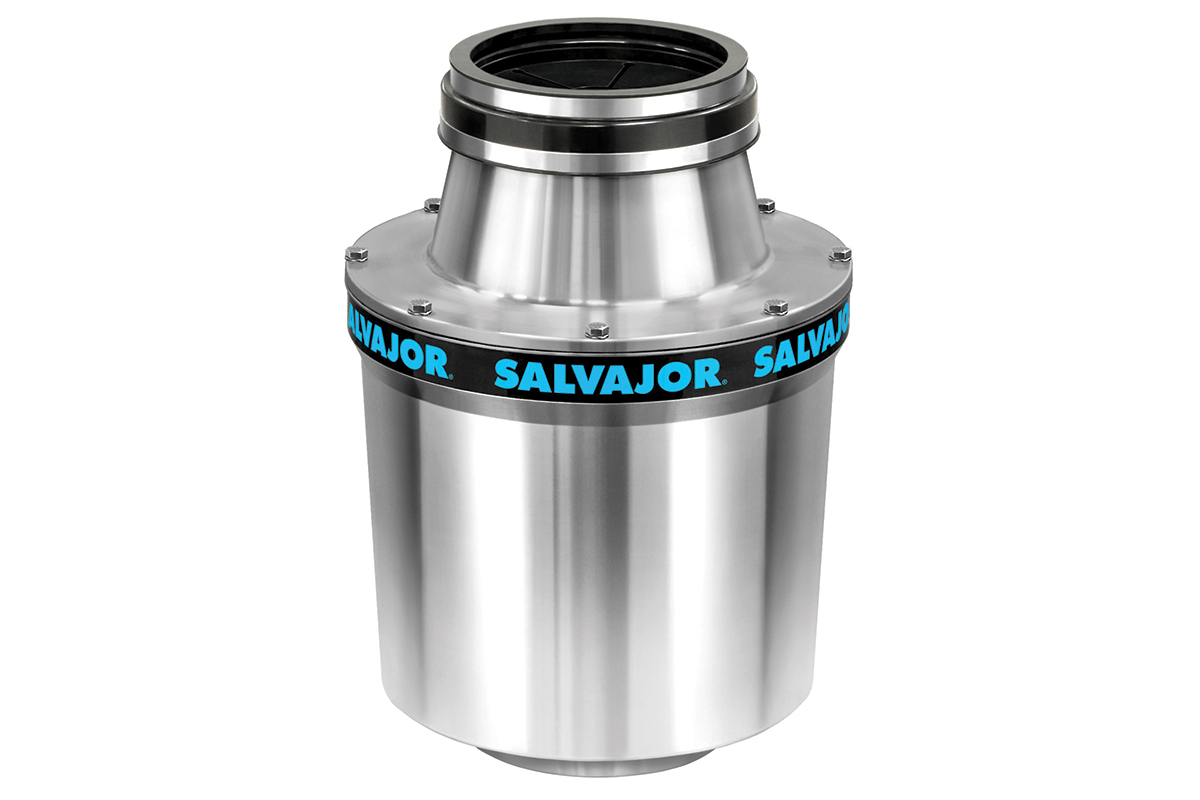 SALVAJOR 500
The exterior housing of the 5-hp Salvajor 500 food waste disposer is molded from a heat-treated, corrosion-resistant aluminum alloy. The motor is totally enclosed and is fan- and water-cooled for efficiency and longer life. A rubber adaptor above the grind chamber and rubber drain outlet isolates sound and eliminates vibration. Like all Salvajor disposers, it offers dual-direction grinding. Purchasers may add operator sensor technology to this machine as an option.
---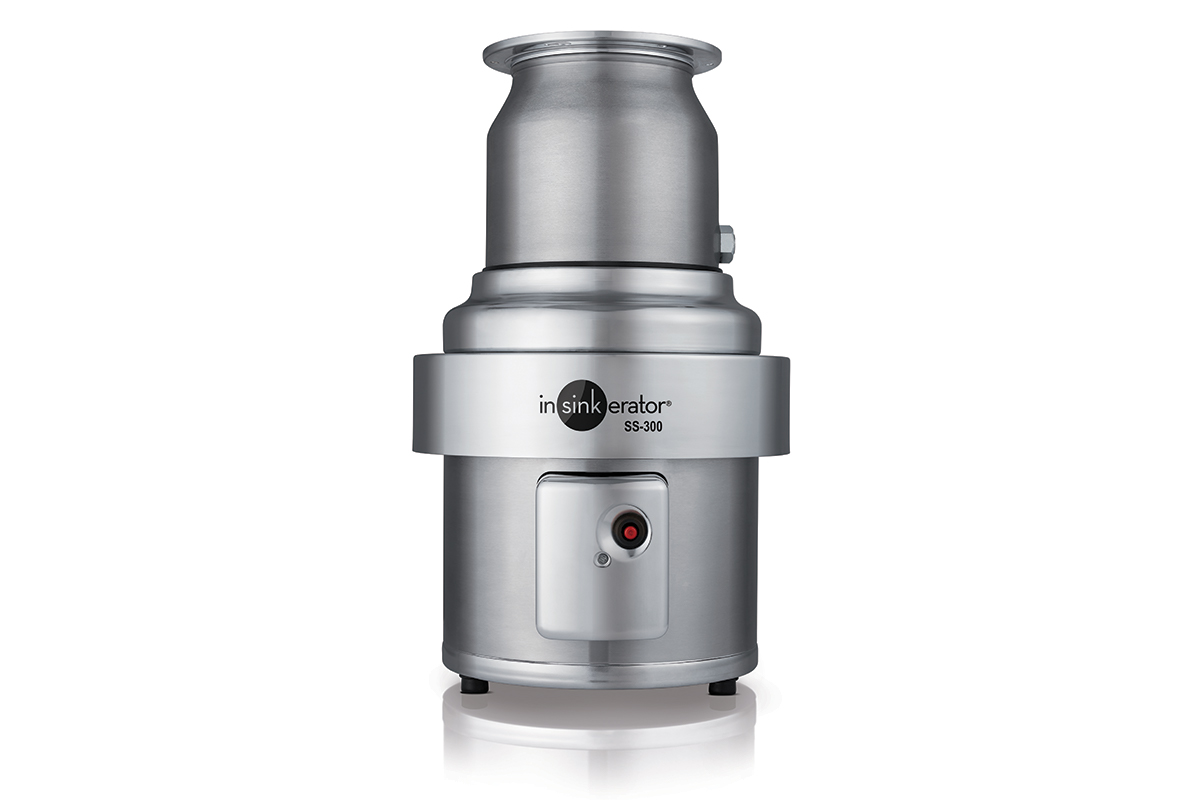 INSINKERATOR SS-300
The InSinkErator SS-300 can handle anything from low volumes of heavy foods (majority meat and seafood) to high volumes of light to medium foods (fruit, vegetables or a 50/50 mixture). It's stainless with a chrome-plated finish and has a corrosion-resistant grind chamber. The air-cooled motor measures 3 hp. Collar adaptors are available for mounting the device, and the bowl assembly comes in three sizes. AquaSaver controls also are available, as are choices of automatic or manual controls.
---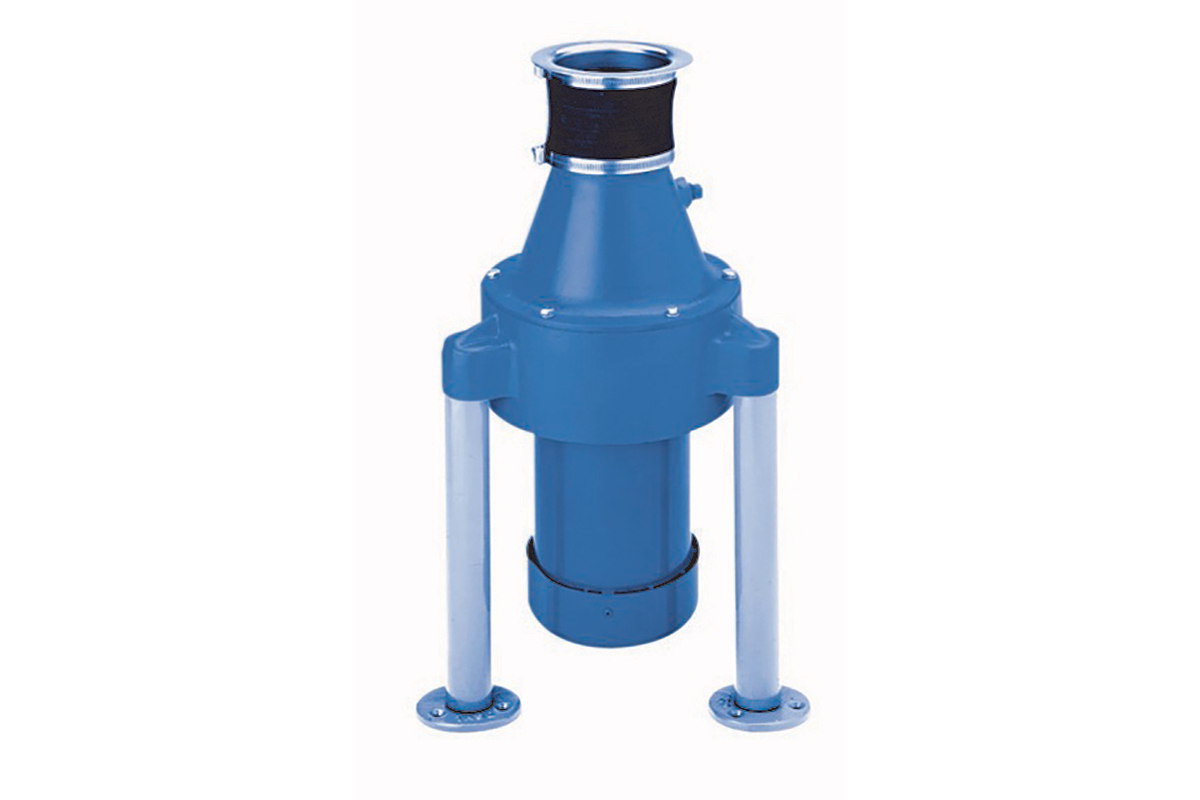 INSINGER SERIES N
Insinger's Series N food waste disposer comes standard with a 2-hp motor with the option of upgrading to a 3-hp motor for heavier-duty work. The 2-hp motor works well where food waste volume is light such as a small restaurant or snack bar. The stainless cone or sink attachment includes a vinyl silver trap ring (which keeps silverware from falling into the grinder), solenoid valve (which controls the flow of liquid) and vacuum breaker (also known as a backflow preventer, this keeps liquid from flowing back into the disposer).
---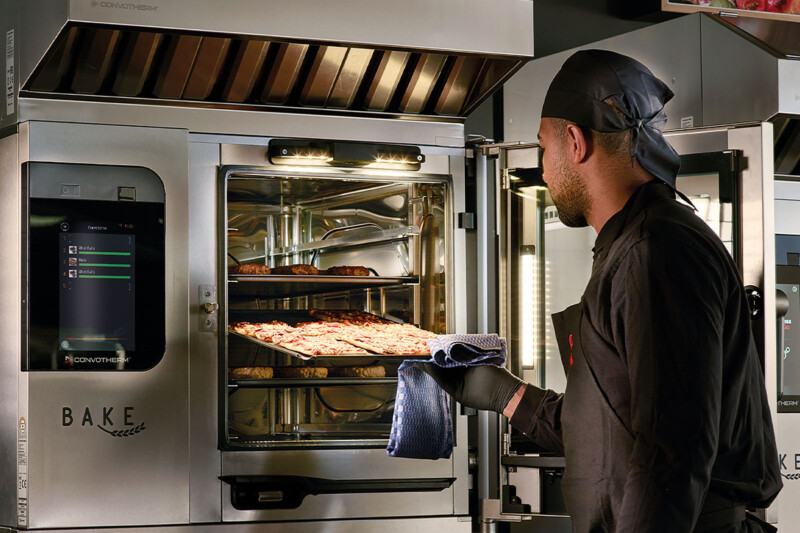 Combi Ovens
Today's combi ovens are smarter and more energy efficient, reducing the need for skilled labor and cutting utility costs.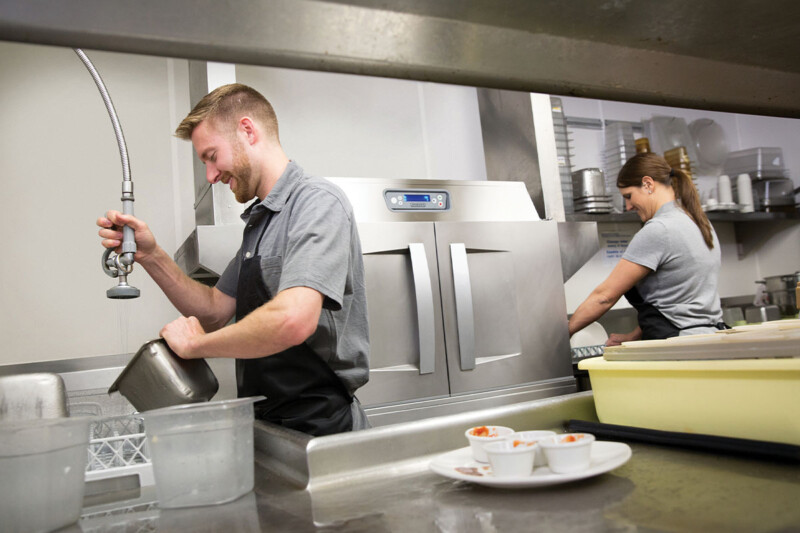 Equipment Comparisons
Forget steamy dishrooms; some of the newest rack conveyors improve environmental comfort and reduce overhead costs.