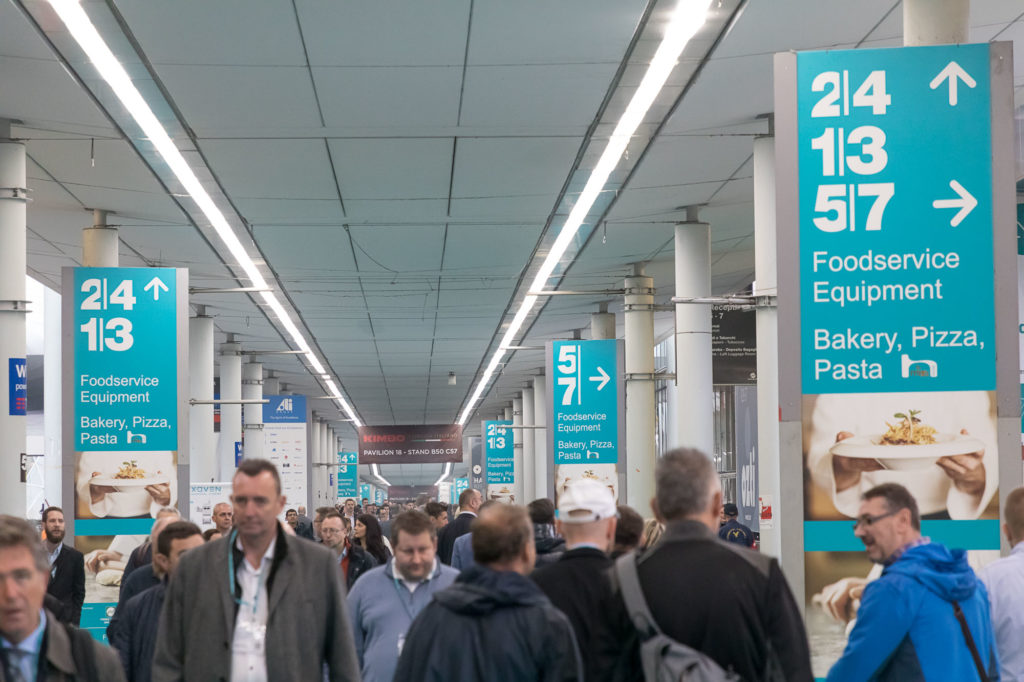 It was a rainy week in Milan, Italy, but that didn't dampen the activity inside the 2019 Host Milano international foodservice equipment show, which ended its five-day run Oct. 22. While it would take five more days to visit every one of the 2,249 exhibitors spread across 15 different halls, the FER team picked up plenty of insights and takeaways during our visit to Host about the issues and innovations shaping the E&S market today and in the future.
1. Connectivity is growing. Equipment that can communicate with other equipment in the kitchen and with the staff that operates it was one of the most prominent themes on display at Host. Myriad manufacturers touted their equipment's ability to gather, store and report information on everything from cleanliness to recipes to usage to efficiency across multiple screens.
2. But there's still a ways to go before kitchens are truly connected. While some solutions are beginning to integrate and evolve allowing equipment from one manufacturer to communicate with equipment from another, there's more progress to be made. And it's not only about collecting and distributing data. "A truly connected kitchen is one in which data is analyzed in a way for it to be meaningful, tangible and actionable," said foodservice consultant Joe Schumaker, FCSI, founder and president of FoodSpace, on a panel hosted by the Foodservice Consultants Society Int'l. "It's got to be holistic."
That means sharing data openly and having the ability to interpret it. "There will be a day where we will specify equipment based on its ability to connect with systems," Schumaker added.
3. Multitasking is a must. As footprints shrink, operators are demanding more productivity from their equipment, and manufacturers are delivering. Hobart, for example, used the occasion of Host to promote a two-level hood-type washer with chambers that could be set to operate independently or together; it began production in Germany two months ago and will be introduced in the U.S. in the future. On the cooking front, Irinox previewed the next iteration of its combination blast chiller, proofer and low-temp cooker, which it expects to show at NRA next year and begin selling in the U.S. soon after.
4. Small is big everywhere. Equipment suited for smaller footprints has been a trend for U.S. operators for a while. Host showed that need extends worldwide as operators in places like Paris, where real estate for foodservice is at a premium, have no choice but to shoehorn kitchens into the tiniest of spaces. Manufacturers emphasized their space-saving options to the international audience of operators and distributors, such as True with its Super Slim refrigerated cabinet and Alto-Shaam with its H-Series Vector line of multi-cook ovens.
5. Equipment made easier. Multiple manufacturers said operators are telling them that ease-of-use is top of mind, amid increasing labor challenges. Touch screens and icons on all types of foodservice equipment communicate across language barriers and in a way that young kitchen staff is accustomed to interacting. As more than one manufacturer told us, if you can operate a smartphone, you can operate today's equipment.
6. The other side of automation. In addition to connectivity, automation dominated as a theme at Host, but many spoke of its benefits beyond reducing labor. While showcasing its line of automated multifunctional cookers for braising, pasta-making and more, Firex, a Middleby Co., referenced the demand for consistency coming from high-volume operations such as hospitals and commissaries.
And Schumaker on the same FCSI panel mentioned above, noted that he's been following the performance of Cafe X, a robotic coffee shop in California. While guests initially were into the novelty of a robot preparing their lattes, after their third visit, they were more impressed by the connection that automation allowed them to have with the human baristas in the place. "As we automate, it will free up skilled people to do things that are more skilled," Schumaker explained.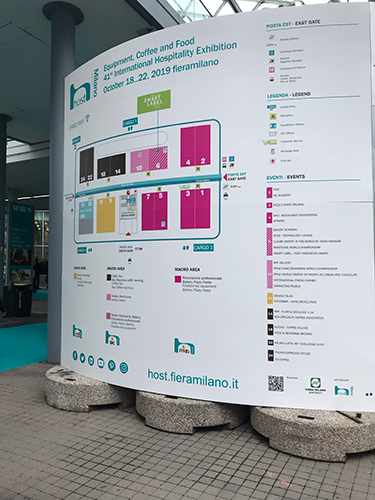 ---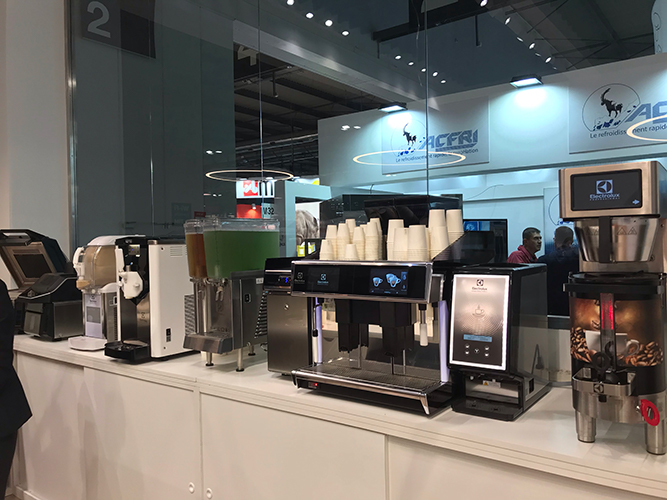 Electrolux Professional showed off its entire beverage line.
---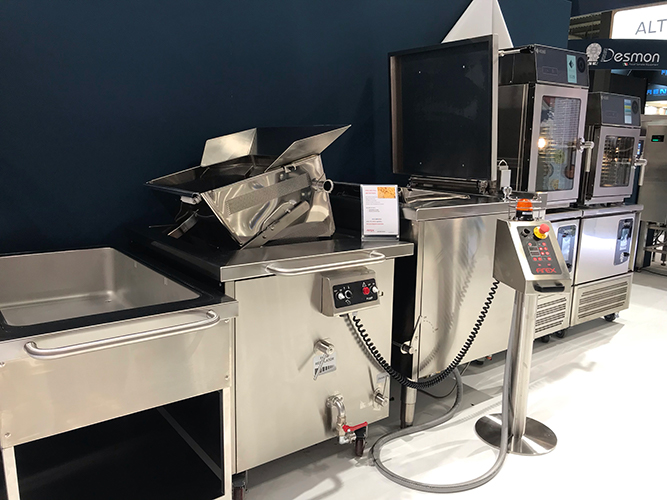 Automation was a key trend, as shown in this automatic pasta cooker by Firex.
---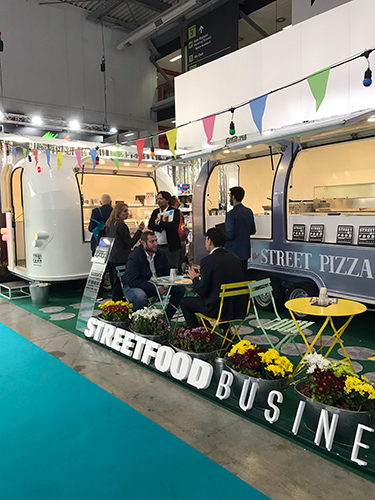 ---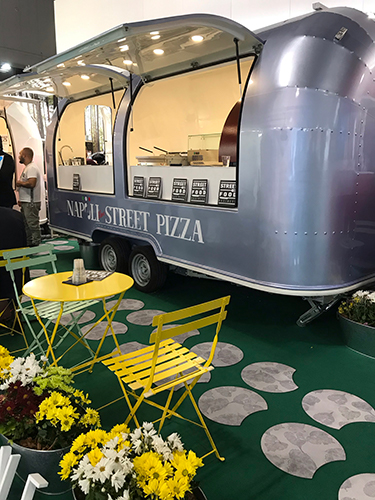 Ovens and refrigerators weren't the only equipment on display at Host Milano 2019.
---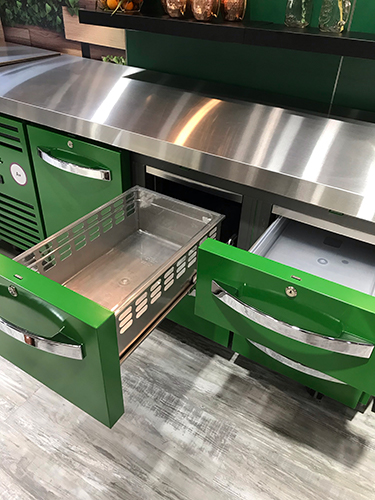 True's Gastronorm line of refrigerated drawers fits pan sizes common outside of the U.S.
---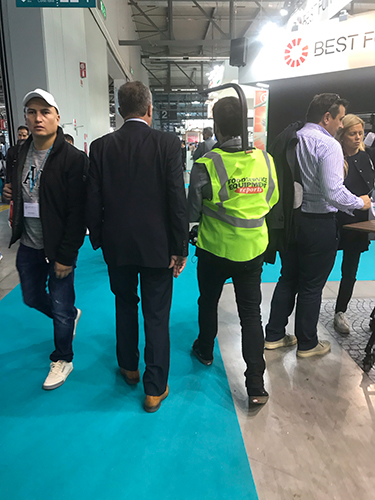 Foodservice Equipment Reports gathered trends, interviewed experts and caught all the action on video over five days.
---
---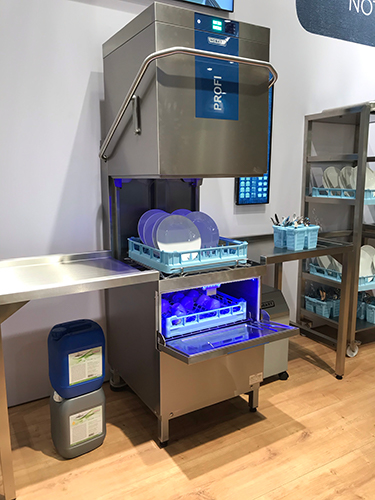 Hobart's Two-Level Washer has two chambers that operate independently and will be available in the U.S. in the future.
---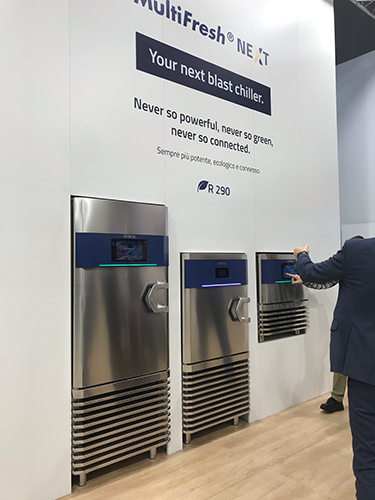 Irinox previewed its next generation of blast chillers with bigger screens, a new design, enhanced communication and R290 refrigerant. Available in the U.S. around summer 2020.
---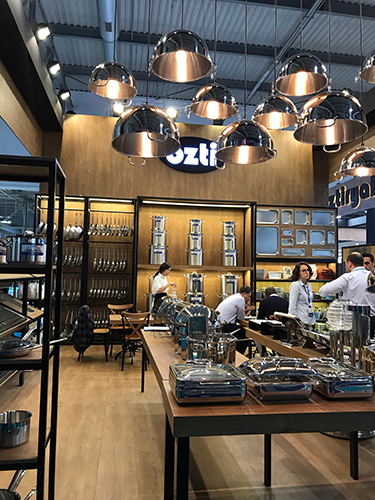 Clever suppliers incorporated their products into their booth decorations.
---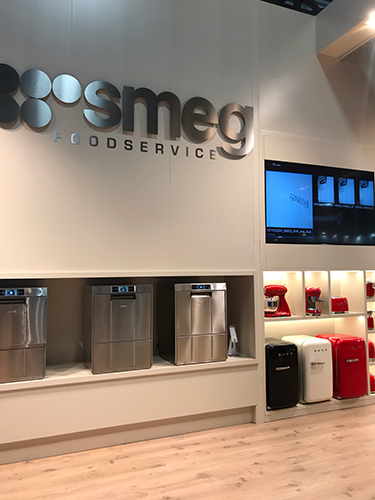 Better known for residential equipment in the U.S., Smeg sells commercial equipment internationally.
---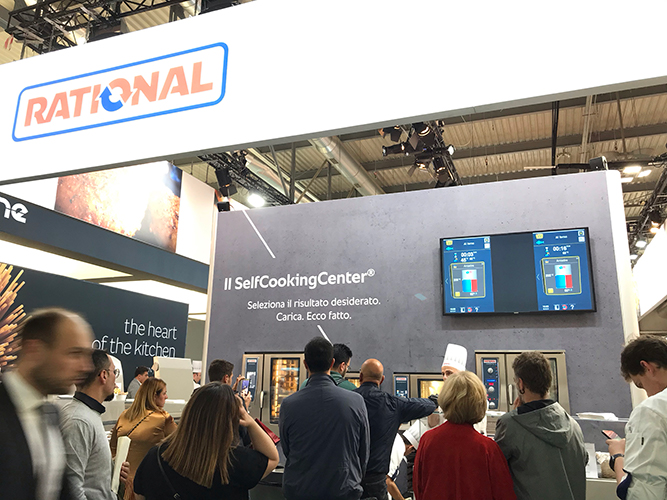 Rational shows attendees its latest SelfCookingCenter in action.
---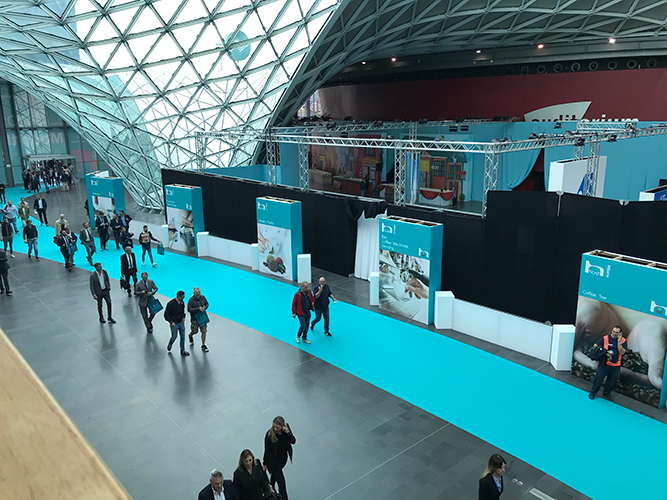 ---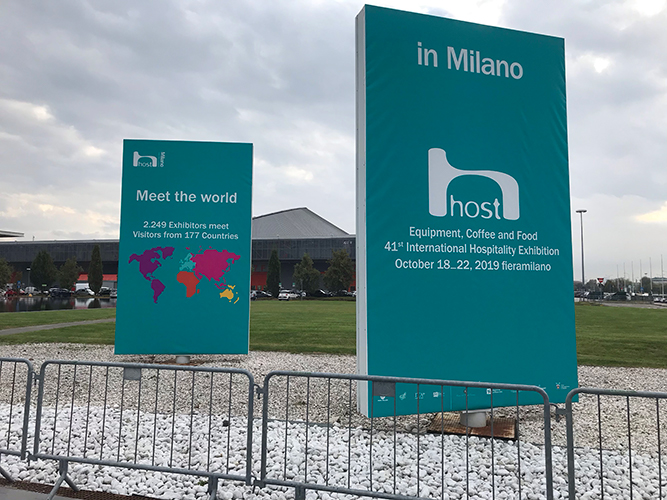 Host Milano 2019 saw 200,000 visitors over five days from more than 170 countries.
---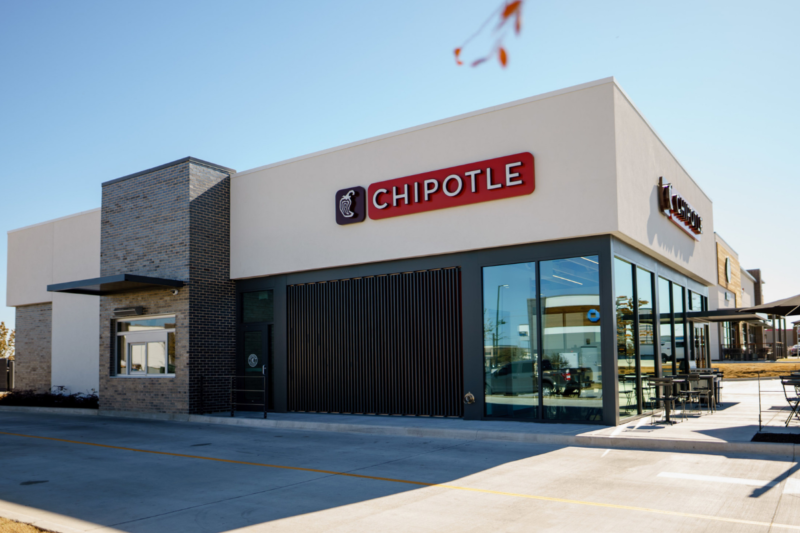 Company News
Despite not yet recovering all its in-store sales, periodic staffing challenges, menu price hikes and supply chain disruptions, Chipotle Mexican Grill had a record third quarter, bringing in $2 billion...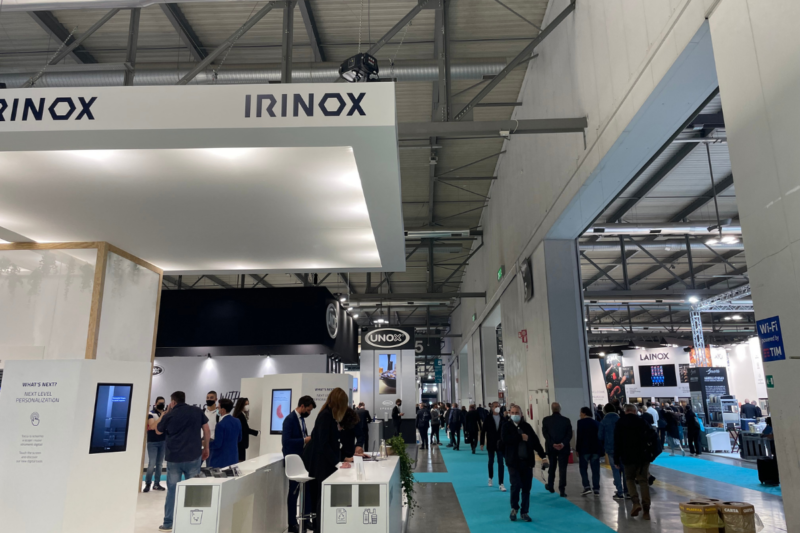 Events
HostMilano, one of the largest foodservice equipment shows in the world, kicked off today in Italy, and FER is on location.