2019 Management Excellence Awards: University of California San Francisco Health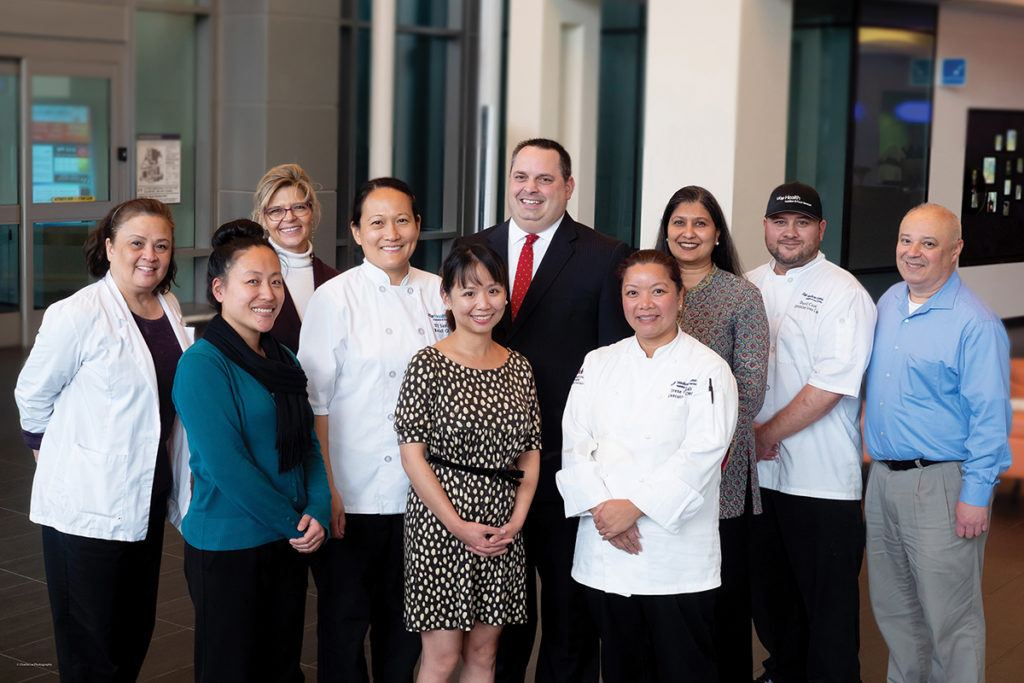 "Dan Henroid is the most connected person I know," says Chris McCracken, Director of Nutrition Services at UC San Diego Health. "He doesn't just know people, he uses his connections to get things done with his job, for his community and for our professional community."
Those connections help enable Henroid's success as Director of Department of Nutrition and Food Services at University of California San Francisco and Sustainability Officer for UCSF Health. Under his leadership, UCSF Nutrition and Food Services handles all food operations at three facilities, including patient dining, retail outlets, inpatient and outpatient nutrition services, catering and gift shops.
In his 12 years at UCSF, Henroid and his team have won awards for health and wellness, sustainability, education, technology and waste management.
Among his successes are the 27 robots that push carts filled with food and pharmaceuticals throughout the Mission Bay location. Once at their delivery points, real people deliver the food and drugs to patients. "Not only are the robots labor saving, there isn't much job satisfaction from pushing a cart from point A to point B," Henroid says. "Our people can stay working with patients and working together in the kitchen. Also, my workforce isn't getting any younger, so I see this as a workforce preservation system."
McCracken says Henroid's passion for innovation helps him successfully get through the finance and approval process. "I can't even tell you the things he's able to get done. I have to fight for pots and pans and Dan gets robots," he jokes.
Wendi Vela, Department Manager, Food and Nutrition Services at UC Davis Health, cites Henroid's passion for collaboration as a key to his success. "Dan knows a lot, but doesn't act out of ego. He shares his knowledge. He's very outspoken and advocates for the changes he needs. If he sees a technology that will make things more efficient, he'll speak up and make a case to get it."
"I think of the word 'integrity' when I think of Dan," says Marsha Diamond, Foodservice Business Consultant and President of Diamond Approach. "His leadership drives down through his whole team. Any success he achieves, he shares. Whatever his team does in terms of customer/patient satisfaction, food quality and food presentation is worth replicating."
Diamond says that Henroid's key to overcoming challenges is to reach out to his team, his business partners and his professional colleagues. "Again and again, he does his research on best practices. What kinds of solutions are others using? He is very meticulous."
"He's the most up-to-date person on the newest things coming out," says McCracken. "When I ask him about something new I've heard of, he'll say, 'Oh yeah, we've been working on that for a few months.'"
Vela agrees and says, "We were looking at getting rid of drinking straws at our location. When I mentioned it to Dan, he said that they did that a few months ago and shared how they did it."
Henroid oversees the Interactive Patient Experience committee at UCSF Health. "We give each patient at the Mission Bay location a tablet," he says. "Patients have a lot of doctors coming in and out and part of the tablet's screen shows a picture of the doctor with name and title so the patient knows who they're dealing with. The meal ordering program lets the patient use the tablet to order what they want when they want it within the parameters of what they can eat. The program knows what they're allergic to and gives nutritional information in real time item by item so they don't order too much food or too many carbs. It also works in eight languages beyond English. Patients who speak Cantonese can use it as well as English speakers. We are going to roll it out to our legacy hospitals."
In 2017, Henroid received a Lifetime Achievement Award from the Association for Healthcare Foodservice, an organization dedicated to self-operated healthcare management. "If you're working for a foodservice contract management company, you have the resources of a larger organization, but at the same time, you're serving two masters: your company and your clients," he says. "I believe it's better to provide better quality at similar cost while keeping only one master. AHF is a sharing group with resources and a network of peers doing what you do with the same challenges." Henroid sits on the conference planning committee and the editorial board.
"I don't know when Dan sleeps," says McCracken, pointing to Henroid's ability to balance work and family life. "In addition to doing what he does at UCSF, he's a dedicated dad, coaching his son's softball team.
Diamond sums up her appreciation of Henroid: "Dan is definitely someone I'd want in my lifeboat."