The thought of serving food away from the comfort of your normal operation may feel like a recipe for chaos. But the opportunity to "pop-up" in an unexpected location is often worth the effort to catch the attention of new diners who hopefully will become future regulars.
"Doing a pop-up is about being mobile, being fluid and just basically being able to deal with anything that happens," says Zubair Mohajir, executive chef/owner of Wazwan, a South Asian-inspired restaurant in Chicago that has hosted pop-ups everywhere from Navy Pier, a tourist attraction along Lake Michigan, to the back of an art gallery. "We've probably blown out a fuse in every place we've been in," he says. "For some time, we would never get through a dinner without the fire alarm going off at least once."
As pastry chef/owner of Recette, a Chicago-based operation specializing in baked goods called caneles, Jenny McCoy has hosted pop-ups in floral shops, coffeehouses, office building lobbies and outdoor venues. "Setting yourself up for a pop-up is like: How can you run through every scenario in your head before you show up on-site and expect the worst?"
Luckily, you can prepare for success by having the proper equipment on hand. We asked these two operators to break down their must-haves, from zip ties to zippered speed rack covers.
1. Know what's there.
McCoy suggests doing a site visit beforehand to locate utility hookups and also determine if you can use any equipment already on-site. "Make sure you are only bringing what you need and nothing more," McCoy says. "You are going to be spending a lot of your time setting up and breaking down." Even if they have an extra folding table, then that's one less thing you have to bring, she notes.
2. Pare down cooking equipment.
Think about the fewest pieces of equipment you need to execute your menu. For Wazwan, that's a portable deep fryer (necessary to make its signature tandoori fried chicken sandwich), flat top (for searing scallops and toasting buns) and induction burner. "With those three things, you can do almost any type of food and they can fit in any trunk," Mohajir says. "Those are all things we bought for under $200—renting just costs too much. If it's a one-time thing, sure, but otherwise it just doesn't make sense."
Flexible fasteners such as bungee cords, zip ties and Velcro also are the unsung heroes of pop-ups; McCoy uses them to secure everything from tablecloths to signage.
3. Be ready to roll.
Make load-in and load-out easier by investing in a heavy-duty rolling cart and, for outdoor events, a tent that folds into a wheeled case, McCoy says. "And don't cheap out on your tent—it will break the first day there's a storm."
4. Weigh it down.
For outdoor popups, take every precaution to protect your staff and space from wind and inclement weather. For instance, McCoy uses 20 lb. to 40 lb. of weight to secure each tent leg. "My favorite weight is just a gallon milk jug filled with sand," she says. "It costs nothing, it's easy and it's got a handle. You also can buy nylon bags that you can fill with sand or rocks."
5. Select your surface.
Counter-height folding tables are the safest choice to create a workspace and an area for food display, McCoy says. The added height keeps your food out of reach from curious dogs and children. "That's also a good level to have your product so people can see it visually, and it's also better on your back instead of constantly having to bend over," she says.
6. Serve and protect.
"In terms of any food you have out on display, make sure you have sneeze guards or other coverings," McCoy says. Her caneles are shelf-stable but tend to attract bees at outdoor popups, so she showcases samples under a custom-made acrylic display case and serves customers out of lidded dough-proofing boxes that slide onto a half speed rack with a plastic zippered cover. "I pull the boxes out, pop them open, box up what I need and immediately put them back on the speed rack," she says.
7. Food safety on the fly.
Sanitizing rinse, wipes and rubber gloves are a must for sites without access to running water, Mohajir says. Another option is to rent or buy a portable sink, which you fill with tap water and plug into any electricity source to dispense cold or hot water for handwashing.
Bring thermometers to monitor the temperature of perishable items and be prepared for a health inspector to drop by at any moment. McCoy says, "Do not underestimate the need to be extra sanitary and extra cautionary and follow food safety rules by the book."
This article originally appeared in the January 2020 issue of Foodservice Equipment Reports.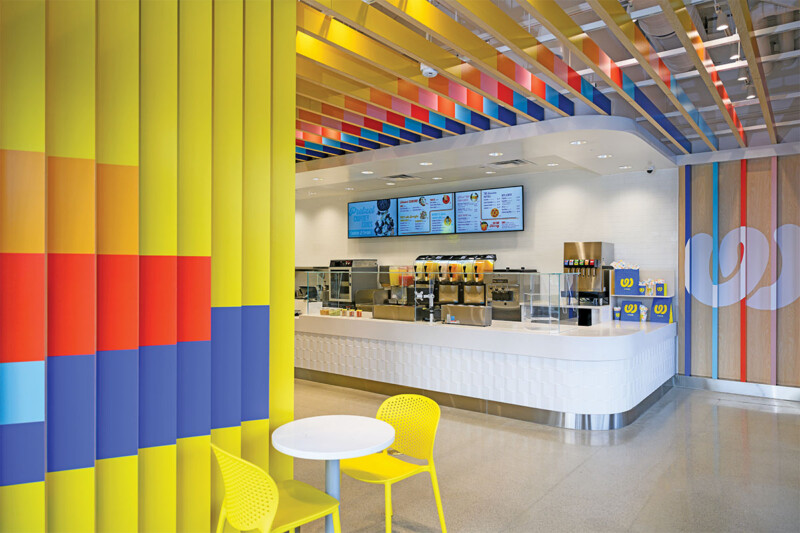 Kitchen Design
Wetzel's Pretzels, the multiunit bakery of shopping mall fame, now offers its soft pretzels and more at street-side through its latest concept.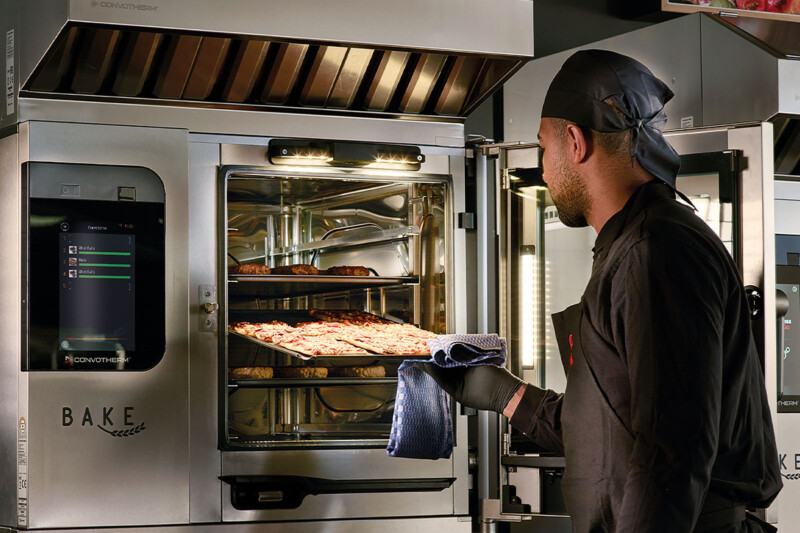 Combi Ovens
Today's combi ovens are smarter and more energy efficient, reducing the need for skilled labor and cutting utility costs.