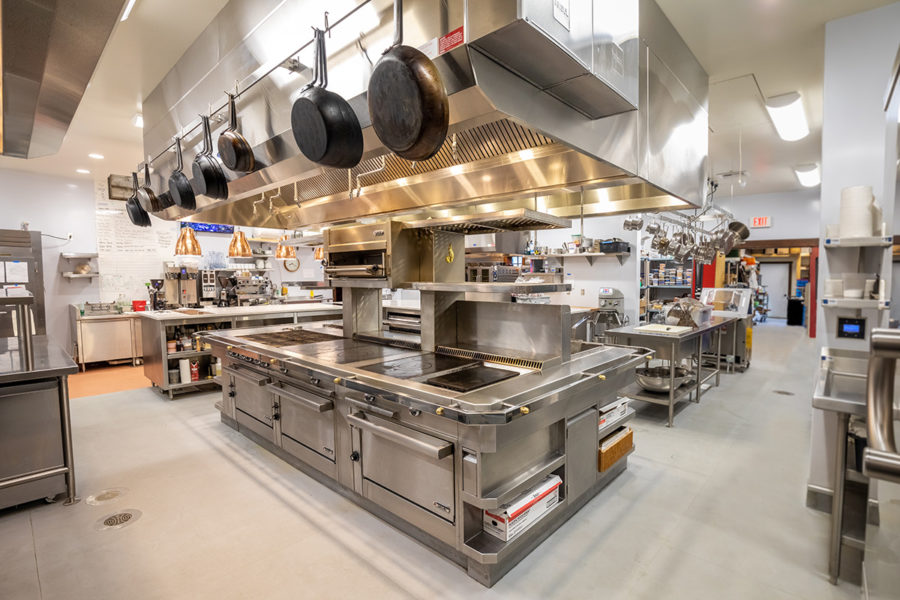 GRANITE LODGE AT THE RANCH AT ROCK CREEK PHILIPSBURG, MONT.
MENU/SEGMENT: Hotel/lodging
SIZE: 3,000 sq. ft. (kitchen, prep, warewashing, cold and dry storage)
SEATING: 65 seats
CLIENT: Joshua Drage, executive chef, The Ranch at Rock Creek
CONSULTANT/DESIGN FIRM: Danielle Kunkel, director, Ricca Design Studios, Greenwood Village, Colo.
ARCHITECT: Jeff Crouch, Cushing Terrell (formerly CTA Architects Engineers), Bozeman, Mont.
DEALER: TriMark Gill Group, Hamilton, Mont.
WEBSITE: theranchatrockcreek.com
The Ranch at Rock Creek, sprawled across 6,600 acres in the rolling hills of Philipsburg, Mont., is known for its outdoor activities—and for its dining. The high-end, all-inclusive resort can host up to 125 guests during peak season across three dining venues. (A barn on the property, outfitted with an expo kitchen and outdoor wood-fire grill also provides on-site catering.) Granite Lodge, the Ranch's main eating space, touts dinner "experiences." There are twice-weekly chef's tasting menus billed as "multicourse gastronomic tours of the ranches and farms of Western Montana," an Overland Route menu recreating the offerings on a luxury train car, and a comfort food menu.
Last spring, a major kitchen makeover at the Lodge elevated the Ranch's dining to improved levels of efficiency. "Our new kitchen lets us serve guests better and faster," says Executive Chef Joshua Drage, who has led the culinary charge for the Ranch since 2009.
Drage provided the vision for the new kitchen. Danielle Kunkel, director for Ricca Design Studios, Greenwood Village, Colo., helped fine-tune Drage's layout, made the drawings and oversaw the project.
"The original kitchen was built when the Ranch first opened 10 years ago," Kunkel says. "It had been designed before there was any idea about the menu, and it was fitted with basic cooking equipment lined up against walls. There were a lot of wasted steps, back-and-forth and turning around. Chef Drage wanted a kitchen that would be functional, beautiful and useful for years to come."
Planning for the makeover began in 2017. Construction started in early January 2019. The demolition process took out all the existing equipment and two load-bearing walls that had blocked off the previous kitchen into small areas. The wall removal meant the existing roof with its two-by-four construction also needed to come out. The replacement roof uses two-by-six joists so it can support the weight of the new hoods as well as span the new kitchen. The Ranch reopened the 3,000-sq.-ft. kitchen last spring, before the beginning of its busy season.
Drage's attention to detail has resulted in a kitchen that's both user-friendly as well as a destination for the Ranch's culinarily curious guests. "Each station is specifically designed to address the needs of our cooks so they can focus on mise en place and production with an emphasis on technique," Drage says.
A Jade cooking suite anchors the main cooking area, measuring about 1,500 sq. ft. An L-shape chef's table supports the suite on two sides. Prep areas include hot prep, with a double combi oven and steam-jacketed kettle, and a baking area, equipped with a convection oven and proofer. Cold prep takes place in the back.
Chef's Table Command Center
The chef's table L-shape allows it to wrap around the island suite. One arm of the "L" features a dual-sided raised rail, while the other arm accommodates finishing and pickup. Fabricators rounded off the outside corner of the "L" to improve traffic flow. Shelving under the curve holds plates and supplies.
The kitchen layout allows both sides of the chef's table to work simultaneously. "A lot of times, I'll handle the outside edge, finishing plates, while my cooks on the inside handle the first steps of the plating sequence," Drage says. "We don't have heat lamps, so speed is essential."
The counter's 40-inch height—a few inches higher than usual—makes it easier for cooks to embellish plates without having to bend over, and for servers to pick up plates at arm height. "This way, there's no tilting of delicate food creations," Drage says.
A pair of temperature-controlled copper rectangles, each 10-inches wide, set into the right and left side of the pickup table, hold the final flourishes needed for plating. "The chilled copper platform holds herbs and cold sauces, the other is heated for warm sauces," says Drage, who got the idea after seeing it a local brewery. A dipper well next to the chilled copper rectangle saves steps.
Oversize copper pendant lamps hanging from a beam of reclaimed barnwood light the action below. A single massive piece of white quartz tops the chef's table. ("The first piece cracked during installation, which slowed things down while a new piece was prepared," Drage recalls.) "Between the quartz counter and the copper and wood fixtures, this is how we brought the ranch style into the kitchen," Drage says.
Division of Labor
The kitchen isn't divided by walls, so its various work areas are fitted together like a puzzle of moving parts. The cooking suite's components include a plancha, two French tops, a six-burner range and ovens on one side, and fryers, char-broiler and griddle, with a freezer below, on the opposite side.
"Between the quartz counter and the copper and wood fixtures, this is how we brought the ranch style into the kitchen." —Executive Chef Joshua Drage
"We designed the suite to share the workload across multiple stations and cooks in order to avoid bottlenecks for each daypart," Drage says. "For example, with breakfast service, we have three lines: eggs, handled at the the six-burner range and French top; pancakes and bacon from the griddle; and cold items from the raised rail. All product flows toward the chef's table—no crossover. Our cooks have ample workspace for each station."
Toward the back of the kitchen, across from the walk-in doors, is a receiving island. "Our menus are built around local produce," Drage says. "We use the receiving table to break down cases from the garden and stow them directly into the walk-in."
This area includes food processors and a salad spinner. As a result of space constraints, the team placed the bread slicer and a vacuum food-packaging unit on wheeled stands, so they can swap them in or out of the kitchen as needed.
Counting Steps
With peak season at the Ranch occurring during hot summer months, ensuring ample cold storage was critical. One of Drage's favorite pieces is the blast chiller, located conveniently close to the combi ovens. "We didn't want to compromise temperatures by using our walk-ins to cool food," Drage says. "The blast chiller has been super-useful."
The blast chiller anchors a 195-sq.-ft. protein prep area. "Our kitchen runs from 6 a.m. to midnight, so we needed a place to do prep work during mealtimes," Drage says. This prep area includes plenty of cold storage and a prep sink.
Cooking and prep areas weren't the only spaces to get a greater dose of efficiency. "In the old kitchen, warewashing was located at the far back. Servers had to walk back and forth through the kitchen to drop off dirty dishes," Drage says.
To save steps, "we added a 185-sq.-ft. warewashing area for plates, silverware and glasses immediately to the right of the pickup point," Drage says. "Servers come in, drop off any soiled plates, wash hands and pick up items to go back out." A warewasher dedicated to glassware reduces breakage of delicate crystal. At the back of the kitchen, an existing pot-washing station and warewasher handle items from the kitchen.
EQUIPMENT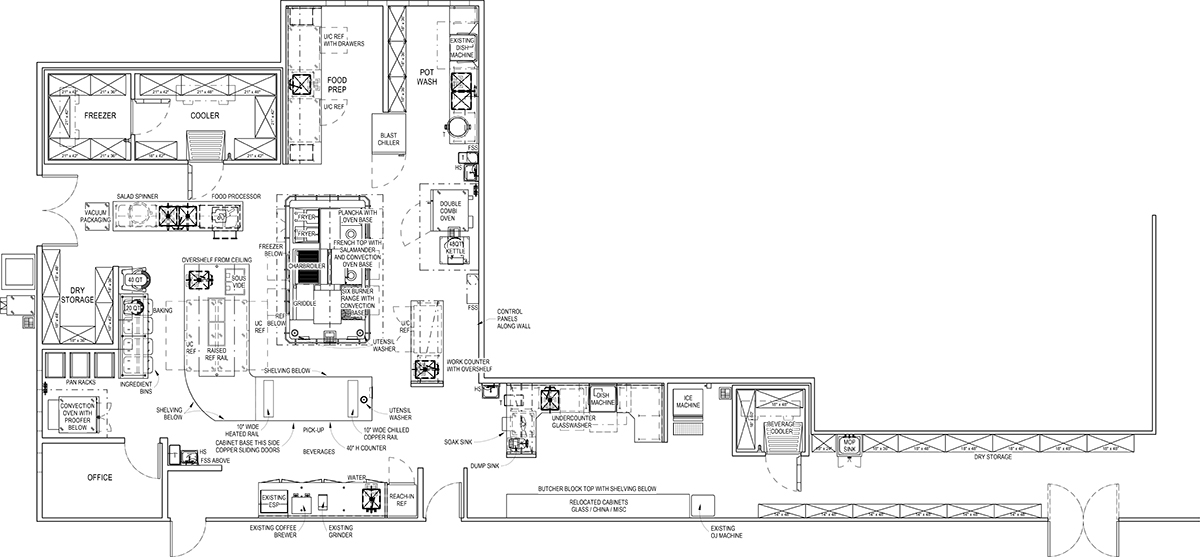 Jade/Middleby island suite
BSI LLC chef's counter w/sink
RATIONAL double combi oven
Groen/Unified Brands steam-jacketed kettle
Gaylord/ITW FEG hoods
Traulsen/ITW FEG u/c refrig., reach-in refrig.
Doyon/Middleby convection oven w/proofer
Globe/Middleby 20-qt. mixer, 40-qt. mixer
Ultravac vacuum food-packaging machine
PolyScience sous vide cooking system
Carpigiani/Ali Group batch freezer
Gemini bread slicer
Robot Coupe food processor
Fisher dipper well
Nemco Smart Eco-Rinse controller
Zummo juicer
Fetco coffee brewer, grinder
La Marzocco espresso machine
American Panel walk-in coolers, freezer
Hoshizaki ice machine
Irinox blast chiller
Metro/Ali Group shelving
Hobart/ITW FEG dishwashers, glass washer, salad spinner
Advance Tabco hand sinks
This article originally appeared in the January 2020 issue of Foodservice Equipment Reports.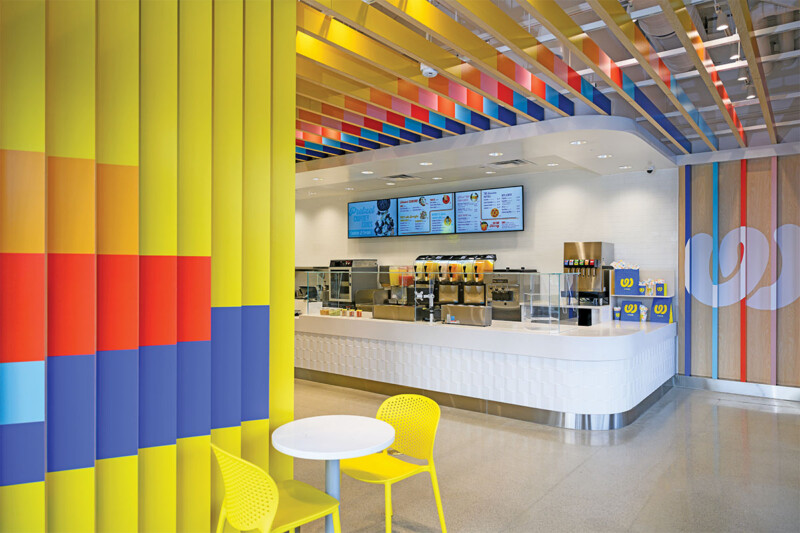 Kitchen Design
Wetzel's Pretzels, the multiunit bakery of shopping mall fame, now offers its soft pretzels and more at street-side through its latest concept.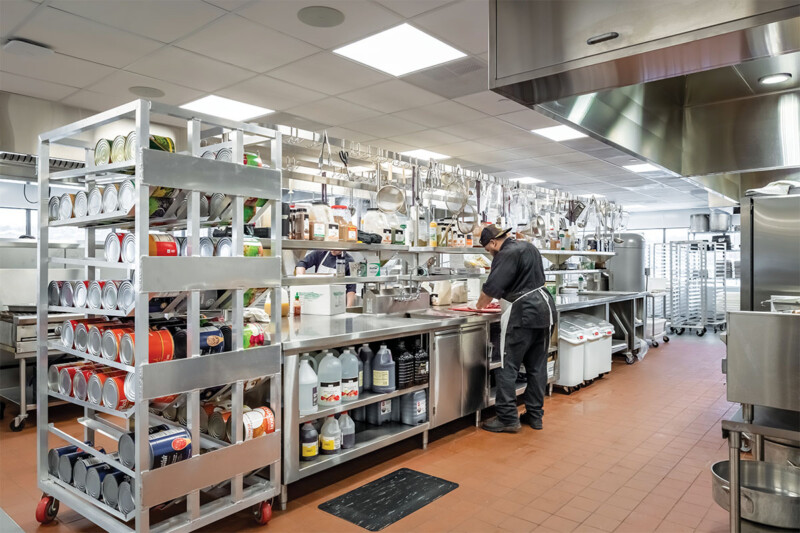 Kitchen Design
Open Arms of Minnesota—a volunteer-powered, nonprofit organization that provides meals to critically ill Minnesotans—needed more room.