Trends and Innovations Driving Foodservice at Grocery Stores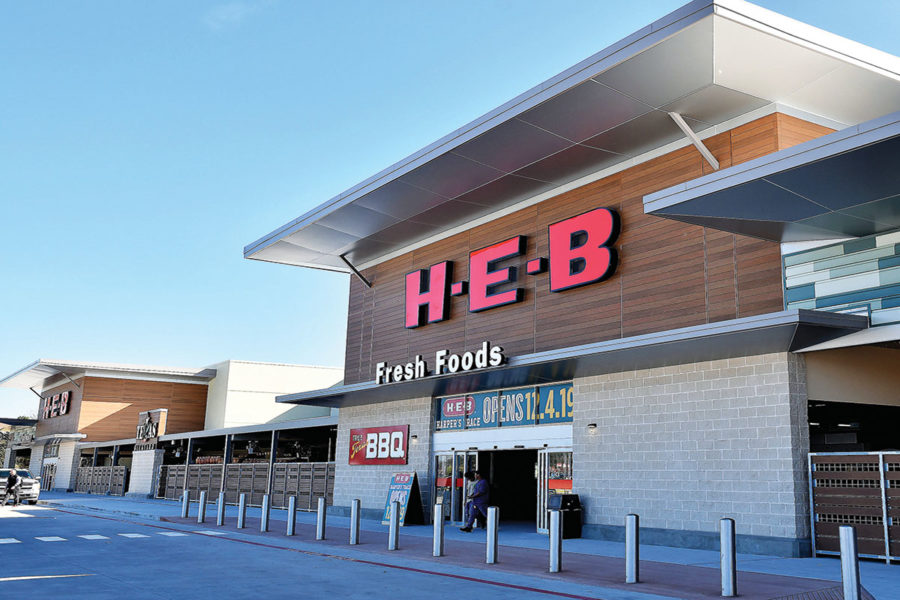 The explosion of grocery foodservice in the mid-2010s changed the way consumers thought about their local supermarket: Instead of just going there to shop, they also might go there to dine. It also gave the major players a new name: grocerants. Though this Franken-term has fallen a bit out of fashion, the concept hasn't. Foodservice in grocery stores has grown three times as fast as actual grocery sales between 2013 and 2018, according to a 2019 Mintel Executive Summary on Grocery Retailing.
The Growth Forecast
Grocery foodservice purchases are rising, according to Technomic's 2019 Retail Foodservice Consumer Trend Report: 66% of consumers say they purchase prepared foods in a retail setting at least three times a month, compared with 55% in 2017.
Datassential forecasts foodservice in the grocery sector to grow at 2.8% in 2020. "That is real growth on top of inflation," says Ann Golladay, senior project director at Datassential. "This is stronger growth than we expect for the foodservice industry overall, which is 0.8%. The factors driving that growth are improvements in store technology, big chains making big investments, improved offerings like station-based or food-hall-type offerings, and advancements in grocery delivery and online ordering."
Others say the market may be hitting its saturation point. "I think we have finally gotten to the point where there are too many retail stores [offering foodservice]," says Chef Steven Petusevsky, a culinary innovation consultant who has worked to establish or revamp foodservice offerings at a number of grocery chains. "There's only so much of the pie." Labor is the biggest challenge facing the segment, he says. "I can't tell you how frustrating it is that the larger companies want all these [foodservice offerings] but they don't want to invest in the labor that is going to be able to sell it," Petusevsky says. "So many operations are running at 20% less labor."
66%
of grocery operators said their foodservice sales increased in the last year.1
33%
of consumers across all age groups say they buy prepared foods when grocery shopping about 33% of the time.2
74%
of grocery operators say they are trying to grow their prepared-foods departments.1
73%
of consumers take their food to-go, 13% eat in-store and 14% order delivery.2
2x
Younger adults (ages 23-34) are twice as likely as their older peers (55-plus) to say they'd like to see more in-store wine/craft beer bars or restaurants.3
Sources: 1Datassential's 2019 Supermarket Prepared Keynote Report, 2Technomic's 2019 Retail Foodservice Consumer Trend Report; 3 Mintel's 2019 Executive Summary on Grocery Retailing
Trends + Innovations
»Consumers' growing demand for healthier options is driving menus and equipment purchases. "People are looking for fresh foods that may have less fat, less sugar, more whole grains, more plant-forward items," Petusevsky says. "They want stuff with less chemicals and preservatives—things that are fresh that might only have a two-day shelf life. They want house-roasted meats, rather than the stuff purchased from big vendors that's brined and salted." As a result, there's a need to add equipment such as grills, smokers and walk-in cooler space to accommodate more fresh ingredients, he says.
»Dishwashers also are top of mind: 20% of grocery operators polled by Datassential said they're interested in purchasing a dishwasher for their prepared-foods department. "On-site seating and a restaurant-like atmosphere are very important considerations for consumers when deciding whether to buy supermarket prepared food," Golladay says. "[Consumers] are not necessarily all that likely to sit and dine in-store, but having these areas is an important signal of quality. In addition, the trend toward sustainability may be driving some stores to increase their use of reusable dishware and cutlery, spurring increased need for a dishwasher."
»Alcohol sales are important, especially for younger shoppers. Forty percent of 23- to 34-year-olds say they are more likely to order boozy beverages at grocery stores now than they were two years ago, according to Technomic. Whole Foods' in-store bars featuring local craft beer on tap are a prime example. "Depending on the type of operation, offering bar service can also be a destination driver on its own and is likely to increase prepared-foods purchases as many consumers will want to pair food with their drink of choice," Technomic's report says.
»Self-service set-ups are becoming more popular, Petusevsky says. Though it certainly helps with the labor piece, he says, it also can affect quality. "Putting pizza out on a barely warm heating element, or fried chicken or French fries, that's something you only want to do [self-service] out of dire necessity." At Alibaba's new Hema stores in China, human servers have been replaced by robotic pods that slide around a track to deliver dishes to each table.
»Delivery is poised for growth: 74% of consumers say they are interested in ordering delivery from their favorite supermarket's prepared department, according to Datassential's report. "Most stores aren't yet equipped to handle delivery in the same way that restaurants are [because] they haven't integrated their prepared food delivery with their grocery delivery," Golladay says. "Consumer interest is there, but adoption will be slow if stores can't execute prepared item delivery in the same way restaurants can, in terms of quality of the ordering experience, quality of the food when it arrives, timeliness of delivery, etc."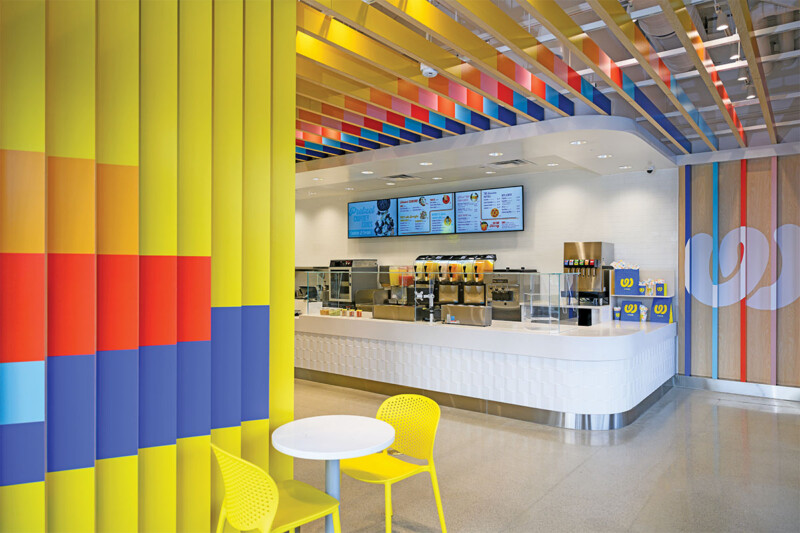 Kitchen Design
Wetzel's Pretzels, the multiunit bakery of shopping mall fame, now offers its soft pretzels and more at street-side through its latest concept.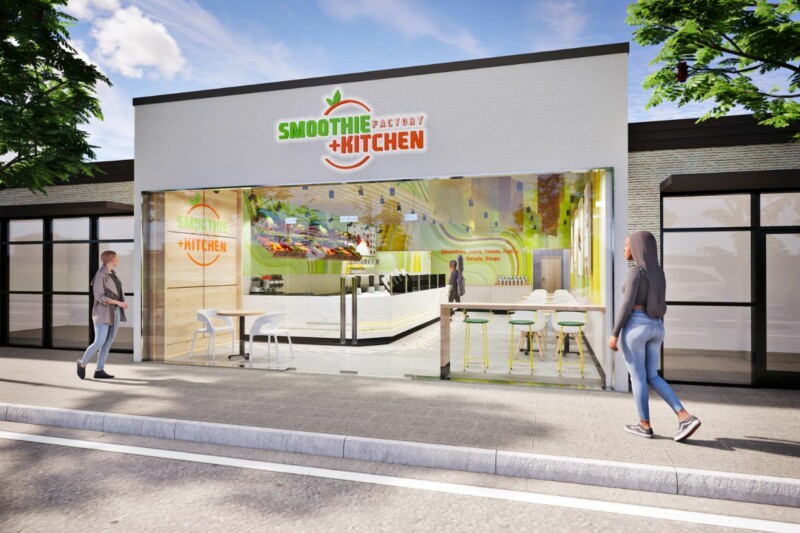 Design Trends
Originally a juice bar concept, the brand will lean on this equipment to offer guests grilled "folds," toast options and salads.