A Look at the Design of Atlanta's Rooftop L.O.A.
Rooftop L.O.A., perched atop a mixed-use development, weaves foodservice and mixology into and around a poolside retreat.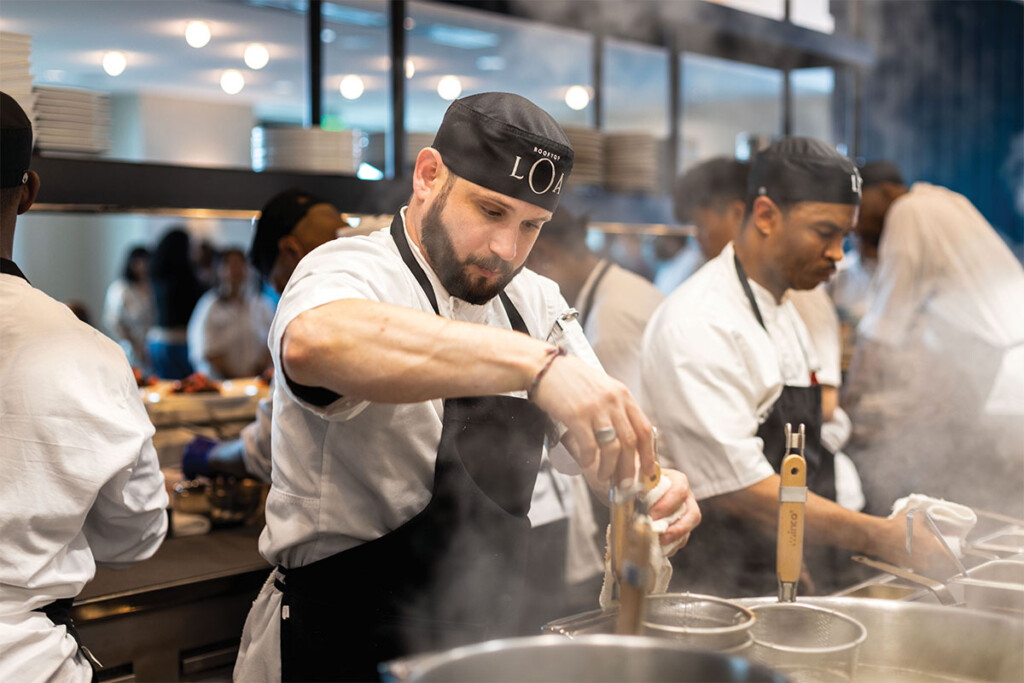 The requests for the project were unique: create a full-service restaurant, poolside eatery and event space, each with its own bar, that is collectively capable of hosting up to 1,000 guests—and make it all fit around a pool, on an L-shaped roof.
The result is Rooftop L.O.A. (short for Leave of Absence), a 38,000-square-foot Mediterranean resort-style entertainment space reserved for ages 21 and up, owned and operated by Atlanta-based Slater Hospitality. L.O.A. caps the top floor of The Interlock, a $750 million mixed-use project in Atlanta's West Midtown. Glass walls contain the rooftop resort while still offering guests a 360-degree view of the cityscape.
L.O.A.'s centerpiece is its 1,200-square-foot, resort-style pool, surrounded by lounge chairs and private cabanas. The pool bar and dedicated cookline can serve more than 200 people per meal period. Special events take place in L.O.A.'s Grove, a garden-inspired outdoor area with a 150-person covered event pavilion and bar. The restaurant features coastal-European cuisine for dinner, late-night dining and weekend brunch.
Work on L.O.A.'s foodservice layout started in 2019 when the Slater group tapped Annapolis, Md.-based foodservice consulting firm Next Step Design to bring their ideas to life. Next Step's Linda Callahan served as design director and Jessica Abell as project manager. They worked closely with Slater Culinary Director Joseph Trevino and Beverage Director Randy Hayden.
"When we were brought on board," Callahan says, "the architect had already finalized the core and shell layout, including the kitchen location. It was like Tetris, trying to fit everything into the space and making sure the parts flow correctly."
The Next Step team visited Slater's various rooftop entertainment ventures "to get a sense of their vibe," Callahan says. "Slater has a great chef and unique menu, but it's their alcohol experience, especially their signature cocktails, pairing with the amazing food that really sets them apart."
Construction documents and bidding were ready by early 2020. Due to pandemic-imposed delays, including last-minute postponements of crucial equipment deliveries, the entertainment venue opened in June 2022.
"It's even more than we imagined it would be," says Mandy Slater, Slater's co-founder and chief creative officer, of the opening of L.O.A., in an interview with Metro Atlanta CEO, a local business publication. "It's a joy seeing people on the rooftop—swimming in the pool, enjoying a spritz under the sun, ordering caviar with their friends in a cabana, and [watching] sunsets from the Grove terrace."
Sky-High Dining
L.O.A. features three main foodservice areas—the restaurant, the pool club and the Grove catering and events area. Bar service pours across all three outlets in equally important measure.
Space constraints caused by angles in the floor plan and existing shafts led to four back-to-back cooklines.
The restaurant serves only dinner during the week, and foodservice starts at 11 a.m. on weekends. The pool club features a bar and a robust menu, and its own cookline. And the Grove events area serves as the most flexible space, be it for private parties or restaurant overflow during peak season.
Space constraints caused by angles in the floor plan and existing columns and shafts, as well as the placement of the private dining room and the walk-ins, led to four relatively short back-to-back cooklines rather than longer cooklines. One set of cooklines serves the restaurant and the other set is dedicated to banquets and the pool bar. "Because cooking is mainly grease-cooking (rather than solid fuel), we were able to share exhaust ducts between cooklines and in that way, maximize behind-scenes firepower," Callahan says of the two cooking areas.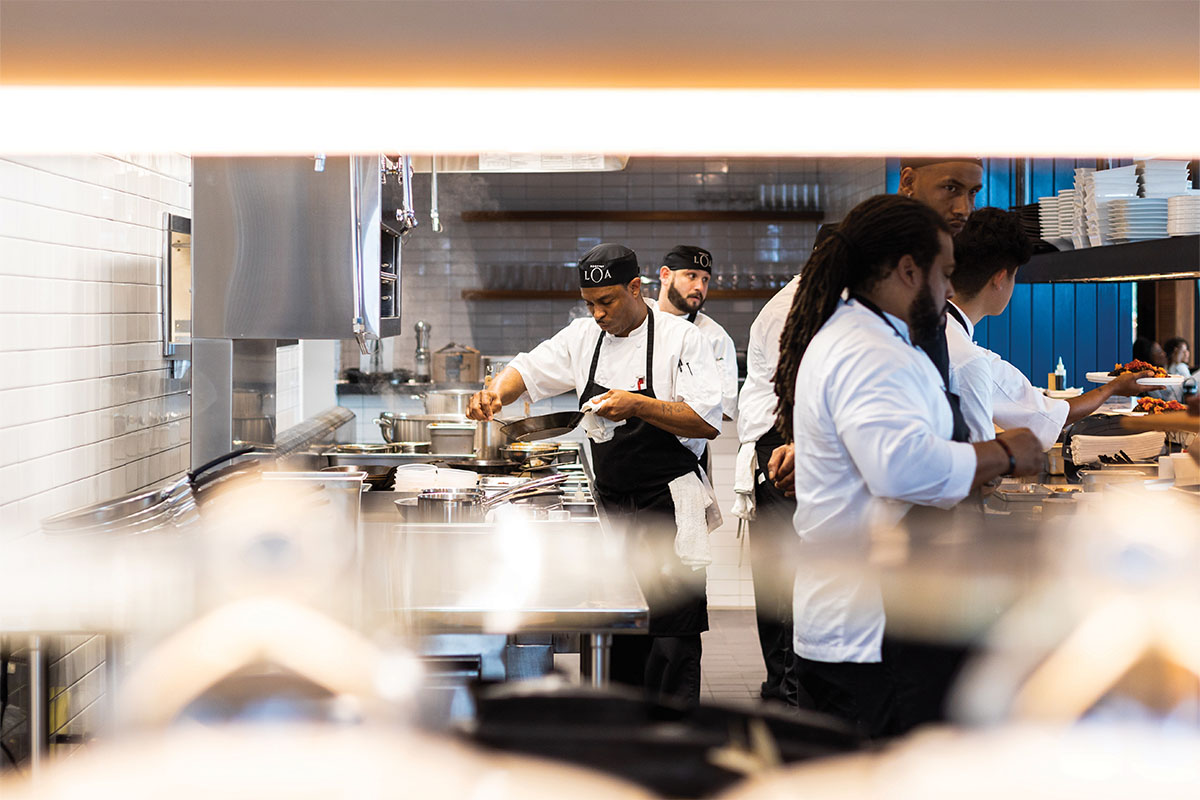 L.O.A.'s main back-of-house is anchored on one side by the restaurant support cookline, on the other by the pool bar kitchen. Separating the two are the banquet cookline, a pastry area, warewashing and dry storage.
The restaurant's display cookline (fryers, range, charbroiler) sits opposite the guest-facing expo area with its cold prep tables. Sharing the same exhaust hood as the display cookline but on the opposite side of the wall, the restaurant's support cookline features a double convection oven, charbroiler, range and fryers. The facing prep area includes prep tables and a worktop refrigerator on one side, and a long pass-thru area lit by heat lamps on the other.
As for the pool bar, Callahan says the operator was adamant about it having its own dedicated cookline. "They have a full menu for pool guests," Callahan says. "And, since the pool hours run longer than the restaurant, it helps from a labor standpoint as well."
The pool's cookline features two ranges, a charbroiler and fryer bank. The banquet cookline sits on the opposite side of the wall, equipped with a double combi oven, a double convection oven, fryer bank and six-burner range.
Mixology Masters
Slater's focus on best-in-class cocktails across every L.O.A. bar required a generous amount of back-of-house space for alcohol. "In addition to storage for beer kegs and liquor, Slater needed a large work area for juicing, ice production, liquor storage, and juice and syrup storage," Callahan says.
The nearly 1,000-square-foot liquor storage and bar prep area comes equipped with a beverage and keg cooler, dry storage shelving, four ice machines (two cubers, one flaker and one cubelet), three reach-in refrigerators and one reach-in freezer (for storing fruits, prepped juices, syrups and other cocktail ingredients), refrigerated work tables, a juicer, coffee and tea brewers, and a water dispenser that supplies carbonated water which is bottled for use in cocktails.
"[After the plans were finalized], they brought in some induction units to make simple syrup here as well," Callahan says. "They try to do as much bar prep as possible in this area."
L. O.A.'s bars earned as much attention to detail as the kitchens. The restaurant bar features two stations and a central island area. "We can really only fit a pass-thru refrigerator there, so it limits the amount of bottled (beer) storage," Callahan continues. "We added extra refrigeration support because L.O.A.'s bar menu includes so many tinctures, juices and fruits. Each station has its own dedicated refrigerators with cold drawers for storage."
As for draft beer, "L.O.A. likes to focus on their mixology, so we gave draft beer taps a low profile," Callahan adds.
One thing absent from the bars' equipment lineup is soda guns. "Any soda that would be served from the bar comes from a can," Callahan says. "Slater puts so much emphasis on their cocktails and fresh ingredients that, as they told us, they don't want people drinking mere soda."
In the event area, the bar features a six-seat full-service area and next to it, a walk-up service bar that can be activated during peak times.
Rooftop foodservice design for L.O.A. proved relatively trouble-free. "We had a lot of freedom with the slab because it was on a rooftop," recalls Callahan, who along with Abell was on-site during key construction points. "We had to make sure that we checked all underground plumbing penetrations prior to them pouring concrete or doing any waterproofing. Once that was done, there was no going back."
In some ways, rooftop design proved more straightforward compared to creating foodservice in a building's lower levels, where beams support upper and lower levels, Callahan adds.
Meshing foodservice operations with the architect's vision for L.O.A. required fine-tuning layouts, especially when it came to food transport and waste handling.
"Under the original design for the banquet area, workers would have had to move racks of food or soiled dishes through the seating area in order to reach the banquet support kitchen or dishroom," Callahan recalls. The solution, after negotiations with the architect, was to slightly reduce the banquet seating footprint to add a service corridor. The team carved out space for keg coolers to provide support to the banquet area bar.
Waste handling required finesse as well. "The kitchens' service elevator is right next to the guest elevators," Callahan says. "In order to hide this from guest view, we added a door and a service corridor shortcut to the kitchen. We also designed in a cold room for holding waste until off-hours when it can be brought to the [ground level for disposal]."
Off & Running
L.O.A.'s upscale menus and cutting-edge mixology elevates the rooftop retreat to new levels. Heading into year two, all systems are go.
FACTS
ROOFTOP L.O.A.
ATLANTA
MENU/SEGMENT: Full-service, catering and poolside dining
OPENED: June 2022
TOTAL SIZE: 38,000 square feet
CAPACITY: 1,000
OWNER/OPERATOR: Randy Hayden, beverage director; Kelvin Slater, founder/CEO; Mandy Slater, co-founder and chief creative officer; Joseph Trevino, culinary director, Slater Hospitality, Atlanta
CONSULTANT: Linda Callahan, design director; Jessica Abell, project manager, Next Step Design, Annapolis, Md.
ARCHITECT/INTERIOR DESIGN: ASD | SKY Architects, Atlanta
DEALER: Amundsen Commercial Kitchens, Oklahoma City
WEBSITE: rooftoploa.com
KEY EQUIPMENT
Throughout
•  CaptiveAire hoods
•  Hatco heat lamps
•  Thermo-Kool walk-in coolers, freezers
•  T&S Brass pre-rinse faucets
•  Metro shelving
Restaurant & Pool Kitchens
•  Frymaster fryers
•  Jade spreader cabinets, cheesemelters, ranges, equipment stands, charbroilers
•  Continental undercounter refrig., worktop freezers, worktop refrig., reach-in refrig.
•  Blodgett convection ovens
•  RATIONAL combi ovens
•  Alto-Shaam hot holding cabinets
•  Nespresso coffee machine
Pastry
•  Continental refrig. worktops, freezer worktops
•  Fisher dipperwell
•  Pacojet frozen food processor
Bars: Restaurant, Pool & Event
•  Perlick modular bar systems, backbar refrig., undercounter chillers, hand sinks, work centers, cocktail stations, pass-thru backbar refrig., and more
•  Continental refrig., refrig. worktops
•  Taylor frozen carbonated beverage freezer
•  Hobart undercounter dishwashers
•  Vivreau water dispenser (by pool, for guests)
Event Pantry & Bar Support
•  Alto-Shaam hot holding cabinet
•  Blodgett convection oven
•  Taylor soft serve shake machine
•  Hoshizaki ice machine
•  Follett ice bin
•  Antunes water filtration
•  Cooler Concepts keg shelving
Restaurant & Pool Warewashing
•  Salvajor waste collector   
•  Hobart undercounter dishwasher
•  Stero conveyor dishwasher
•  Hatco booster heater
•  Power Soak pot sink
Liquor Storage & Bar Prep
•  Hoshizaki ice makers
•  Follett ice bin
•  Chill-Rite beer line chiller
•  Antunes water filtration
•  Zummo juicer
•  Continental refrig. worktops, reach-in refrig., reach-in freezer
•  Fetco coffee brewer, iced tea brewer
•  John Boos wood cutting board
•  Vivreau water dispenser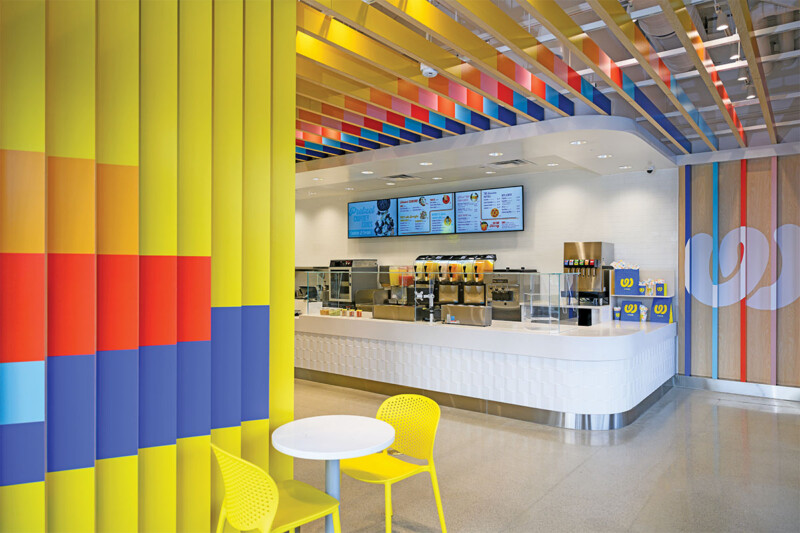 Kitchen Design
Wetzel's Pretzels, the multiunit bakery of shopping mall fame, now offers its soft pretzels and more at street-side through its latest concept.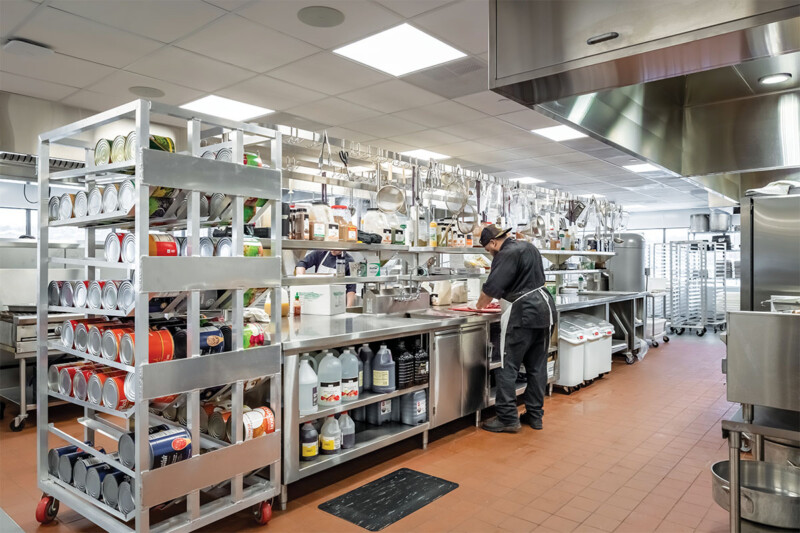 Kitchen Design
Open Arms of Minnesota—a volunteer-powered, nonprofit organization that provides meals to critically ill Minnesotans—needed more room.