Al Forno Mediterranean Grill & Subs' Grand Opening
A Florida startup concept opens its doors after managing labor challenges, supply shortages and Hurricane Ian.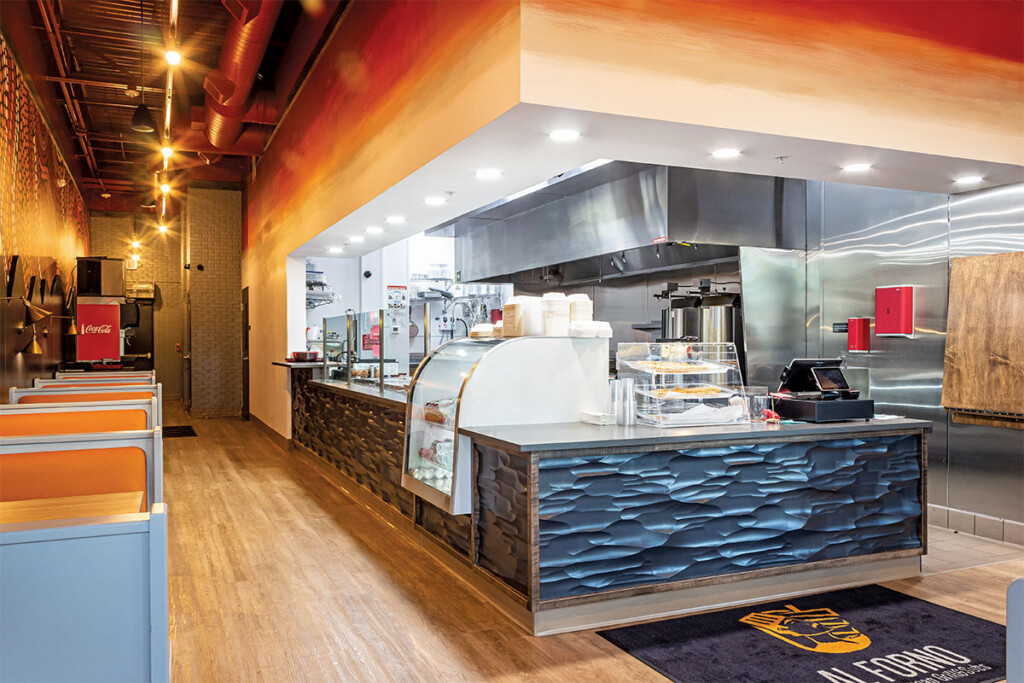 Ibrahim Saad, a doctor in Sarasota, Fla., and an entrepreneur who has already opened six local businesses, saw in Sarasota a lack of authentic Lebanese food. He aimed to fill that gap by opening a restaurant. Al Forno Mediterranean Grill & Subs' menu would feature Lebanese favorites: made-to-order bowls and pita bread sandwiches filled with shawarma, kebab or falafel, plus hummus, baba ghanouj and tabbouleh.
In mid-2021, when a 1,200-square-foot in-line space (a former sandwich shop) became available, Saad jumped. What he did not realize was that labor challenges, supply chain issues and a hurricane meant it would take more than a year to finally open his first restaurant.
Finding Solutions
Al Forno's design and planning team began work on the restaurant in September 2021, aiming for a May 2022 opening. Foodservice design consultant Marisa Mangani, principal of Mise En Place Design, Sarasota, worked with the architect, JKL Design Group, also in Sarasota, to lay out Al Forno's kitchen. Mangani also served as health department liaison and on-site project manager for the installation.
Finding companies to fill various roles throughout the design and construction process proved challenging since the project was relatively small.
"Even though COVID brought the economy to its knees, everybody is so busy that nobody really wants to deal with small projects," Mangani recalls. "It was hard finding a capable engineer. And once we were under construction, our general contractors, Charles & Chase, had to do a lot of what they call 'self-performing'—when they couldn't find someone to do work, such as putting up drywall, they performed it themselves just to get the restaurant open."
Next, manufacturers kept pushing back delivery dates for equipment. "In November 2021, as soon as we finalized the floor plan, we ordered equipment for February 2022 delivery to hold prices and make sure we had it when we needed it," Mangani says. "Even then, some of the manufacturers were like, 'Well, that's not going to happen.'" The target delivery date moved to August 2022.
Together with dealer Johnson-Lancaster and Associates, Clearwater, Fla., "we continually monitored when things were going to ship, confirmed that they did ship, and checked to make sure equipment arrived in good shape," Mangani says.
A few choice equipment pieces, including an HVAC air handler and vertical broilers, proved especially difficult to source.
"This brand [of vertical broiler] was what he needed for shawarma, so we worked to get them in place."
—Marisa Mangani, Mise En Place Design
The team needed the larger air handler to meet code requirements for a stone hearth oven they were hoping to install to produce pita bread. "When we finally learned the air handler would not be available until 2023, the oven had already shipped," Mangani says. "So, we revamped the drawings to indicate the oven as a 'future item.' That allowed us to proceed using the existing air handler and move on." Without the stone hearth oven in operation, the store buys prebaked pita bread.
Meanwhile, the vertical broilers would enable employees to prepare the restaurant's signature shawarma. "They had still not arrived by August," Mangani recalls. "So, we delivered equipment to the site without them." The units arrived about two weeks later, after many phone calls.
Despite the delays with the vertical broilers, owner Saad didn't consider another brand. "It's not like griddles or fryers where there are plenty of choices," Mangani says. "This brand was what he needed for shawarma, so we worked to get them in place."
The team found a few ways around a construction materials shortage. "Our contractor could not find breakers for the electrical panel. They ended up sourcing them through Saad's contacts in Michigan," Mangani says. "And then drywall! All the sudden, drywall had a three-week lead time. Our contractors bought drywall at Home Depot and put it up themselves, just to get the restaurant open."
The last delays came from Hurricane Ian, the Category 4 storm that devastated southwest Florida at the end of September. Sarasota, further north along the coast, avoided flooding, but experienced wind, rain and power outages. "The health inspector, our final step before opening, sent out a generic email saying appointments were on hold," Mangani says. "I have a contact at the health department in Tallahassee, who may have made a call. Three days later, Al Forno passed inspection and was finally ready to open."
Opening Day
Al Forno opened for business on Oct. 4, 2022. Now, Sarasota's only Lebanese restaurant is seeing steady and growing traffic.
"Customers include Arabic people coming from around the region, some driving more than an hour from Tampa/Clearwater," Saad says of the 22-seat shop on the northwest corner of Sarasota's upscale University Town Center. Service times for Al Forno's made-to-order food average about 10 minutes; lines move steadily. Al Forno currently has five employees, a number Saad hopes to double over the coming months. About 60% of business takes place at lunch and 40% at dinner.
When asked about expected revenue, Saad notes that most of the quick-service restaurants at the UTC generate at least $2 million per year. "Al Forno seems to be headed in that direction," Saad says.
Kitchen Highlights
Al Forno's 60-foot-long, 20-foot-wide footprint restricted layout options. In the end, the team dedicated about 530 square feet to the kitchen and back-of-house and 670 square feet for seating, the self-serve beverage station and traffic circulation. The kitchen and seating area run parallel to retain access to the back exit and to restrooms. Lastly, another two seats are available outside.
The cooking lineup features the two vertical broilers, a range, charbroiler, griddle and fryers. Undercounter refrigeration holds food items at the ready. The prep area and makeline include drop-in hot wells and a sandwich prep table. Other kitchen highlights include the following:
• The prep table features a clear top so cus-tomers can see the sandwich prep action. The team specified extra-deep (18 inches) prep table cutting boards to provide enough space for employees to roll pita bread into sandwiches.
• The warewashing area, at 6 feet by 10 feet, "is the smallest in the world!" Mangani laughs. The space includes a leased warewasher and an existing three-compartment corner sink. "We confirmed in advance with the health department that the sink would pass muster, and it does."
• After Al Forno opened, the team added a countertop hot well unit to stage meats carved off the vertical grill.
The stone hearth oven, though shown on the plan as "future," is in storage. But Saad is optimistic: "We will use the oven at Al Forno's second location, which will open sometime in 2023."
FACTS
AL FORNO MEDITERRANEAN
GRILL & SUBS
SARASOTA, FLA.
MENU/SEGMENT: Fast-casual
FOUNDED: 2022
NUMBER OF UNITS: 1
SIZE: 1,200 square feet
SEATING: 22 seats (two outdoors)
PLANS FOR 2023: 1 unit expected to open
EQUIPMENT PACKAGE: $150,000
CONSULTANT: Marisa Mangani, principal, Mise En Place Design, Sarasota, Fla.
DRAFTING: TBCI Design, Bradenton, Fla.
ARCHITECT: JKL Design Group, Sarasota, Fla.
DEALER: Johnson-Lancaster and Associates, Clearwater, Fla.
GENERAL CONTRACTOR: Ted Zoltko, project manager; Michael McKay, superintendent, The Charles & Chase Group, Sarasota, Fla.
WEBSITE: alfornogrill.com
EQUIPMENT
• True deli display case
• D&S Custom Stainless mobile equipment stand
• MVP Group vertical broilers
• Vulcan range, charbroiler, griddle and fryer
• Continental refrig. equipment stand, worktop freezer and sandwich prep table
• CaptiveAire hood, fire system
• Robot Coupe food processor
• Alto-Shaam drop-in hot food wells
• Wood Stone stone hearth oven, hood (not in use)
• Hoshizaki ice machine
• Berner air curtain
• Olympic wire shelving
• Walk-in cooler, freezer (existing)
• Three-compartment sink (existing)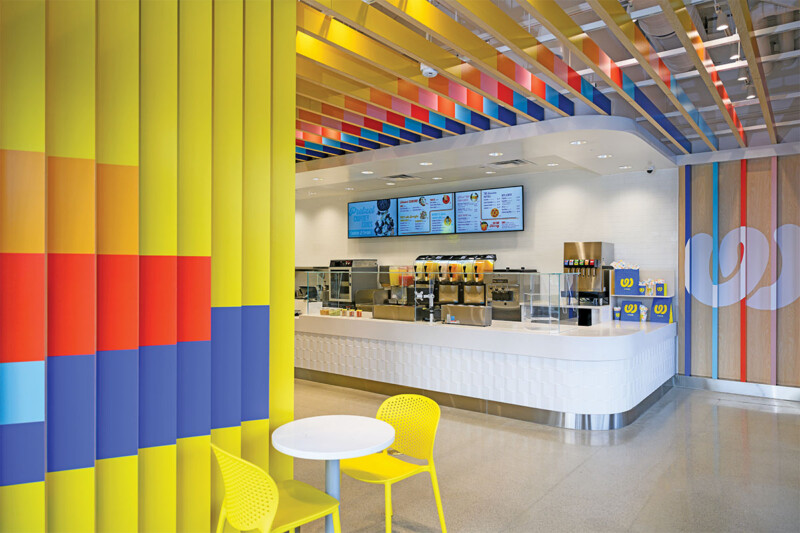 Kitchen Design
Wetzel's Pretzels, the multiunit bakery of shopping mall fame, now offers its soft pretzels and more at street-side through its latest concept.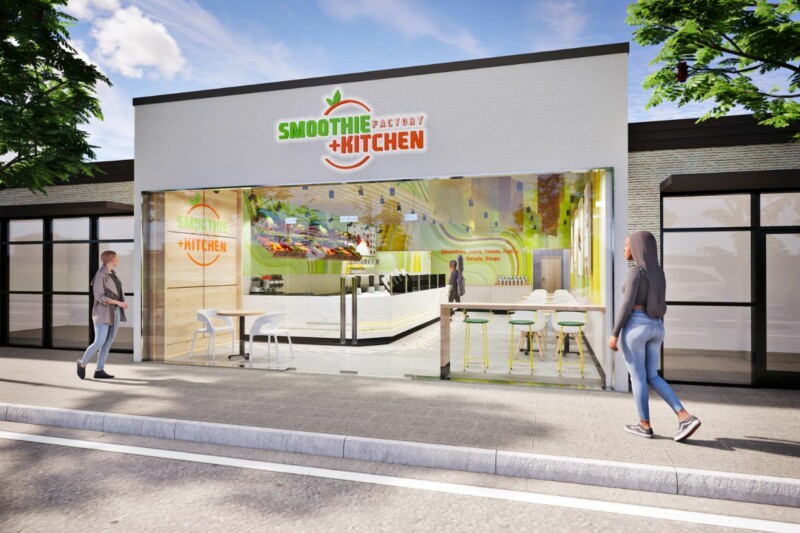 Design Trends
Originally a juice bar concept, the brand will lean on this equipment to offer guests grilled "folds," toast options and salads.