Behind the Scenes: Bellagreen Tests Out New Concept in Houston
A too-good-to-pass-up site enables Bellagreen to debut a carryout and delivery prototype.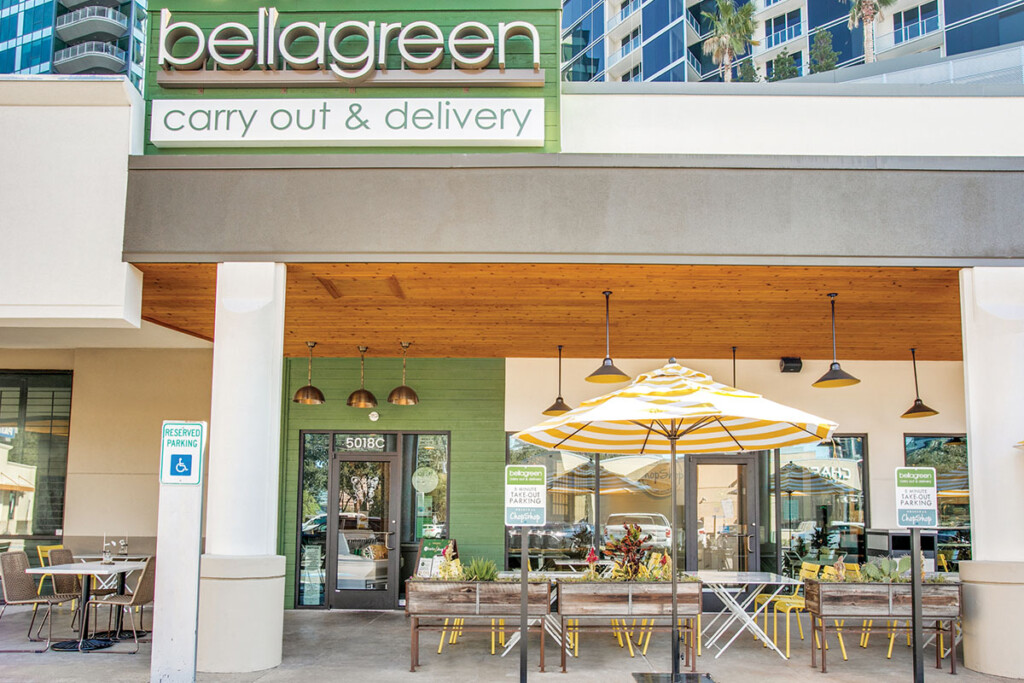 Sometimes the stars align, and a restaurant prototype is born. For Plano, Texas-based American bistro Bellagreen, the proverbial stars that led to a Bellagreen to-go prototype included its sister concept Original ChopShop, a lucky real estate find in Houston and an already-strong carryout following.
Bellagreen, with its date-night-type atmosphere, typically offers salads, burgers, tacos, pizza, wine, beer and desserts, with an average ticket of about $20, while the smaller, more casual, on-the-go Original ChopShop features sandwiches, salads and fresh-squeezed juices with an average ticket of $12. In the summer of 2020, Bellagreen sought to grow twofold in the Houston market, working to develop its sixth Bellagreen and its first Original ChopShop, recalls Bellagreen Vice President of Design and Construction Archie Andrews.
That's when the real estate team discovered a site with potential. The spot, a former bank, occupied the endcap of a small strip mall in a high-density residential area near The Galleria, one of Texas' largest shopping malls. And it had a drive-thru.
The bank's footprint was too large for an Original ChopShop but too small for a full-sized ChopShop-and-Bellagreen installation, which the company had successfully deployed twice before. And yet, the address on San Felipe Street, blocks from The Galleria, was too good to pass up.
At the same time as Bellagreen's real estate hunt, the COVID pandemic was steadily altering consumers' dining habits, pushing carryout and delivery numbers to new heights.
Then, the aha! moment. "We realized the site would be perfect for a full-sized ChopShop with drive-thru, and would also have enough space left over to create a Bellagreen to-go test prototype," Andrews says.
Bellagreen's parent company acquired the site. Design work for the sister concepts began in October 2020 and construction commenced in April 2021. The restaurants opened for business last September.
While the prototype was under construction, Bellagreen worked to make systemwide carryout and delivery even stronger by unveiling its app in July 2021. The app, together with an internal system that directs delivery orders during peak hours, have become "pillars" of the company's digital strategy, says Brooke Perry, Bellagreen's vice president of marketing.
Service times at the prototype average about 10 minutes per order, and the store operates with 30% fewer employees than a full-sized Bellagreen location.
Eight months into operations, the company is pleased with its Bellagreen carryout and delivery prototype. "The store is performing especially well considering its small footprint," Perry says. Carryout makes up 90% of sales, with the remainder for delivery orders. Service times at the prototype average about 10 minutes per order, and the store operates with 30% fewer employees than a full-sized Bellagreen location.
Shotgun Layout
Devising the Bellagreen carryout and delivery prototype's layout started with blocking in its biggest elements—a walk-in cooler and an employee restroom—and then drawing a line to the front for a shotgun-style design.
The team set the prototype's wall-to-wall width at 10 feet by "measuring the depth of the equipment on each of the long walls, then considered how wide the aisle needed to be for an intense to-go kitchen," Andrews says. The resulting 4-foot aisle maximizes kitchen efficiency and still allows people to work back-to-back.
"The layout is condensed but productive," adds Finley Lackey, facilities consultant for Bresco, the Birmingham, Ala.-based dealer. "Workers don't need to leave their work stations when they pass food along to the next spot. The 4-foot aisles need only a step and turn."
In all, Bellagreen's to-go prototype fills 962 square feet of space. (By contrast, a full-sized Bellagreen averages about 3,500 square feet.) The pickup area, covering about 85 square feet, occupies such a sliver of the whole that during design and construction, "we would refer to the store as our ghost kitchen, even though it's not," Andrews recalls.
Original ChopShop occupies the remaining three-quarters in the prime endcap spot, plus the drive-thru. Although both brands share a wall and parent company, each operates independently.
Menu changes and preset kitchen modules eased the task of fitting the Bellagreen to-go prototype into its in-line footprint. The team jettisoned stations for pizza, desserts and alcohol early on due to both a lack of an audience and space constraints. With no dine-in guests, warewashing shrank to a three-compartment sink that primarily handles pots and pans.
Past the pot-washing space sits the prep area, followed by the cookline, which occupies the galley kitchen's center spot. By rotating the cooking module perpendicular to the order counter rather than parallel, as in typical Bellagreen stores, the team was able to fit the full battery, minus one fry basket rack. All four prep tables fit in the prototype as well.
Most of the to-go prototype's equipment, including a convection oven, eight-burner hot plate, charbroiler, griddle, salamander, fryer, three-compartment sink and prep tables, were sourced from a unit that had closed during the pandemic. "Given the current supply shortages and delivery issues, just finding equipment can be a challenge," Lackey notes. "Having the items already on hand made it easier to confirm critical information for the installation."
Bellagreen's front-of-house module holds the order counter and POS, a compact work area for the store manager, a grab-and-go beverage cooler, and shelving for bagged orders. Behind the order counter, a stainless pass-thru multitier unit is where final order assembly takes place.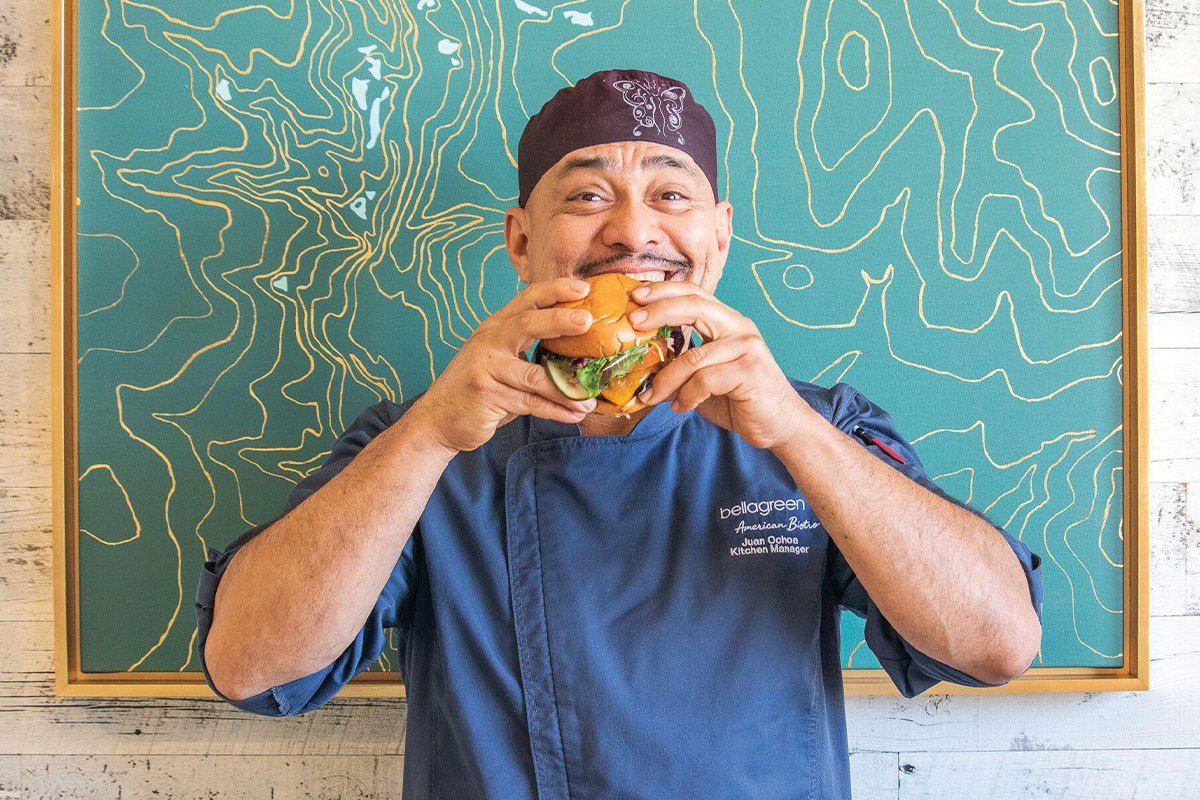 Trade Dress
Bellagreen prides itself on sustainable food practices, sustainable furnishings and building materials, as well as conserving water, power and pollution. The to-go prototype has applied for three-star certification from the Green Restaurant Association.
"All Bellagreen stores use renewable energy— wind or solar, depending on location," Perry says. "Water conservation is achieved through low-flow faucets and toilets. To-go meals are packaged in recycled, mostly compostable materials, while at our full-service restaurants, guests use real plates and silverware, reducing waste." In addition, Bellagreen uses sustainably sourced food ingredients, such as Angus beef from 44 Farms, Cameron, Texas, and seafood that is Best Aquaculture Practices certified.
The to-go prototype's front-of-house design elements reflect those used in full-sized Bellagreen stores. The left wall flanking the entrance features a 12-foot-long world map mural created from more than 10,000 reclaimed wine corks. Above the order counter, a chalkboard- fronted bulkhead holds inspirational messages. The right wall comes covered in extra- large marble-look tile extending to the start of the cookline. The pickup shelving unit, made of walnut-like wood, echoes the paneling on the front of the order counter. Polished concrete makes up the floor.
As for the exterior, the team set apart Bellagreen's narrow storefront visually from Original ChopShop by cladding it in, of course, (Bella)green siding. Three copper pendant lamps hang above the entrance. A matching green sign facing the parking lot helps highlight the store's location. Both brands share several five-minute takeout parking spots.
Coming Up
As of press time, the company was seeking new real estate in existing markets, but had nothing in the pipeline.
"The Bellagreen to-go prototype serves as our testing ground," Andrews says. "We're not going to replicate it without fully understanding all aspects. In my opinion, consumer behavior—the carryout mindset—that's been created by the pandemic is not going anywhere anytime soon."
FACTS
BELLAGREEN HOUSTON
SEGMENT: Fast-casual
HEADQUARTERS: Plano, Texas
FOUNDED: 2008
PARENT COMPANY: Bellagreen Holdings
NUMBER OF UNITS: 8
PROTOTYPE SIZE: 962 square feet
FF&E PACKAGE: $175,000
BELLAGREEN LEADERSHIP: Archie Andrews, vice president of design and construction; Kyle Frederick, COO; Jason Morgan, CEO
ARCHITECT: Miriam Navarro, project manager, ID Studio 4, Dallas
DEALER & KITCHEN DESIGN: Finley Lackey, facilities consultant, Bresco, Birmingham, Ala.
WEBSITE: bellagreen.com
EQUIPMENT
• Kolpak walk-in cooler
• Continental u/c refrig., worktop freezers, sandwich prep tables, refrig. equipment stand
• Atlanta Custom Fabricators prep tables w/sinks
• Star 8-burner hot plate, charbroiler
• Garland salamander broiler
• Vulcan griddle
• Frymaster fryers w/filtration
• Southbend double-deck convection oven
• CaptiveAire hood
• Par Technology Brink POS
• True refrig. grab-and-go case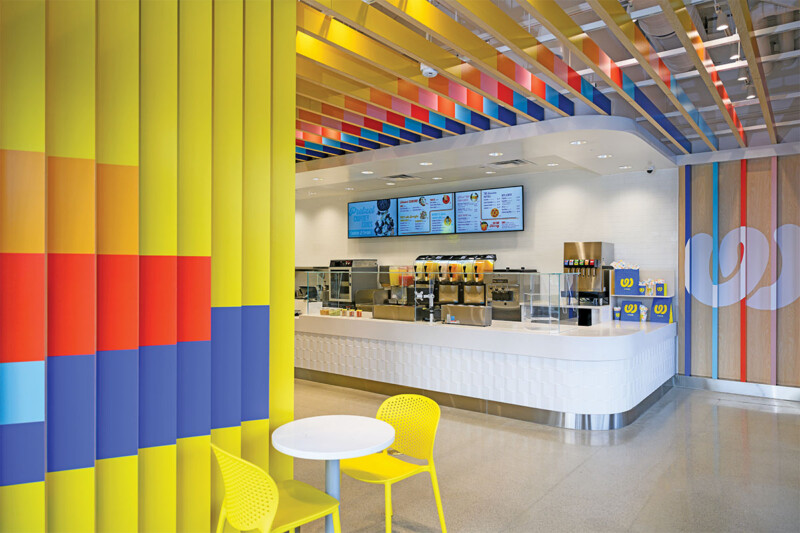 Kitchen Design
Wetzel's Pretzels, the multiunit bakery of shopping mall fame, now offers its soft pretzels and more at street-side through its latest concept.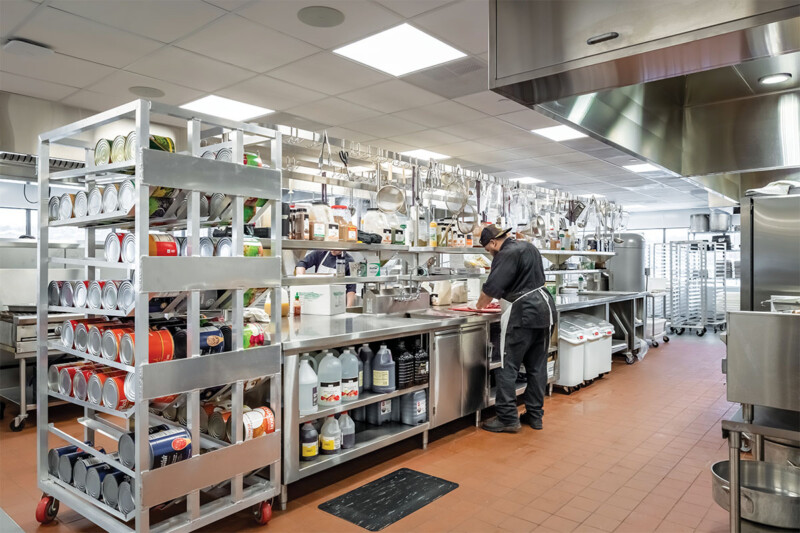 Kitchen Design
Open Arms of Minnesota—a volunteer-powered, nonprofit organization that provides meals to critically ill Minnesotans—needed more room.