Carve Out a Niche With Heated Carving Stations
The stations can bring the wow factor. Choose carefully to find one that not only keeps meats tender and juicy, but also showcases your style.
Buffets are back. Three years post the COVID-19 outbreak, buffets have resumed at many restaurants and special events, appearing everywhere from Easter brunch to bar mitzvah celebrations. A chef-attended carving station adds elegance to a buffet or any event with food stations, wowing guests with succulent beef, ham and turkey, freshly cut before their eyes. Because the station is staffed, it's attractive even to guests who are leery about self-serve.
Unlike equipment hidden in the back-of-house, a heated carving station takes center stage, so it must offer both function and flair—keeping meats warm and tender, while enhancing the decor. If you're in the market for a heated carving station, here's a smorgasbord of factors to consider:
SIZING. Carving stations come in a variety of sizes to fit different cuts of meat, be it a small tenderloin or a large prime rib. Consider your product size as well as the available space for the carving station. In some models with a heated base, the total footprint extends past the carving board. A small carving station, say 18-inches by 20-inches, typically comes with a single lamp with a 250W heat bulb, while larger stations might have two or more lamps. One manufacturer notes that another popular option is to install ceiling-mounted retractable heat lamps that cover the entire buffet, including the carving board station.
STYLE. Select a style that matches your decor and brand. You'll find traditional bell-shaped heat lamps, streamlined conical ones, elongated domes and more styles. Choose from a variety of lamp finishes, including brass, nickel, chrome, copper, bronze and antique bronze. Keep your heat lamps looking stylish with proper care. If the lamp has a tarnish-proof finish, avoid applying a strong polishing compound that could rip away the finish, making the lamp susceptible to rust.
HEAT SOURCE. The challenge at a carving station is keeping meats at the proper temperature without drying them out. Some heat lamps offer a flexible gooseneck, allowing the chef to control how close the heat source is to the food. Some carving stations feature a heated base, in addition to heat lamps, enveloping the product in heat. Consider the length of time your meats will be on the board to determine whether this extra heat is needed to keep food at the proper temperature. If you're considering a heated base, explore the different heating technologies available. One designer of custom-made banquet and foodservice furniture even offers energy-efficient induction heating technology in its carving stations.
CARVING BOARD MATERIAL. A traditional maple wood carving board is easy on the knife, but the board will quickly show wear. One manufacturer recommends replacing a maple board every year or so. While some chefs prefer maple, synthetic materials also have become popular, including synthetic stone, polyethylene and wood fiber. To ensure the board meets food safety standards, check whether it is NSF certified.
CLEANABILITY. Consider how easy it is to clean a carving board, throughout service and after a shift. Many cutting boards have a "gravy groove," an area where excess juices collect, saving the chef from having to constantly mop them up with a towel. Some even offer an inset pan under the cutting board to collect scraps and drippings.
FOOD SHIELDS. Be sure to comply with local food safety regulations. Some carving stations come with a built-in food shield; other models offer optional add-on guards. Whether guests are enjoying succulent prime rib, savory turkey breast or tender ham, they'll appreciate this extra layer of protection.
Take the time to explore the options, and you're sure to find a heated carving station that makes the cut for your foodservice operation.
---
BY THE SLICE
Companies offering heated carving stations include the following:
ALTO-SHAAM
alto-shaam.com
CRES COR
crescor.com
HANSON HEAT LAMPS
hansonheatlamps.com
HATCO
hatcocorp.com
LION'S WOOD BANQUET FURNITURE
lwbanquetfurniture.com
For more manufacturers, visit the Manufacturers Directory at fermag.com/manufacturers.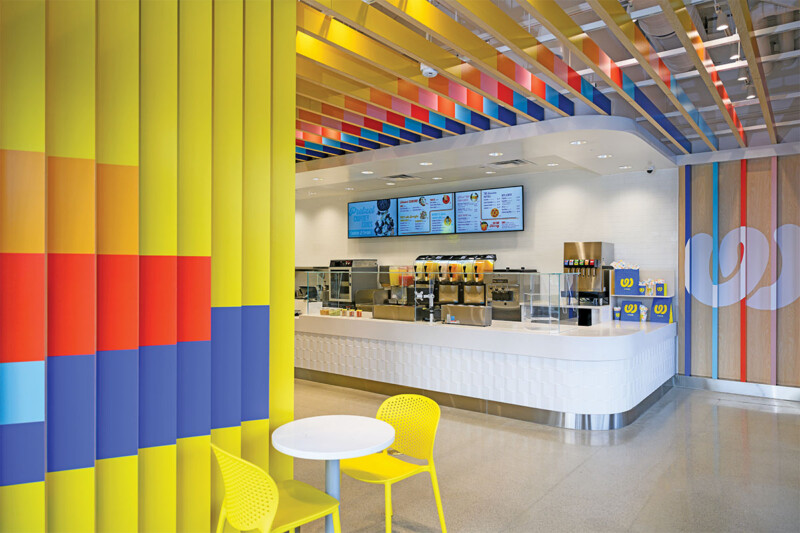 Kitchen Design
Wetzel's Pretzels, the multiunit bakery of shopping mall fame, now offers its soft pretzels and more at street-side through its latest concept.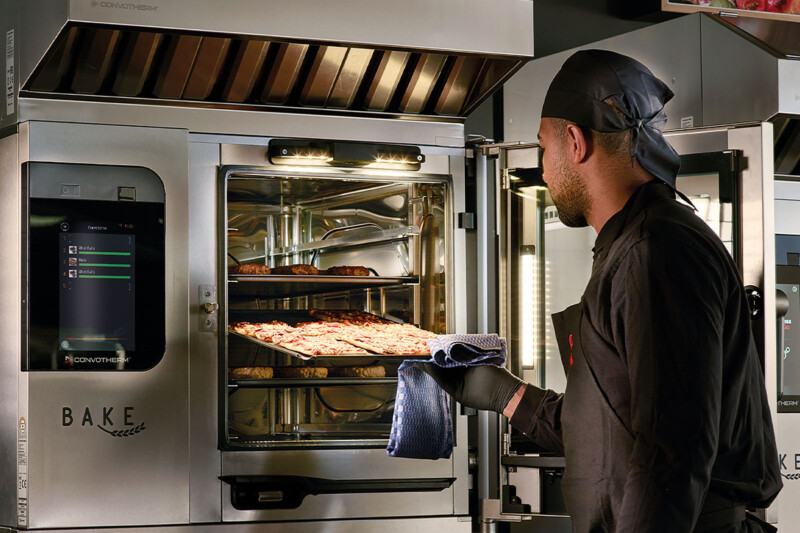 Combi Ovens
Today's combi ovens are smarter and more energy efficient, reducing the need for skilled labor and cutting utility costs.