Here's Everything You Need to Know About Deck Ovens
Fast and versatile enough to cook everything from pizza to proteins, deck ovens could make an important addition to your equipment arsenal now.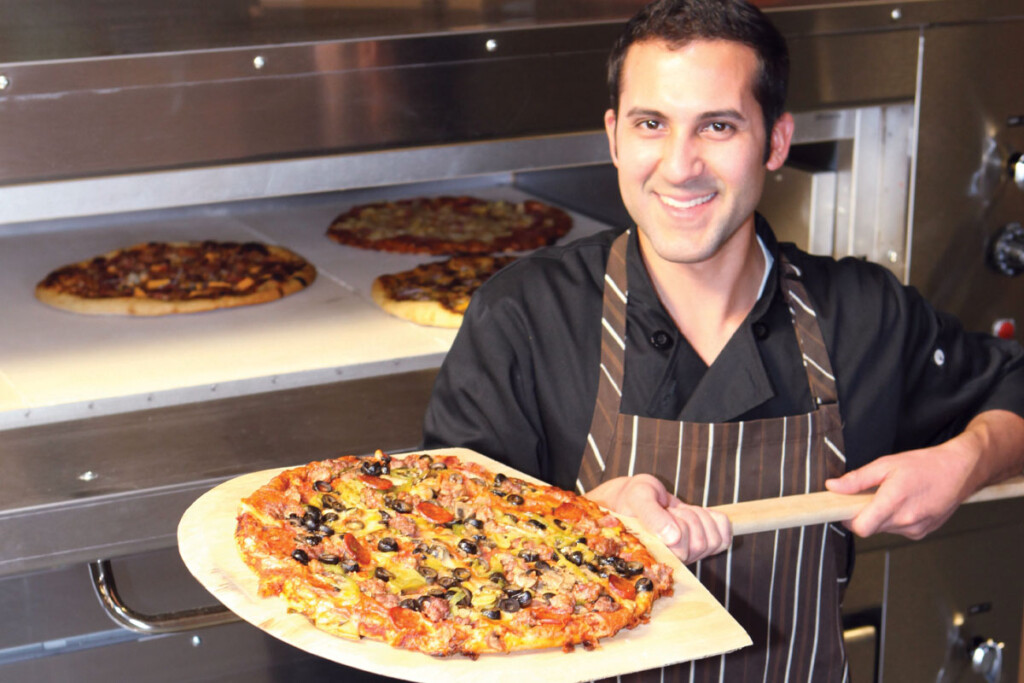 With no end to the global coronavirus pandemic yet in sight, operators able to remain open in the face of mandates and restrictions are doing so largely through takeout, drive-thru and delivery business. While it may seem odd to think about capital expenditures at a time like this, equipment that can help expand your takeout menu, or improve on food quality or speed of service deserves a look.
A fixture in many pizzerias and Italian restaurants, pizza deck ovens have long been a kitchen workhorse. Sturdy and built to last, some have been in service for 50 years or more without a problem. Versatile enough to bake bread and cook off dishes from scampi to fruit tarts, they're also stackable so you can devote each oven to a different list of menu items.
The key to a deck oven's speed and ability to bake perfect crusts on pizza, breads, pies and more is its configuration. Unlike a conventional or convection oven with a large cavity in which wire shelves separate foods, deck ovens have narrow openings from about 7 to 12 inches in height, and cavities that are wide and deep. Model widths can vary from about 4 ft. with a 36-in.W deck to more than 7 ft. with a 66-in.W deck. Oven depth is typically around 45 inches but models with shallower cavities are available to accommodate kitchens with narrow aisles.
It's the deck itself that makes the oven ideal for pizza breads and other baked goods. Though makers offer ovens with different deck surfaces (the standard is steel), the flat surface retains and conducts heat, giving dough products a crispy finish. But their quick recovery time also provides an efficient way to bake off other menu items as well.
The ante for makers in this category with only minor variations is solid construction with heavy-duty, fully welded angle-iron frames, all-stainless exteriors, aluminized steel interiors, insulation throughout including doors, and stackability. But there are enough differences that it pays to look at the details when setting specs.
Think It Through
First off, gas or electric? Some manufacturers make both; others make only one or the other. If you plan to use gas in some stores, and electric in others where it makes more sense, you may want to choose a maker that produces both so you have the same service network.
A key note here, too: While all deck ovens will bake off a pizza, a "pizza deck oven" (usually referred to that way by makers of gas equipment) is one with higher Btu output, and thus higher oven temperatures for faster bake times and crispier crusts. Thermostats of these units range 550ºF-650ºF while standard deck ovens usually only go up to 500ºF.
Your menu and volume will help determine what size and how many deck ovens you'll need. You may be able to handle volume with one wide oven, for example, but if you have pizzas that bake off at 650ºF and several items you want to finish in a 350ºF or 400ºF oven, you might get two smaller ovens and stack them. Some models are able to stack two ovens, others three or four, so be sure to look for this information when you spec.
A pizza deck oven has a higher Btu output, and thus higher oven temperatures for faster bake times and crispier crusts.
How much space there is in the kitchen is a key consideration. Think not only about whether the equipment will fit into a certain footprint in your layout, but also how much clearance it needs. Different makes require a different amount of side and back clearance, especially from combustible materials.
Nitty-gritty details may influence your specs. Deck ovens are pretty simple in design and operation, but each maker puts its individual stamp on its equipment. Doors, for example, may be spring-loaded or counter-balanced. One manufacturer even builds its ovens with glass doors. Some models have a remote start feature that lets you fire the oven before coming in, so it's warmed up and ready when a shift starts. Makers can mount controls on either side. One company hides the controls behind a panel door; another offers touch-screen controls.
Stone Deck Facts
While steel decks are typical in standard deck ovens, many manufacturers offer stone decks in their pizza deck ovens. Stone doesn't conduct heat as easily as steel, but it retains it well. Lower conductivity means pizza crusts—or any food placed directly on the deck—doesn't char as readily. High heat retention means more radiant heat for a quicker bake and faster recovery time.
Don't clean stone decks with water, but rather scrub them with a brush. Since they're porous, take care not to cook greasy foods on them.
So-called stone decks are made with a variety of different materials. The most common are Lightstone fibrament, a proprietary blend of NSF-approved kiln-fired materials; Rokite; synthetic cordierite, a mineral used to make ceramics; and other fired-clay products.
Fibrament must be "cured" before high-heat use, otherwise it may be subject to thermal shock and cracking. Cordierite withstands thermal shock and very high temperatures. Often, kiln-fired clays or blends like fibrament or fire bricks, are manufactured in smaller pieces so they're not as likely to crack or break. Don't clean stone decks with water, but rather scrub them with a brush. Since they're porous, take care not to cook greasy foods on them. Following the manufacturer's instructions on how to clean and care for stone decks will help them last a long time.
Some manufacturers offer the option of lining the ceiling or entire oven with stone or fire brick. The effect is two-fold: first, the oven retains higher temperatures longer; and second, the stone lining the ceiling and/or sides reflects and radiates heat back onto the food resulting in a fast bake that's similar to what you'd get in a hearth oven.
Putting It In Place
Pizza deck ovens are big and extremely heavy. Depending on access to the kitchen and room to maneuver, manufacturers and/or dealers may need to ship ovens individually and have installers stack them on site instead of shipping them preassembled. If preassembled, you may want to spec casters to make it easier to get stacked ovens from loading dock to kitchen.
Don't forget ventilation. Gas units will likely require a Type I exhaust hood. Depending on what you're baking or cooking, electric ovens may only require a Type II hood. And if you intend to direct vent your oven, check local code to see what you can and can't do.
Check utility connections, too. Btu output on pizza deck ovens can range up to 160,000, or 320,000 for a double-stack oven. You'll need the right gas pressure to feed those hungry burners. Electric ovens also draw a lot of power, requiring circuits as large as 90 amps for a four-deck oven (or multiple individual 30-amp circuits). Check your service, as well; with most electric equipment, you can spec 208/240V or 480V. Some electric ovens also come with steam injection capability (great for bread baking and even pizzas); you'll need a water hookup, and possibly a water filter for those units.
Most manufacturers offer a one- or two-year warranty on pizza deck ovens. With proper care, most will last a lifetime.
A Look at Hearth Deck Ovens
While many pizza shops and Italian restaurants rely on standard pizza deck ovens, some manufacturers have begun broadening their offerings to meet operators' demand for models that mimic the performance and benefits of hearth ovens.
Called hearth deck ovens, these hybrids feature an arched (not domed) stone-lined ceiling in a deck oven footprint. As with hearth ovens, the arched ceilings reflect and radiate a lot of heat back onto the product (presumably pizza) on the stone deck, resulting in a high-heat fast bake and crispy crust.
To make these new pizza ovens even more competitive, manufacturers have designed them so they can be stacked on a traditional deck oven, giving you the benefits of both in one unit. They also offer a variety of facades to dress them up.
In some ways, certain hearth oven makers also are redesigning their products to become more like deck ovens (see below). They've added gas-fired chambers below the thick stone hearths, and gas-fired burners inside the domed cavity to provide more even heat, and have offered more styles to fit in a variety of footprints.
---
Pizza on Deck
The following pizza deck ovens mark the newest freestanding models, classic or hybrid, from six suppliers.
---
---
---
---
---
---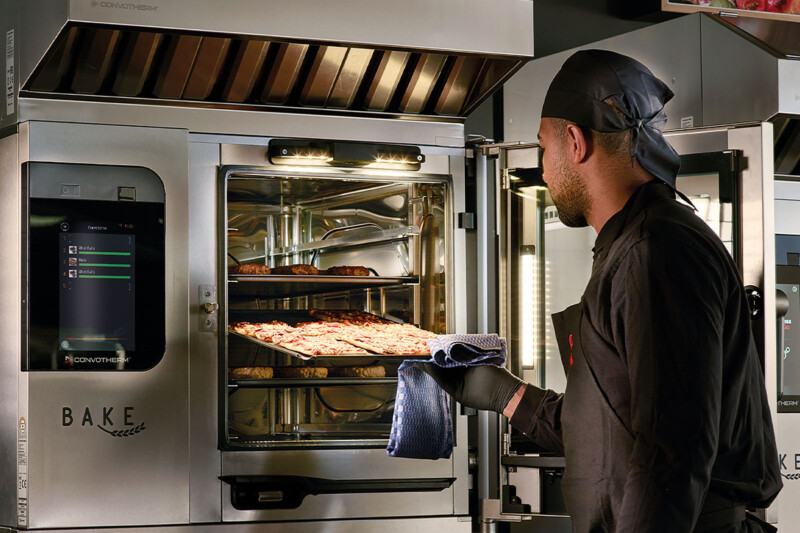 Combi Ovens
Today's combi ovens are smarter and more energy efficient, reducing the need for skilled labor and cutting utility costs.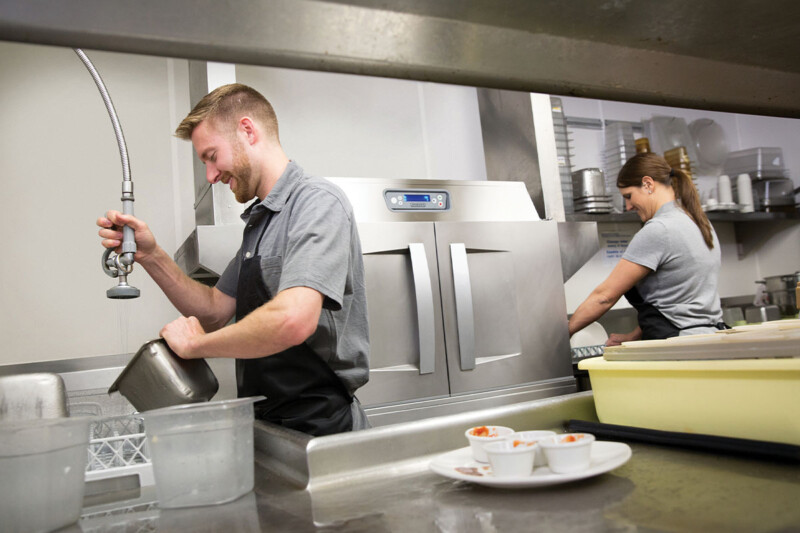 Equipment Comparisons
Forget steamy dishrooms; some of the newest rack conveyors improve environmental comfort and reduce overhead costs.