FER's 2022 Top Dealers Report
Investing in inventory, rebuilding a workforce and enhancing full-service capabilities top the priority list for dealers.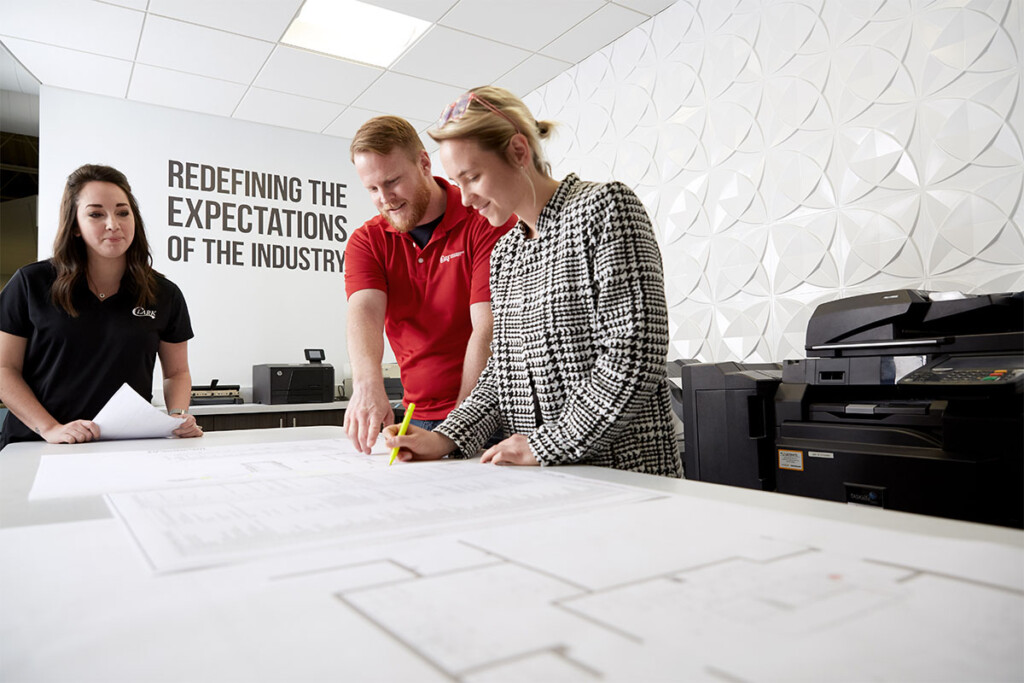 As many as 38 of 44 participants in the 2022 FER Top Dealers Report posted an increase in sales revenue; that's up from six of 43 dealers, a slightly different mix, in the 2021 report. Cumulatively, participating dealers note sales were nearly $9.7 billion in 2021, up almost 30% from 2020, signaling a shift forward from darker days for the foodservice industry.
Teamwork, inventory investments and a digital-forward attitude are a few reasons, dealers say, they found success in 2021. 
KaTom Restaurant Supply, ranking No. 6, posted more than a 42% increase in sales revenue from 2020 to 2021, and a nearly 79% jump from 2019. Patricia Bible, founder, president and CEO, admits naming teamwork as a reason for the success might sound cliche, but says being able to rely on her employees so she could focus on the big things really did make a difference.
"I handle two things at KaTom and it wasn't always that way," Bible says. "No. 1 is the tempo. I'm fast-paced, excited about not only life but everybody that works here and about growth, and that transcends throughout the entire organization. The second thing is, I control the buy, and that's never been more important than the last two-and-a-half years. But the team doing everything they do … allows me to focus on those two areas and keep us on point."
To support its growth, KaTom continues to invest in warehouse space in and around its Kodak, Tenn., distribution center. In early 2022, the dealership announced it will invest $7.5 million to add about 100,000 square feet of space. 
Stocking Up
Investing in inventory has helped dealers provide a steady stream of products to operators amid supply chain chaos. Burkett Restaurant Equipment & Supplies has always run a heavy inventory-based business model, which serves as one reason why the dealership, ranking No. 28 in the FER Top Dealers Report, posted more than a 32% increase in sales in 2021 compared with 2020. (Eighteen other dealers also reported more than a 32% boost.) 
"As the supply chain got tight, we had product available while maybe others didn't and it gave us a little bit of an advantage," President Jameel Burkett says. "We were always a heavy inventory-based company. That was one of my father's [Mike Burkett] founding principles. He believed that customers buy reactively."  
He adds, "The world of living in a just-in-time inventory model probably is a thing of the past for the foreseeable future. We're embracing a just-in-case inventory model." 
"The world of living in a just-in-time inventory model probably is a thing of the past for the foreseeable future."

—Jameel Burkett, Burkett Restaurant Equipment & Supplies
TriMark USA also has stocked up. The dealership ranks No. 2 for a second year in a row to Clark Associates; it held the No. 1 spot for years.
"Because of the lengthening of the lead times, we're willing to go out and place orders that we might not have placed in another environment," says Karen McCain, executive vice president, southern region at TriMark. "We're bringing in inventory today, so that [customers] know they have it available on their timelines instead of having to meet the timelines of the manufacturers."
McCain serves as a member of TriMark's Office of the CEO, which formed after the dealership's CEO Marie Ffolkes left last year. McCain says the structure works well, as illustrated by the company's strong first quarter in 2022. Other news from the dealership includes its federal fraud claims settlement, which left it to pay a record $48.5 million. McCain says the division involved represents less than 3% of the company and so, it was "a disproportionate event."
Digital Future
At Clark Associates, CEO Gene Clark says, the dealership's digital-forward business model continues to fuel its growth, as does the team behind it.
"We have the advantage of being fairly digital thinking prior to COVID. And so, it wasn't a mind shift for us," Clark says. "We literally didn't have to change much of what we were doing because we were doing it before the pandemic. So, that played into our hands in a pretty exceptional way." The dealership's e-commerce platforms include WebstaurantStore.com and brick-and-click stores. 
Looking back at 2021, Clark, like Bible and Burkett, points to the dealership's team as another reason for its success. It posted a more than 48% increase compared with 2020, and a more than 62% jump from 2019. 
"We talk about it with our employees, that this is not normal stuff, the results that we're posting," Clark says. "We should be really proud of that and take time to acknowledge how truly special it is and how it was really a team effort."
Rebuilding a Workforce
Much like the operators they serve, several dealers say the labor market, along with supply chain issues, continues to be one of the more difficult challenges. Cyberattacks also came up, as two dealerships reportedly fell victim in the past year. 
Finding and retaining employees serves as the No. 1 challenge in Wasserstrom's dealership and manufacturing businesses. "Even more challenging than the supply chain issues are the people issues," says President Brad Wasserstrom. The dealership held its No. 4 position in the FER Top Dealers Report but listed a decline in sales compared with 2021. Unlike many of its competitors, it follows a fiscal year (October to September), and the difference of a few months mattered in these ever-changing times.
"We've hired some full-time recruiters. We're doing more job fairs than we've ever done." 

—Brad Wasserstrom, Wasserstrom
The dealership has taken numerous steps to rebuild its workforce. "We've hired some full-time recruiters. We're doing more job fairs than we've ever done. We're looking at different programs," says Wasserstrom, mentioning one company it's partnered with organizes daily shuttle busses to bring employees from certain neighborhoods to work. The dealership also has increased pay, instituted next-day pay and launched employee surveys via text message. 
Still, it's hard. "There's nothing like it in my lifetime," Wasserstrom says. 
Enhanced Offerings
TriMark, as well as Burkett Restaurant Equipment and Clark Associates—both traditionally focused on e-commerce—noted they're leaning into providing more of a full-service experience for operators. McCain has seen many operators scale back resources the past couple of years because of labor shortages or other reasons, and TriMark has stepped in to fill gaps in design, project management, installation and other services.
Burkett Restaurant Equipment has expanded its design services to help operators with layout. "The other thing, we're positioning ourselves to be a natural extension of our customers' supply chain teams so we can shift the burden off of them and onto us so they can better run their businesses," Burkett says.
Clark Associates finds itself helping operators in more of an advisory way, such as sending out tabletop samples. "If we're their A supplier [versus B or C] and they want to do a new tabletop, we need to help them with that consultative process," Clark says. "The true do-it-yourselfer is where the internet starts. That's good for some people. But some customers now, say, 'You're my main supplier. I have this project idea and I need some help with that.'"  
Back at KaTom, to keep the tempo upbeat, especially important considering the long list of challenges for any dealership today, Bible relies on the basics. She tries to walk the floor several times a day and it's not unusual for her to lead a group in the KaTom chant: K-A-T-O-M. "I stop and tell them what a great job they're doing. Then I get them to communicate as a whole with the KaTom chant," she says. "And away we go."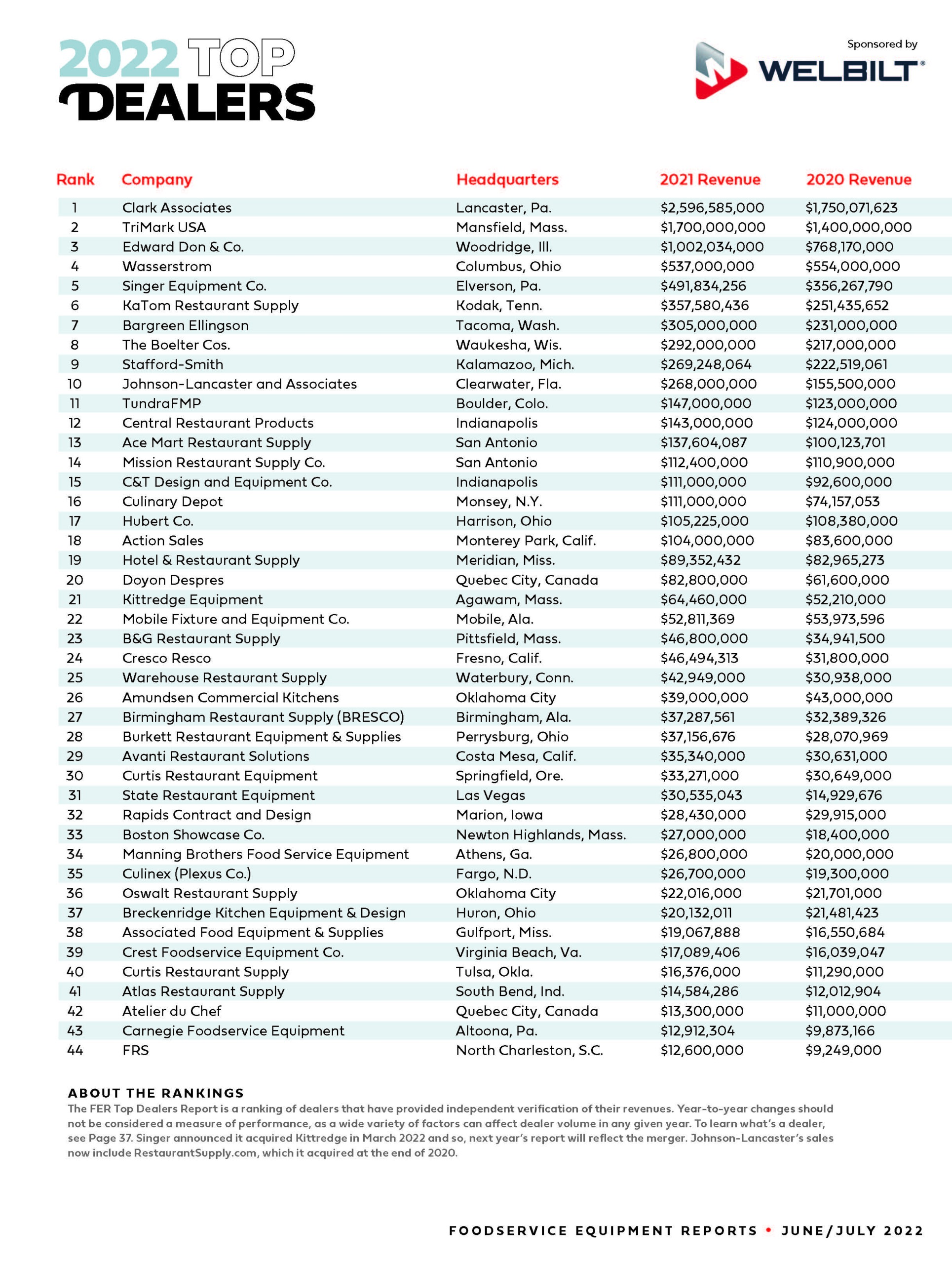 What's a Dealer?
For the FER Top Dealers Report ranking, we use the following criteria: To be ranked, the dealer must independently verify its volume. This is usually done with a letter or signature from a certified public accountant. If more than 50% of a distributor's sales are from paper, chemicals and other nondurables, we do not include them. This excludes nearly all broadline distributors and paper distributors that have significant equipment and supplies volume. The aim with these criteria is to keep the listings apples-to-apples.
Additional reporting by Christine Palmer.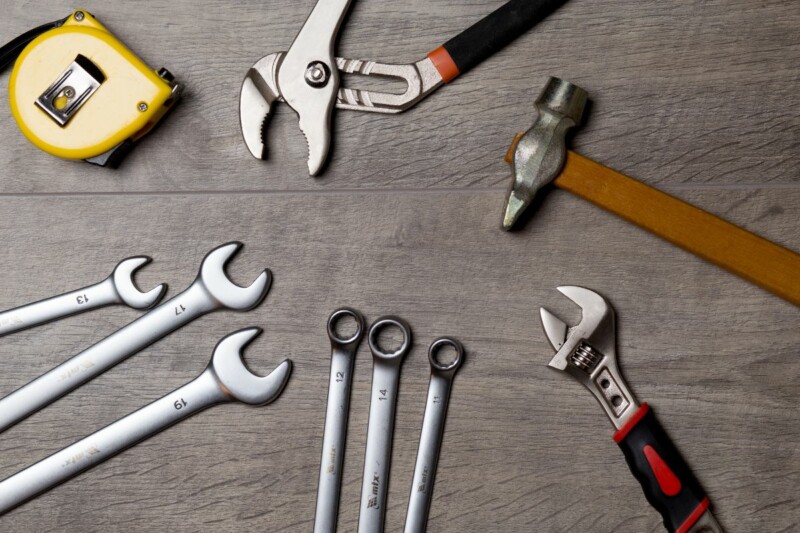 Awards and Recognition
In September, CFESA will begin accepting applications for its fall scholarship opportunities.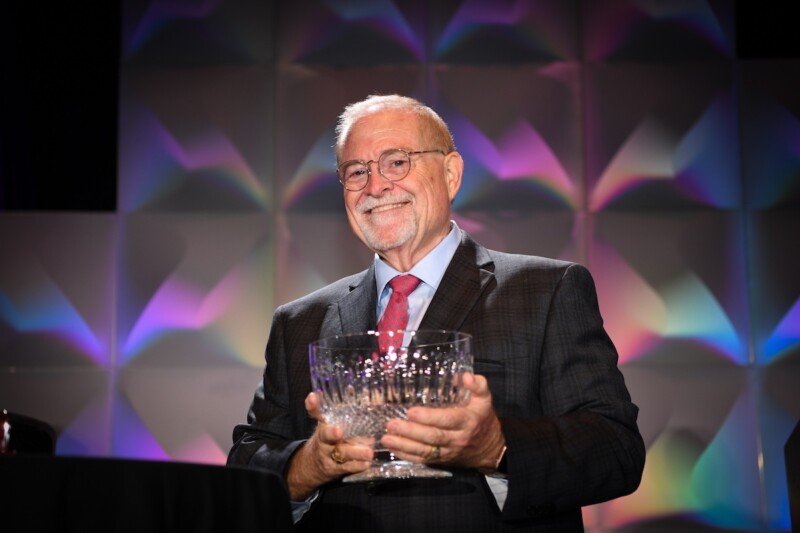 Awards and Recognition
Prior to joining the staff at the University of Nebraska–Lincoln, the recipient spent 30 years with the University of Oklahoma.