How to Spec: Find a Fit With Custom Fabrication
By nature, there's no generic formula for custom equipment. But, for those in the market, these fabricators' tips can move you closer to your end goal.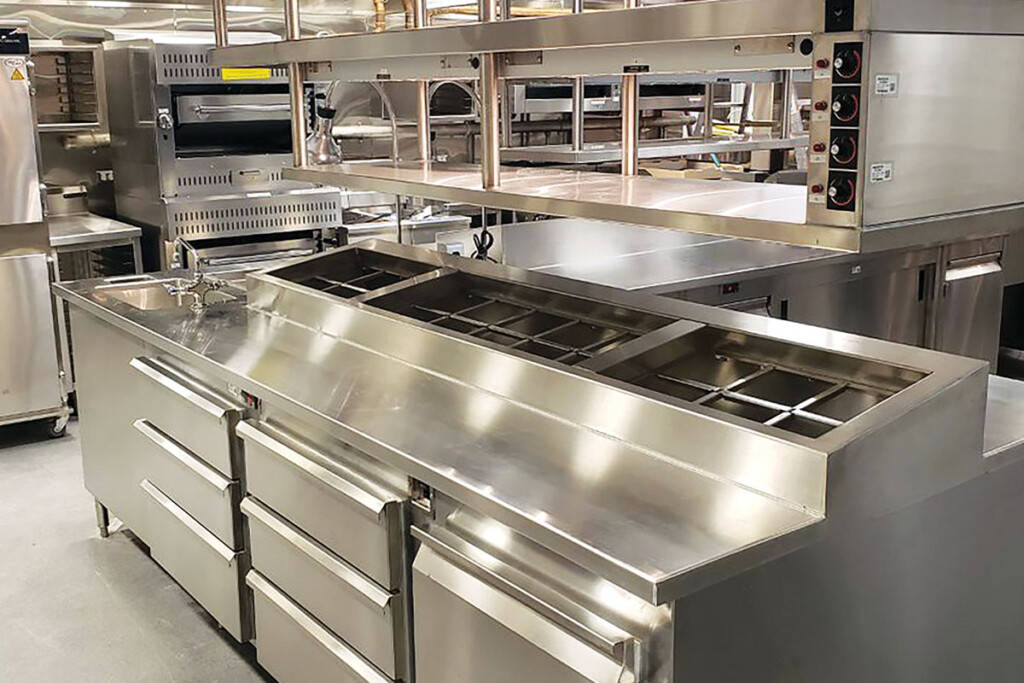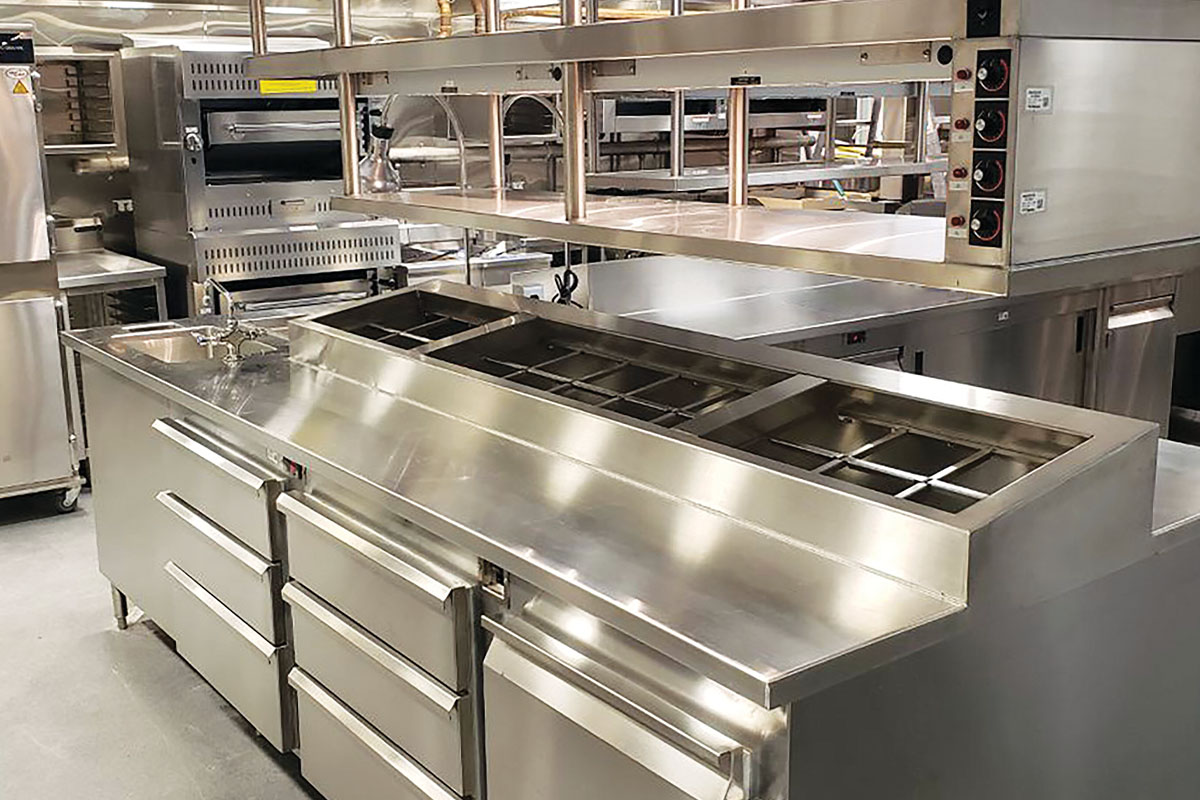 Sometimes, an everyday need calls for a one-of-a-kind solution.
From prep areas and dishtables to millwork and booths, custom fabricators can solve for various operational needs. "We do a lot of mundane things, but we help our customers with solutions that fit," one fabricator says.
But before that big-picture solution comes into focus, you'll have to get the ball rolling. For a smooth process, fabricators urge clients to consider the following factors:
Cost. Fabricators say custom fab isn't as expensive as most perceive it to be. Further, raw material shortages have eased, allowing clients to shop around more than in the past few years. And, with at least one national fabricator we spoke to, a potential client can design and price a custom project on an online quoting platform. This same company distributes one to two price lists a year to its network of dealers, "whereas a local fabricator may, from day to day, change their pricing based on how much they bought stainless steel for … and how much available time they have." Beyond material pricing, consider harder-to-quantify, holistic values. For example, a custom worktable with adjustable height can provide flexibility and comfort for employee satisfaction, and a well-flowing expo area can improve throughput and, in turn, customer loyalty. "When you're driving [custom equipment] for solutions and operational savings, that relatively small incremental cost increase could save them multifold in operational savings every year," says one fabricator.
Timing. The pandemic's heightened lead times are no longer, with at least two custom makers saying four to six weeks is a good, current estimate for building a custom item—maybe slightly longer if electrical is involved. That, however, is after quoting and drawing completion and sign-offs, which take a week or two, makers say. Also be aware that warehouse locations vary by company; several have multiple locations across the U.S., but not all warehouses have identical specialties. Every situation is different, one maker says, with the option to ship custom components, like, say, a sink and a counter, from separate warehouses if time is of the essence. A good rule of thumb is to allow more time than you think you need, they say. Upfront communication also is key to keeping a timeline on track. For example, detail where a drawer on a table should be located, where on-site walls are in relation to custom pieces and, in the instance of a custom dishtable, the make and model of your dishmachine. Of the latter, a maker says "a machine may have an exhaust vent or something sticking out the bottom, that if we put a sink bowl right next to it, the plumbing from the sink is going to hit that part, and so it's not going to hook up well." They add, "Gathering all of the information at the right step in the process is important to avoid pain down the line."
"Gathering all of the information at the right step in the process is important to avoid pain down the line."
Differentiators. Not every fabricator works with all materials, so that alone may narrow your search. Some do built-in refrigeration, for example. On the stainless side, one fabricator urges keeping a close eye on quotes, as some competitors specify cheaper materials, whereas they use 14- or 16-gauge-thick 300 series stainless and, in turn, offer a lifetime warranty against rust and corrosion. "Not only will they use 400 series, they might use galvanized or an 18 gauge or 20 gauge, which is really thin material, [to achieve a lower price]," they say. At least one company we spoke to works one-on-one with operators to analyze POS data, how operations flow and more to recommend custom solutions. "[Some clients] say 'Hey, we need this product; can you do this for us?' And what we try to do for them, obviously professionally and sincerely, is say 'We can do that, but tell me why you want us to build that, and maybe we can help figure out if there's another way to solve that problem.'"
End-to-end visualization. Depending on the equipment and maker, an item may come fully assembled—convenient for a swift on-site install, so long as there aren't any unexpected obstacles. One manufacturer urges preconstruction meetings to talk through scenarios, such as how a 20-foot-long worktable is going to get in the building. Will it fit through the door and thresholds? Are there stairs and elevators involved? To that end, one fabricator has a product line coming out this fall that could alleviate spatial woes and allow freight savings of up to 53%. "We created this new leg [on our custom worktables] that is like an setup, but ships knocked down and you assemble it in the field," they explain. The bottom part of each leg comes welded to the undershelf for durability, while the rest of the leg attaches on top of the undershelf via a bolt design. The legs connect to the tabletop like many other designs. The fabricator will offer the product in standard and custom sizes, and leg assembly takes three minutes.
Even for those in the know on custom fab, one final reminder stands: If you're looking to repeat an order, triple check it's up to code in the new location.
---
Sources
Mike Carlson, director of foodservice sales, Winholt Equipment Group, Woodbury, N.Y.
Ron D'Ambrosio, account executive, Advance Tabco, Hauppauge, N.Y.
Eric Wasserstrom, president, N. Wasserstrom, Columbus, Ohio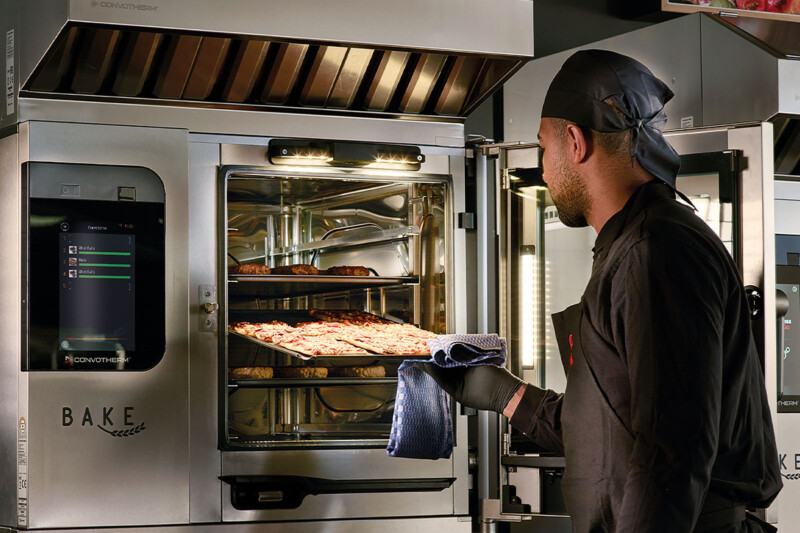 Combi Ovens
Today's combi ovens are smarter and more energy efficient, reducing the need for skilled labor and cutting utility costs.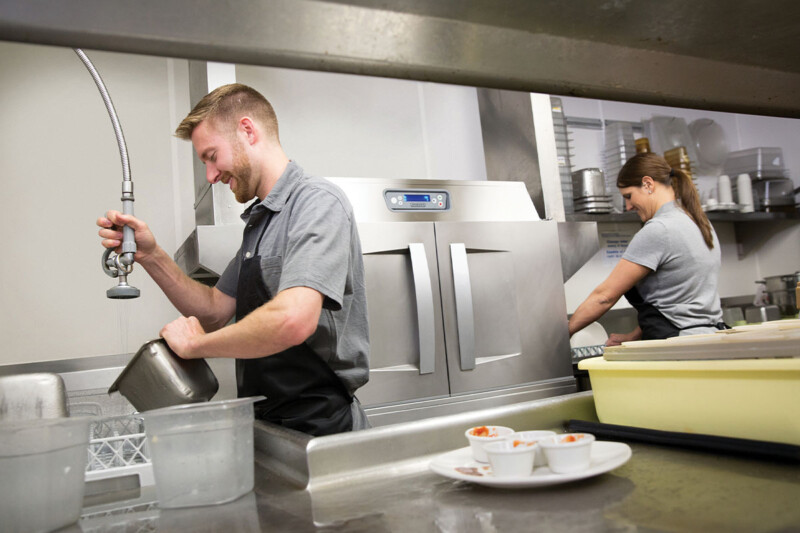 Equipment Comparisons
Forget steamy dishrooms; some of the newest rack conveyors improve environmental comfort and reduce overhead costs.