Improving Indoor Air Quality
Improving your HVAC system on the roof, and exhaust hood in the kitchen, will help keep employees and guests safe.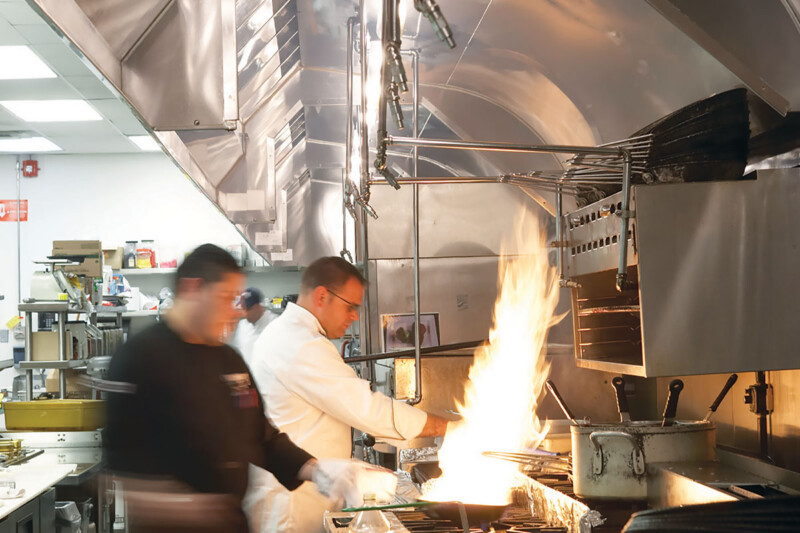 There still may be much scientists don't know about COVID-19, but the one thing they do agree on is that it's transmitted from one person to another primarily through the air. The virus hitches a ride in either droplets or even smaller particles, which are aerosolized. Though you're much less likely to get infected from the latter, the best defense against either are physical distancing, wearing masks and adequate airflow.
"To minimize the chance of infection, you have to maximize airflow to dilute any virus in a space, according to all our sources," says Richard Young, director, Frontier Energy, which runs the Food Service Technology Center (FSTC), San Ramon, Calif. "Unfortunately, some of the most dangerous spaces are bars and restaurants. It's all about time, space, people and place."
Young is referring to The Ohio State University epidemiologist David Miller's rule of thumb that the more time you spend and the closer in space you are to any infected people, the higher your risk; interacting with more people raises your risk, and indoor places are riskier than outdoors.
Even if the states you operate in allow indoor dining—typically at 50% occupancy or less—and you've made sure that tables provide physical distancing, your patrons and staff still could be at risk of infection for a couple of reasons. First, aerosolized droplets, according to studies, can disperse from 9 ft. to 16 ft., not the 6 ft. of separation most guidelines require. Second, your ventilation system simply may not be moving enough volume to dilute and ultimately replace potentially virus-laden air.
And if indoor dining isn't allowed, you're likely trying to keep your operation open with takeout, delivery and drive-thru business. If so, you still have to keep your staff safe, putting more focus and reliance on your commercial kitchen ventilation (CKV) system.
How Much is Enough?
So how much air do you need to move to keep people safe inside your facility? Some experts say that providing 10 liters/second/person outside air is a laudable goal during a pandemic. In a 10-ft. x 10-ft. room with four people, this would translate into an air change rate of six times per hour, according to Shelly Miller, professor of mechanical engineering, University of Colorado Boulder. But Miller, who specializes in controlling infectious airborne diseases indoors, says a 2016 study in a Hong Kong hospital showed an exchange rate of nine times per hour did a far better job of reducing the spread of SARS, MERS and H1N1.
And the more people in the space, the more air you need to move. The first objective, in other words, is the more fresh outside air you bring in the better. Exactly how much outside air is optimal for your space is difficult to calculate. You could hire an HVAC contractor to run a balance check, a likely expensive procedure. Or there's a hack that can give you a good idea, Miller says.
We exhale CO2 (along with coronavirus if we're infected), so it would make sense that the higher the CO2 level in a room, the higher the chance of transmission. Outdoors, CO2 levels are just above 400 parts per million (ppm). In a well-ventilated room, they're double that—about 800 ppm. Higher levels than that, and the room likely needs more ventilation. You can get a good CO2 meter for about $100 online, but make sure it's calibrated correctly.
Many HVAC systems that provide ventilation to buildings recirculate some air—air that might contain coronavirus. What then? Filtration seems an obvious answer, but not necessarily a simple one.
Filters and Light
"ASHRAE's guidance on COVID-19 is to use MERV-13 filters or better," Young says. "But that will raise the static pressure in your ventilation, and your HVAC system might not be able to handle it. Another technology to help eliminate or reduce the virus is UV-C light. It works, but is mostly used in hospitals and airplanes, and used only when people aren't present because it's damaging to your eyes. The combination of MERV-13 or HEPA filters and UV-C makes sense in a hospital, but airflow in a restaurant isn't as predictable."
Some newer room air purifiers, however, use UV light as well as filters to clean air and kill pathogens like viruses. The UV light is shielded so the units can operate while people are present without fear of eye damage. Ceiling-mounted units also put the UV light source above the ceiling, again to allow them to operate whether a room is occupied or not.
Front-of-House Fixes
You could, of course, open windows to increase airflow in your operation—if you have windows, that is. "Opening windows makes sense in some places, like a coffeeshop that doesn't have CKV," Young says. "But only if there's air flowing into the restaurant, not stagnant or outflowing air."
To maximize airflow and air quality in the front-of-house, FSTC and other experts recommend the following:
Inspect your rooftop HVAC unit to make sure it's in good working condition. Check compressors, clean the coils, check the insulation and replace shade covers.
Clean or replace filters to keep static pressure down, increase airflow and save money.
Upgrade to MERV-13 filters or better if your HVAC system can handle the increase in static pressure and still provide adequate air exchange rates.
Make sure your economizer is in good working condition.
Maintain an indoor relative humidity of between 40%-60%. For whatever reason, the coronavirus doesn't survive as well in this humidity range. If outdoor conditions are hot and humid, then rely on your HVAC system for ventilation, not your economizer.
Make sure inside vents and diffusers have been cleaned and sanitized.
Don't forget restroom ventilation. Make sure bathroom fans are working.
Consider dedicated outdoor air systems (DOAS) instead of traditional rooftop units for new construction. DOAS can bring in and control humidity and temperature of 100% outdoor air. Traditional rooftop units bring about 20% outdoor air into the dining space, with the rest being recirculated.
Back-of-House Basics
While ventilation in the dining area is key to keeping guests and service staff safe, it's as or more important in the kitchen. Kitchen staff is being asked to stay 6 ft. apart in a working area in which it's almost impossible to maintain physical distance.
"Because of the close quarters, in most places, masks are required," Young says. "They're hard to wear if the kitchen is hot and smoky, so make sure your CKV is working properly, the hood is clean, and the exhaust filters are grease-free."
Here are some tips for good ventilation in the kitchen:
Let your demand control kitchen ventilation (DCKV) system, if you have one, maintain the proper airflow for best hood capture and containment. "You're already in a space with tenuous air balance so you don't want to disable it," Young says. "Use manual override to increase airflow when needed, such as a rush."
If you don't have DCKV, run the exhaust hood fans overnight or for at least two hours before opening and after closing to replace the air in the kitchen.
If you have a swamp cooler, make sure the wicking element is moist but not soaked, and check fan belts and motors.
Improve your hood's capture and containment by pushing appliances against the wall so they're under the hood, and making sure there's a 6-in. overhang on front and sides of appliances; using side panels on the hood; and eliminating four-way diffusers near the hood by using perforated diffusers, or fabric vent socks.
"To minimize the chance of infection, you have to maximize airflow to dilute any virus in a space, according to all our sources."
— Richard Young, Frontier Energy
More Resources
For more information on proper ventilation, especially during the pandemic, check out the following resources:
ASHRAE COVID-19 Technical Resources, ashrae.org/technicalresources/ resources
California Energy Wise Design Guides, caenergywise.com/design-guides
Food Service Technology Center Resources, fishnick.com/resources/
Air Care
Here are the latest product offerings, from controls to hoods to filtration units, from CKV makers.
---
---
---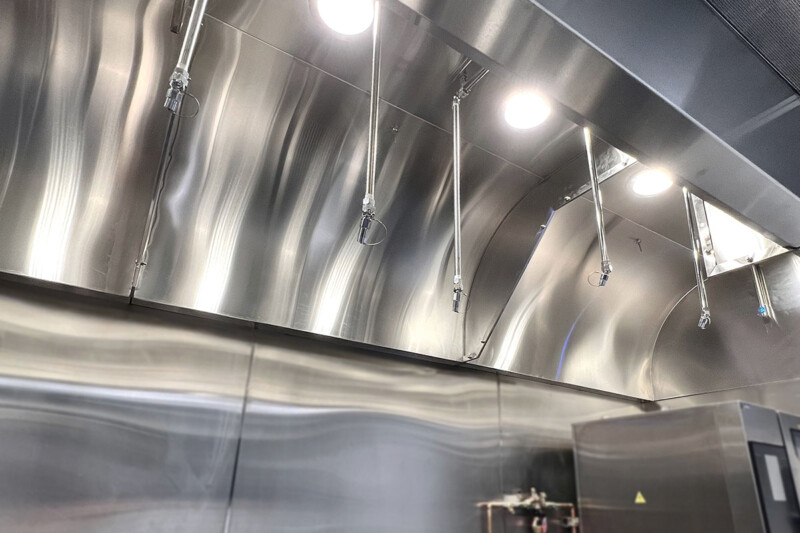 Equipment Comparisons
Take stock of how today's CKV systems have met diverse operators' needs—and learn how to frame your distinctive search.
[fer_legacy_gallery_bottom] [fer_gallery]