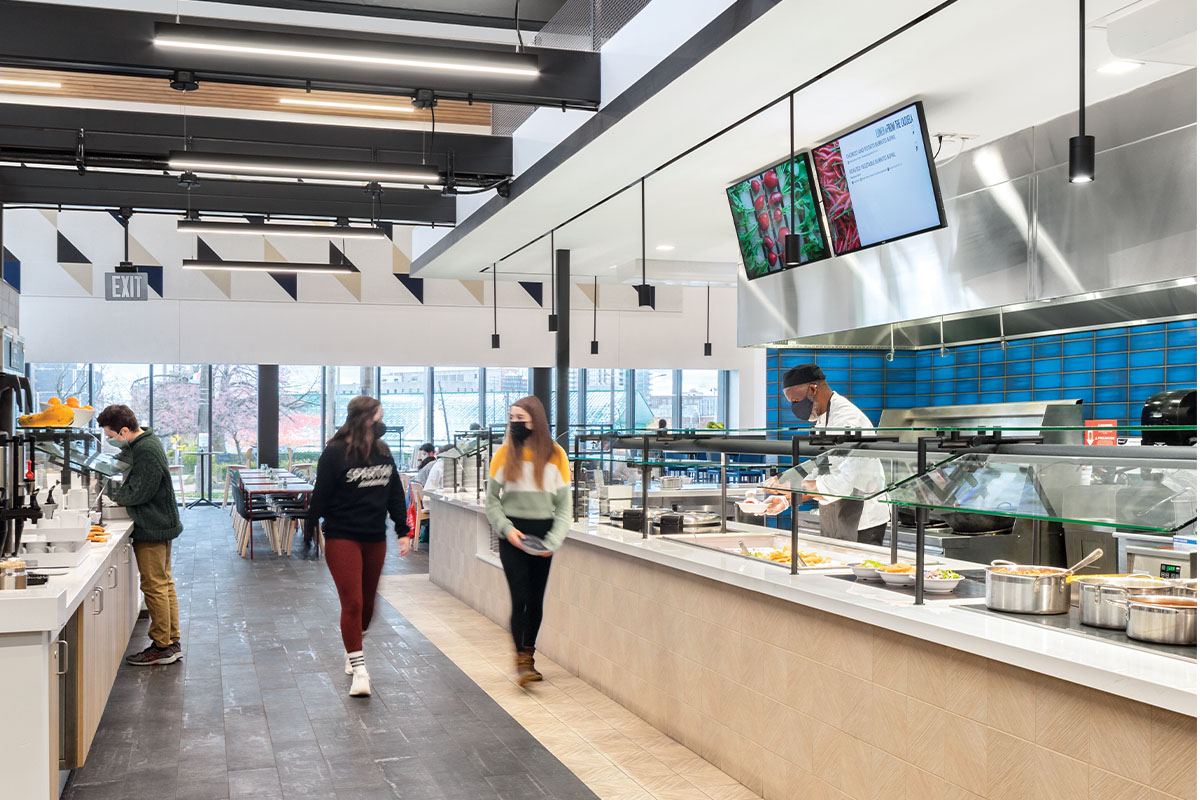 At Case Western Reserve University in Cleveland, a $19 million renovation has put Fribley Commons squarely back on the campus dining map. A few things that set Fribley apart in terms of design and layout include innovative ventilation solutions that helped the building earn LEED Silver certification, a labor-efficient platform supporting multiple stations and a station with a focus on plant-based menu items.
Fribley's updated servery has been a hit. Since its reopening, Fribley has seen daily meal counts averaging 1,500 to 1,600, about double the 800 daily meals at the old Fribley. With enrollment of undergraduate and graduate students on the uptick, Fribley's servery is projected to dish out as many as 1,800 daily meals this fall.
Touring Fribley
Since its makeover, Fribley Commons, with its zigzag roofline, no longer comes across as an ordinary administrative building. A wall of gleaming windows admits natural light and offers a clear view of the dining within. Low-rise steps and an outdoor seating area welcome students into the two-story-high atrium, which is surrounded on the upper level by glass-enclosed seating and meeting rooms.
Inside, Fribley is all about the food. The all-you-care-to-eat servery for students on meal plans and a retail coffee bar, plus back-of-house support kitchen, storage and warewashing, together cover some 15,500 square feet. Part of the dining room stays open 24/7 for student use. Fribley's decor sports a contemporary look thanks to geometric designs in CWRU school colors (blue and gray), natural-colored wood furnishings and fixtures, aqua blue-glazed subway tile in the main platform and pops of red throughout.
Fribley's transformation has taken it from bland to an "inviting, jewel box of a building," says Greg Boguniewicz, director for Ricca Design Studios, Greenwood Village, Colo., and lead foodservice consultant for the project.
From Fribley's entrance, one can go straight into Elephant Step Inn, a retail coffee bar/grab-and-go outlet that covers late-night dining as well. Meal plan students would turn right to enter the servery. Their first stop might be a freestanding, rectangular serving platform that holds stations on each side. Stations include From the Home (comfort food), From the Fire (grill), From the Hearth (pizza, calzones, bread), From the Cazuela/From the East (alternating daily between Mexican and Asian menus) and Made to Order (primarily used for breakfast). Another station, From the Field (plant-forward entrees and salads), sits behind and to the left of the main platform. Rounding out the servery is From the Kitchen (handling third-party delivery service providers and late-night orders) and stations for breakfast, dessert and beverages.
Planning for Fribley's renovation was a group effort between CWRU staff, Bon Appetit Management Co. and Ricca Design Studios. During the design process, "the operations team would walk through daily service after each rendering or layout change to verify the flow of operations and equipment packages still fit our needs," says Jason Kimball, CWRU operations manager for campus dining and auxiliary services.
The team began working on plans in late 2017. Construction's start coincided with the pandemic-related lockdown in March 2020, slowing progress. Fribley reopened in August 2021.
Hoods for the LEED
One of the top design challenges for Fribley's foodservice design and engineering teams was how to ventilate the freestanding platform in the two-story-high interior space without blocking views of the seating area from the open second level. The solution, devised in partnership with the hood manufacturer, lay in a system of linked ductwork covering the platform's three main cooklines. The resulting ducts feed into a single large duct toward the back. A see-through mesh enclosure around the platform's "roof" visually pushes the ductwork into the background.
The energy-efficient demand control ventilation system for both the main platform and the support kitchen resulted in a lower level of CFM, which in turn earned points toward Fribley's LEED Silver certification. LEED, or Leadership in Energy and Environmental Design, serves as a widely used green building rating system.
At the adjacent plant-forward platform, ventless cooking equipment in the form of a griddle and combi oven also helped offset the CFM load and gain LEED points.
Other foodservice equipment contributing to the LEED certification includes Energy Star-rated equipment, low-flow faucets, and a water- and energy-efficient dishmachine. Fribley's HVAC, lighting and plumbing also earned upgrades.
Less Labor
Fribley Commons' main platform with multiple stations, covering 1,165 square feet total, optimizes labor. "Rather than creating four individual areas in need of staffing, this shared approach lets staff help out where needed," Boguniewicz notes.
"Rather than creating four individual areas in need of staffing, this shared approach lets staff help out where needed." —Greg Boguniewicz, Ricca Design Studios
Layout inspiration came from a previous Ricca/Bon Appetit joint project at the University of Massachusetts Amherst's Hampshire Dining Commons, where a central circular platform houses multiple stations.
"Fribley's new design allows for chefs at all stations to perform—prepping and cooking items—in front of guests to show freshness. This arrangement makes it easier for students with dietary needs to address them at each station," Kimball says. "By contrast, in the old servery, the majority of cooking and prep took place in the back kitchen, with little flexibility out front."
Equipment authenticity comes from the pizza oven in the pizza/pasta station, and high-powered woks in the Asian/taqueria station. Adjustable food shields at all the stations allow operations to shift from full-service to self-service as needed.
Fribley Commons' plant-forward station marks its largest, covering 560 square feet. The station puts vegetables front and center using a microgreens growing cabinet and a dedicated walk-in with glass doors visible to guests.
"We have seen an increase in demand for plant-based foods," says Kimball when asked about the emphasis on vegetables. "Through surveys and our foodservice committee meetings, we found that 15% of our students identify as vegan/vegetarian and over 40% prefer to follow that lifestyle in some fashion. We wanted to make vegetables a focal point of the location and a destination for the students."
"The station is completely self-contained to avoid cross-contamination with meat," Kimball continues. "It has all of its own cooking equipment, utensils and storage. Its design and location [facing the retail coffee bar] allow us the ability to offer a robust program for late night when the rest of the dining hall is closed."
CWRU foodservice department has partnered with the campus farm to grow the herbs in the microgreens growing cabinet and display fresh produce from local farms.
Fine-Tuning Fribley
Nearly a year into operations, the foodservice department has made minor adjustments. Updates include switching a cold well to a hot/ cold well in the plant-forward station for more flexibility, and adding extra refrigeration and a speed oven to the coffee bar equipment lineup to accommodate demand.
Looking ahead, "We have increased the number of seats to meet unprecedented demand expected at the start of the upcoming school year," Kimball says.
---
FACTS
CASE WESTERN RESERVE UNIVERSITY
CLEVELAND
MENU/SEGMENT: College/ university foodservice
OPENED: August 2021
CAMPUS POPULATION: 12,100
SIZE: About 15,500 square feet for all foodservice areas
SEATING: 312 seats
CWRU: Richard Jamieson, vice president of campus services; Jason Kimball, operations manager for campus dining and auxiliary services; Beth Nochomovitz, director of auxiliary services; Christopher Panichi, director of campus planning, design and construction; Richard Pruden, project manager, campus planning, design and construction
BON APPETIT MANAGEMENT CO.: Jim Boland, director of retail and catering operations; Vincent Gaikens, campus executive chef; Jim O'Brien, resident district manager
FOODSERVICE CONSULTANTS: Greg Boguniewicz, director; Lenny Condenzio, CEO, Ricca Design Studios, Greenwood Village, Colo.
ARCHITECT: Alice Brooks, principal, Ayers Saint Gross, Baltimore
GENERAL CONTRACTOR: AMHigley, Cleveland
DEALER: TriMark SS Kemp, Cleveland
WEBSITE: case.edu/dining
EQUIPMENT
RETAIL COFFEE/GRAB-AND-GO
• Schaerer espresso/cappuccino machine
• Cambro mobile ice bin
• Turbo Air merchandisers
• Merrychef speed oven
• ACP microwave oven
ASIAN/TAQUERIA
• Hatco hot/cold shelves
• Garland induction cooktop
• Atlas Metal cold food well, drop-in
• Hubert water dispenser
• Alto-Shaam hot holding cabinets
• Town rice cookers
• Jade wok range
• Pitco pasta cooker, fryer
• Vulcan range, griddle, charbroiler
• True refrig. equipment stand, worktop
• DoughXpress tortilla press
COMFORT FOOD
• Wells hot food wells
• Alto-Shaam hot holding cabinet
• Hatco carving station
PIZZA/PASTA/GRILL
• Lockwood sheet pan rack
• APW Wyott contact toaster
• Vulcan countertop griddles, range
• Pitco fryer
• Beverage-Air cross temperature reach-in
• Bakers Pride pizza oven, eyebrow hood
MADE TO ORDER
• Hubert water dispenser
• Jade range
PLANT-FORWARD STATION
• Delfield cold food wells
• Wells hot food wells
• Evo floor model griddle
• Atlas Metal cold food wells
• Alto-Shaam hot holding cabinet
• Rational combi oven, stand, ventless hood
• Carter-Hoffmann herb/microgreens growing cabinet
RETAIL PICKUP COUNTER
• Cres Cor mobile heated cabinet
• Carter-Hoffmann mobile refrig. cabinet
• American Panel walk-in cooler
DESSERT/COFFEE
• Fisher dipper well
• Delfield drop-in freezer
• 3M water filtration system
• Curtis coffee grinder
BREAKFAST
• Hatco pop-up toaster
• Equipex waffle maker
THROUGHOUT
• True u/c refrig.
• BSI food shields w/lights, heat strips
• Hatco hot/cold shelves
• Halton hoods
• Eagle hand sinks
• Tomlinson tabletop waste bins
• American Panel walk-ins
BACK-OF-HOUSE
• Hobart meat slicer
• True sandwich/salad prep table, cold base, reach-in freezer
• Vulcan griddle
• Pitco fryers
• Montague range
• Robot Coupe mixer, food processors
• Rational combi ovens
• Cleveland tilting skillet, tilting kettle
• American Panel roll-in blast chiller
• Salvajor scrap collector
• Bi-Line dish conveyor
• Champion conveyor-type dishwasher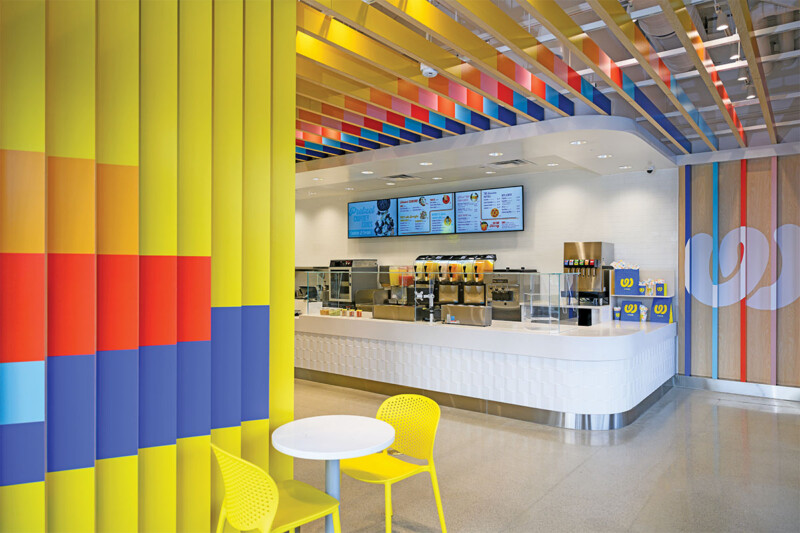 Kitchen Design
Wetzel's Pretzels, the multiunit bakery of shopping mall fame, now offers its soft pretzels and more at street-side through its latest concept.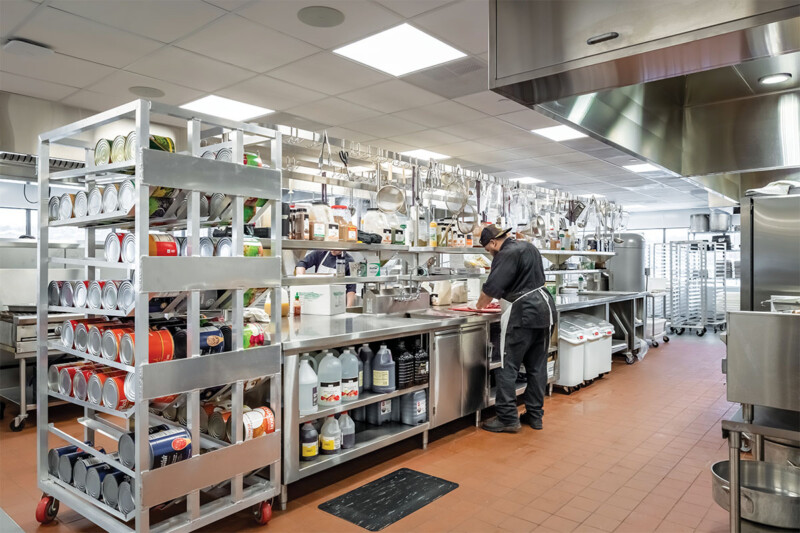 Kitchen Design
Open Arms of Minnesota—a volunteer-powered, nonprofit organization that provides meals to critically ill Minnesotans—needed more room.