Keep Pulse of Today's Beverage Blenders
Makers' newest models dial into operators' needs for precise and popular recipes, heightened speed for off-premise orders, and easy controls.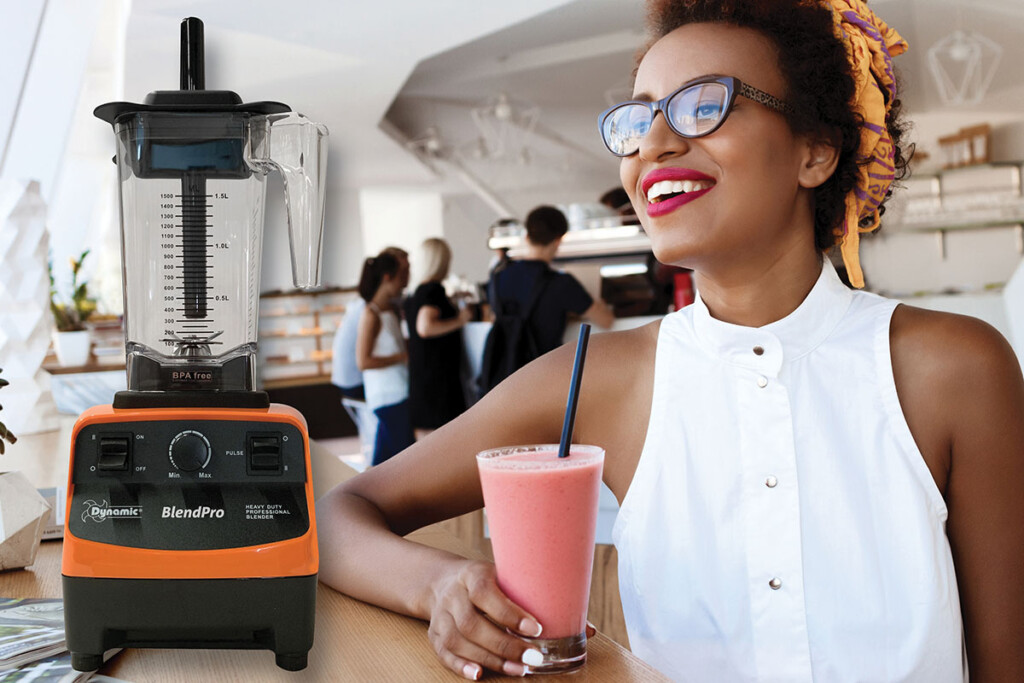 Beverage blenders may predominantly reside on the cold side, but that doesn't mean their manufacturers don't keep up with what's figuratively hot.
Cold foam-topped coffee as well as smoothies with added proteins and/or wellness supplements mark a few of today's in-demand blended beverage concoctions, makers say. Further, acai bowls, while toeing the line between food and beverage, were a conscious consideration for at least two beverage blenders' updates, as the thick, frozen, smoothie-like mix has posed difficulties for some operators' beverage blenders—even leading some to remove the offerings from their menus. In this way and others, recent product developments ensure blenders' components are fine-tuned to deliver a smooth, consistent product—no matter the recipe.
STAYING FRESH
Newer features on beverage blenders include expanded programmability, with one model touting 34 preset cycles, most of them running about 30 seconds, that can be set to six buttons. While the model has been on the market for about a decade, its programs were updated as recently as last year, they say.
"We've done our homework and we have a really good, versatile set pre-programmed on the machine," the maker says. "We're making sure that our machines can stand up to those changes in behaviors. … And if there isn't one for a customer, we're going to make it right and we're going to fix that program feature."
Another maker says its four programmable buttons—custom speed(s) and time can be set on the model's keypad (staying intact even if the unit is unplugged) or at the factory level—have proven sufficient.
Furthermore, this maker has a new model that went into production in February which features a second top-mounted, rechargeable motor powering arms (made of glass-filled nylon) that rotate, scraping the sides of the blender while the blade below works; this eliminates "bridging" (when the frozen mix affixes to the jar's wall as an air pocket forms at the base) as well as the need for staff to pause and knock the jar mid-blend. "That's kind of operationally a big problem in the industry," they say, "and this is essentially going to solve that problem." This model especially shines when put to work on an acai bowl, which, the maker says it can blend in 10 to 15 seconds versus up to two minutes with other blenders on the market.
"This [model] presents a lot of benefits kind of all over the board—everything from operational efficiencies to higher customer turnover, profit, things of that nature," the manufacturer says. "And it's very unique in that there's nothing like it in the industry currently."
One maker's new beverage blender has a second top-mounted, rechargeable motor powering arms that rotate, scraping the sides of the blender while the blade below works.
A SERIES OF OPTIONS
Not every operator will require the most expensive, top-of-line model, makers note.
So, let's break it down a bit. If you're in the market for a beverage blender, cool your heels while you cycle through these questions:
WHAT ARE YOU BLENDING? The key to determining container size, type and quantity, plus program needs and horsepower, starts with taking a close look at your beverage menu.
Most top makers construct pitchers of clear co-polyester, allowing product visibility midblend— helpful for smoothies in particular—and aiding with portion control thanks to measurement notches running up the side.
Pitchers generally range from 32 to 128 ounces. One maker says a 48-ounce pitcher (standard on its newest blender) is most popular in the U. S., while overseas chains, often having smaller serving sizes, may downsize.
Consider add-ons like an aerating container, outfitted with a disc blade, which can create beverage-complementary offerings like cold foam and whipped cream.
Some also offer blend-in-cup models. Here, the customer's cup goes upside down on the base, adhering to the unit with size-specific seals. This format minimizes waste and improves operational efficiency.
Moving on down to the motor, "heavy-duty" models go up to 3¾ hp—powerful enough to blend frozen drinks; one such model is rated for 100 drinks/servings per day. Many heavy-duty models, though, are food-geared, packing versatility you may or may not need.
Another maker with a 3-hp model hesitates to assign a batch capability to the unit, saying that number will vary widely based on an operator's menu and speed of service.
For a high-volume establishment that's strictly blending beverages, one manufacturer says a 1-hp motor is likely powerful enough. For bars and other operations with limited blending needs, that same maker's light-duty models, some with ¾-hp motors, boast the ability to deliver up to 25 margaritas or frozen drinks a day.
All manufacturers will tell you that durability matters, with one going so far as characterizing blenders as "one of the hardest-working, most misused pieces of equipment in a kitchen." To help minimize damage, this maker has installed a thermal fuse that shuts down the unit if it senses the motor is getting too hot.
Let makers help in sizing up your menu and throughput; an overused machine is unlikely to last, whereas an underused high-power machine will have a poor ROI.
WHERE'S THE BLENDER GOING? Noise levels mark a top consideration for operators. Staff members working the drive-thru via headset will need to keep levels low, and those consistently blending front-of-house likely want to be mindful, too. Yet others with limited blending may be able to get away with front-of-house equipment operation sans a noise enclosure.
Some offer sound enclosures in multiple sizes, but at least one model's largest pitcher is incompatible with the maker's noise shield, perhaps making it a better candidate for back-of-house prep.
One maker says brushless motors—which, compared to universal motors, are quieter, more lightweight and longer-lasting—are trending. "They maintain torque under load," the maker adds. "So, basically, when you start a setting and let's say you have it set to a particular speed which goes 10,000 RPM, that speed will maintain through the blend cycle whereas in some other types of motor applications, that speed could vary until it really gets mixing."
Also consider the anatomy of your blender's controls. For example, in a dimly lit bar, paddle or toggle switches may be easier to operate than electronic controls.
WHAT LEVEL OF CONTROL DO YOU NEED? The aforementioned programmable settings make units intuitive for new and/or less-skilled staff, with one touch of a button activating operators' preferred modes. Staff also can walk away from the unit, minding other tasks without worrying about the quality of the end product. Chains also may want to look for models with USB plug-ins on the base, allowing recipe updates as well as an overview of blender statistics.
For those who want a given item to have a very specific texture, variable speeds can let the user dictate that, either manually or by programming and setting desired variations. Some models strictly feature variable speed knobs or buttons—an unlikely match for smoothie shops worried about consistency, but perhaps just fine for others with limited blending needs. Further, options like lids with removable components also allow late ingredient add-ins.
Lastly, for those with allergen concerns, several manufacturers have multicolored containers along with matching lids to help staff visually differentiate pitchers and skirt cross-contamination.
THE BOTTOM LINE
No matter what an operator's answers were to the above, unit cleanliness shouldn't be an afterthought. To that end, several manufacturers' containers and lids are dishwasher-safe. For swift cleanliness, one maker offers an in-sink rinsing device. It suctions to the sink, hooks to the faucet and sprays upward into the pitcher to remove residue from the blade and container; the attachment is compatible with most makers' pitchers up to 64 ounces.
Also keep an eye on the centering pad, keypad and sound enclosure, if applicable, to ensure they are easy to clean, makers advise.
Further, size up warranties—reading the fine print on which parts of the blender they cover— and ask about service as well as availability of replacement parts.
Today's beverage blenders can deliver as little or as much as operators need; pore over the options to find your ideal combination.
---
In the Mix
Familiarize yourself with three beverage blenders' features and options.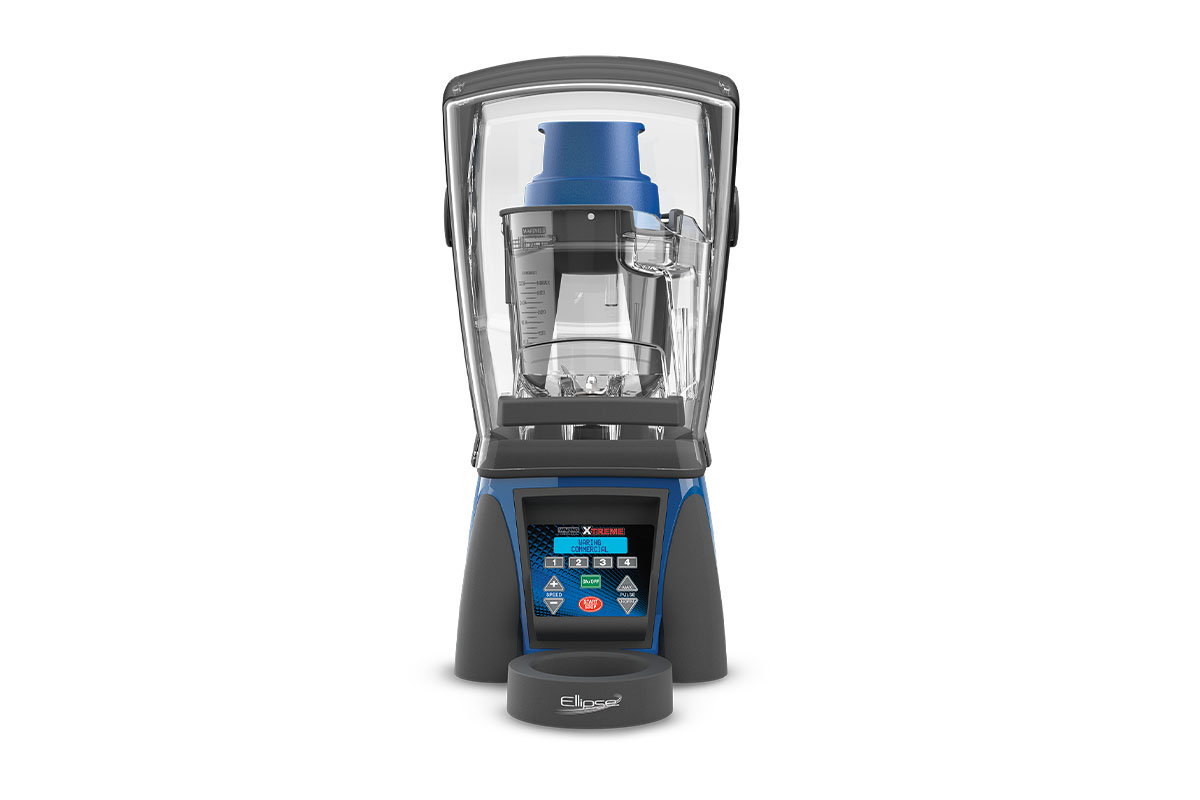 Waring
Model: MXE2000 Ellipse
Motor: 3-1/2 hp
Features: Power through difficult blends with this just-released dual-motor model, featuring arms that rotate around the jar to reduce air pockets and offer greater efficiency. The top-mounted motor that powers the arms starts automatically when the sound shield is closed, or can be activated via manual controls. Below the jar, use the keypad to program up to four blend settings, or use manual controls.
Options: A single charging station for the Ellipse Drive (the top-mounted motor) comes standard, but the maker suggests a triple charging station for higher-volume operations.
Website: waringcommercialproducts.com
---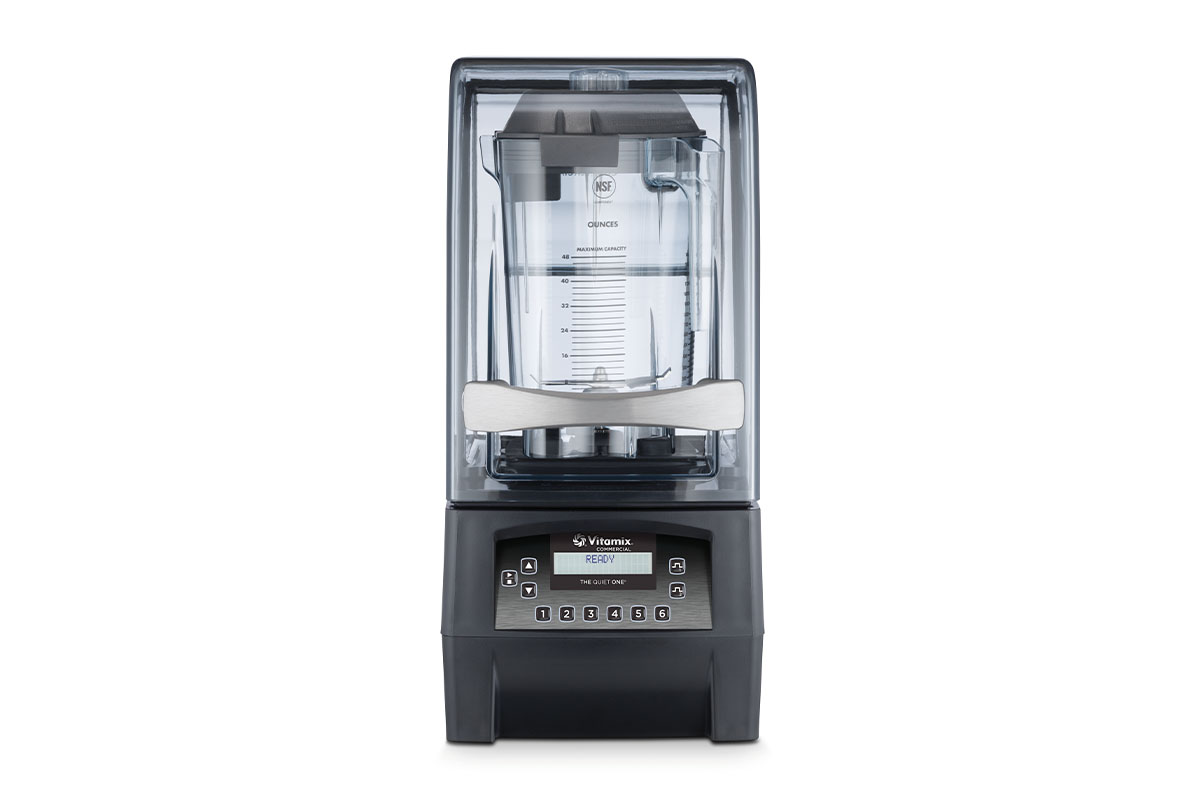 Vitamix
Model: The Quiet One
Motor: 3 hp
Features: Select from 34 programs, which were updated as recently as last year, and preset them to six buttons for one-tap activation; most cycles are done in about 30 seconds. Or, utilize manual controls—start, stop, pulse, speed—as needed. A sound shield and motor anatomy keep noise levels low, and the shield is removable for easy cleanup.
Options: Consider an aerating container (sold separately) to create cold foam, for which Vitamix has two programs, or an in-sink rinsing device.
Website: vitamix.com
---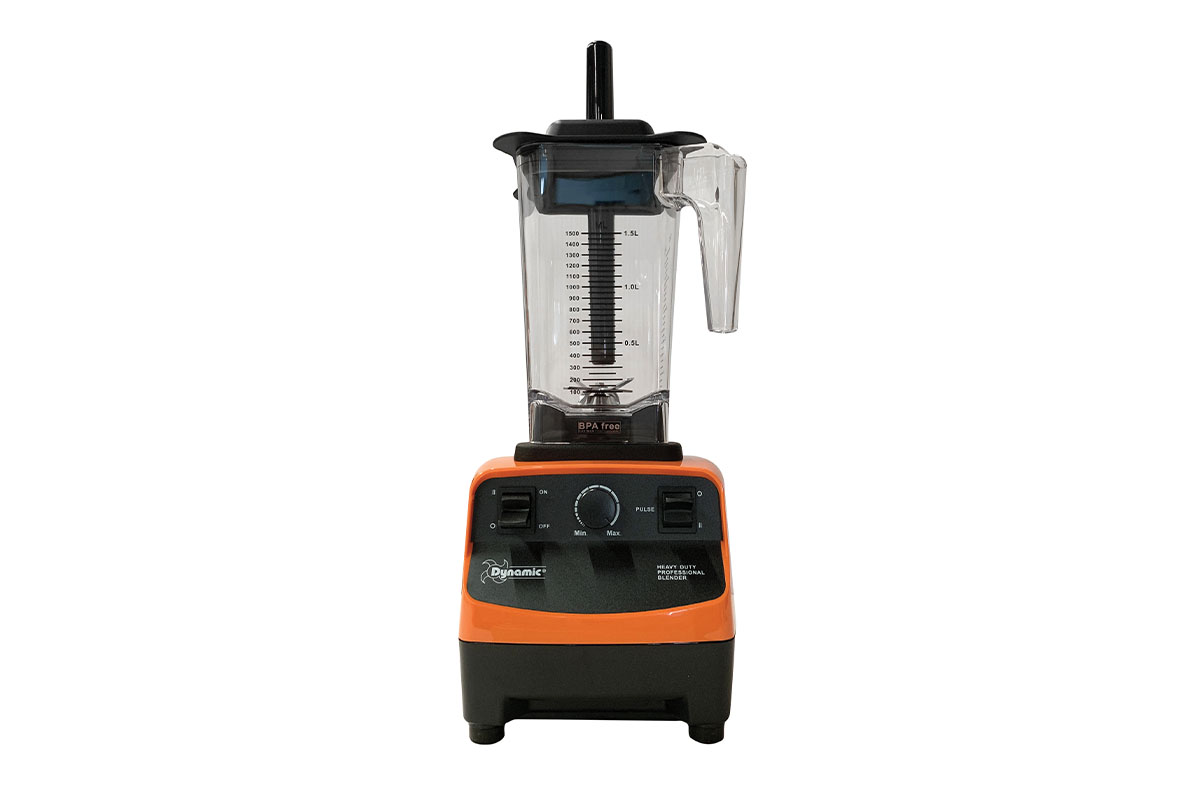 Dynamic
Model: BlendPro 1
Motor: 3 hp
Features: This heavy-duty, 50-oz. capacity model can handle beverages and more, and comes outfitted with a mixing rod. Manually set your controls using a knob for speed and toggle switches for on/off and pulse.
Options: Add a sound shield to reduce blending noise by 80%.
Website: dynamicmixersusa.com
---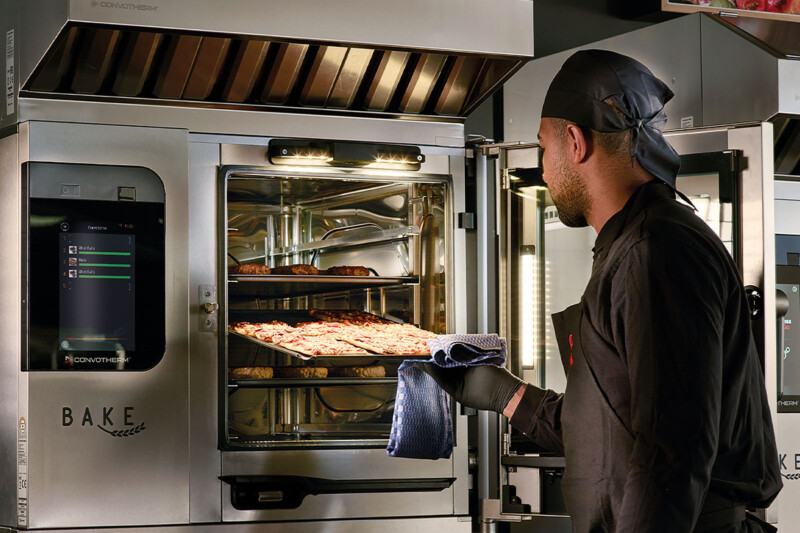 Combi Ovens
Today's combi ovens are smarter and more energy efficient, reducing the need for skilled labor and cutting utility costs.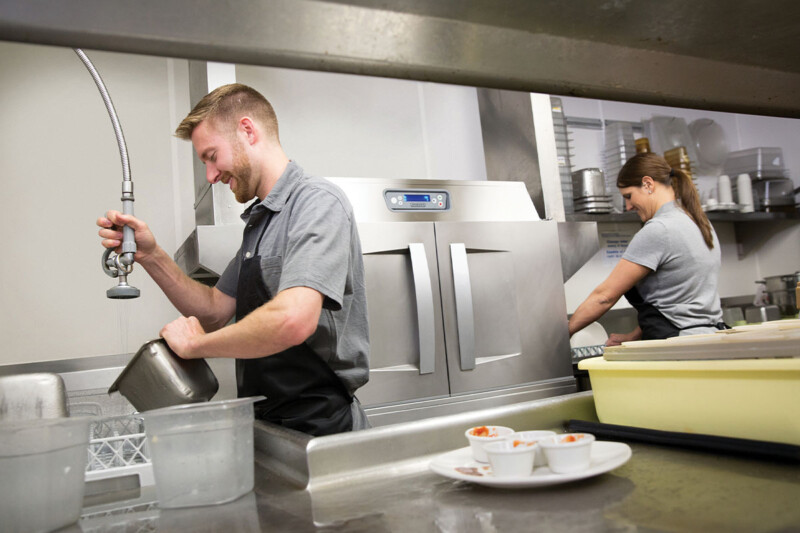 Equipment Comparisons
Forget steamy dishrooms; some of the newest rack conveyors improve environmental comfort and reduce overhead costs.