Mulberry Street Tavern Delivers Heart and Soul
Mulberry Street Tavern produces hearty entrees from an open kitchen, complete with a wood-fired charbroiler, inside a former bank building more than 100 years old.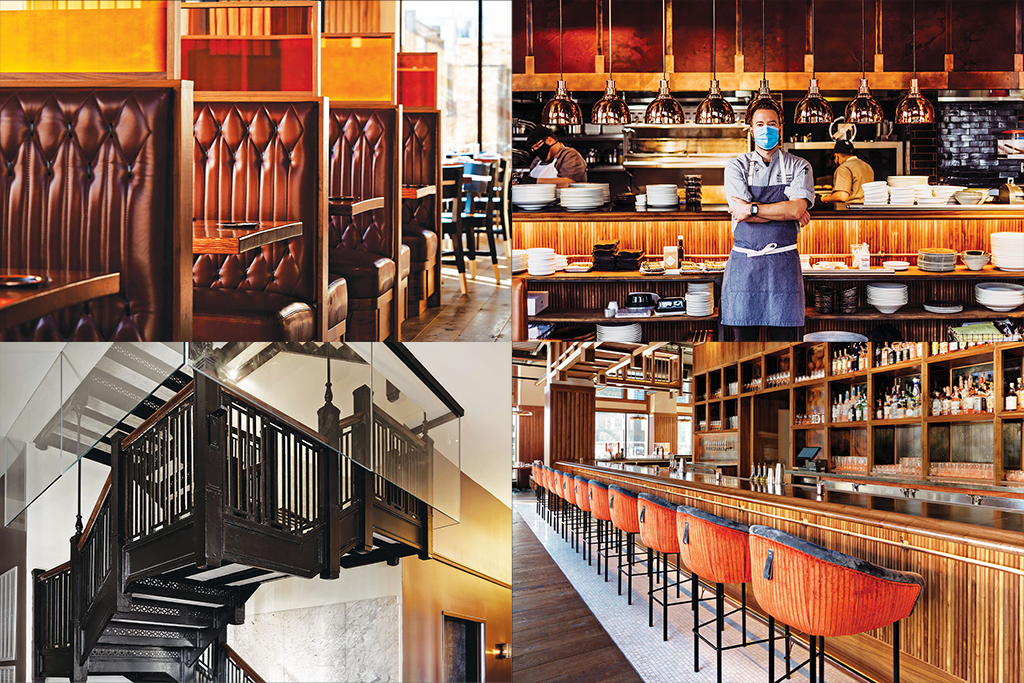 When it comes to renovating historic buildings, unusual elements often shape the final look and layout of dining operations. For the Mulberry Street Tavern at the Surety Hotel in Des Moines, Iowa, three things played a role in its ultimate open kitchen design: a staircase, the National Park Service and an expansion.
The tavern pairs with the boutique hotel in a renovated, 12-story former bank building. The Aparium Hotel Group, a firm that specializes in converting historic buildings in second-tier cities into destination hotels, purchased the 106-year-old structure, originally called the Hippee Building and later known as the Midland Building, in 2017.
"Aparium's approach to its lifestyle hotels is to create an amazing restaurant with rooms above it," says DLR Group Principal Staci Patton, who served as the lead interior designer and creative director for the four-year, $40-million project. "With the Midland Building, our primary focus was on making the new hotel's [food and beverage] program viable."
The Surety Hotel's exterior shows off the structure's original Beaux-Arts style, which is characterized by classical forms, massive proportions and extravagant, usually symmetrical, elements. Inside, details include hand-applied artisan plaster, coffered ceilings and transom windows. "Finishes of marble, copper, leather and masculine textiles balance informal touches within a formal shell," Patton says.
The tavern, led by Executive Chef Marque Collins and Food and Beverage Director JC Shurts, specializes in eclectic spins on traditional pub fare. Signature dishes, boasting ingredients sourced from local providers, include a tomahawk ribeye with horseradish cream and a steak de burgo sauce, Brussels sprouts carbonara (topped with pancetta, pecorino and a soft-boiled egg), and a pub burger. The tavern also has a robust bar program with signature cocktails and drinks.
Teaming Up
Along with DLR Group, project planners included Slingshot Architecture, led by Principal David Voss, who "oversaw the entire historic process involved in taking an office building and turning it into a hotel," Patton says. "Slingshot had an enormous undertaking for code, appropriate life safety, the expansion and coordinating all of the consultants."
Next Step Design, led by Vice President, Midwest Division Stuart Davis and Senior Consultant Barney Richer, oversaw planning and design of all foodservice areas.
"Open-hearth cooking adds a [sort of] soul to the kitchen. We started with the hearth and built the rest of the kitchen around it."

Stuart Davis
Next Step Design
Mulberry Street Tavern at Surety Hotel
MENU/SEGMENT: Neighborhood pub with food
OPENED: November 2020
HOTEL CAPACITY: 137 rooms SIZE: 540 sq. ft. (bar and open kitchen); 833 sq. ft. (BOH, not including cold/dry storage)
SEATING: 100
EQUIPMENT: $675,000
OWNER: Aparium Hotel Group, Chicago
CONSULTANT/DESIGN FIRM: Stuart Davis, vice president, Midwest Division; Barney Richer, senior consultant, Next Step Design, Chicago
INTERIOR DESIGN: Staci Patton, principal, DLR Group, Chicago
ARCHITECT: David Voss, principal, Slingshot Architecture, Des Moines
DEALER: Velvet McConnell, project manager, Boelter Cos., Des Moines
WEBSITE: suretyhotel.com
Making Room
Early on, planners earmarked the corner of the building facing Sixth Avenue and Mulberry Street for the tavern to ensure street visibility, access and the best natural light. The space proved limiting, however, as they had to accommodate an elaborate iron-and-marble staircase ascending from the main level to the 12th floor and an adjacent elevator bank. There was not enough space for every foodservice area the team needed.
Plus, the building's listing on the National Register of Historic Places, maintained by the National Park Service, complicated matters. To unlock nearly $4.7 million in historic tax credits, planners had to tread carefully.
"These were [some of] the sacred lines we had to retain to comply with historic preservation guidelines," Patton says of the dogleg-shaped space linking the hotel's main entry with the staircase and elevators.
An expansion proved to be the solution. "We knew almost from day one that we would have to enlarge the building to create enough kitchen space while working around stairs and elevators," Patton says.
The resulting 10-ft. x 32-ft. expansion—approved by the historic preservation board—provided the footprint for the banquet and room service kitchens and warewashing, while allowing space for the tavern bar and cookline around the staircase.
"That decision [to add the expansion] changed the brand perspective of the tavern," Patton says. "Aparium had initially envisioned a meat-forward menu with a smoky tavern feel, none of which required an open kitchen. When we realized the tavern kitchen wouldn't fit behind scenes, we moved the cookline front and center and gave it a wood-fired charbroiler as focal point. The result was a more communal, social atmosphere where the theater of the menu comes together."
In addition to known challenges, unknown challenges also awaited.
"The architects based their initial drawings off old and often incomplete blueprints," Davis says. "As walls started to come down, we had to keep adjusting plans to match what was revealed during demolition. It was like a game of the renovation. We found plumbing where it wasn't expected to be, electric panels in the wrong spots, to name a few [surprises]."
Sharing Space
Guests first encounter the 250-sq.-ft. bar, featuring a 26-ft.-long zinc bar counter, when they enter Mulberry Street Tavern. To preserve sightlines, designers mounted beer taps (connected to kegs in the basement) along the back wall instead of on the counter. A grid of natural-looking wood shelving holds glassware and bottles and is accented by hidden lighting.
The counter makes a 90° turn at a pillar, opening onto a 30-ft.-long pass counter, which accommodates bar service, the pantry pass and the main entrees pass with high-polish copper pendant heat lamps.
Three cold prep tables line up directly behind the pass counter. Space constraints—290 sq. ft. for the open kitchen—required designers to store plates on decorative shelving immediately in front of the counter, rather than behind it.
"The expo sets plates as needed in the pass for [various] dishes," Davis says. "If a food order requires a plate off those carts, it will be handed to the cook prior to plate up."
The tavern's cookline runs along the back wall. The wood-fired charbroiler imported from Spain serves as the heart of the cookline. A control wheel and built-in counterweights allow cooks to raise and lower the grill for searing, cooking or holding proteins. Refractory bricks surround the unit on three sides to maximize heat efficiency while adding fire-resistance.
"Open-hearth cooking adds a [sort of ] soul to the kitchen," says Davis. "We started with the hearth and built the rest of the kitchen around it."
A six-burner range and griddle topped by a cheesemelter sit on one side of the charbroiler, and a two-basket fryer and convection oven sit on the other side.
Pandemic Impact
The pandemic's influence on the Mulberry Street Tavern project, aside from substantial construction delays, was relatively light.
"We raised the height of artistic glass panels between booths to add an airflow barrier," Patton says. A Milwaukee-based artisan glass maker created the some 12-inch-high panels, which consist of amber-colored, antique-looking glass.
"Tables were also spaced out to meet social-distancing guidelines," Patton adds.
In the end, designers took the long-term view. "People are trying to look to the future when COVID will no longer be an issue," Davis says.
EQUIPMENT
OPEN KITCHEN
Vulcan/ITW FEG 6-burner range, griddle, cheesemelter
Mibrasa wood-fired charbroiler
Streivor hood
Pitco/Middleby fryer
Continental u/c freezer, pizza prep tables, refrig.
Cadco convection oven
Hatco heat lamps
BANQUET & ROOM SERVICE KITCHEN
Vulcan/ITW FEG range, griddle
Alto-Shaam combi oven
Streivor hood
Jade/Middleby stock pot range
Continental reach-in refrig.
Hatco heat lamps
Hobart/ITW FEG planetary mixer
BAR
Glastender backbar refrig., drainboard cabinet, soda gun holder and tubing chase, ice bin/cocktail station, underbar bottle display unit, mixology sink unit, glass froster
Micro Matic draft beer tower, glass rinser
Ecolab u/c dishwasher
BEVERAGES
Fetco coffee grinder, iced tea brewer
Fisher glass filler
Micro Matic draft beer tower
Delfield/Welbilt ice bin
---
Editor's note: Equipment for warewashing and basement-level cold and dry storage not listed.
The team's goal for foodservice was to ensure both quality and capacity to meet the needs of the tavern and also the Surety Hotel's ballroom, catering and room service.
---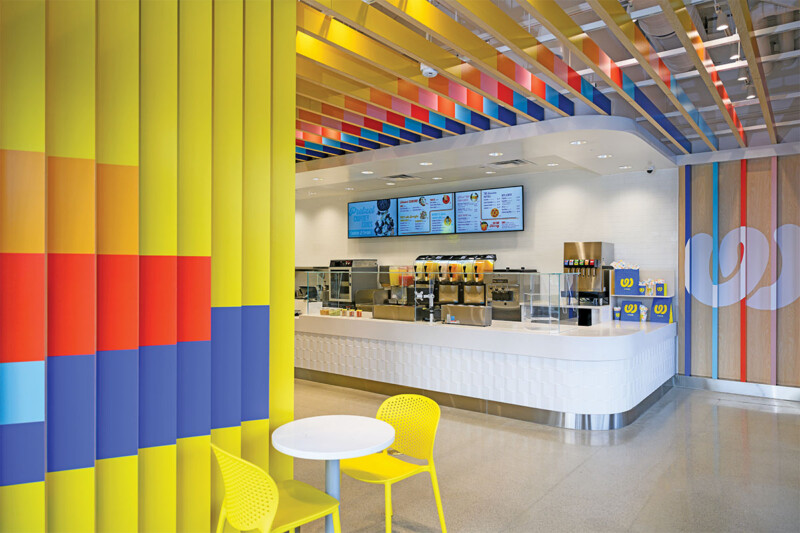 Kitchen Design
Wetzel's Pretzels, the multiunit bakery of shopping mall fame, now offers its soft pretzels and more at street-side through its latest concept.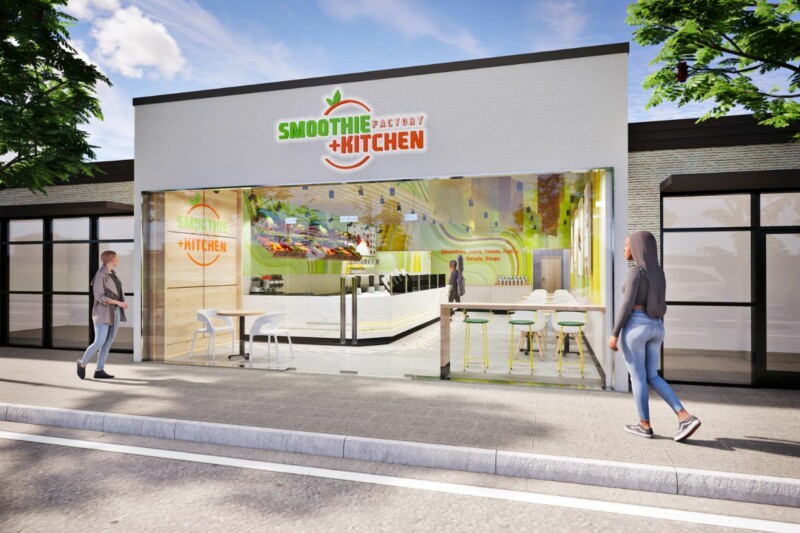 Design Trends
Originally a juice bar concept, the brand will lean on this equipment to offer guests grilled "folds," toast options and salads.