La Madeleine's Prototype Offers a Link to France
La Madeleine's all-new prototype in Dallas boasts its first-ever drive-thru and a from-scratch bakery.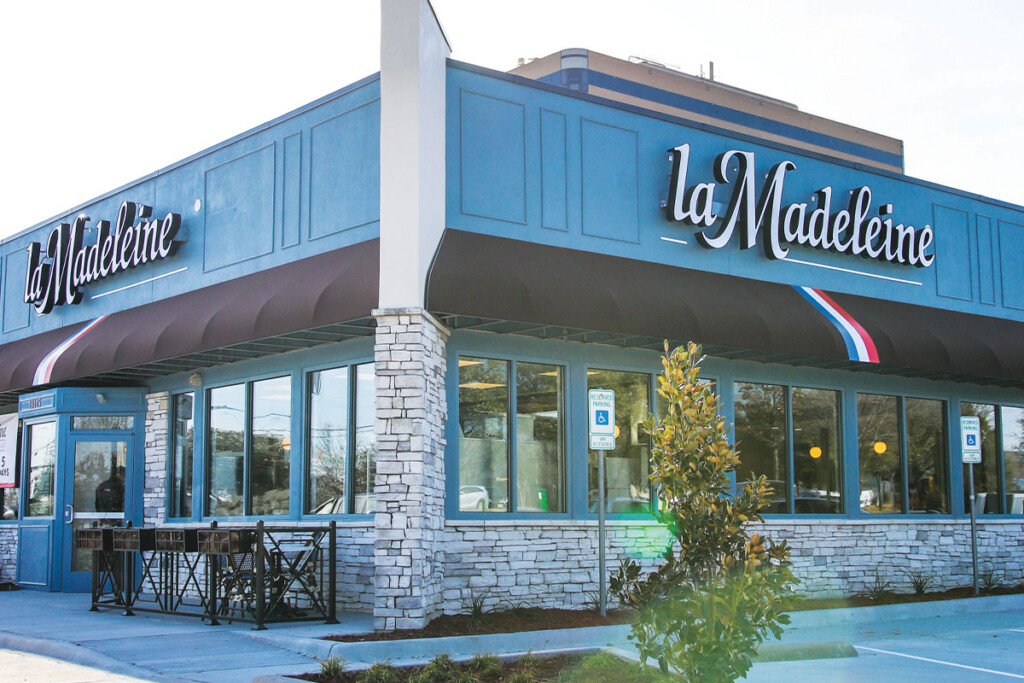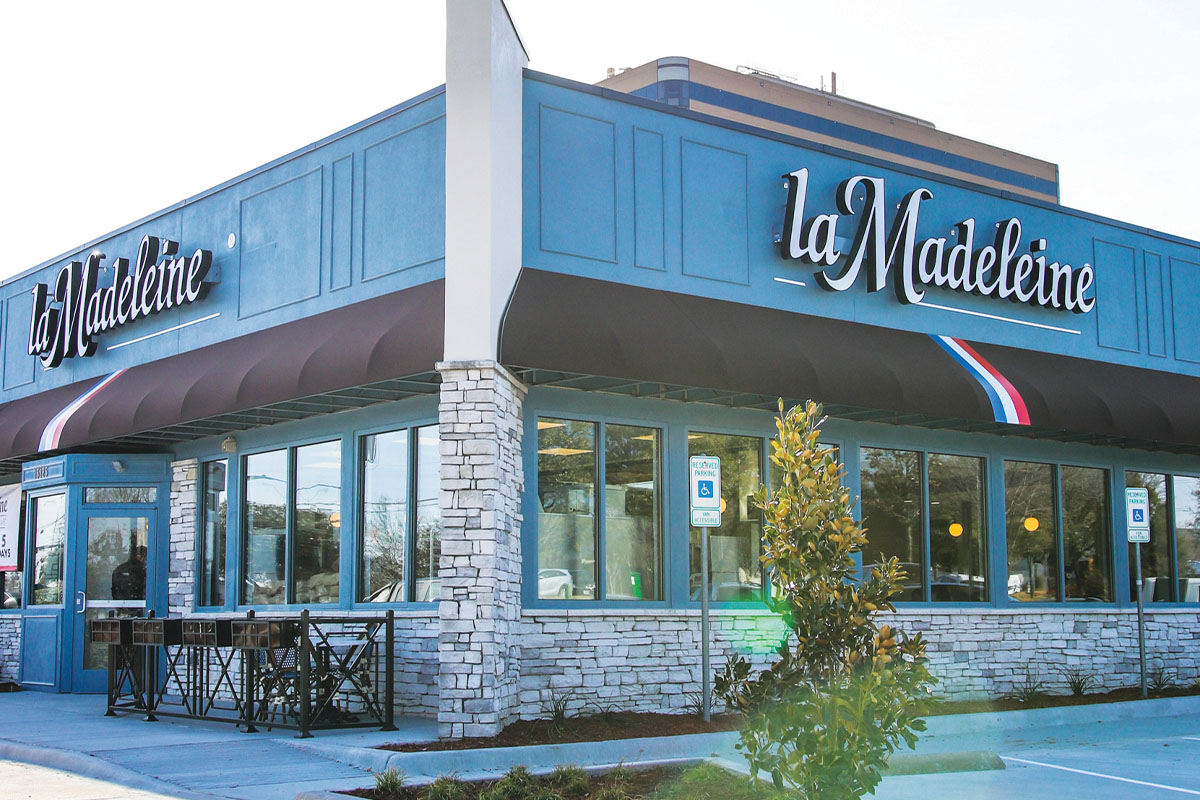 With an all-new prototype, La Madeleine French Bakery and Cafe has taken both a step forward into the future, and a step back toward its roots.
Two locations in Dallas represent different versions of the prototype, which showcases a market- style format with grab-and-go. The most recently opened location, the Petite Market & Bakery on Montfort Road, opened in February, features a drive-thru—the first in the company's history—as well as a from-scratch bakery. (The first location opened a few months earlier on Olive Street.)
The goals for La Madeleine's prototype centered on "creating a bright, modern, safe new experience for our guests, boosting speed of service, helping operations with labor and productivity through equipment layout, and keeping costs in line with our budget," says Michael Hoerner, senior director of construction, design and facilities for Le Duff America.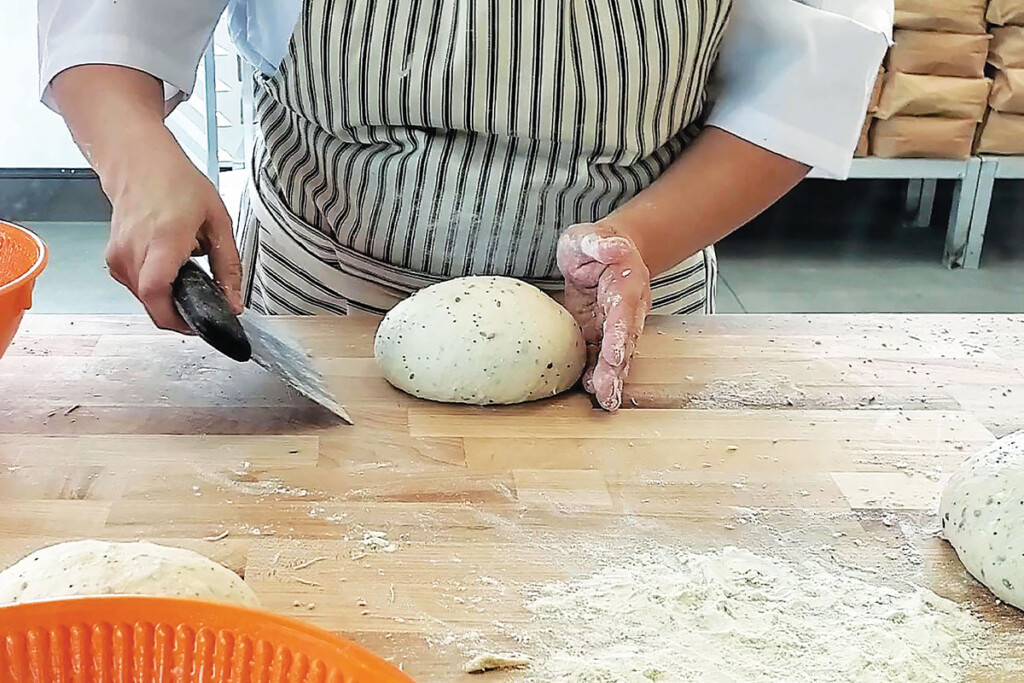 While the pandemic has tempered the response at the downtown Olive Street location, the addition of the drive-thru and bakery on Montfort Road has been game-changing.
"The drive-thru at our Montfort store accounts for about 40% of its overall sales," Hoerner says. "Looking ahead to when dine-in sales become strong again, Montfort has the potential to generate the same revenue as our larger legacy stores, but with a lower buildout cost."
Additionally, the store requires less labor. "We need about 20 people to run the Montfort restaurant, compared to 25 workers for one of our legacy stores," Hoerner says.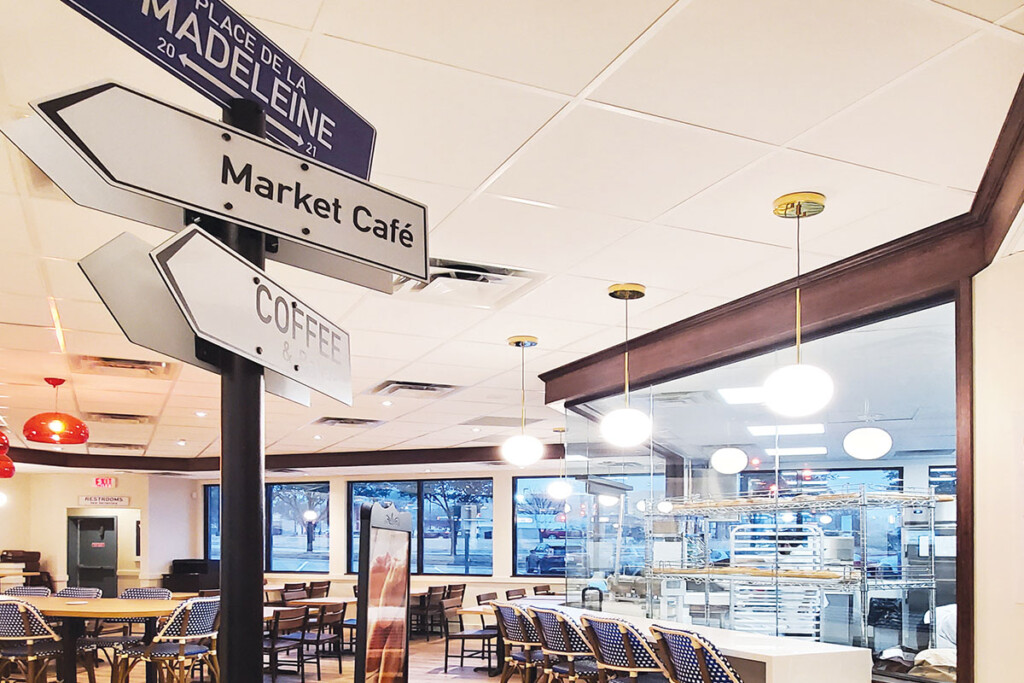 Facts
La Madeleine Dallas
Menu/Segment: French bakery cafe
Founded: 1983
Parent Company: Groupe Le Duff, Rennes, France
Equipment Package: $325,000
Number of Units: 82 systemwide
Prototype Size: 4,180 sq. ft. (plus patio)
Opened: February 2021
Seating: 64 interior seats, 6 patio seats
FF&E Package: $342,000
2021 Plans: 10 openings
Architect: GHA, Dallas
Website: lamadeleine.com
Great Timing
La Madeleine's timing in developing the prototype was serendipitous to say the least. The team began exploring ideas in 2019 after a trip to France to study La Madeleine parent company Groupe Le Duff's Brioche Doree brand, which had recently unveiled a market-style design.
"Designing the prototype was a group effort," Hoerner notes. "When we design a kitchen layout, we have a process we call 'test fit,' which involves operations, culinary, marketing design, IT and construction."
The resulting design and menu of La Madeleine's prototype, finalized three months before the pandemic-imposed shutdown in Spring 2020, called for everything to "be built fresh, wrapped and put into the grab-and-go display case. Minimal open displays of food," Hoerner says.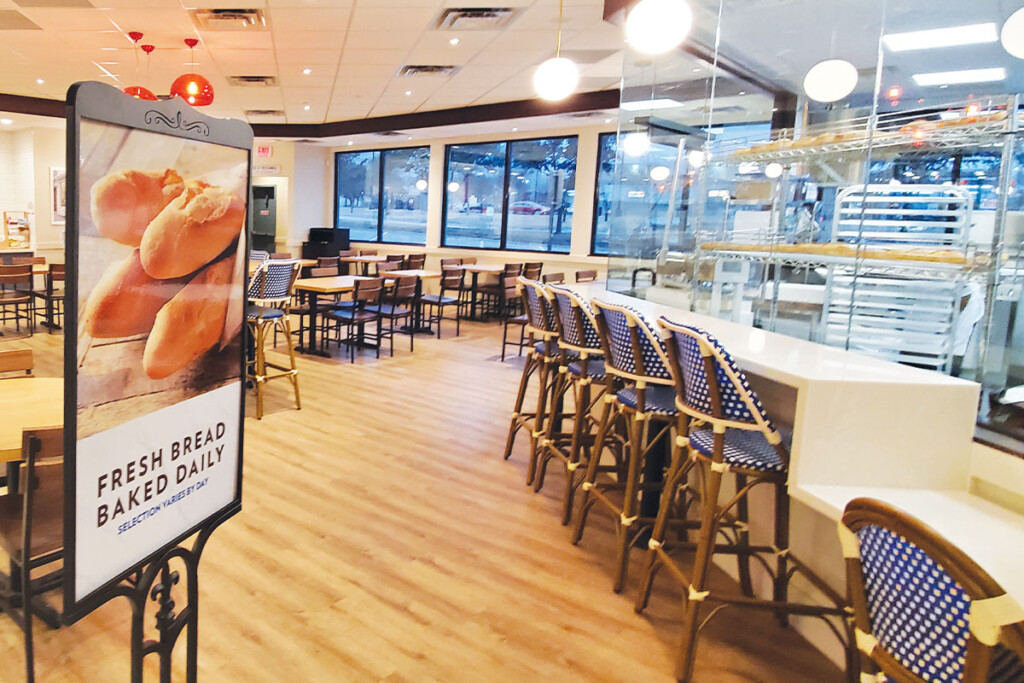 Construction on the Olive Street location began in March 2020. "Our contractor took all precautions during the project," Hoerner recalls. "Temperature checks every morning; multiple hand-washing areas, and as much social distancing as possible."
Next, the team chose the site of a former Steak n Shake drive-thru for the prototype's second location. "A drive-thru addition has been something we've wanted to bring to life for quite some time," Hoerner notes. "Our guests are looking for more convenience and accessibility to our brand. The drive-thru lets us offer both."
The spacious 4,180-sq.-ft. footprint at Montfort Road gave the company more than enough room to also test an on-site, from-scratch bakery. "We wanted to capitalize on something unique for our brand," says Hoerner, pointing to the company's ability to offer warm, fresh breads to customers in a drive-thru setting.
To the Market
La Madeleine's debut Olive Street prototype, covering 2,500 sq. ft., is less than half the size of full-service legacy stores. The design features an abbreviated equipment list and updated interior decor.
To speed service times, the team trimmed the menu of items requiring the saute station. "Items removed from the legacy store menu include pasta dishes, crepes, omelets, and country and French full-breakfast plates," Hoerner says. "Removing these items allows us to deliver a QSR competitive experience in approximately three-and-a-half minutes."
To improve the grab-and-go experience, the team specified custom-built display cases similar to the ones used by Brioche Doree in France. The units include a front, chilled area to hold graband- go items and a 5 ½-sq.-ft. Corian surface on top surrounded by glass. Employees can display baked goods in front behind glass. Customers can watch employees making the sandwiches and salads that stock the grab-and-go area. On the employee-facing side, a cold storage area holds extra ingredients for sandwiches and salads.
Finessing the Drive-Thru
Montfort Road includes the same custom-display cases and almost the same serving line layout as the first location, although the team made adjustments for the drive-thru area.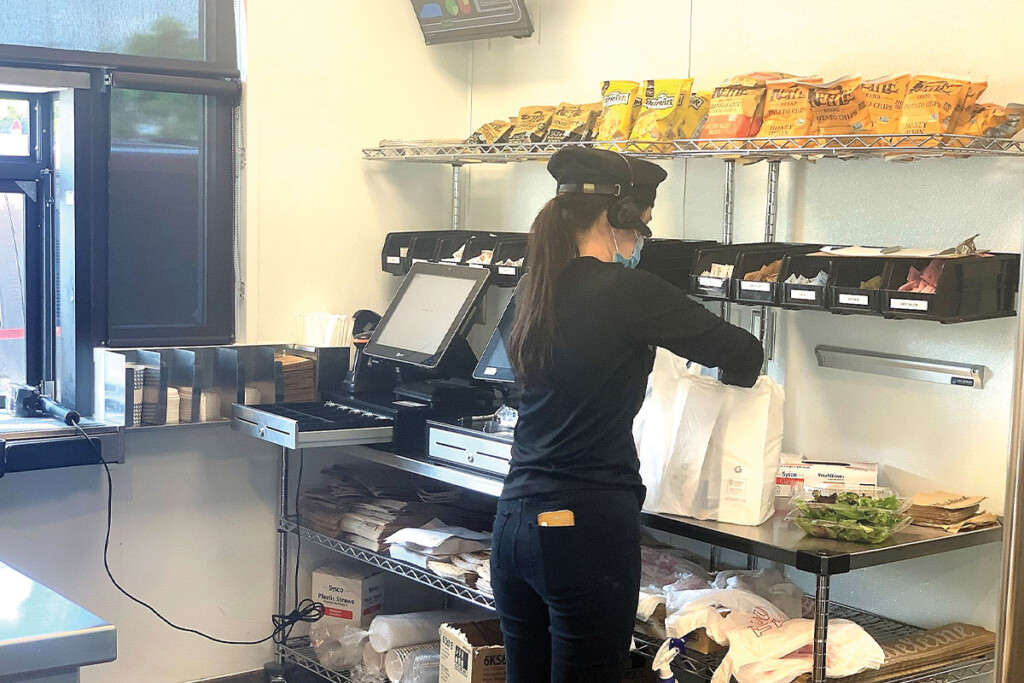 "We placed one of the store's two speed ovens within steps of the window," Hoerner says. "It takes about 90 seconds to toast one of our hot sandwiches—that's the longest of any of our menu items." The drive-thru station also includes a two-door cooler (new to the equipment lineup) to hold premade sandwiches and salads, and a dedicated one-touch automatic espresso machine.
By contrast, Olive Street's speed ovens and espresso machines both sit behind the front counter. That store's equipment lineup doesn't include the two-door cooler "because product goes straight into the grab-and-go unit," Hoerner says.

One refinement at Montfort Road focused on touchless transactions in the form of a device that bridges the gap between cardholder and employees. The device features a roughly 12-in.-long rod with the card reader mounted at the end. "The [rod] eliminates touching the customer's credit card," Hoerner says.
Equipment
Main Kitchen
Hoshizaki reach-in refrig. w/glass doors
Metro/Ali Group holding/proofing cabinet
Bunn coffee/tea brewer, tea dispenser
Wilbur Curtis coffee air pot
Summit reach-in wine cooler
Grindmaster beverage dispenser
Follett/Middleby ice/water dispenser
Continental worktop refrig.
KitchenAid planetary mixer
Hatco induction range
Robot Coupe food processor
San Jamar prep scale
New Age bun rack
Winholt sheet pan rack
Unox combi oven, proofer base, ventless hood
Channel pan rack
ACP/Ali Group microwave convection oven, microwave steamer oven
Drive-Thru
Franke espresso machine, milk cooler
Tailwind FlexiPole Safe to Pay handle
Hoshizaki double reach-in glass door refrig.
Continental 93-in. refrig. worktop, u/c refrig.
TurboChef/Middleby speed oven
To-Go
Blendtec blender
Scotsman/Ali Group u/c ice machines
Oliver bread slicer
RSI custom-built display cases
Bakery
Doyon/Middleby deck oven w/loader
CaptiveAire hood
Manotrad dough divider
Baktec water chiller, water meter
Bongard spiral mixer
Channel mobile dunnage rack
Edlund/Ali Group portion-control scale
Continental roll-in refrig.
New Age roll-in rack
"When dine-in sales become strong again, Montfort has the potential to generate the same revenue as our larger legacy stores, but with a lower buildout cost."
—Michael Hoerner, Le Duff America
Framing the Bakery
The team placed the Montfort Road bakery across from the service line in its own self-contained, 270-sq.-ft. space. Glass walls inside the store and windows on the exterior walls enable dine-in and drive-thru customers to see all the baking action.
"Our engineers made this space completely self-sufficient. It has its own HVAC system, its own equipment and its own dunnage racks for ingredient storage," Hoerner says. "We used seamless glass walls to prevent any issues from migrating flour. And we added a water chiller and meter to ensure the best baking results."
The bakery also includes a deck oven, hood, mixer, dough divider, roll-in refrigerator and plenty of storage racks.
"Our bakers make an olive bread and a baguette that are out of this world," says Hoerner, adding that matching demand of fresh-baked products to traffic patterns has been a learning curve.
A Look Ahead
The La Madeleine team will monitor Montfort Road's progress closely. "It would have been less expensive to build the store without a bakery, but this will give us a clear idea of its true costs and benefits," Hoerner says.
"In the future we plan to remodel some existing legacy stores to add a fresh-bread baking kitchen," Hoerner says. "At the front of this list will be our Mockingbird Lane store, which is La Madeleine's first restaurant in Dallas, Texas; it will gain a fresh-bread baking kitchen this summer.
"We also may remodel existing legacy stores with drive-thrus in the future," he adds. "Our franchisee partners have been asking for stores with drive-thrus for a few years now."
At press time, La Madeleine revealed an Express prototype and partnership with Walmart.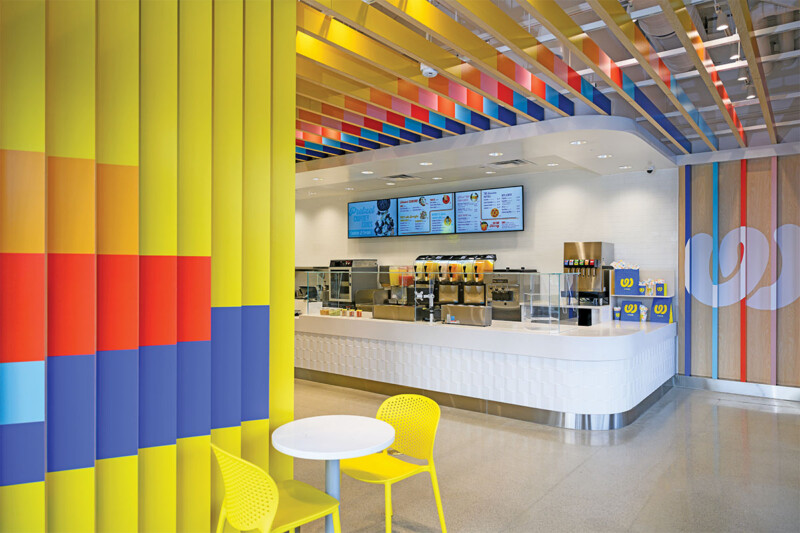 Kitchen Design
Wetzel's Pretzels, the multiunit bakery of shopping mall fame, now offers its soft pretzels and more at street-side through its latest concept.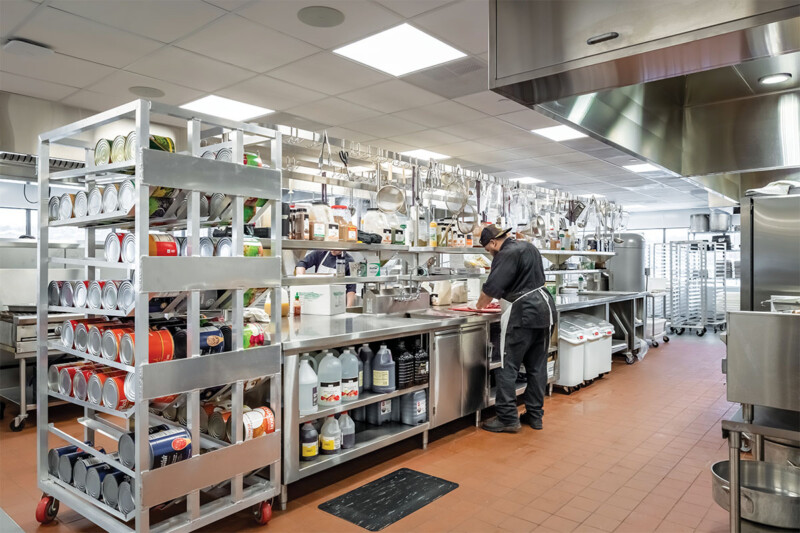 Kitchen Design
Open Arms of Minnesota—a volunteer-powered, nonprofit organization that provides meals to critically ill Minnesotans—needed more room.