Powered Sinks Take Care of the Dirty Work
Powered sinks let employees focus on other tasks besides hand-scrubbing pots and pans.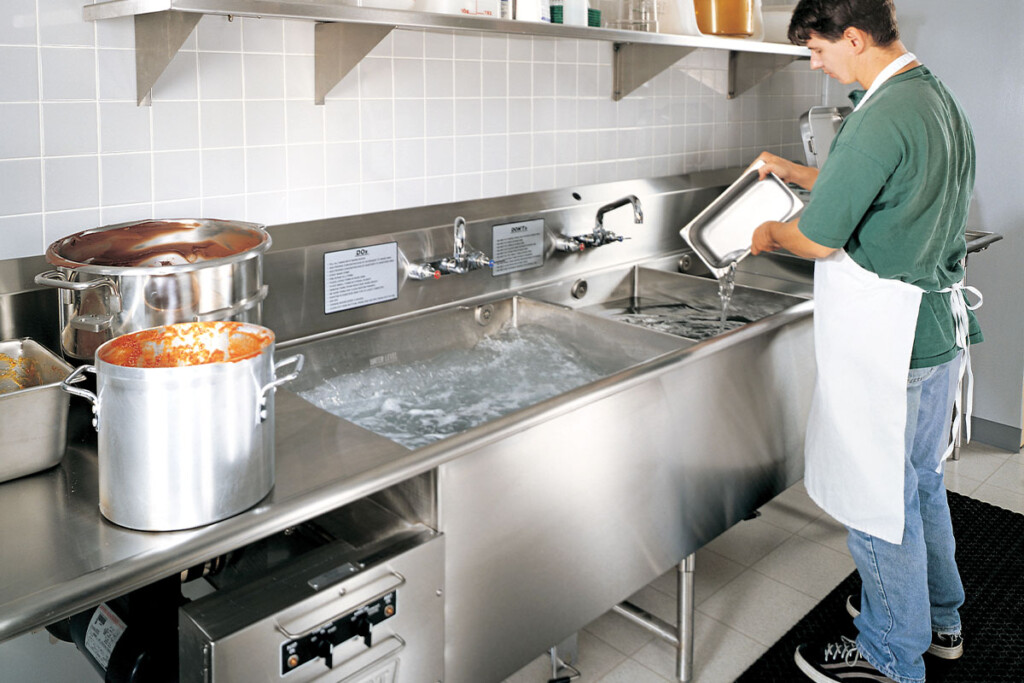 Operators keep getting more creative as they look to combat the ongoing labor shortage. Some brands are hiking wages and offering benefits packages to attract employees, while others are turning to technology like in-store menu ordering kiosks, automated drive-thrus, heated pickup lockers and robots to fill the void.
Still others, according to some manufacturers, are making back-of-house changes to their warewashing systems by upgrading to three-compartment powered sinks to find labor efficiencies.
A more advanced relative to the static three-compartment sink, the powered sink features a wash tank equipped with a wash pump that continually agitates the water to break down baked-on food soil on pots, pans and cooking utensils, creating a semi-automated cleaning function for the dishroom. Staff members can toss in their wares while the sink does the work, eliminating much of the hand-scrubbing. Rinse and sanitize tanks make up the other two compartments.
Manufacturers estimate powered sinks allow operators to reallocate labor by about 50%—and, in some cases, more. "That means if you were spending 10 hours a day scrubbing pots and pans, you're going to be spending five hours a day because this sink is going to be doing the work for you," says one manufacturer.
With the sink taking care of a lot of the dirty work, employees can concentrate on other tasks. In a time when it's difficult to find labor and when labor rates are high, another manufacturer says, operators are better served using employees to assist guests—not wash dishes.
While the capital outlay upfront is more for a powered sink versus its static counterpart, the labor savings provide a return on investment in about a year and a half to two and a half years, depending on the operation, one manufacturer estimates.
Consider Volume
When considering a three-compartment powered sink, operators first should consider what they're washing, the size of the wares and the volume to decide whether the product is right for them and the size they'll need.
Powered sinks typically handle pots, pans and cooking utensils—not silverware, glassware, ceramics and other similar dishware that can bend and break from the power of the jets. Keep this in mind when considering volume.
If an operator has enough volume to require a full-time pot and pan washer, one manufacturer says, a powered sink is worth considering. "If you have a full-time pot washer, an agitating pot and pan system will reallocate the current labor of your full-time pot washer to perform other tasks in your operation. And if you could use a full-time pot washer, it will provide the labor needed to wash pots and pans that you do not currently have," says the manufacturer.
One of the biggest mistakes operators make when selecting a product is underestimating how much they'll be washing, which can result in a wash tank that's too small for their needs. Wash tanks range in size from about 30 to 60 inches wide.
Options Abound
Manufacturers construct three-compartment powered sinks with 300-series stainless, and most models come in 14-gauge steel, while at least one more cost-effective model is made with thinner 16-gauge steel. Many models come standard with a water heater, though not all. At least one manufacturer recommends going with the heater every time, as heat substantially helps remove food soil.
One of the most basic off -the-shelf models comes in 96-, 112- and 136-inch widths and requires 120V—or a standard wall outlet—to support the 1-hp pump motor and heat source. Other models offer 2-hp and 3-hp pump motors, with the 3-hp models requiring three-phase 480V.
Manufacturers typically increase motor size as the wash tank gets larger to help maintain good wash-flow action.
Some manufacturers position jets in the back of the wash tank, which pushes the wares from back to front toward the employee.
Powered sinks use high-powered jets to continually rotate wares. Different manufacturers incorporate different wash-flow action, and the placement of the jets dictates the way the water rotates. At least two manufacturers position the jets in the back of the wash tank, which pushes the wares from back to front toward the employee. Another manufacturer incorporates the jets in the sides of the wash tank with a space-saving design using recessed jets, while another positions them in the corners. This position, says the manufacturer, creates centripetal force and prevents dead zones.
When considering models, know which features you need and which are provided. Most models have a timed wash, and at the end of the period, employees drain and refill the sink to ensure they have clean, hot, soapy water. Some models offer temperature alarms as a safety feature that alert employees if the water gets too hot, and some offer an auto-shutoff timer that turns the pump off after a preset period.
Mistakes To Avoid
A few more points to consider when specifying a three-compartment powered sink include the following:
DON'T OVERLOOK A DISPOSAL. Powered sinks are not disposals, and operators will want to have a scrap sink or another station nearby to dump loose food soil so that it doesn't end up in the wash tank, which will dirty the water and potentially clog drain lines. Most operators, says one manufacturer, will opt for powered sinks with a scrapping station that could support a disposal or a waterless scrapping station that simply has a hole cut so that a garbage bin can be placed underneath to collect food soil.
DON'T UNDERSIZE THE DRAINBOARDS. Employees will need enough space to place clean wares after they're moved from the wash tank to the rinse tank and then to the sanitize tank. The same goes for the amount of soiled drainboard needed. Staff members will need a place to stack dirty wares before they're put in the wash tank. When considering the size of the drainboards, consider the size of wares used. Operators with oversized wares will want to ensure there's enough space for placement.
Set with notes on volume, options and mistakes to avoid, operators choosing a powered sink will soon realize the labor savings compared with a static three-compartment sink.
Spec'ing Checklist
With various models on the market that range from off-the-shelf to fully customized, operators will want to keep the following considerations in mind when deciding.
Understand your kitchen's flow and available space. Check and double-check measurements, and ensure the size and placement won't encroach on the flow of your operation. Manufacturers can customize L-shaped and even U-shaped models to suit different kitchen designs.
Ensure it has the correct utility setup for installation. Unlike standard three-compartment sinks, powered sinks require electricity. Ensure enough power—and, of course, water—is available to support the model.
Consider the add-ons. Manufacturers offer a variety of wash tank accessories, like wire baskets to hold utensils and sheet pan racks to keep the pans vertical while being washed.
Check out the warranty. Most manufacturers offer a one-year parts and labor warranty, while at least one offers a standard three-year warranty.
Under Pressure
Powered sinks use wash pump action to break down food debris on wares. Here are the latest models from four makers.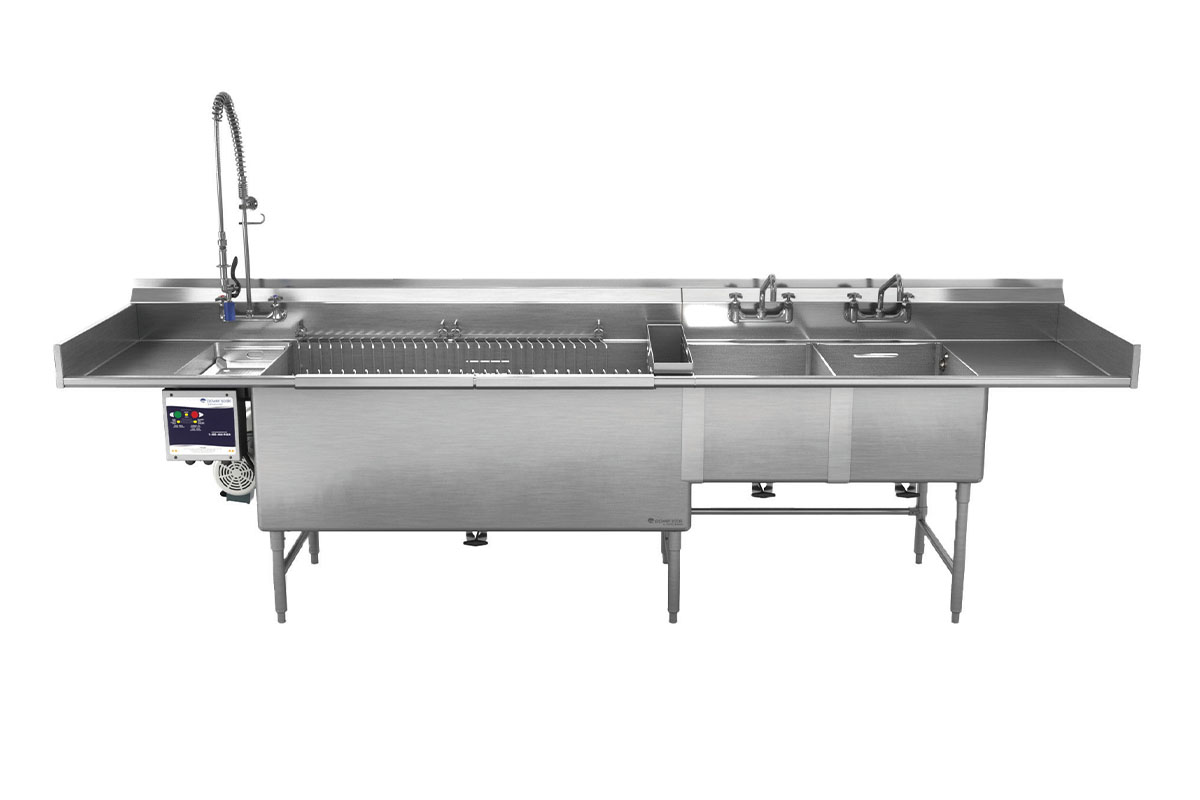 Power Soak
MODEL: PSU6
WASH TANK: 30-, 36-, 42-, 48-, 54-, 60-, 66-, or 72-in.W
ADD-ONS: Advanced wash sheet pan racks, end or back splashes and undershelves are a few choices.
WARRANTY: Unit comes with a three-year parts-and-labor warranty.
WEBSITE: unifiedbrands.net
---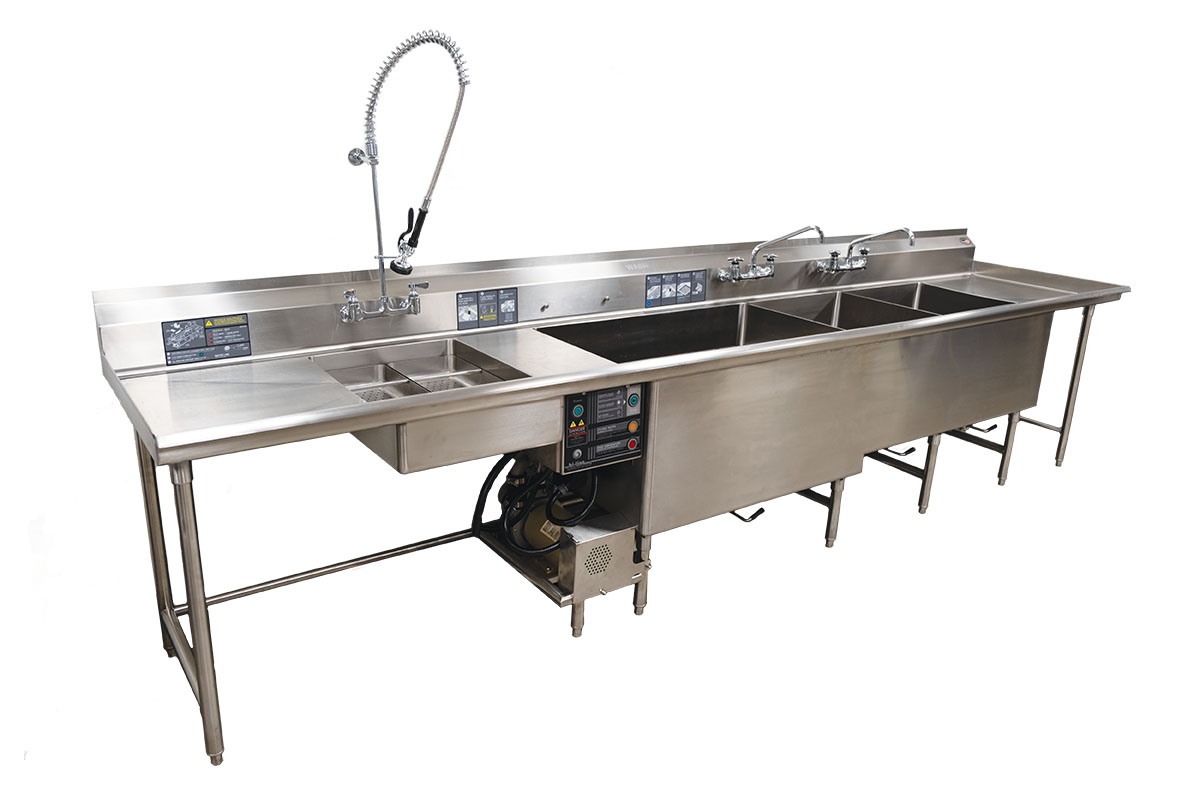 Champion
MODEL: Bi-Line Vortex Wash System
WASH TANK: 36-, 42-, 48- or 60-in.W
ADD-ONS: Utensil basket and sheet pan racking system come optional.
WARRANTY: Unit comes with one-year parts-and-labor warranty on pumps and control panel.
WEBSITE: championindustries.com
---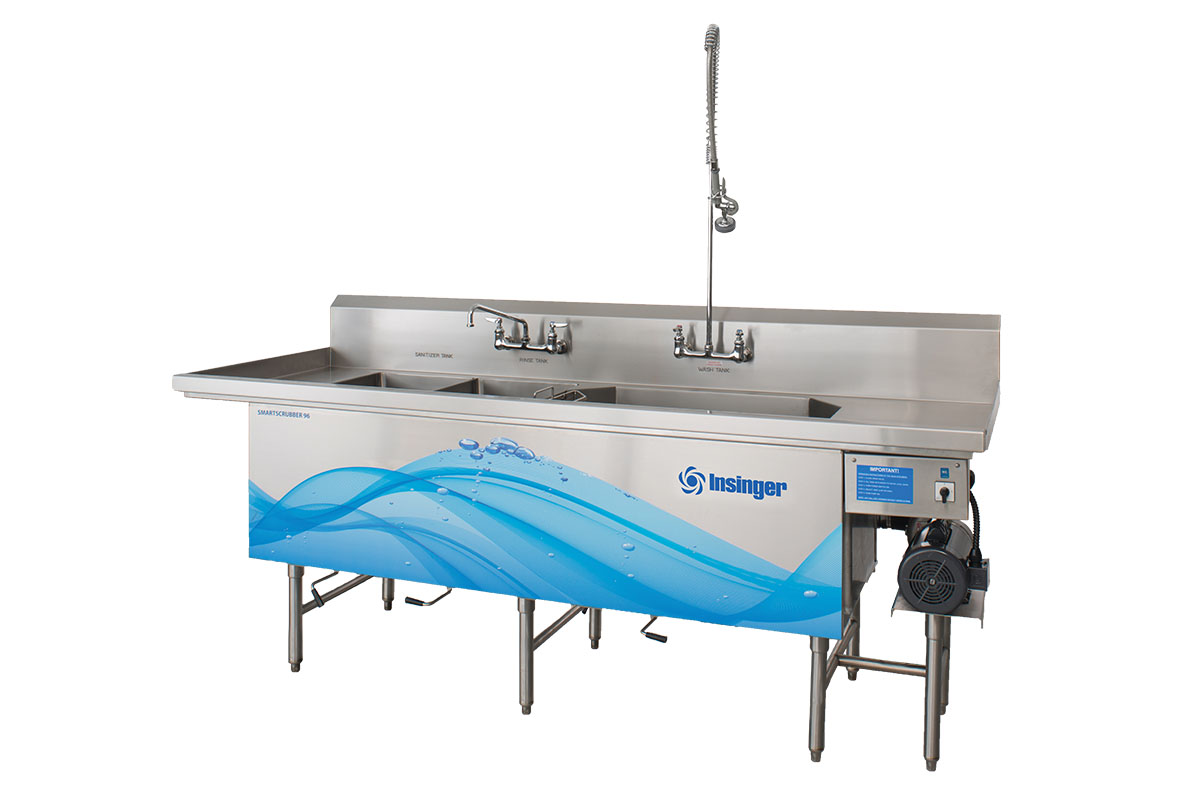 Insinger
MODEL: SmartScrubber
WASH TANK: 96-, 112- or 136-in.W
ADD-ONS: Add overfl ow holes in the sink, an undershelf or a scrapper drainboard with a pre-rinse faucet.
WARRANTY: Unit has a one-year parts and labor warranty from the date of installation or 15 months from date of shipment (whichever comes first).
WEBSITE: insingermachine.com
---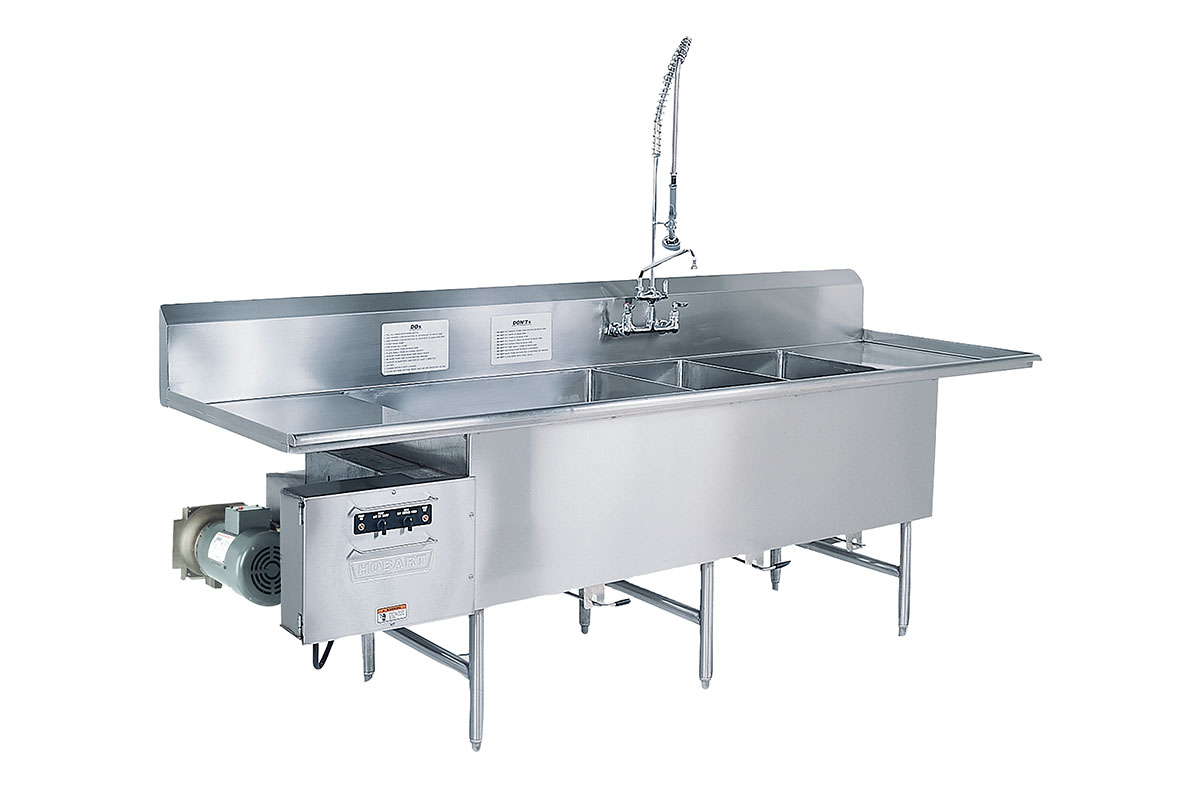 Hobart
MODEL: Turbowash II
WASH TANK: 30-, 32-, 36-, 42-, 48-, 54- or 60-in.W
ADD-ONS: Wash sink heater with high-temperature and low-water protection comes optional.
WARRANTY: Unit comes with one-year warranty.
WEBSITE: hobartcorp.com
---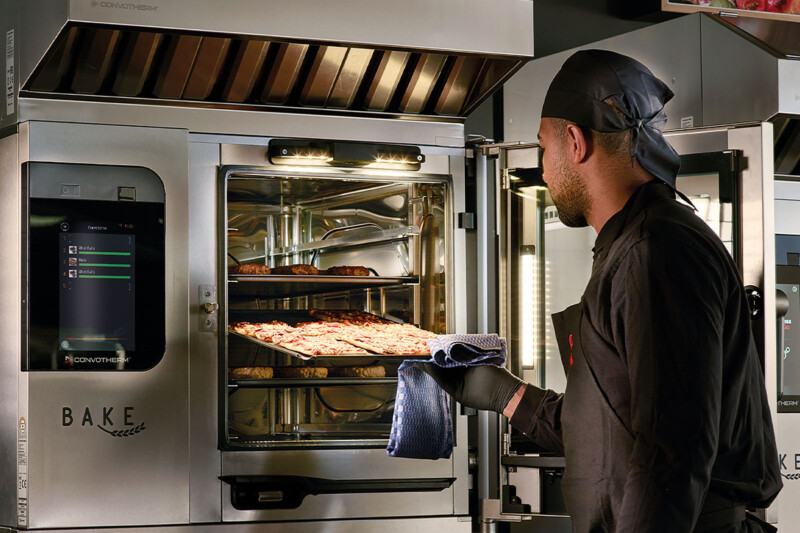 Combi Ovens
Today's combi ovens are smarter and more energy efficient, reducing the need for skilled labor and cutting utility costs.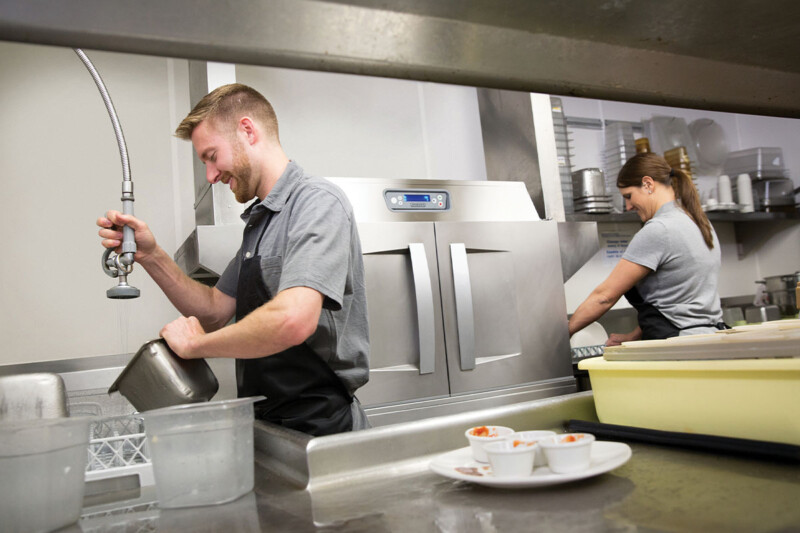 Equipment Comparisons
Forget steamy dishrooms; some of the newest rack conveyors improve environmental comfort and reduce overhead costs.