Presto Chango: Inside Fiore's Transformation
Scott Harris Hospitality thoughtfully transforms one of its fine-dining restaurants into a vibrant pizzeria, commissary and retail market.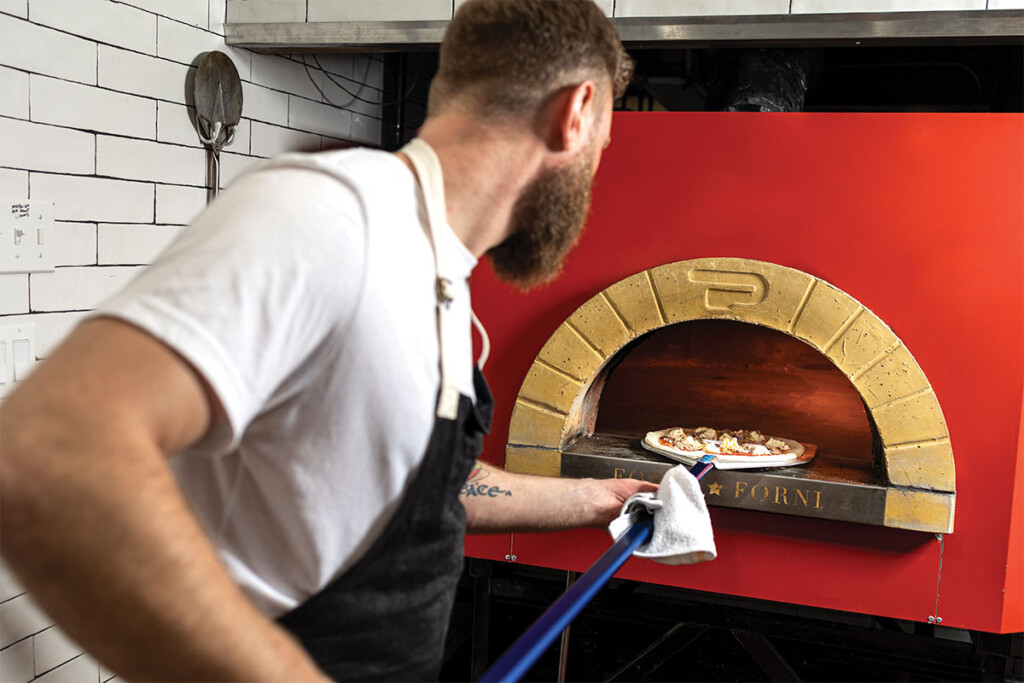 When the restaurant formerly known as Francesca's Fiore reopened as Fiore Pizzeria & Bakery, the businesses under one roof tripled. 
Instead of a full-service Italian trattoria, the new Francesca's sister brand in Forest Park, Ill., features a one-page, handwritten menu of pizza and small bites—plus a display commissary in a skylit space behind a glass wall and, soon, a retail market. To accentuate its lighthearted environment, Fiore Pizzeria showcases a mural of food-fighting tomatoes in its front dining room, a gleaming red Vespa scooter parked inside the front door and a bar emblazoned with a sign saying "number of times pizza was a good idea" surrounded by many, many hash marks. To ensure passersby notice the change, crews painted the building's staid brick facade a bright white with cherry-red trim. 
Fiore is the latest restaurant debut from Scott Harris Hospitality, a Bensenville, Ill.-based restaurant group that includes eight concepts across 23 locations in Chicago and Southern California. 
Four months after its December 2021 opening, Fiore's pizzeria was averaging 120 daily covers. Together with the commissary and retail market, the three-pronged operation is on track to generate about $2.5 million in annual revenue. "We expect to surpass Francesca's Fiore's 2019 revenue by about 160%," says Jaysen Euler, culinary director for Scott Harris Hospitality.
The goal for the commissary is to supply, by year's end, 100% of the pasta and most pastries for Francesca's, which has 13 Chicago-area locations.
Pandemic Beginnings
Francesca's Fiore, one of the pandemic's many foodservice casualties, closed in late 2020. Finding a new tenant proved fruitless. In the meantime, "we were still paying rent," Euler recalls. The group began noodling on new options for the 6,200-square-foot space. 
The site had several strong points. The front-of-house in the original Francesca's Fiore, with seating for 220, included two private dining rooms, a main dining room, bar and a side dining room with its own sidewalk entrance. The back-of-house, meanwhile, included a fully equipped kitchen and pastry commissary. Further, the site was centrally located relative to the other Chicago-area Francesca's locations. 
"Scott Harris, our CEO, had been talking about how best to rebrand Francesca's restaurant group," Euler says. "Our initial focus lay in upping our pastry commissary game. Then we talked about adding a pasta commissary. Since we didn't need the entire space for a commissary, and since there was already a restaurant cookline with a pizza oven, we decided to add a pizzeria, which became the icing on the cake, so to speak." 
Once the decision was made, it was full speed ahead on Fiore Pizzeria & Bakery. 
"We had all these great ideas," Euler says. "The question from Scott then became, 'How fast could we get it open?'"
The in-house team was led by Euler and Harris, with input from their wives Alexandra Euler and Dana Chrisos, respectively, and from Head Chef Jonathan Court. 
"Demolition and designing began almost simultaneously at the end of September 2021," Euler recalls. Because the company's usual architect was tied up on another project, Scott Harris Hospitality took the unusual step of turning to Maintenance Head Dave Katz to produce hand-drawn plans on his drafting board. 
Fiore's Transformation
Creating Fiore Pizzeria's kitchen and commissary from the former full-service restaurant required role reassignments and some specialty equipment. A close working relationship with Woodridge, Ill.-based dealer Edward Don & Co. helped source new pieces of equipment. 
The existing cookline with a pizza oven, and a prep area behind, now serves as Fiore's kitchen. A stone-hearth oven, clad in eye-catching red, replaced the existing oven, which was "smaller, fairly old and damaged," Euler says. Glass walls separate this kitchen from the commissary, allowing guests a view of the pizza oven and cooking action. The walk-in cooler immediately behind the kitchen prep area is dedicated to bulk and portion fermentation of pizza and pasta doughs. A second walk-in cooler/freezer supports pizza operations and the market.
A former private dining room is now the commissary. Floor-to-ceiling glass walls separate it from the bar and the pizzeria kitchen. At its center, two work-height butcher-block tables serve as work surfaces, meeting tables or special event tables. A skylight keeps the room bright and airy during daylight hours, while a fireplace adds an unusual note. White subway tile and white painted brickwork showcase the red accents of the floor mixers, tool chests and chair seats. 
The commissary's equipment includes a full-sized roll-in combi oven and a countertop combi oven under an exhaust hood. A "Ferrari-red" refurbished floor mixer, complete with imitation Ferrari badges, occupies one corner. Next to it, a locking Husky tool chest holds smallwares and tools for the mixer. A high-volume Italian pasta extruder and its accompanying tool chest occupy a spot on the far wall, while a dough mixer sits along the wall closest to the bar. 
Chocolate and gelato production takes place in a smaller former private dining room located next to the commissary's main room. Here, the team added a walk-in cooler. 
Fiore makes full use of the shared commissary space. "Pastry production takes place during the early hours of the day, starting around 5 a.m.," Euler says. "Pasta and pizza dough production begins late afternoon and into the dinner hours."
Fiore's commissary has become a gathering point for Francesca's culinary team. "When we roll out new menu items, all the chefs come to Forest Park for hands-on training," Euler says. "That translates so much better than sending out an email with recipe and photo. Chefs are able to taste the dishes, take part in the process and the prep, and really become part of the rollout." 
The commissary also serves as a classroom for the public. "We are planning some pasta classes, and limoncello classes," Euler says. "It's a fun space." 
The Mercato & Beyond
The last piece of Scott Harris' grand plan, the Mercato di Fiore, will open in mid-June. A nearly wall-to-wall custom deli counter with built-in refrigeration anchors the 1,200-square-foot area. 
The Mercato will sell baked goods and fresh pasta from the commissary as well as sandwiches, frozen items customers can bake at home and imported Italian specialty items. With its own sidewalk entrance, the Mercato can keep its own hours, "probably 9 a.m. to 6 p.m. daily," Euler says. 
Looking ahead, while the company has no plans to convert any other existing Francesca's into a Fiore Pizzeria, Euler says they think the concept "would travel well and work in other demographics." 
"Should we find the right site, Fiore is definitely a concept we think we can grow," he says.
---
FACTS
Fiore Pizzeria & Bakery
Forest Park, Ill.

PARENT COMPANY: Scott Harris Hospitality, Bensenville, Ill. 
OPENED: December 2021
NUMBER OF UNITS: 1
SIZE: 6,200 square feet
SEATING: 80 seats
FF&E PACKAGE: $225,000
SCOTT HARRIS HOSPITALITY: Jonathan Court, head chef of Fiore Pizzeria & Bakery; Jaysen Euler, culinary director; Scott Harris, owner and CEO; Erin Mooney, corporate pastry chef
DEALER: Greg Blasgen, sales representative, Edward Don & Co., Woodridge, Ill. 
WEBSITE: fiorebakes.com
EQUIPMENT
Pizza  
•  Forza Forni (now Fiero) wood-fired pizza oven 
•  Arcobaleno flywheel slicer
•  Pitco fryer 
•  Vulcan griddle/oven, two-burner stock pot range  
•  Southbend double-stack convection oven
•  Beverage-Air pizza prep tables, worktop cooler   
•  Ecolab warewasher 
•  Avalon Mfg. doughnut fryer 
•  KPS Global walk-in cooler/freezer
Pasta & Pastry Commissary
•  Arcobaleno pasta extruder, dough sheeter, pasta dryer, pasta cart
•  Irinox blast freezer 
•  Imperial pasta cooker 
•  Beverage-Air worktop cooler 
•  Unox combi ovens
•  Hobart 60-quart mixer, 40-quart spiral mixer 
•  SaniServ ice cream/gelato freezer 
•  Kolpak walk-in cooler/freezer
Bar 
•  Perlick custom cocktail station
Mercato
•  Lion's Wood custom deli display w/built-in refrig.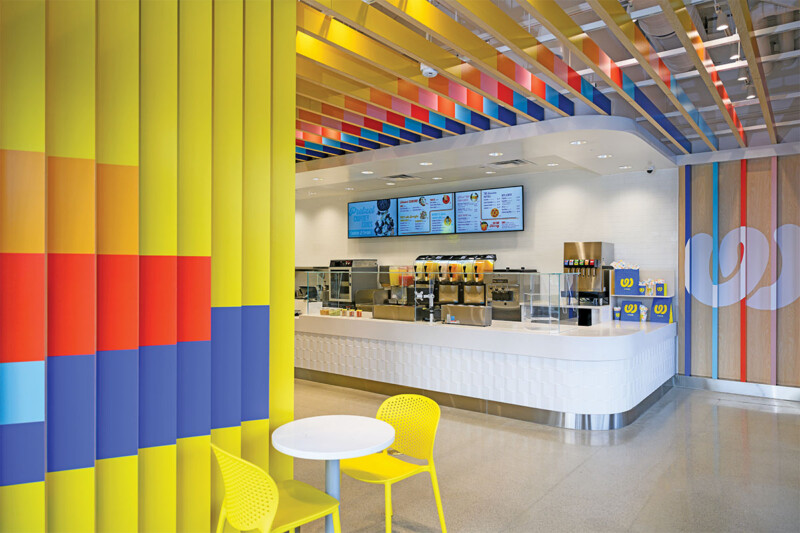 Kitchen Design
Wetzel's Pretzels, the multiunit bakery of shopping mall fame, now offers its soft pretzels and more at street-side through its latest concept.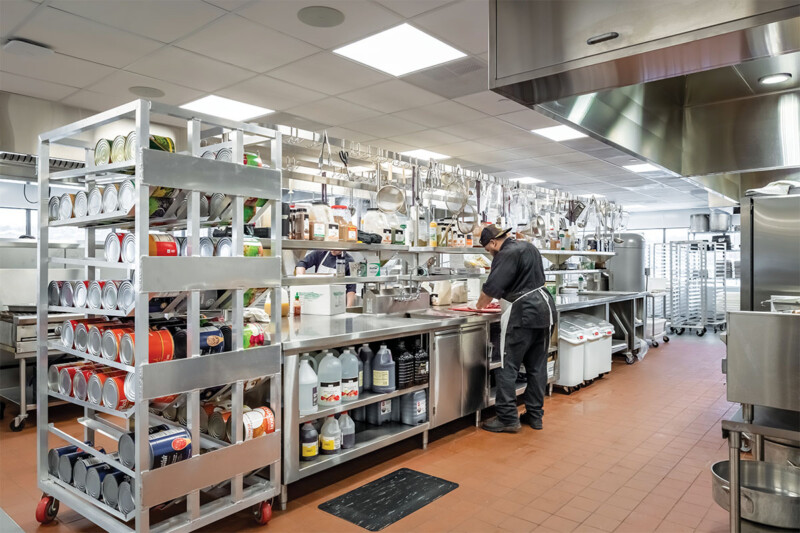 Kitchen Design
Open Arms of Minnesota—a volunteer-powered, nonprofit organization that provides meals to critically ill Minnesotans—needed more room.