Small Changes Make a Big Difference in Fuzzy's Taco Shop's New Prototype
Little changes help Fuzzy's Taco Shop's prototype accommodate the same amount of covers as traditional stores—but from a smaller footprint.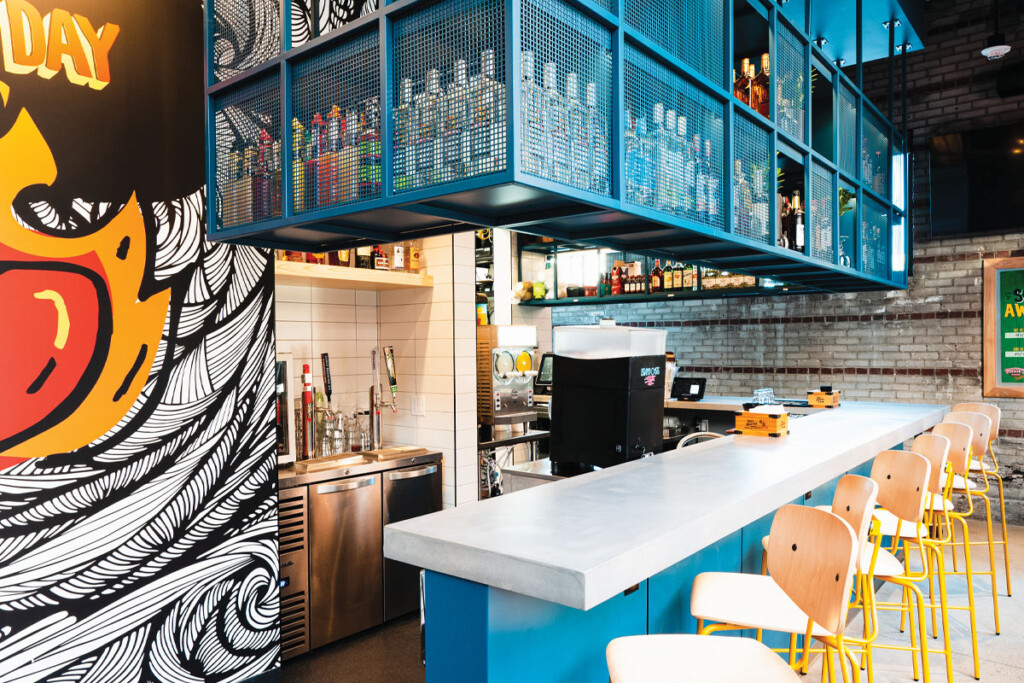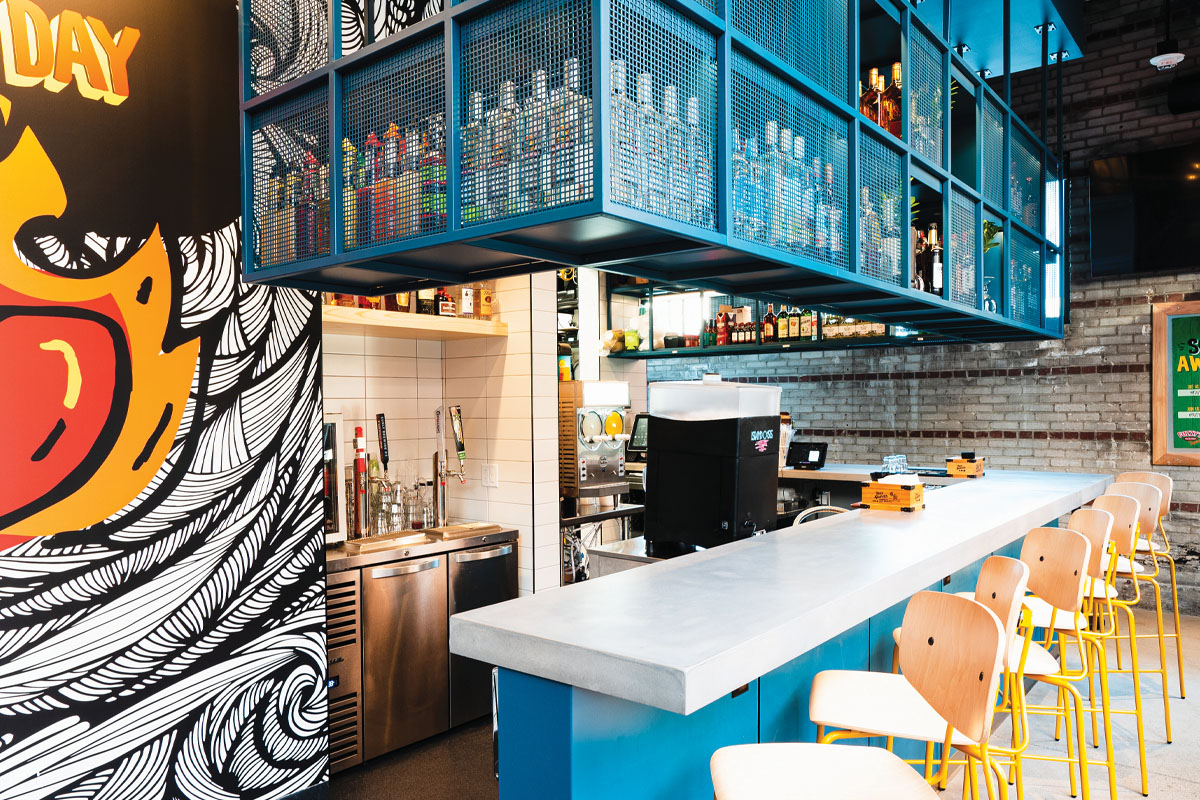 Fuzzy's Taco Shop, based in Irving, Texas, has created a prototype that accommodates the same number of daily covers as its traditional locations but in a third of the space and with less than half the number of employees. Called Fuzzy's Taco Shop Taqueria, the prototype, opened in Minneapolis, boasts a carryout-friendly menu, full bar and efficient kitchen.
"An average Fuzzy's ranges from 3,500 sq. ft. to 5,000 sq. ft. in size and serves 400 covers per day. That's about what the new Taqueria is doing in 1,100 sq. ft. of space," says Fuzzy's Vice President of Operations Kevin Rychel. "[It's handling] spectacular volume and our franchisees are very happy."
Fuzzy's Taqueria features items such as tacos, burritos, nachos, quesadillas and salads. As with traditional Fuzzy's units, the Taqueria also serves margaritas and beer.
With its modest price point ($2 to $3 tacos and $8 margaritas), to-go service and alcoholic beverages, Fuzzy's Taqueria has quickly become a fixture in the city's North Loop neighborhood. Shortly after opening, one of the owners noticed that every one of the restaurant's 21 indoor seats had a margarita or beer on the table. "It didn't take long for alcohol to rise to about 40% of sales here," Rychel says.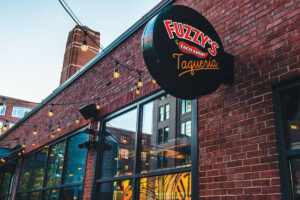 Concept Design
Plans for Fuzzy's Taqueria began brewing in 2019 as Fuzzy's executives decided to tap into the growing trend toward smaller footprints and carryout-friendly menus.
"The executive team had been looking at a 2,000-sq.-ft. footprint, exploring options, figuring out what we could do," Rychel says. Work shifted into high gear when a franchisee identified a site in a downtown Minneapolis building.
"You want to hit a home run, but when it's the first time that you're opening in 1,100 sq. ft., there's a lot to pack in [to make sure the restaurant succeeds]," Rychel says. "We basically took two-thirds off one of our traditional Fuzzy's. The corporate office team worked tirelessly to make sure it was able to happen."
Although the space was smaller than designers envisioned, the building's shared restroom facilities meant the entire footprint could be used for the Taqueria.
Plans screeched to a stop with the COVID-19-imposed shutdown in March 2020. Progress restarted in fall 2020 and kicked into high gear in early 2021 as vaccines became more available and the pandemic faded.
Creating a compact Fuzzy's started with a hard look at the menu. "We had never limited our menu, not even during the pandemic," Rychel says. For the Taqueria, however, with its 400-sq.-ft. back-of-house, reducing the menu was the only way for the kitchen to support the new concept.
"We dropped all the full-plate items and fajitas," Rychel says. "Assembling plates takes the most time and space, so we got rid of them. And cooking fajita proteins takes the most time on the griddle, so we got rid of that. Everything on the resulting Taqueria menu gets individually wrapped to-go."
Despite the reduced footprint, designers fit in a full bar. The 15-ft. bar includes seven seats, right around the corner from the order counter.
Construction started in February 2021 and wrapped up in early May. "We debated about whether to open right before Cinco de Mayo, or to push the opening until the day after," Rychel says. Opening a taco shop a day before this particular holiday, "might have been a gamble with a brand-new staff, but we had our training team, me and our franchise support team on hand," he says. "We knew we could handle Cinco de Mayo crowds. And we figured it would put us on the map."
In Back
Laying out Fuzzy's Taqueria kitchen started with streamlining equipment and focusing on the production triangle.
For starters, "we reduced the chef's base to hold a 48-inch single [instead of double] griddle. We could do that because we had taken fajita meats off the menu," Rychel says. One 60-inch-wide cold prep table and one 48-inch-wide hot prep table together with a griddle on the opposite side of the line make up a production triangle that three employees can manage. "However, we kept two fryers, just like the full-sized Fuzzy's stores have," Rychel says.
Taqueria service times average four to six minutes, compared with six to eight minutes at traditional Fuzzy's with their full plates and fajita options. "I expedited for six hours on opening day. Nothing took longer than 10 minutes," says Rychel, who spends most Friday mornings working at the Fuzzy's test kitchen in Denton, Texas.
The closet-sized back-of-house does double-duty for prep and warewashing. "A lid covers the three-compartment sink so we can use it as a prep table during the day," Rychel says.
Designers considered nixing the countertop food processor in favor of pre-prepped foods, but found space for it in the end. "We make all our own sauces and our own roux for ground beef," Rychel says.
Out Front
The Taqueria's front-of-house had its own logistical challenges, including how to integrate the digital menu board and point-of-sale system.
Most Fuzzy's shops rely on two menu boards, but in the Taqueria, there was space for only one. "Thanks to the menu modifications, we were able to condense all items onto one board," Rychel says. "Kudos to our marketing team for getting that done."
Space constraints also influenced the POS station. The Taqueria had room for only one full-sized POS station at the ordering point and so, designers added a tablet-style POS unit near bartenders to help speed service.
"When you're handling that many covers, and a limited number of indoor seats, people [tend to stack up]," Rychel says. With the mobile POS, "the bartender can take orders from guests waiting in line or sitting at one of the bar seats."
Adding a dedicated printer at the bar for alcohol orders also helped speed service. "The bar printer is one of those optional items," Rychel says. "Franchisees [with full bars tend to] use them, while franchisees without an actual bar have to refer to the full ticket for drink orders.
"The Taqueria is so small that [the person taking food orders] could turn around and make a margarita, but that's not feasible when you have 50 people in line," Rychel says. "In the end, we decided we did need a dedicated printer. Now all the liquor orders from both POS and tablet go directly to that printer so the bartender can work accordingly. It has come in handy."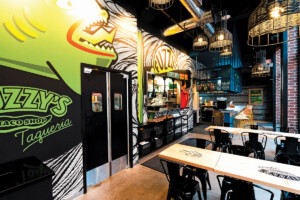 Coming Up
Fuzzy's expects to open 12 traditional locations by December 2021, plus at least two Taquerias. The company also is exploring drive-thru models. Its first drive-thru restaurant is set to open in August in the Dallas suburb of Wylie.
FACTS
FUZZY'S TACO SHOP TAQUERIA MINNEAPOLIS
MENU/SEGMENT: Fast-casual
HEADQUARTERS: Irving, Texas
FOUNDED: 2003
FUZZY'S TACO SHOP: Jill Knight, development and construction manager; Mel Knight, president; Kevin Rychel, vice president of operations; Jessica Wescott, CFO/COO; and Peter Fitzgerald and Ed Pittsley, Fuzzy's Minnesota franchisees
NUMBER OF UNITS: 138
2021 PLANS: 12 traditional openings; two Taqueria openings
PROTOTYPE: 1,100 sq. ft.
SEATING: 21 indoor; 26 patio
WEBSITE: fuzzystacoshop.com
KEY EQUIPMENT
Southbend/Middleby 36-inch oven/range, griddle
Continental refrig. griddle stand, pizza prep refrig.
Pitco/Middleby fryers, portable filter system
John Boos worktables, sinks, hand sinks, pot racks, shelving
T&S Brass faucets
Robot Coupe food processor
Vulcan/ITW FEG mobile heated cabinet, chip warmer
Arctic Air worktop freezer, single-door reach-in freezer
ACP/Ali Group microwave oven
Delfield/Welbilt hot food serving counter
Frosty Factory frozen beverage machine
True draft beer cooler
Hoshizaki ice maker w/bin
Glastender underbar ice bin, speed rails w/locking covers, underbar hand sink, bottle cooler
Hobart/ITW FEG undercounter dishmachine
Everidge walk-in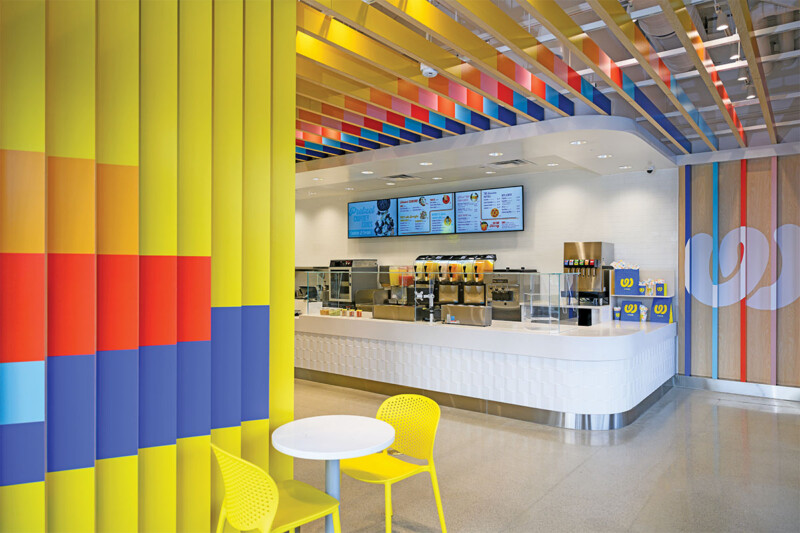 Kitchen Design
Wetzel's Pretzels, the multiunit bakery of shopping mall fame, now offers its soft pretzels and more at street-side through its latest concept.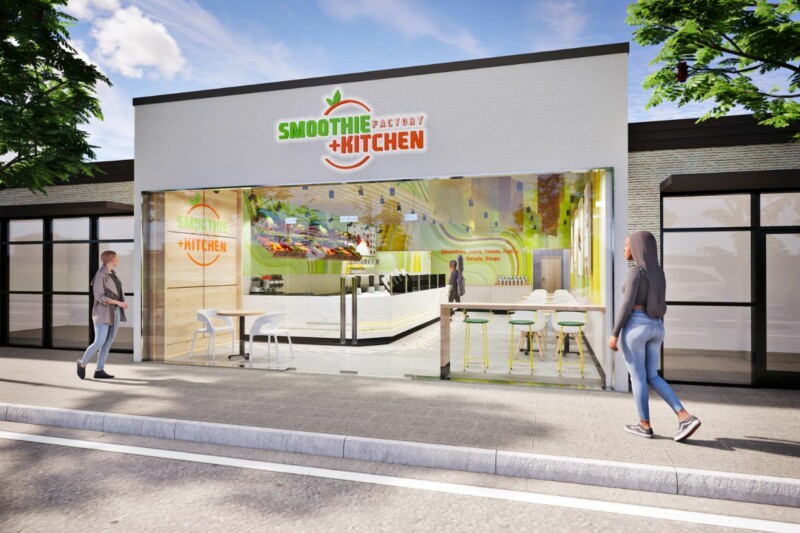 Design Trends
Originally a juice bar concept, the brand will lean on this equipment to offer guests grilled "folds," toast options and salads.