Solving a Design Puzzle at The Westin Anaheim Resort
Designers create an efficient back-of-house flow at The Westin Anaheim Resort despite layout challenges.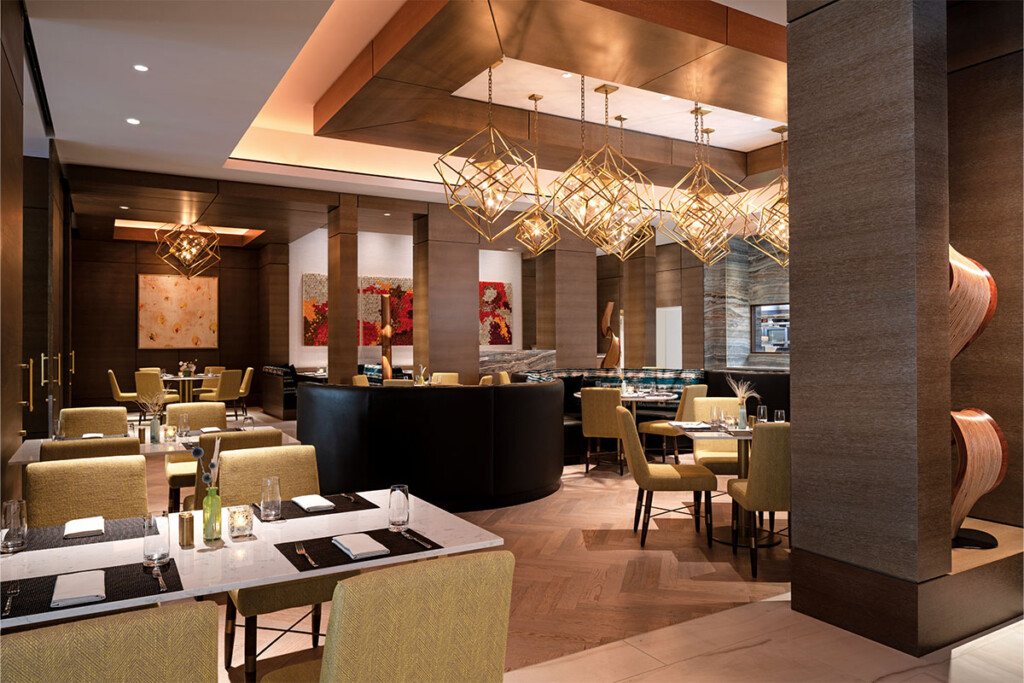 About one mile from the Disneyland Resort, in Anaheim, Calif., sits The Westin Anaheim Resort. The four-diamond property, owned by Wincome Hospitality, boasts multiple retail dining outlets, including the Tangerine Room restaurant, RISE Rooftop Lounge, Bar 1030, Bella's Splash Pool Bar, and the Blossom Cafe & Market. Two independently operated restaurants round out the offerings. The resort also includes room service, event space and employee dining.
Led by Executive Principal Sean Callnin, a team at Denver-based Ricca Design Studios oversaw the design of the foodservice facilities, along with laundry services, for the reportedly $245-million project. Min An, principal in charge, and Tommy Wuyek, project manager, both from Ricca's Los Angeles office, also served on the team.
Callnin points to the first level's back-of-house foodservice space—featuring the Tangerine Room kitchen (which also serves as the room service kitchen), a room service staging area, a main kitchen and a warewashing area—as one of the more notable features of the project. Here, architects dedicated a long, rectangular area to foodservice, but with a caveat: a roughly seven-foot-wide, code-mandated egress corridor runs through it. The team also had to accommodate service elevators.
"Our goal was to create connected kitchens [on the first level] with good flow to each other and adjacencies to key food and beverage areas," Callnin says.
To accomplish the goal, designers used the egress corridor as a divider, with the Tangerine Room kitchen on one side, and the room service staging area, main kitchen and warewashing area on the other side. The team simultaneously placed each kitchen near their respective front-of-house operations. For example, the main kitchen, which supports banquets, sits next to the grand ballroom, and the room service staging area lies near the service elevators.
Dish Detail
When assembling the back-of-house puzzle, designers had to pay careful attention to the placement of the warewashing area because it serves all three kitchens.
The team chose to situate it closest to the room service staging area and Tangerine Room kitchen, and farthest from the main kitchen, because "there would be a large quantity of dishes coming from banqueting [in waves], versus a constant flow of dishes from the restaurant and room service," Callnin says.
The warewashing area features a place in the egress corridor where employees can drop off dishes. On another side, it has a pass-thru window to accommodate pots and pans from the main kitchen. Two dishmachines keep up with peak volumes and serve as builtin redundancy in case one of them goes down.
To create an efficient flow between the warewashing area and the main kitchen, the designers added a thruway. Employees use the thruway for tasks such as transporting dishes, accessing the room service staging area, breaking down deliveries and stowing them in the walk-ins, and moving bulk-prepared foods to the resort's satellite operations.
Staging space near the grand ballroom also helps with flow. Here, employees can stage heated banquet cabinets before an event, but then after, hold and sort bussing carts until it's time to wheel them off to the warewashing area, generally during nonpeak hours.
Closer Look
The Westin Anaheim's main kitchen provides support to the retail dining outlets, along with banquets, catering and employee dining. It comprises hot and cold prep areas, cooking areas, a bakery and pastry area, garde-manger, heated banquet cabinets and service carts, along with the walk-ins.
Callnin draws attention to two of the main kitchen's satellite operations: RISE Rooftop Lounge and Bella's Splash Pool Bar.
RISE, a guest-exclusive bar located on the top floor with panoramic views of Disneyland and its fireworks, features handcrafted cocktails from a peninsula-style bar and a Mediterranean-inspired shared menu.
"We had to really advocate to get enough space here," says Callnin, referring to stringent requirements involving weight limits and maximum number of people.
"The client wanted as big a menu as possible," Callnin continues. "We were able to accomplish this by relying on a ventless, split-belt conveyor oven as the main piece of cooking equipment, perfect for appetizers and small bites, flatbreads and pizzas."
The menu at the RISE Rooftop Lounge relies on a ventless, split-belt conveyor oven that cranks out appetizers and small bites, flatbreads and pizzas.
Other equipment highlights include prep tables, a microwave and refrigeration units. A small support area holds a keg cooler, three-compartment sink and liquor storage. Two glasswashers and a dishmachine reduce reliance on the first level's warewashing area.
On the first level, the Pool Bar's more limited menu ranges from "comfort foods for kids" to "wholesome options for adults." Here, along with another peninsula-style bar, the finishing kitchen churns out food using an electric griddle with a ventless hood, a microwave convection oven, a cold prep table and workspace. An undercounter dishmachine and ice machine adds to the bar's self-sufficiency.
"The complexities of a hotel, especially a big one such as The Westin Anaheim Resort, are fascinating," Callnin says. "There are so many different aspects to the whole of hotel operations, [designing really becomes like solving] a Rubik's Cube. Despite the challenges of the corridors and the elevators, I think we were able to achieve a layout that is both efficient and functional."
Facts
THE WESTIN ANAHEIM RESORT
ANAHEIM, CALIF.
SEGMENT: Lodging
OPENED: June 2021
HOTEL CAPACITY: 618 guest rooms
CONSULTANTS: Sean Callnin, executive principal; Min An, principal in charge, and Tommy Wuyek, project manager (both in Los Angeles), Ricca Design Studios, Denver
DEVELOPER: Wincome Hospitality, Anaheim, Calif.
ARCHITECTS: Michael Hong Architects (design architect), Long Beach, Calif.; HED (executive architect), Los Angeles
INTERIOR DESIGN: Cobico Inc., Gordon Valley, Calif.
DEALER: TriMark Orange County, Irvine, Calif.
WEBSITE: westinanaheim.com
Equipment
MAIN KITCHEN
• Hobart floor mixer, 20-qt. mixer, 5-qt. mixer, slicer
• Jade spreader, 4-burner range, griddle, broiler, refrig. base, salamander
• Cleveland steam-jacketed kettle, tilting skillets
• Revent deck oven
• Pitco fryers
• Baxter rotating rack oven, roll-in proofer
• Manitowoc ice makers
• Follett ice bins
• Pentair Everpure water filtration system
• Continental u/c refrig.
• Irinox blast chiller
• FWE heated banquet carts
• ThermalRite walk-in coolers, freezers
• Hatco overhead food warmers
• Gaylord hoods
• Blodgett convection oven
• Alto-Shaam combi oven
• Robot Coupe food processor
• Carter-Hoffmann Queen Mary cart
• Vollrath vacuum sealer
• Mars air curtain
TANGERINE ROOM KITCHEN
• Rational combi oven
• Blodgett convection oven
• Cleveland convection steamer w/stand
• OptiPure water filtration system
• Jade French top w/convection oven, 6-burner range, salamanders, 4-burner range, refrig. base,charbroiler, griddle
• Pitco fryer battery, dump station
• Gaylord hood
• Traulsen reach-in freezer, cold prep tables
• Hatco overhead food warmer
• Fisher filler faucets
• Vollrath bain marie hot drop-ins
• Alto-Shaam u/c hot holding cabinets
BUFFET LINE
• BSI food shields
• Atlas frost tops
• CookTek u/c-mount induction heaters
• Traulsen u/c refrig.
• Vollrath induction cooking cart
ROOM SERVICE
• Traulsen reach-in refrig., u/c freezer, u/c refrig., cold prep table
• Hobart slicer, food processor
• Panasonic microwave oven
• Hatco conveyor toaster
• Waring waffle irons, panini grill
• Vollrath drop-in soup wells
WAREWASHING/BOH SUPPORT
• Manitowoc ice machine
• Pentair Everpure water purification system
• Salvajor scrap collectors
• Hobart rack-conveyor dishmachines, hoods, blower dryers
• T&S Brass hose reel, pre-rinse faucets
Editor's note: This list represents only a portion of the equipment at The Westin Anaheim Resort.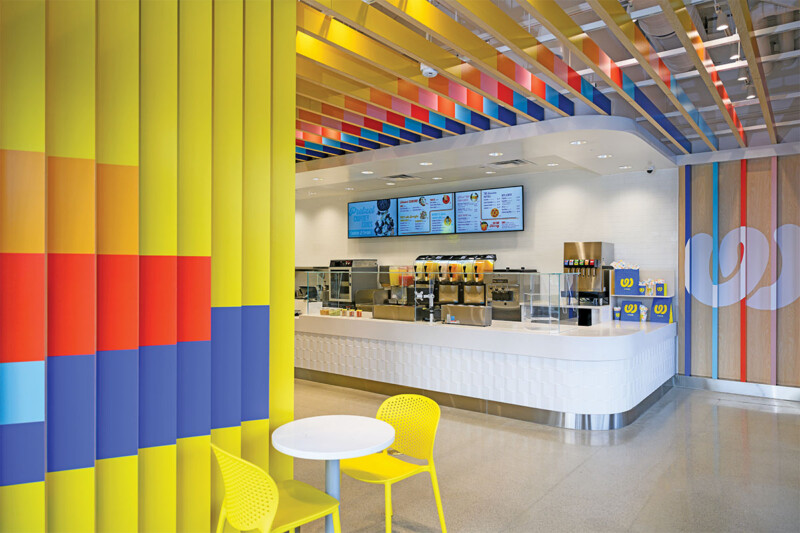 Kitchen Design
Wetzel's Pretzels, the multiunit bakery of shopping mall fame, now offers its soft pretzels and more at street-side through its latest concept.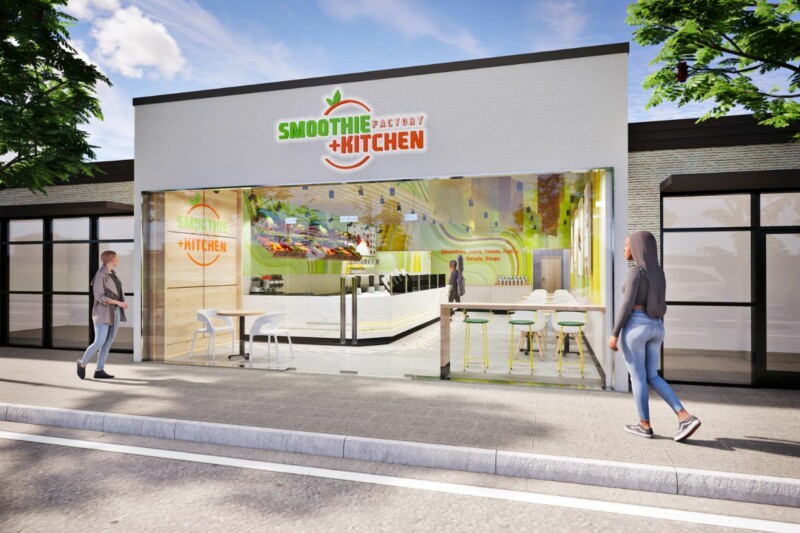 Design Trends
Originally a juice bar concept, the brand will lean on this equipment to offer guests grilled "folds," toast options and salads.