Super-Automatic Espresso Machines Step Up
Intuitive and efficient, super-automatic espresso machines deliver a variety of popular espresso-based drinks.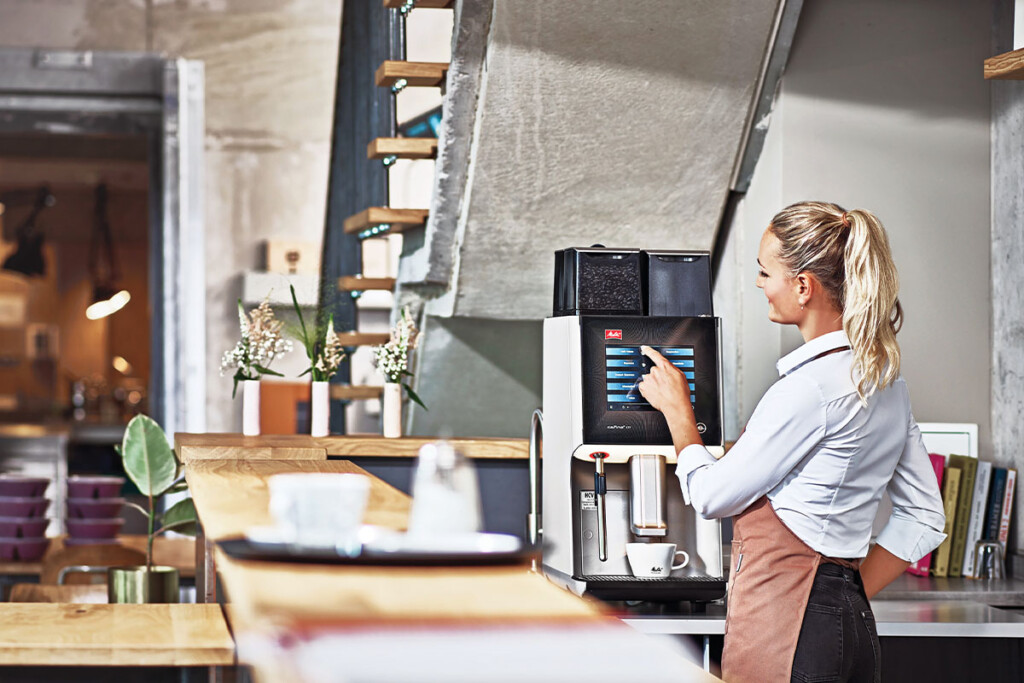 It wasn't just bread people decided to make at home during the COVID-19 pandemic. According to the National Coffee Association, Americans also experimented with different types of coffees and new preparation methods, many trying to replicate their favorite coffeehouse brews in their home kitchen. The interesting thing is this trend may have helped fuel the growth in specialty coffee sales. The association's fall 2021 report found specialty coffee consumption up nearly 50% in the United States, as compared to 2020, with 49% of those ages 25-39 reporting having had a specialty coffee within 24 hours of taking the survey.
"What we've seen is that as people are experimenting with different types of blends, roasts and types of preparation in their own homes, when they leave the house they want something different than what they experience at home," says one manufacturer of espresso machines. "This might mean a preparation type that is more challenging; for example, it's harder to froth almond milk well, so it might be they order an almond-milk latte when out." This is great news for the foodservice industry, providing an opportunity for new menu offerings of premium- priced specialty coffee drinks.
Combined with the labor shortages in the industry, the current coffee climate makes an ideal opportunity for the super-automatic espresso machine. This one piece of equipment takes on the entire process of creating specialty coffee drinks, from grinding the beans and tamping the coffee to pulling the shot and foaming the milk. User-friendly touch screen menus make it easy to produce a wide variety of high-quality espresso drinks, from lattes and cappuccinos to mochas and macchiatos, eliminating the need for a specially trained barista and allowing for self-serve options as well.
The ease of use makes super-automatic espresso machines a fit for a wide variety of operations, including convenience stores, quick-service restaurants and fine-dining establishments. As drive-thru services become more popular they're also making inroads in traditional coffeehouse settings, where a barista helps create the theater and adds to the atmosphere for dine-in customers while the super-automatic espresso machine takes care of the off-premise traffic.
QUALITY AND CONSISTENCY
While traditional coffee shops rely on a talented barista to create high-quality coffee drinks with each shot, super-automatic espresso machines use mechanical controls to ensure a perfect drink every time. One manufacturer's extraction process constantly makes adjustments, taking into account factors such as the rate at which water flows through the coffee bed. This ensures uniform pressure distribution on all the coffee grounds during the entire extraction time. Another manufacturer created a system that recalibrates the grind size as the grinding discs wear to maintain consistency from the first cup to the thousandth.
Milk-foaming capabilities provide a place for differentiation among super-automatic espresso machines. Where two-step or automatic espresso machines require a barista to manually foam milk with a frother or use a separate wand attachment, super-automatics go all the way with foaming the milk. Many manufacturers use steam to produce a frothy concoction. One company has taken the milk foaming process to a new level, creating foam without steam by getting into the cold milk with an undisclosed technology that results in a frothier, more consistent end-product.
One manufacturer's extraction process constantly makes adjustments, taking into account factors such as the rate at which water flows through the coffee bed to ensure uniform press.
NEW CONNECTIONS
Many super-automatic espresso machines boast touch screen menus with images and instructions to easily create a drink, whether it's in a self-serve location or behind the counter. Some manufacturers even offer the ability to customize those screens for branding purposes.
Now manufacturers also are getting on board with the Internet of Things, with some already offering connected devices and others planning to roll them out in early 2022. Super-automatic espresso machines with connectivity capabilities bring many benefits, including the ability to update software, push new menu options to multiple machines at once, and monitor data such as the number of drinks made per hour, what types of drinks are most popular at specific locations and how often the machine is being cleaned. Use data to create location-specific menus or specials. For example, by monitoring sales and weather patterns, you might see a correlation between hot days and sales of iced coffee, then create a promotion around it. The monitoring can even help catch maintenance issues before they become a larger problem, avoiding downtime for equipment repair.
One of the newest features introduced in 2021 allows customers to conduct their entire drink order and payment process without touching the machine at all. The customer scans a custom QR code on their smartphone or tablet which allows for contactless order and payment, without having to download an app.
EXPANDING VARIETY
As customers' taste preferences grow, so does the need for more flexibility within super-automatic espresso machines. Iced coffee sales continue to rise, and manufacturers have responded with new options. A cold-water bypass allows machines to produce lukewarm rather than hot coffee so the flavor isn't diluted when the drink is poured over ice. Another manufacturer offers a feature bypassing the steam function and instead uses aeration to froth the milk for iced drinks to reduce the temperature.
Flavor is another important feature of specialty drinks, and in addition to the traditional powder and syrup options, you can choose a machine that infuses syrup directly into the milk. By changing the chemical composition of the milk, the flavor doesn't separate, allowing for a more consistent product.
Outside the specialty coffee market, many customers still prefer a traditional cup of coffee, a hot tea or even hot chocolate. One super-automatic espresso machine launched this past summer can do it all, using a certain brew unit to create traditional-style coffee in the same machine that makes espresso drinks. This machine also features a separate hot-water spout to allow flexibility for making tea.
Look carefully at customer traffic when selecting what size machine you need.
MAKING THE CHOICE
There are many different options to consider when choosing a super-automatic espresso machine. Flavor can be in the form of powders, syrups or sauces, different sizes of machines allow for two, four or six flavor options, and some have one refrigerated milk compartment while others have two. The first step in deciding the best machine for your operation is to look carefully at your customer traffic. The number of cups you need to make per day will play a large role in deciding the appropriate size machine. If you have a big rush at a certain time of day, consider how fast the machine creates drinks in addition to how many it can make per day.
Then ask yourself, what menu items do you want to serve, and what drinks do your customers prefer? For example, two milk compartments allow the ability to offer a plant-based milk alternative. If your customers range in age from teens to baby boomers, you might choose the machine that provides traditional coffee as well as espresso, to accommodate older customers who prefer black coffee as well as the younger ones reaching for iced cappuccinos year-round.
Other factors to consider include:
SPACE. Look at the footprint of different machines before plunging into your purchase. Keep in mind that while larger machines take up more space, they often can create a wider variety of drinks, eliminating the need for separate machines for tea, hot chocolate and other drinks.
LOCATION. Super-automatic espresso machines need to be near a water and energy source. Make sure you know where you will place it before drilling holes into a counter.
SERVING SIZE. Some machines specify certain serving sizes while others can be flexible. It's important to know the size of your cups before purchasing a machine that produces only 8-, 12- or 16-ounce drinks when you have a 10-ounce cup.
There is one caveat to remember: While convenient, super-automatic espresso machines aren't a plug it in and forget about it item. If not cleaned regularly, you risk compromising the flavor and quality of both the milk and coffee portions of the drinks. Luckily, most have relatively simple and quick clean-in-place solutions that are easy to do on a daily basis. As with any type of equipment, proper training allows you to get the most return on your investment.
Fresh Fixings
Super-automatic espresso machines gain smarts and flexibility to keep up with coffee lovers' varying palates.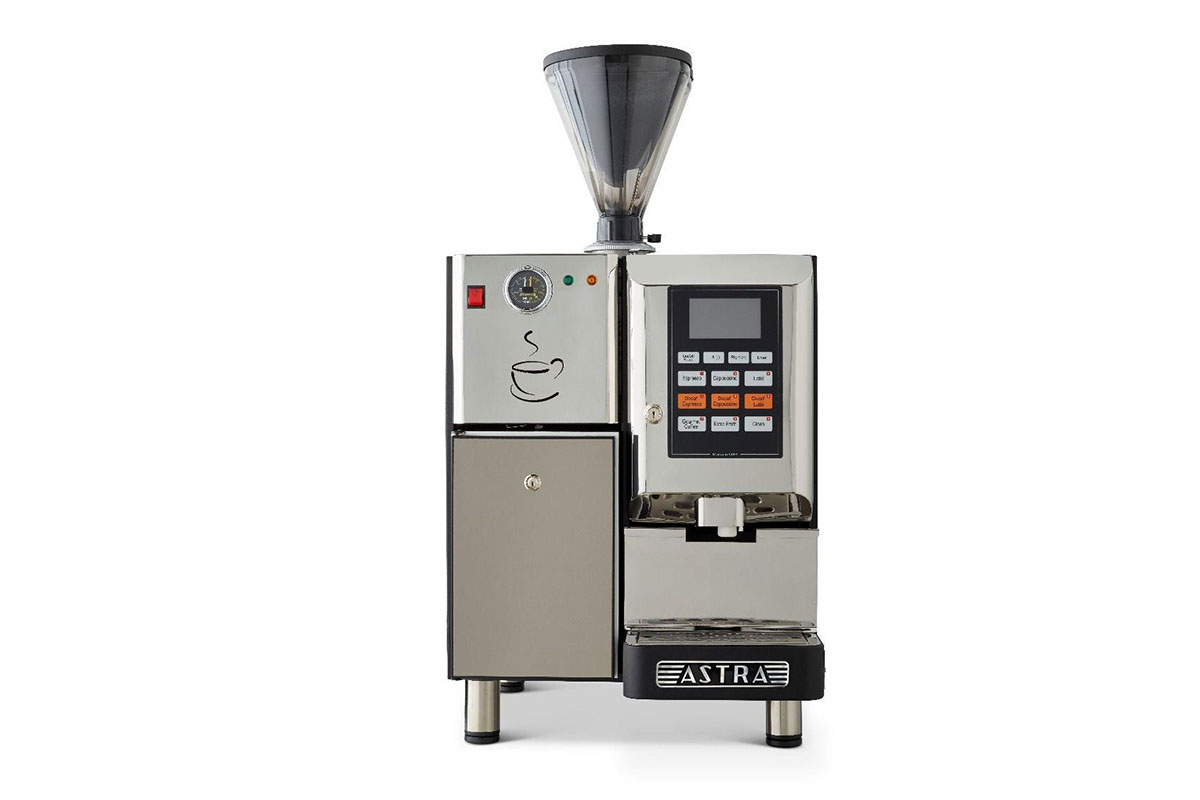 Astra
MODEL: SM222
DIMENSIONS: 13-in.W x 23-in.D x 38-in.H
FEATURES: Make up to 14 different drinks at the touch of a button. Automatic clean and rinse cycles activate every 15 minutes and after every drink. A fully integrated refrigerator keeps the dairy line enclosed to avoid clogging and breeding of bacteria.
WEBSITE: astramfr.com 
---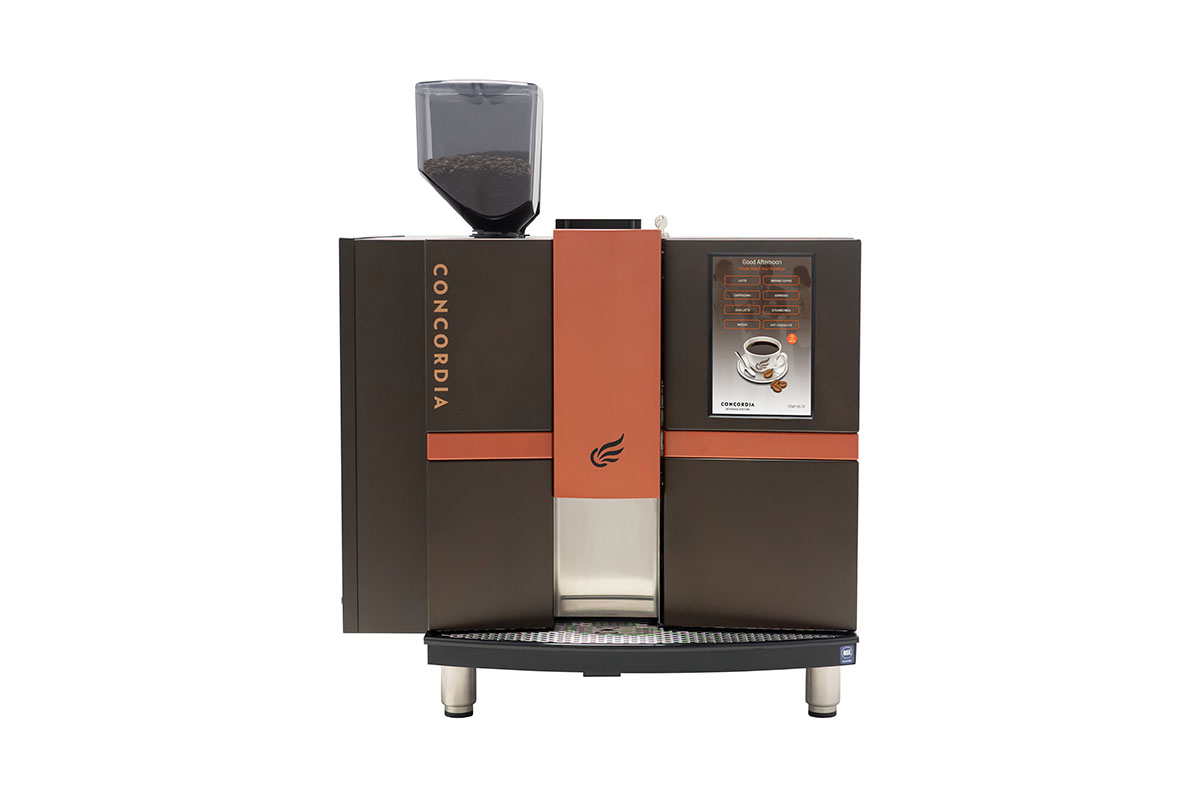 Concordia
MODEL: Xpress Touch 6
DIMENSIONS: 30-in.W x 30-in.D x 36½ -in.H
FEATURES: Stow two types of espresso, two containers of milk and six flavor syrups, then allow customers to explore over 1,000 possibilities, hot or iced. Use the touch screen to activate a 10-minute daily cleaning cycle.
WEBSITE: concordiacoffee.com
---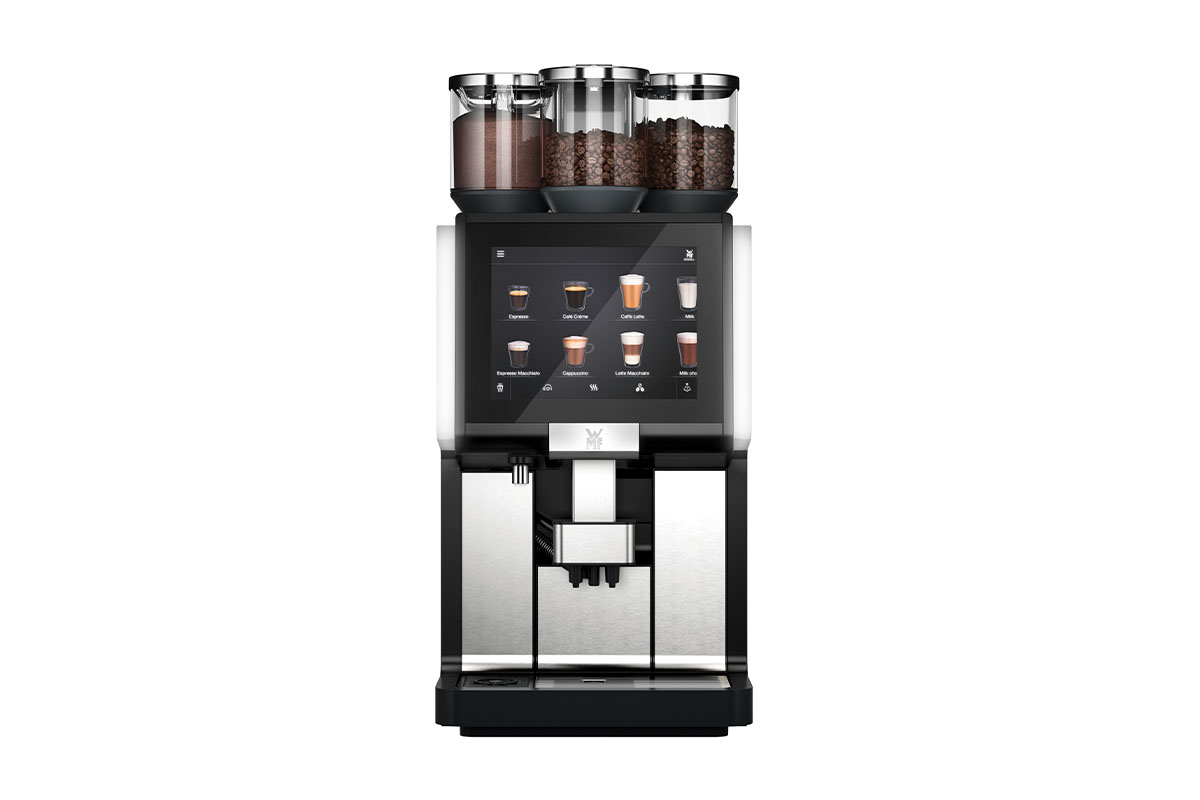 WMF
MODEL: 5000 S+
DIMENSIONS: 12 4/5 -in.W x 23 1/5 -in.D x 32 1/5 -in.H
FEATURES: This machine produces four variations of hot milk foam and three types of cold milk foam as well as offers two grinders and an optional powder hopper. The grinder and brewing flow auto-adjusts, and cleaning cycles run automatically.
WEBSITE: wmf-coffeemachines.com
---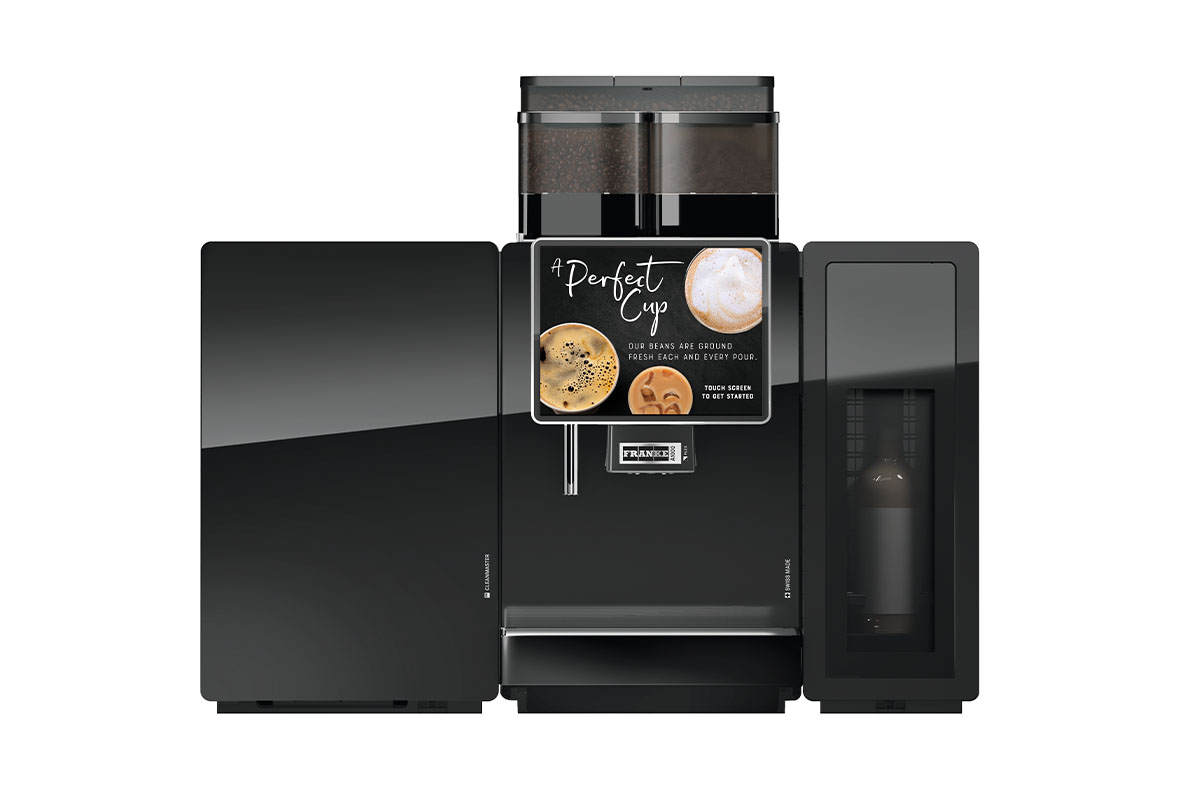 Franke
MODEL: A1000 Flex
DIMENSIONS: 34 7/10 in.W x 23 3/5 -in.D x 33½ -in.H
FEATURES: Deliver hot or iced coffee and lattes via three boilers, a built-in foaming unit, and options for six flavors and two types of milk. An automatic cleaning process, touch screen, a hot water spout and three grinders round out the A1000 Flex. Options include a four-tray cup warmer or a payment system that takes card and NFC payments.
WEBSITE: franke.com
---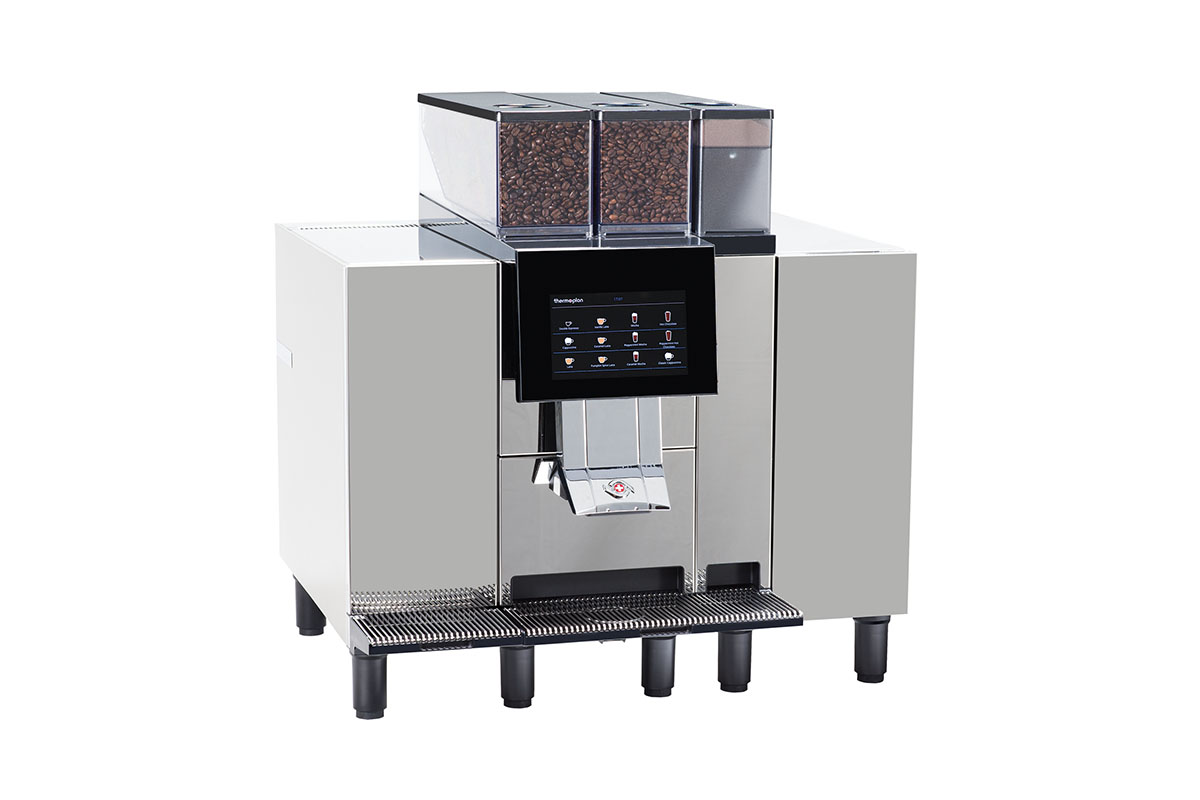 Bunn
MODEL: BW4C CTM P-F-RS Superautomatic Espresso
DIMENSIONS: 26-in.W x 23 3/5 -in.D x 26 3/5 -in.H
FEATURES: Unlock various hot or cold espresso-based beverages with two grinders and room for four flavored syrups, a chocolate powder option and one type of milk. Use the touch screen to initiate daily and weekly cleanings.
WEBSITE: commercial.bunn.com
---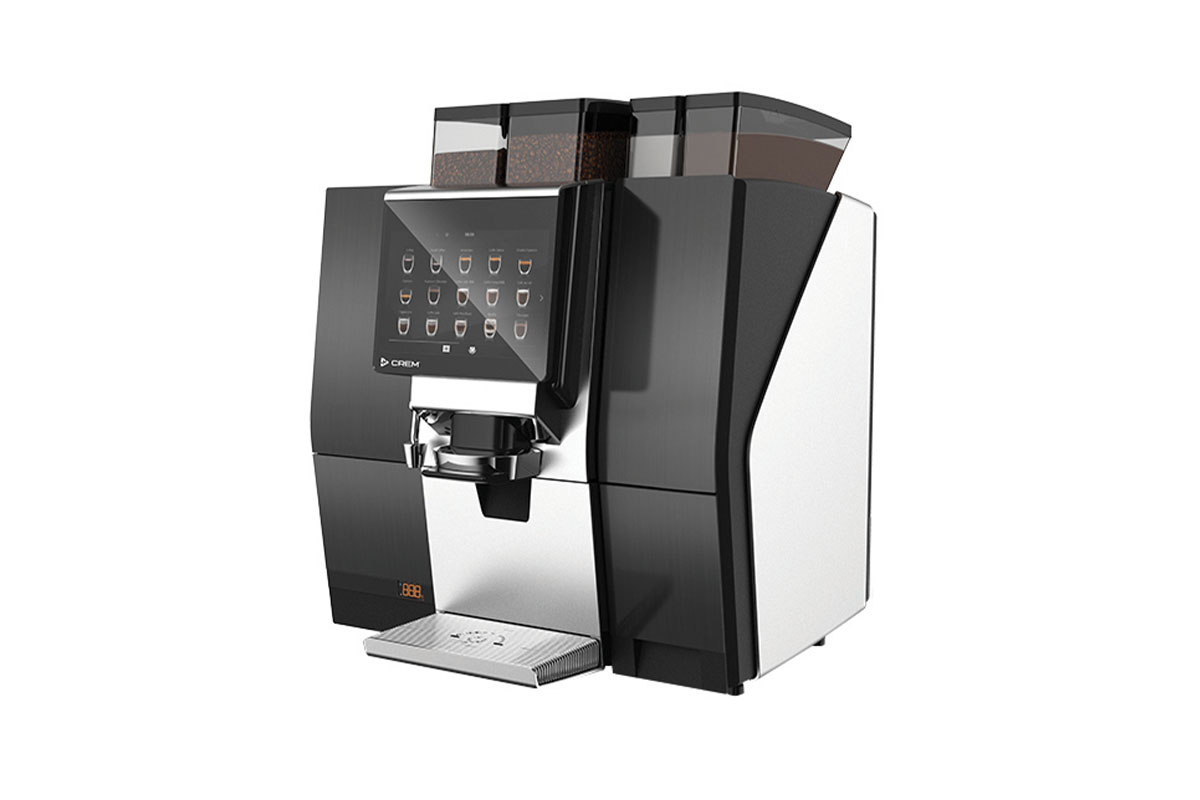 Crem
MODEL: Unity 1+
DIMENSIONS: 23 7/8 -in.W x 22 7/8 -in.D x 29 1/8 -in.H
FEATURES: With two separate brewing systems, two grinders and a choice of two beans, filter coffee and espresso-based drinks are all within reach. A fresh milk foaming system uses new technology to make wet and dry foam without steam. Tap the touch screen for cleaning and more.
WEBSITE: crem.coffee
---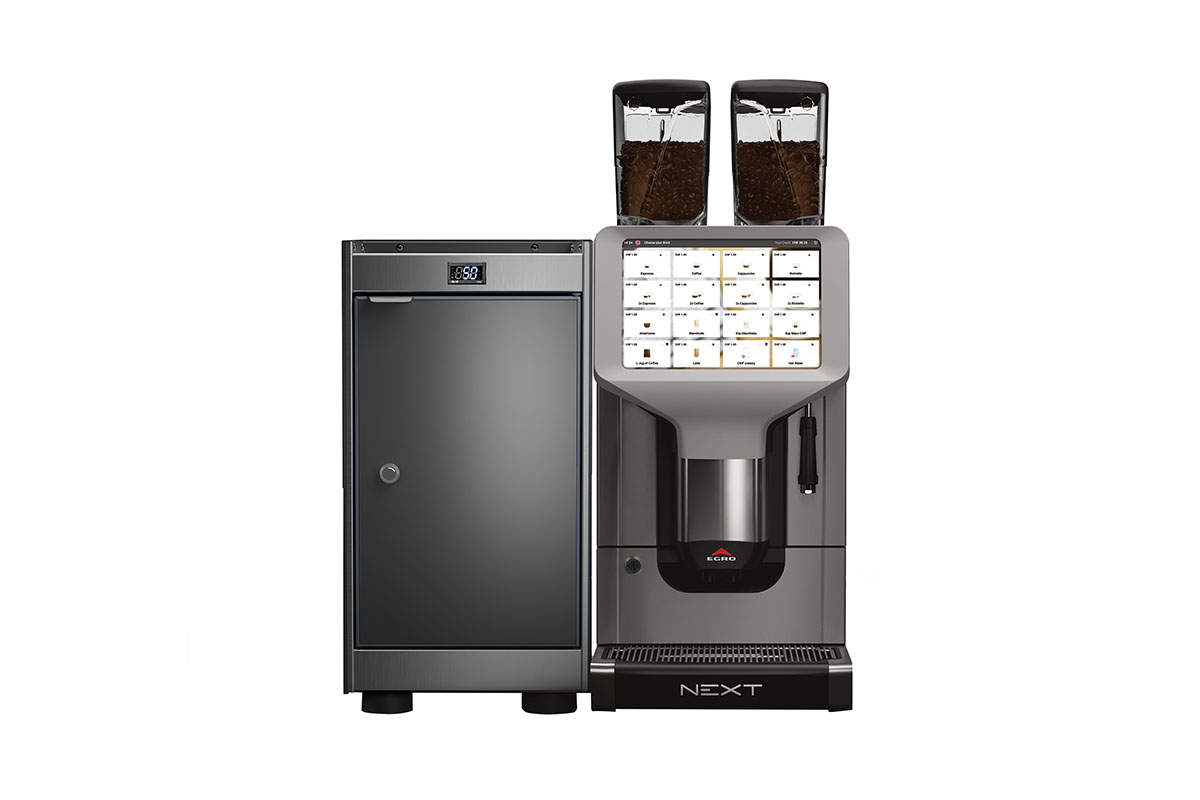 Egro
MODEL: Next Top Milk
DIMENSIONS: 24-in.W x 23-in.D x 31-in.H
FEATURES: Dual self-adjusting grinders, two milk choices, two flavor powders, a customizable display, and an automatic milk line rinsing and brew system flush are among this models' components. Options include an undercounter grounds chute, intelligent steam wand, cold milk foam and more.
WEBSITE: ranciliogroupna.com
---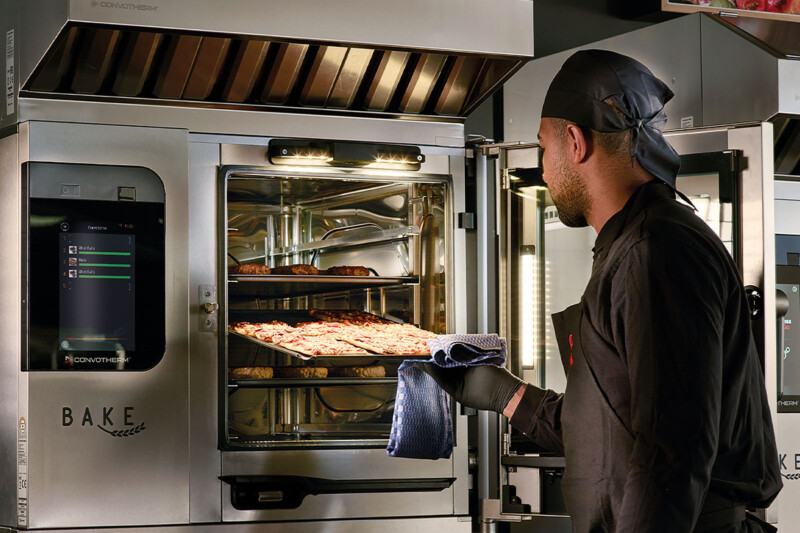 Combi Ovens
Today's combi ovens are smarter and more energy efficient, reducing the need for skilled labor and cutting utility costs.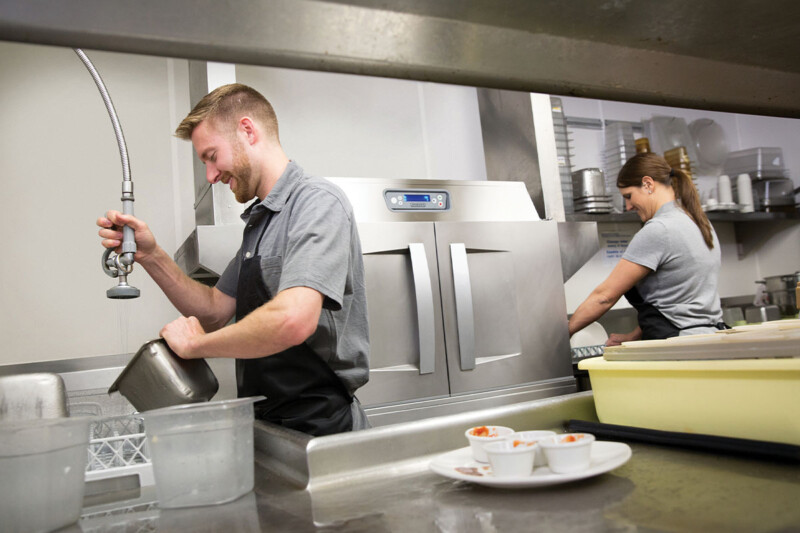 Equipment Comparisons
Forget steamy dishrooms; some of the newest rack conveyors improve environmental comfort and reduce overhead costs.