Training Grounds: Inside Roper Mountain Science Center's Dining Facility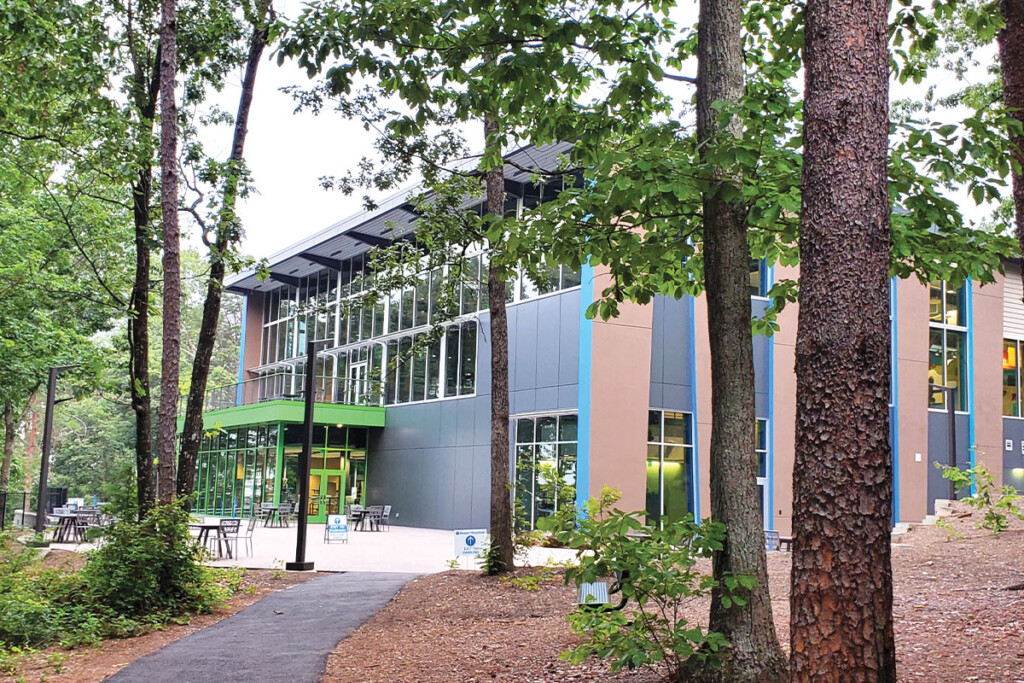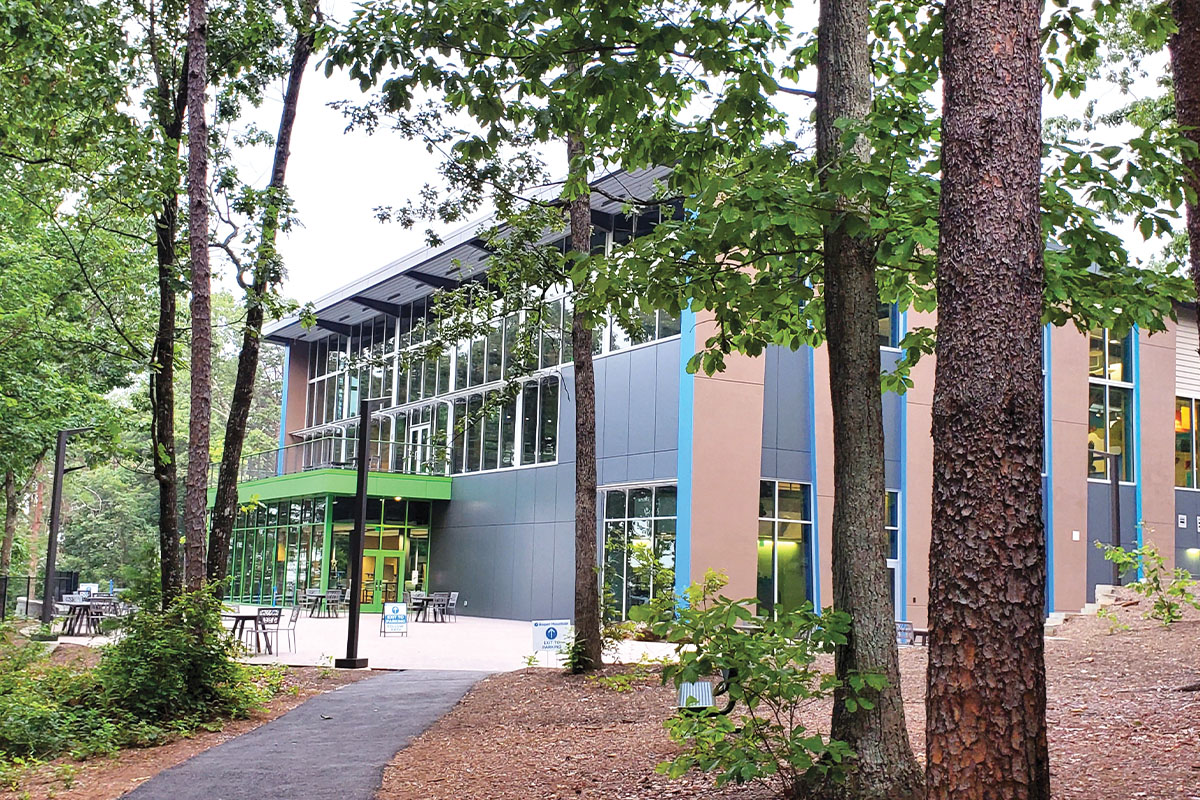 Surrounded by realistic-looking dinosaur statues and practically under the shadow of an observatory, the new dining facility at Greenville County Schools' Roper Mountain Science Center serves a dual mission: provide freshly prepared meals to groups on field trips while offering foodservice training to the district's Special Education Services students.
The kitchen and dining area are part of the more than $15-million, 28,400-sq.-ft. Environmental Science and Sustainability Center, which opened this summer on RMSC's 62-acre mountaintop campus. Constructed by the school district of Greenville County, with exhibit and technology supported by the Roper Mountain Science Center Association, the building features classrooms and interactive learning experiences. The foodservice training program, developed as a result of a partnership between GCS' Food and Nutrition Services and Special Education Services departments, marks one highlight.
Designing the Kitchen
The design team behind the dining facility included Director of Food and Nutrition Services Joe Urban, who designed the floor plan and provided specifications for all the kitchen equipment, custom-fabricated serving lines and countertops; Jaime Benton, director of facilities and construction for GCS, and the group at architecture firm Craig Gaulden Davis.
The team began work on the project in 2017, but bumped the anticipated opening date back from June 2020 to June 2021 as a result of the pandemic.
The kitchen covers 2,000 sq. ft. and serves a 160-seat dining room. In a perfect world, Urban would have liked more back-of-house space to expand learning opportunities. "Size constraints of the facility itself meant we had to pare the kitchen down to meet the footprint," Urban says. "It's a big facility but not quite large enough to have the size kitchen I wanted."
The smaller-than-ideal kitchen has made pandemic-imposed social distancing more of a challenge as well. Staff members and students rely on designated jobs and work stations to maintain recommended distances.
With the start of the fall school year, the department expects to serve about 300 meals daily in the dining room and supply another 200 to 300 meals through the RMSC food truck. The location ramped up after its June opening by serving as a site for the district's free summer meal program.
The kitchen shares the same types and brands of equipment being used district-wide. That way most of our students should be ready to work at any of our schools, or in a commercial kitchen."
—Joe Urban, Greenville County Schools
RMSC's daily meal count is a drop in the proverbial bucket compared to district-wide numbers. "In total, we serve 80,000 daily meals across the district," Urban says. "RMSC accounts for less than 1% of that." That said, if the kitchen were to operate longer hours, it would easily have the capacity to turn out up to 2,000 meals daily.
The RMSC menu features chicken sandwiches, burgers, entree salads made daily with locally sourced vegetables and fruit cups prepared fresh each morning. Unlike rotating menus of other district schools, the RMSC menu never varies, since "we see different children every day," Urban says of the field trip destination.
The kitchen's rectangular layout features cooking equipment along one long wall, cold-side equipment along the other and prep tables in the center. The hot line features four convection ovens (double-stacked), a tilting kettle, a tilting skillet, a heated cabinet and a pair of single-hob burners, which were added after opening to provide more cooking flexibility for catered events.
The cold line holds a pizza prep table, work table and ice machine, which was shifted after the facility opened to make room for a microgreens growing cabinet. A walk-in cooler, walk-in freezer, dry storage area, warewashing area and office fill the remaining back-of-house space.
A line of pass-thru hot and cold holding cabinets divides the kitchen from the 30-ft.-long serving line.
To speed service, planners mirrored the serving line. The line consists of two hot display cases, two sets of cold drop-in units, two POS stations and a self-service beverage display case anchoring the center.
RMSC Training Manager Amanda Drew oversees the microgreens growing cabinet. She began using the cabinet in 2018, when the district became one of the first in the country to add the equipment. The cabinet comes from her previous school post; a crew moved it over to the RMSC when she accepted the new position.
"The lighting and automated watering cycles help seeds grow to edible size in three to five days," says Drew, who sprouts everything from basil, parsley, kale, sunflowers, arugula, cabbage and more as garnishes for both RMSC salads and the district's catering needs.
"We can harvest up to four 10-inch by 20-inch trays daily," Drew adds. "If we were to buy microgreens at a farmers market, it would cost about $15 per tray."
Training Program
Each quarter, up to nine students from Special Education Services will work alongside and learn from the five RMSC kitchen staff members. Candidates are vetted in advance, and most have interned at their own school's kitchen before being accepted into the program. Participation in the nine-week course will help students earn the South Carolina Employability Credential, which will aid them in job hunting after graduation.
"Nutrition services has been collaborating with our special ed department for years, providing students training opportunities within their own schools as part of their curriculum," adds Urban, whose wife oversees prekindergarten Special Education Services for GCS and whose daughter serves as an instructor for the department.
The training program runs 9 a.m. to 2 p.m., five days a week. "We don't treat our special ed students differently from any other employee," Drew says. "Students assist in meal prep, cooking, serving, cleanup and also putting up stock. They learn all the safety procedures. The biggest thing is, they build relationships and learn to be part of a team, which is new for them. Then they really start to bloom."
"The district's goal is to hire as many of our special ed students as possible," Drew adds. "The RMSC kitchen has really given us an opportunity to ramp up the program."
Positive Impact
Urban says one student's mother became emotional when she talked with him. "She said she didn't have a lot of family, and that she was so relieved her child now had a way to earn a living," he says. "No one's getting rich working for the school district, but it does provide a living wage with life insurance and retirement benefits."
---
FACTS
ROPER MOUNTAIN SCIENCE CENTER GREENVILLE COUNTY SCHOOLS
MENU/SEGMENT: K-12 foodservice
LOCATION: Greenville, S.C.
OPENED: June 2021
SIZE: 2,000 sq. ft. (kitchen); 3,000 sq. ft. (dining area)
SEATING: 160
EQUIPMENT PACKAGE: $325,000
GREENVILLE COUNTY SCHOOLS: Joe Urban, director of food and nutrition services, and Jaime Benton, director of facilities and construction
ARCHITECT: Craig Gaulden Davis, Greenville, S.C.
DEALER: Beltram of the Carolinas, Greenville, S.C.
WEBSITE: ropermountain.org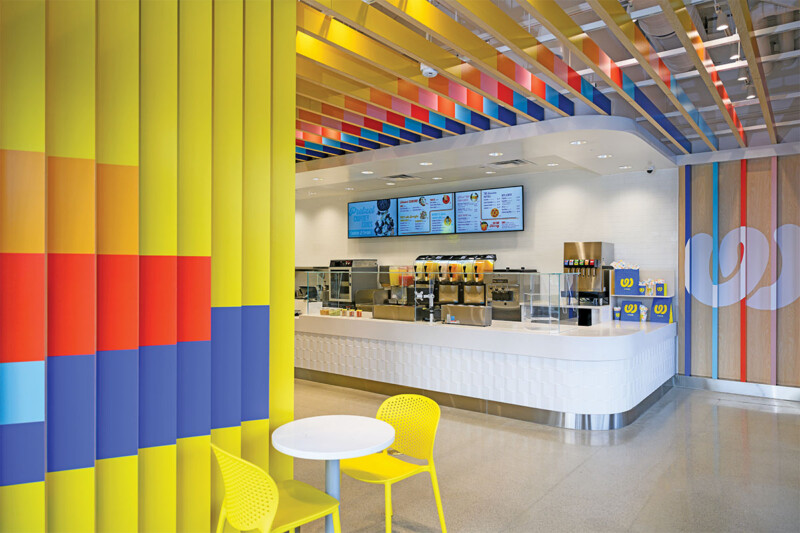 Kitchen Design
Wetzel's Pretzels, the multiunit bakery of shopping mall fame, now offers its soft pretzels and more at street-side through its latest concept.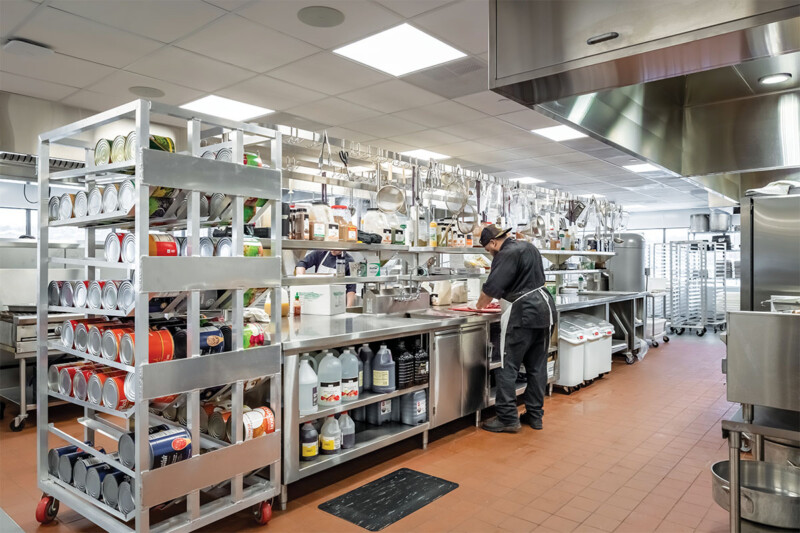 Kitchen Design
Open Arms of Minnesota—a volunteer-powered, nonprofit organization that provides meals to critically ill Minnesotans—needed more room.