UMass Amherst Offers a World of Flavors
Worcester Commons combines authentic menus and equipment, future-forward layouts and multitasking platforms to offer an unforgettable dining experience.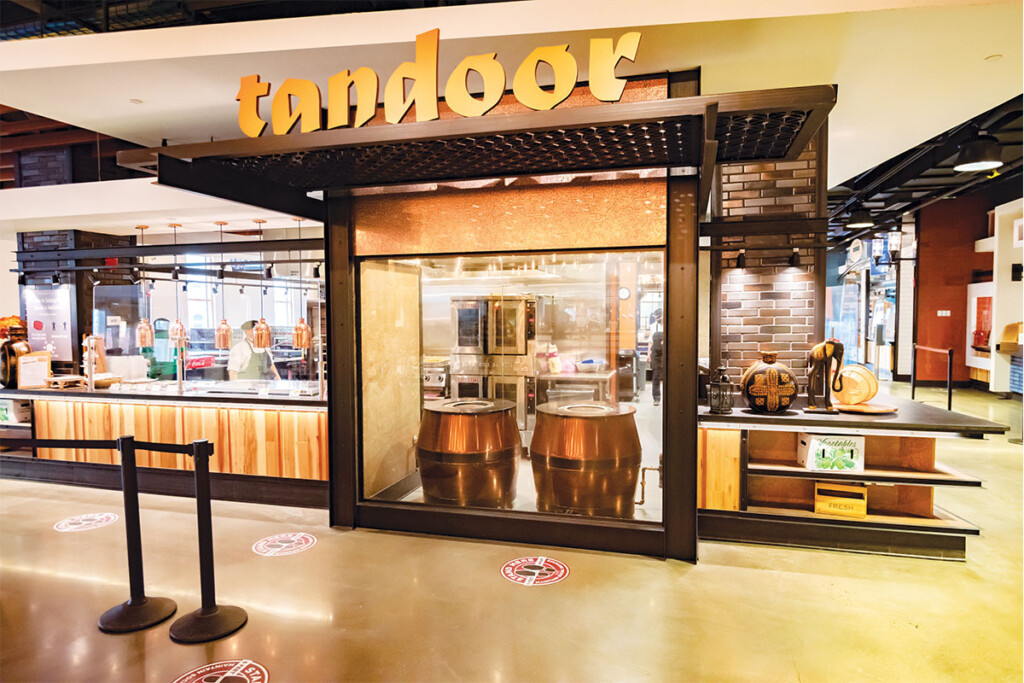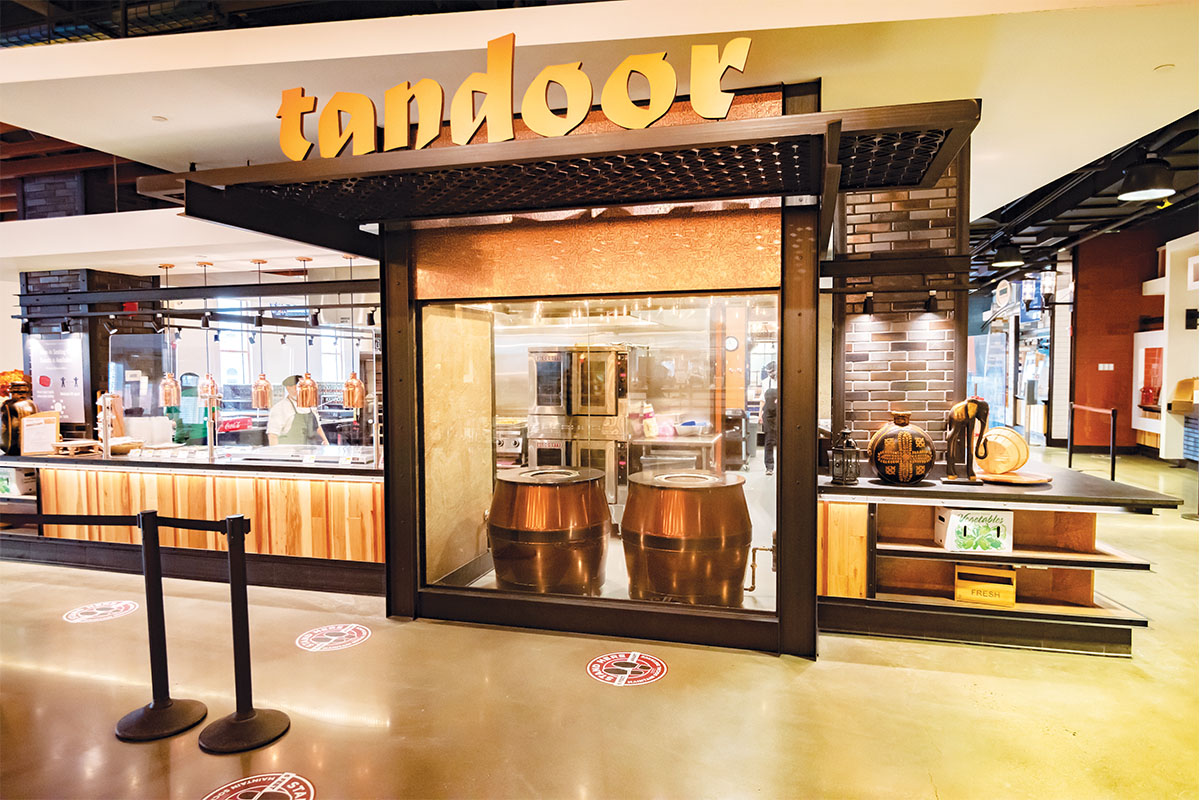 The challenge of developing a university commons building is to provide something for all. At the University of Massachusetts at Amherst—the largest collegiate dining program, operating on a $120 million annual budget and The Princeton Review's Best Campus Food title holder for five years running—the recently opened Worcester Commons easily blows past that expectation.
The 68,000-sq.-ft. dining facility, part of a newly constructed building that is on track to earn LEED Gold certification, draws students in with foodservice on all three levels. The first floor features a retail cafe, a grab-and-go market, a bakery that supplies the entire campus, prep kitchen and cold storage. The second floor is home to the servery for students on meal plans. Modeled after a food hall concept, the servery features 12 globally inspired stations and two teaching kitchens where guest chefs will provide hands-on learning opportunities for students. The third floor holds a small restaurant and student meeting spaces.
All design work was done in-house. "This is our fourth major project at UMass Amherst in 10 years," says Director, Residential and Retail Dining Services Garett DiStefano. "Prior to Worcester Commons, we had completed about $80 million in capital work."
Common(s) Goals
The university's goals for dining at Worcester Commons centered around "creating a state-of-the-art experience for students," says DiStefano. "It's modern eating [in the form of] customizable experiences with food on display as well as food as an educational element thanks to guest chefs and a teaching kitchen."
Another goal was designing in room to grow. "We learned this from previous projects," adds Alexander Ong, director of culinary excellence. "A platform may be trendy now, but in five to eight years, it will need to change. Most of our equipment is modular so it can be moved or replaced as needed."
A third goal was authenticity, which was especially important as a result of the high number of Asian students living near the new Commons. The planning team gathered inspiration from such places as Chelsea Market and Eataly in New York City, Oxbow Public Market in Napa, Calif., and China Live in San Francisco. The university's dining department tapped into its cooking staff's global background to ensure menu and ingredient accuracy.
The Right Stuff
Authenticity governed equipment choices, as well.
The Indian-food platform is anchored by a pair of copper-clad, barrel-shaped tandoor ovens, in full view thanks to their placement behind a glass wall at the station's front corner. "The tandoor can be found across the Middle East to Armenia and Uzbekistan and beyond," Ong says. "We use these ovens for naan as well as for kebobs, ground lamb and more."
Woks, jetting out 150,000 Btu of firepower, are custom-made by the same Brooklyn, N.Y., company that supplies Panda Express. The high-powered woks can be found on the first-floor retail cafe and at food hall stations on the second level. "Our previous woks [at the old Worcester Dining Commons] weren't powerful enough," Ong notes. "These new jet burners ensure that food cooks fast, sears well and has wok hei (breath of the wok)."
A cerulean blue, dome-shape brick pizza oven imported from Italy anchors the pizza/pasta station. Designed for high-volume pizza production, the oven's rotating interior platform can bake up to 12 8-in. pies at once.
All of the stations incorporate glass walls around cooking areas to showcase chefs and allow students to watch their food being made. "We wanted our servery to be a model for the retail world, not just follow what retail is doing," Ong adds.
Food Hall's Big Three
Most of the Commons' culinary action takes place on the second floor in the food hall. The 25,000-sq.-ft. area features three freestanding, multiconcept platforms.
The first platform, anchoring the corner spot in the food hall, is perhaps the most versatile. It houses two food stations—Bowl (noodles) and Nori (sushi)—and on its opposite side is Inspiration Kitchen, an amply equipped teaching kitchen. Thanks to a dedicated seating area that the department can secure by glass doors and walls, the area can remain open during off-peak times, such as between semesters when some students still live on campus. The department also uses this spot for hands-on Baking and Cooking 101 university classes, as well as special events, guest chefs and a "living food laboratory" for recipe testing. "Whatever function the platform operates as, you get the feeling it was designed just for that purpose," DiStefano says.
Cocina Latina serves as a second platform. At the front of this U-shaped area, a griddle holds the centerstage spot with hot/cold food wells as supporting actors for the Latin-themed menus. And at the back of the platform is an area that focuses on breakfast egg dishes before noon, and after that doubles as a pastry teaching space with room for as many as 30 to watch and learn.
The third platform at the center of the food hall is another three-in-one area. On one end sits the popular Tandoor station with its eye-catching twin ovens and menu of Halal-certified foods. On the opposite end of the platform is a traditional grilling station with a charbroiler, fryers and a display cooking griddle. Along the side, facing the entrance, is the salad bar. In the center, side-by-side reach-ins and prep space support the platform's three stations.
Along the food hall's long wall, are a line of seven additional food stations— Glacier (desserts), Bakery, Acqua e Terra (pizza/pasta), Seasons (vegetarian/gluten free), Wok, Street Food (South Asian dishes) and Beverages. A support kitchen, prep area and dishroom back these stations. A walk-in cooler and freezer hold prepped food brought up from the first-floor main kitchen.
COVID Complexities
Planning for the project launched in summer 2017. Construction began in summer 2019. By the following March, with the onset of the pandemic shutdown, crews had largely completed the building's inner workings.
"The construction crews continued under CDC parameters," DiStefano says. Design updates were carefully thought out to avoid permanent solutions to temporary problems. "We made adjustments to allow for social distancing, shifted to disposable ware instead of reusable, installed large plexiglass shields, created new signage and adjusted traffic flow, to name a few changes."
Worcester Commons opened in October 2020, only two months behind schedule, DiStefano says. "When students returned to campus, dining was basically their only activity, and Worcester Commons was the only food hall that was open. We focused on providing high-quality, authentic food—but now it's packaged to-go."
At press time, UMass Amherst's student population continued to be limited as a result of the pandemic. Although the Commons has the capacity to serve up to 12,000 meals per day, traffic remains about 50% of what it could be. "Campuswide, our spring 2021 meal plan has only about 6,500 students, compared to typical years where we have 25,000 students on meal plans," DiStefano says.
The pandemic has, however, provided a sort of silver lining. "Ordinarily, you would never get a chance to beta-test a dining facility like this one due to sheer volume [once it opens]," DiStefano says. "The fact that we opened to 1,000 students instead of 14,000 students allowed us to really take in and then act on feedback. Then we had two months over the winter break to go back in and retool where needed." This included tweaking exhaust systems, leveling a section of flooring, recalibrating ovens and staff training.
The Road Ahead
Both DiStefano and Ong see the Commons as offering more than just food. Students studying from home during the pandemic have requested recipes for favorite UMass menu items. The dining team responded with an online "Cooking at Home" video series, developed and filmed in the Commons' teaching kitchen.
The Commons' impact will carry on much longer. "Students carry their campus dining memories throughout their lives," DiStefano says. "It's not a stretch to think that today's graduates may want to come back to UMass one day and use the Commons to host future life events, with our high-end cuisine and skilled chefs."
FACTS
WORCESTER COMMONS UNIVERSITY OF MASSACHUSETTS AMHERST
MENU/SEGMENT: College and university
OPENED: October 2020
ENROLLMENT: 22,660 undergraduates
COST PER MEAL: Breakfast $8.50; Lunch $11.50; Dinner $14.50
SIZE: 25,000 sq. ft. (first floor); 25,000 sq. ft. (second floor); 18,000 sq. ft. (third floor)
SEATING: 250 (during pandemic); 1,000 (normally)
EQUIPMENT PACKAGE: $1.5 million
FF&E PACKAGE: $3.8 million
UMASS AMHERST: Pamela Adams, director, bakery operations and executive pastry chef; Robert Bankert, executive chef, residential dining; Garett DiStefano, director, residential and retail dining services; Alexander Ong, director, culinary excellence; Ken Toong, executive director, auxiliary enterprises; Timothy Woods, manager, Worcester Commons
ARCHITECT: Perry Dean Rogers Partners Architects, Boston (exterior); Connor Architecture, Lexington, Mass. (interior)
WEBSITE: umassdining.com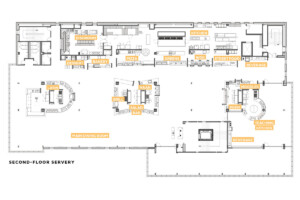 Servery Key Equipment
THROUGHOUT
• Eagle Group work tables
• T&S Brass faucets, nozzles
• LTI hot/cold food wells
• Advance Tabco hand sinks
• CaptiveAire hoods
COCINA LATINA
• Hatco decorative lamps, heated shelf food warmer
• Vitamix blender
• Garland/Welbilt 6-burner range, charbroiler, griddle
• Robot Coupe Blixer
• Pitco/Middleby fryer, fry dump station
• Traulsen/ITW FEG refrig. bases, roll-in refrig., u/c refrig.
• Electrolux Professional panini grill
• Tortilla warmer grill (existing)
GRILL
• Hatco decorative lamps, heated shelf food warmers
• Pitco/Middleby fryer, fry dump station
• Traulsen/ITW FEG refrig. base, reach-in refrig., u/c refrig.
• Garland/Welbilt charbroiler, griddle
• Alto-Shaam low-temp holding cabinet
• Equipex ambient display case
TANDOOR
• Hatco decorative lamps, heated shelf food warmer
• Garland/Welbilt countertop hot plate
• Pitco/Middleby fryer, fry dump station
• Traulsen/ITW FEG refrig. base, reach-in refrig., u/c refrig.
• Blodgett/Middleby convection oven
• Hanson Heat Lamps carving station
• Wood Stone barrel tandoor ovens
• Alto-Shaam low-temp holding cabinet
TEACHING KITCHEN
• Garland/Welbilt refrig. base, griddle, charbroiler, countertop hot plate
• Hatco decorative lamps, heated shelf food warmers
• Pitco/Middleby fryer, fry dump station
• Traulsen/ITW FEG refrig. base, reach-in refrig., u/c refrig.
• Blodgett/Middleby convection oven
BOWL
• Caddy mobile plate/dish dispenser
• Alto-Shaam low-temp holding cabinet
• Keating pasta cooker
• Vollrath hot food well
STREET FOOD
• Hatco decorative lamps
• Town Equipment rice cooker
• Garland/Welbilt induction wok range
• Pitco/Middleby fryer, fry dump station
• Keating pasta cooker
• Traulsen/ITW FEG roll-in refrig.
• L&T Restaurant Equipment custom wok range
ACQUA E TERRA
• Hatco decorative lamps, heat shelf food warmers
• Keating pasta cooker
• Traulsen/ITW FEG u/c refrig., pizza prep refrig.
• Marra Forni pizza oven
WOK
• Town Equipment rice cooker
• L&T Restaurant Equipment custom wok range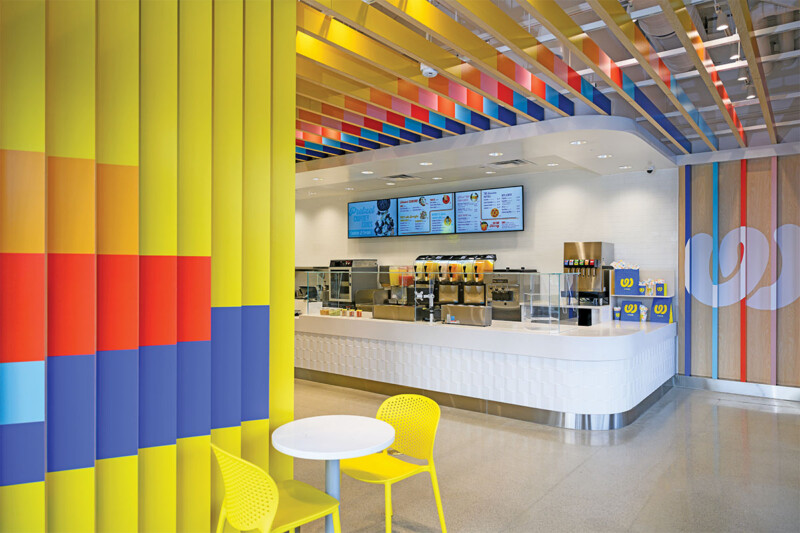 Kitchen Design
Wetzel's Pretzels, the multiunit bakery of shopping mall fame, now offers its soft pretzels and more at street-side through its latest concept.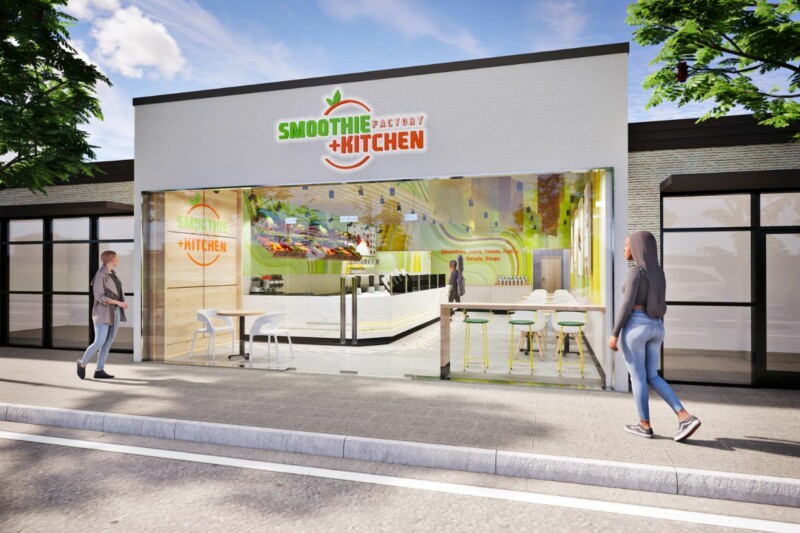 Design Trends
Originally a juice bar concept, the brand will lean on this equipment to offer guests grilled "folds," toast options and salads.