What's New With Hearth Ovens
Fully loaded with smart features, today's hearth ovens fall into a category all their own.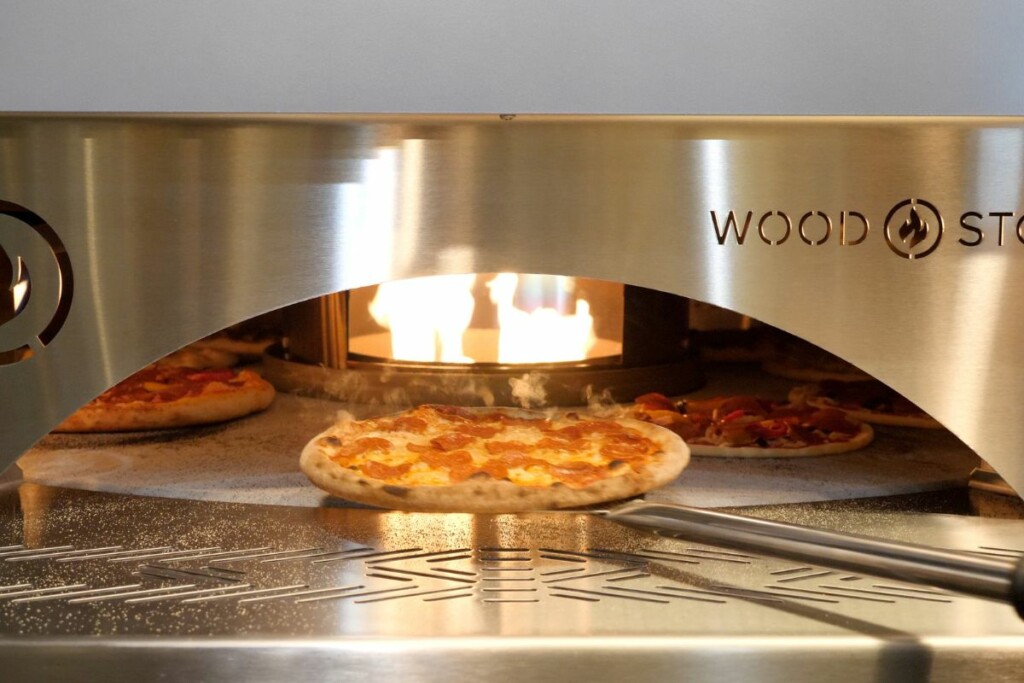 Much like how operators leaned into off-premise dining, some hearth oven manufacturers have shifted their offerings to better meet the needs of today's customers. A hearth oven once meant a wood-fired, dome-shaped oven with an arched opening to a flat bottom surface for cooking menu items, especially pizzas. It often served as a display kitchen's focal point, showcasing steel, stone, tile or brick on the outside and a visible flame on the inside.
But manufacturers continue to release models that potentially belong in different categories, some yet to be named.
In one case, a manufacturer's newest oven, launched at The NAFEM Show 2023, has a rotating floor and, through a combination of technologies, heats on demand. It knows where the pizza is and replenishes heat only where it's needed. Pizzas cook in one rotation; loading and unloading pizzas is all employees need to learn. And compared with other models with rotating floors, this oven cooks pizzas from all angles, the manufacturer says, versus one side flame.
Some hearth oven manufacturers also now offer deck-type ovens. The newest deck oven comes electric-powered and allows operators to boost throughput in the same footprint by vertically stacking cooking chambers. It comes with see-through doors. Meanwhile, another manufacturer announced in 2021 that it had redesigned its deck oven to include updated smart controls, improved heat management and a new burner design.
Overall, manufacturers have redesigned old-school hearth ovens into products that deliver the labor and energy efficiencies desperately required in today's kitchens. Here, they share the storyline of hearth ovens and how to go about selecting a model.
Heart of Hearth
Traditional hearth ovens are solid-fuel, aka wood-fired, ovens that store energy to cook, one manufacturer says. The definition started to stretch when California Pizza Kitchen hit real growth mode. The brand's first stores featured wood-fired ovens but after taking into consideration the logistics of sourcing and storing wood, training employees and duct maintenance, it opted for gas-fueled units.
Fast forward a few decades and the biggest stretch from that original definition came during the fast-casual pizza chain boom. Manufacturers looked for ways to make the ovens faster and more user-friendly for brands like Blaze Pizza, Mod Pizza and Your Pie. Eventually, touch-screen interfaces, rotating decks and electric heating elements came into play.
Now, the newest generation—labeled "rotating ovens," for example—stretch the definition even further. But bottom line, the collection typically offers the bits and pieces, like dry high heat, visible flames or an arched opening, that operators appreciate about traditional hearth ovens, just with ultra-modern features.
Selecting an Oven
Operators drawn to hearth ovens likely are in search of creating a particular guest experience, something more dramatic than a regular, everyday oven allows. Specifying a model starts with deciding what look and feel you're hoping to create. Think about fuel type too. Manufacturers offer wood, gas or coal (or a combination of these fuels) and electric options.
Next, consider your menu, volume, physical space and labor. Operators focused on producing pizza will want to test their dough in the models they're researching. Typical hearth ovens excel at Neapolitan pizzas but may not do well with thick, pan-style pizzas with lots of toppings. Keep in mind their dry high heat also enables them to prepare other menu items, such as proteins, seafood and vegetables. Some operators don't use them for pizza at all.
Figuring out your volume and space requirements will help you choose the right oven size and shape, whether it's round, rectangular or square. For example, one manufacturer offers hearth ovens with cooking surfaces ranging 3 square feet (one 12-inch pizza) to 45 square feet (35 12-inch pizzas). Related to space, make sure the floor can support the oven, as some ovens weigh up to 8,000 lb. Think through how crews will move the oven to its final spot.
As far as labor, classic models typically require specially trained—and likely higher paid—employees with a skill set to manage them; they move menu items around to ensure even cooking. Units with smart controls, like automatic thermal management, or rotating floors help automate that process. Look beyond just staffing the oven too, one manufacturer says. It takes longer to make a pizza than it does to cook it. You may need an assembly line, with an employee making dough, another loading it with toppings and another to unload it from the oven, to maximize throughput. Plus, remember supporting equipment like refrigerated prep tables or dough mixers.
---
Operators might think they need a 1,000°F temperature reading to cook a Neapolitan pizza but that's likely of the dome. A floor measuring 700°F will do the job well.
---
Finding a Partner
Hearth ovens represent a substantial investment. Look for a manufacturer that offers support throughout the entire process, from selecting a model to after the sale. To start, operators who haven't used a hearth oven before could benefit from culinary support. At least one manufacturer has test kitchens nationwide.
When it comes to installation, some manufacturers offer complete packages, including things like a hood and fan along with the oven. In other cases, operators need to piece it all together. Some models come completely assembled while others require crews to assemble them on-site. It typically takes six to 10 weeks to get an oven depending on the type and size, one manufacturer says. At least one maker offers a quick-ship option, delivering an oven in two to four weeks.
Check the manufacturer's local service network and parts availability. One of the more common service calls comes from debris getting into the burner well on gas models, stopping the burner from lighting. In fact, the updated burner design on one of the deck-type models prevents debris from entering the burner well.
Essentially, look for a manufacturer that will take the journey with you, one maker says, versus only sell you the oven and move on. Make sure they'll answer your questions even after the sale.
Get Cooking
The following products, boasting problem-solving features like electric power or heat on demand, mark newer offerings from hearth oven manufacturers.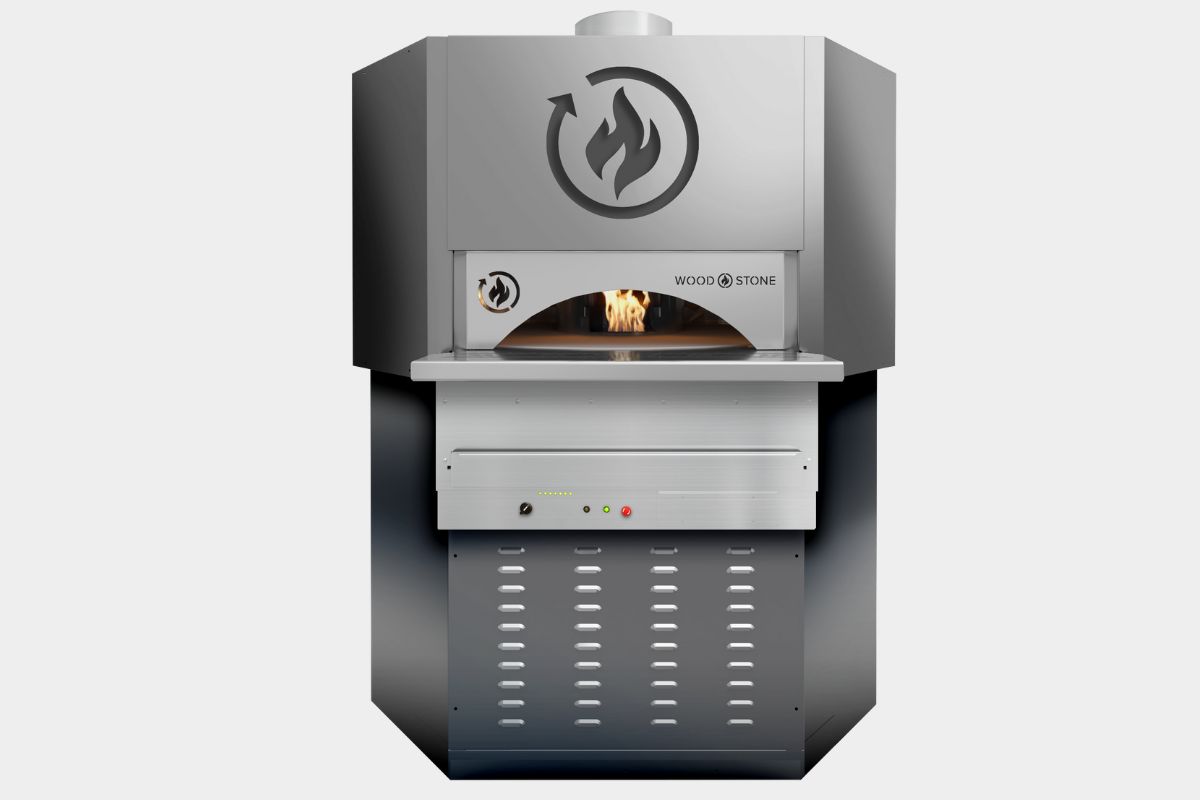 Wood Stone
Model: One Rev
Features: This rotating oven cooks pizza in one revolution; employees only need to load and unload it. Its dynamic thermal management and responsive cooking surface creates an efficient heat-on-demand cooking environment.
Heat Type: Gas
Cooking Surface: 15 1/3 square feet
Website: woodstone-corp.com
---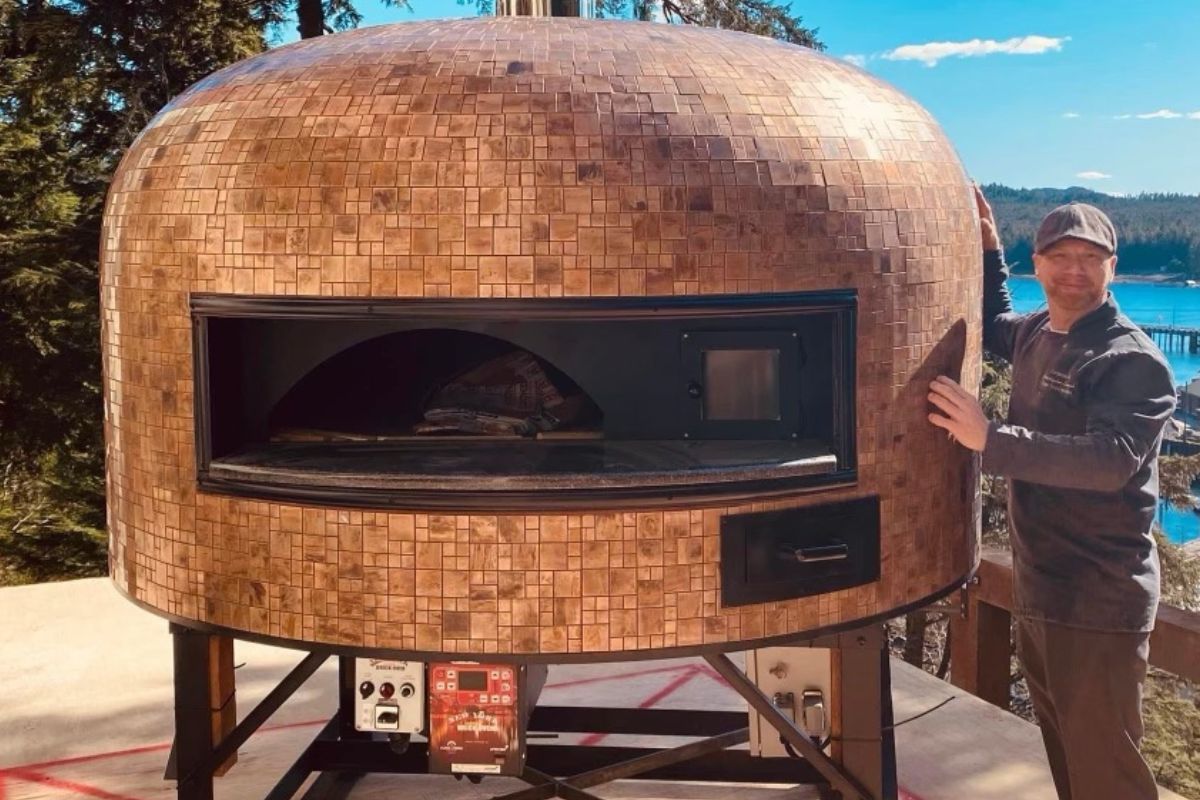 New York Brick Oven Co.
Model: Cupola Series
Features: This revolving brick oven offers an adjustable deck rotation, flame height and temperature control.
Heat Type: Wood, gas
Cooking Surface: 16 1/2 square feet
Website: brickovensforsale.com
---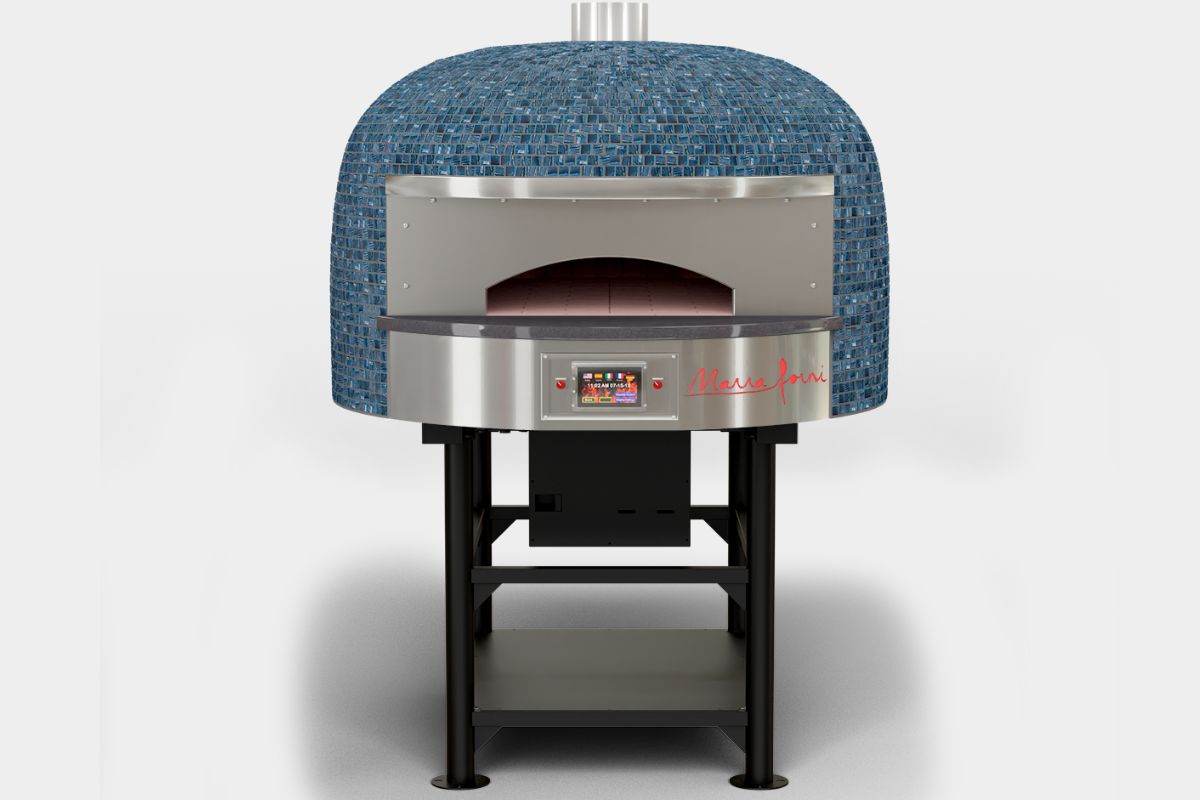 Marra Forni
Model: Electric Neapolitan Series
Features: These electric models mimic traditional hearth ovens. The handmade dome and cooking deck construction features high porosity refractory bricks, able to sustain high temperatures.
Heat Type: Electric
Cooking Surface: 11 1/2 square feet (model ELNP39-43)
Website: marraforni.com
---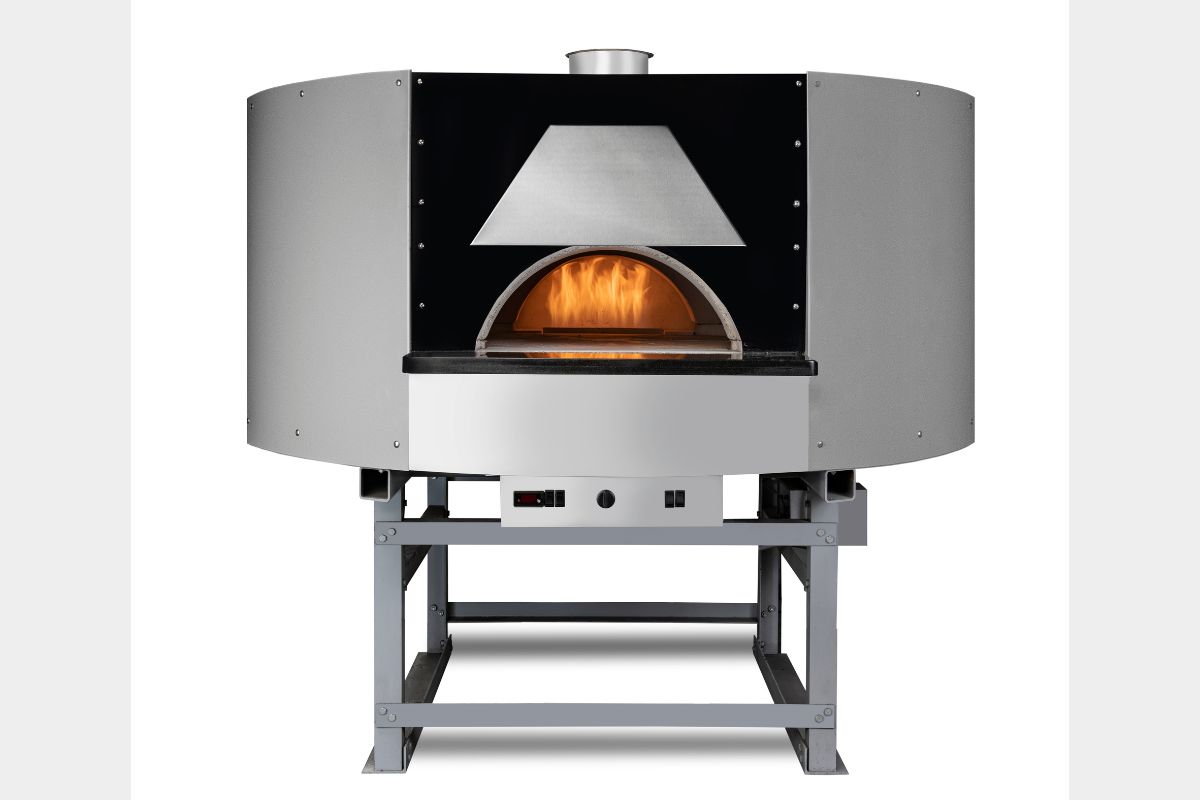 Earthstone Ovens
Model: 130-PAG-RT
Features: This rotating oven comes with a decorative rear burner flame for even baking and to illuminate the cooking chamber. Use the controls to adjust the oven's temperature and floor rotation speed.
Heat Type: Gas
Cooking Surface: 13 square feet
Website: earthstoneovens.com
---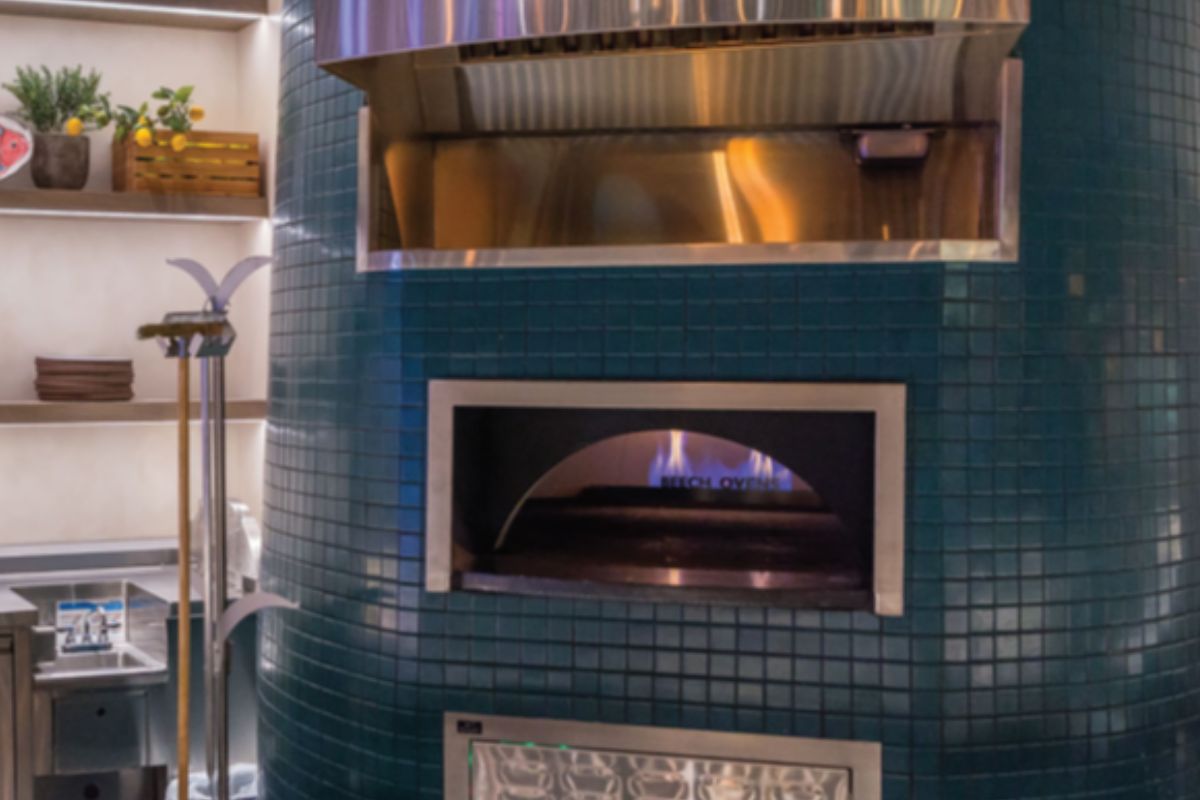 Beech Ovens
Model: Smart Oven
Features: Technology on this oven line includes touch-screen controls, a thermostatically controlled underfloor IR burner system and a thermostatically controlled radiant floor burner system with a manual cooking flame. 
Heat Type: Wood, wood and gas, gas, coal, coal and gas
Cooking Surface: Seven standard sizes; also, customizable
Website: beechovens.com.au
---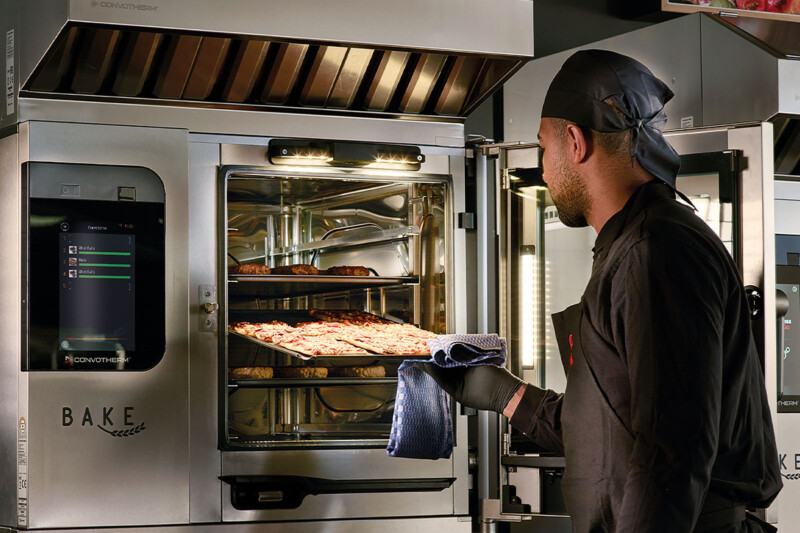 Combi Ovens
Today's combi ovens are smarter and more energy efficient, reducing the need for skilled labor and cutting utility costs.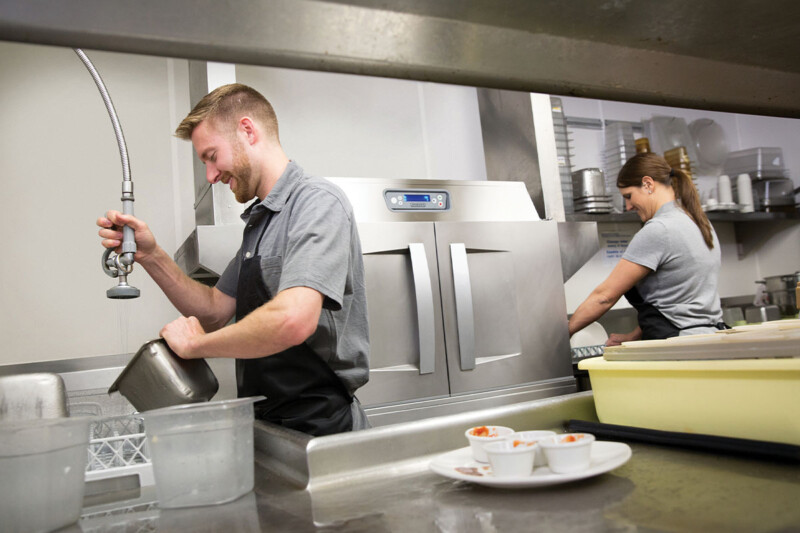 Equipment Comparisons
Forget steamy dishrooms; some of the newest rack conveyors improve environmental comfort and reduce overhead costs.