Zoned For Success: The Story Behind Wing Zone's Updated Design
Wing Zone's updated design makes off-premise dining its centerpiece. Highlights include a tightened cookline, swifter service times and, down the road, robots.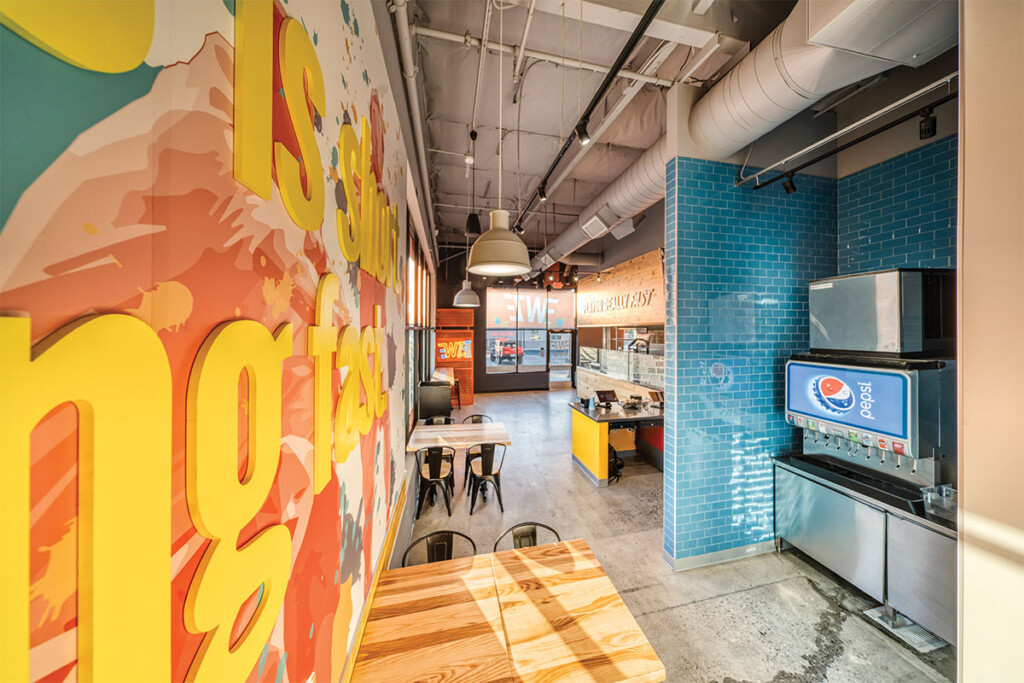 When Capriotti's Sandwich Shop, Las Vegas, acquired Wing Zone at the end of 2020, the flight plan for its new acquisition was simple: focus on carryout wings, and make the units smaller and a whole lot faster.
"The original Wing Zone menu offers burgers and wraps and salads, along with made-to-order wings. The food is great, but service times require about 15 minutes," says David Bloom, Capriotti's and Wing Zone's chief operations and development officer. "We wanted the cook time at the new prototype to be under two minutes. That way we could get the food out the door in less than five minutes, and delivered in under 25 minutes."
---
Join Us for MUFES
Looking for ways to gain efficiencies in your operation? Attend FER's Multiunit Foodservice Equipment Symposium, taking place April 25-27, 2023, in Tucson, Ariz. Click HERE to register now.
---
Teaming Up
In early 2021, the Capriotti's team began a yearlong plan to lift Wing Zone to the next level in terms of technology and automation. They tapped Livit Design, an international foodservice consulting firm based in Madrid, Spain, to develop a prototypical design. The design provides direction for new stores, which have some differences based on locational demands.
Livit's role encompassed a "complete-360 design process, including brand positioning, personality, values and identity," says Miguel Chilleron, Livit account leader and design director for the Wing Zone project. The team tested cooking processes, designed the physical space, overhauled touchpoint design (uniforms, packaging, etc.) and supported construction of the first units.
Wing Zone opened its first store (pictured) reflecting the prototypical design in August 2022 in North Las Vegas, on Craig Road. A second Las Vegas location, on Durango Drive, will open this spring—one of about 30 domestic openings expected this year. Wing Zone franchisees average $1 million-plus in annual revenues, with about 85% of orders being takeout or delivery.
Smaller, Faster, Smarter
Wing Zone's prototypical design sports three areas of improved efficiency: smaller footprint, faster cooking and more automated order systems.
Its nearly 600-square-foot back-of-house is about 40% smaller than existing Wing Zone locations. Minus the griddle and other cooking equipment of traditional units, its compact, fryer-focused cookline requires less staffing and training, and the cost of the equipment package is about 20% lower. The compressed layout also "allows the person at the POS to pivot during off-peak hours to help with kitchen tasks and production," Chilleron says.
Next up: cooking speed. Livit's culinary team tested at least five techniques in the quest for faster cooking. In the end, the best way to slash frying times required use of an oven, a roll-in refrigerator and a warmer.
"The wings get prebaked a day in advance, then are held overnight in the walk-in cooler in speed racks," Bloom explains. "Before service time, workers wheel a rack to the roll-in refrigerator on the cookline. They will fry up a predetermined amount of wings and tenders in advance of orders and hold them in a heated cabinet. When the order comes in, the wings or tenders get a final flash fry. The flash-fried wings will be sauced to order."
"[Using the oven] gives us a cook time of well under two minutes, and a wing that keeps its moisture," Bloom adds. "Baking also gives better product consistency and improves on food safety."
Finally, the team looked to streamline ordering. Technology, including self-order kiosks and artificial intelligence for answering phones, mark the first step on the path "to going cashless or even cashier-less," Bloom says.
"You can never have enough phone lines, let alone the people to staff them," Bloom says. "AI gives us unlimited phone lines. Customers can take as much time as needed to place their order. The AI system sends orders directly to the POS system, which means no mistakes. We're not missing any sales, we're always upselling and it gives an overall better consumer experience."
"[Using the oven] gives us a cook time of well under two minutes, and a wing that keeps its moisture. Baking also gives better product consistency and improves on food safety." —David Bloom, Capriotti's and Wing Zone
Touring Wing Zone
Wing Zone's prototypical design features a linear layout with the cookline in front, the walk-ins at the far back, and seating for 23. Meanwhile, the upcoming location at Durango Drive places the cookline and prep area as side-by-side modules and offers seating for seven.
Technology, including self-order kiosks and artificial intelligence for answering phones, mark the first step on the path "to going cashless or even cashier-less."
Here, the cookline includes a square prep table, used for hand-breading boneless tenders. Then comes the main event: four fryers and the hot holding station. The dump station keeps prepared fries warm. A full-height reach-in freezer holds menu items within easy reach.
A double-stacked convection oven, the secret sauce for Wing Zone's blazing service speed, precooks wings a day in advance. Toward the end of the service line, a pass-thru heated shelving unit inset into the wall holds bagged orders for pickup.
The order counter includes an undercounter heated cabinet to hold large catering orders, and two swivel-like POS touch screens that can be used by guests or employees. The Durango Drive unit's tight space required the beverage station to be tucked here as well; in larger floor plans, the station sits on its own.
Robotics on the Menu
Wing Zone's partnership with a Pasadena, Calif.- based robotics company will help the chain continue its path toward labor efficiencies, in which automated fry cooks will save on labor.
"The robot operates from a rail system that moves back and forth in front of the fryers. The system can be installed into an existing operation overnight," Bloom says. "We expect to open our first company-owned, robot-equipped store by mid- to late 2023."
FACTS
WING ZONE PROTOTYPICAL DESIGN
MENU/SEGMENT: Fast casual
HEADQUARTERS: Las Vegas
FOUNDED: 1993
NO. OF UNITS: 43 in the U.S.; 25 internationally
SIZE: 1,320 square feet
SEATING: 23
2023 PLANS: Open 30 domestic locations and 12 international locations
CAPRIOTTI'S: David Bloom, chief operations and development officer; Brent Erwin, SVP of finance; Ami Lindsay, SVP of supply chain; Jane McPherson, SVP of marketing; Ashley Morris, CEO; Jason Smylie, president
CONSULTANT: Miguel Chilleron, account leader and design director; Rafa LaRue, chief creative officer, Livit Design, Madrid, Spain
WEBSITE: wingzone.com
KEY EQUIPMENT
• Aero three-compartment sink
• Blodgett convection oven
• Turbo Air roll-in refrigerator
• Channel roll-in rack, bun pan rack
• Kintera undercounter refrigerator, sandwich prep table, three-compartment sink
• Imperial fryers
• Alto-Shaam drawer warmers
• Hatco french fry warmer
• Hoshizaki reach-in freezer, ice machine
• Metro mobile heated cabinet
• Nationwide sauces station, beverage counter, food shields, work tables
• FWE heated shelves/locker
Editor's note: This list reflects the Craig Road and Durango Drive locations.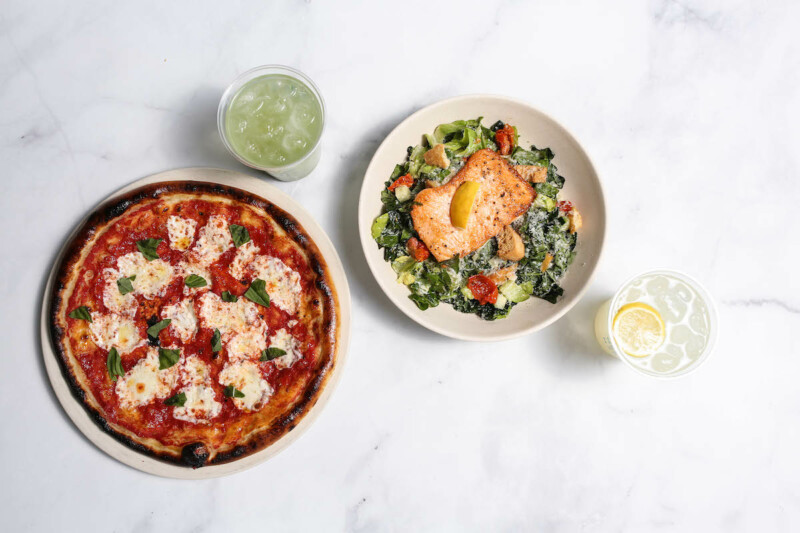 Company News
Three small pizza ovens, a smart toaster and holding cabinets help drive efficiencies at the chain's just-opened location.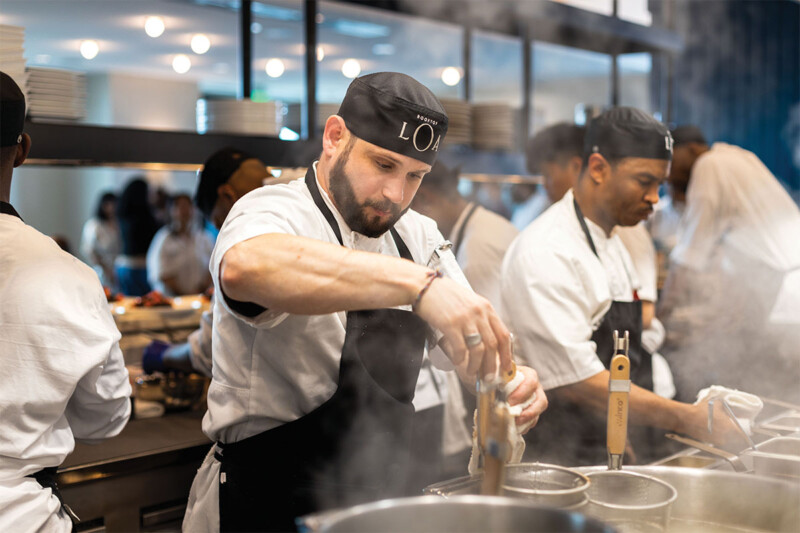 Kitchen Design
Rooftop L.O.A., perched atop a mixed-use development, weaves foodservice and mixology into and around a poolside retreat.