Maximizing Rack-Conveyor Efficiency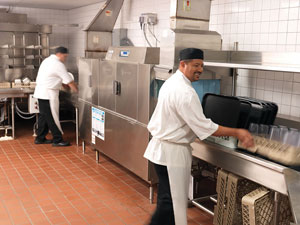 Large kitchens with a high volume of washables often rely on large, rack-conveyor dishmachines to handle the load. These machines can have a huge effect on your utility costs. In fact, PG&E's Food Service Technology Center, operated by Frontier Energy in San Ramon, Calif., calls conveyor dishmachines (both rack- and flight-types) the single most combined water-and-energy-intensive appliances operating in commercial kitchens.
To shed some light on how much water and energy rack-conveyor warewashers use, as well as identify potential money-saving solutions for operators, FE carried out a five-year field study of 20 flight and rack-conveyor machines. In this article, we're focusing on the 13 rack-conveyor machines included in the study and what the research team found. The study monitored a combination of low-efficiency, high-efficiency and best-in-class machines in two hotels, five corporate cafeterias, three full-service restaurants, two school cafeterias and one military dining hall.
"We knew that dishmachines use a lot of water, but we were scratching our heads at how much more water the test sites were using than we thought they would," says Amin Delagah, FE Research Engineer. "Every site had at least one major issue." Of the warewashers tested, nine were low-efficiency machines, three were high-efficiency and one was best-in-class, Delagah says.
One challenge for the research team was that the machines used in the test sites only represented a small number of manufacturers. The FSTC did not set up a controlled, broad-spectrum test to compare models from all makers. The research instead looked at actual usage and performance in a number of typical commercial and noncommercial institutions in or around the Bay Area that was representative of an installed stock of dishmachines.
On paper, new dishmachines offer a variety of advantages depending on the specific model, advantages that go beyond declarations of reduced water use. They including improved heat retention through insulated and sealed doors and through heat exchangers that reclaim energy from steam and exhaust effluent. They also include door-actuated drain closure safeguards that ensure that the tank drain is closed to prevent water waste, built-in booster heaters, advanced controls and diagnostics, automatic cleaning and deliming and other features. Rather than rely on lab-based research, mimicking perfect conditions, Delagah's team wanted to see how warewashers were performing in the real world.
Meter Metrics
At each location, the FSTC research team installed monitoring equipment to measure and record energy and water use at five-second intervals. Water meters were installed on all water pipes feeding the dishmachines. Gas meters were installed on machines using natural gas to heat internal tanks or booster heaters and the team attached electrical usage meters on all models. They also installed temperature sensors on water pipes that fed and drained the machines.
With so many testing variables to consider—total water or energy usage per rack, total use per hour of conveyor operation, average rinse flow rate, average overall flow rate—Delagah's team decided to focus on total water and energy use per hour of rinse operation as the normalizing parameters.
"Calculating the average hourly water and energy use of each machine allowed us to even the playing field," Delagah says. "It is a much better parameter than the others and it covers total water and energy usage."
Bottom line? Turns out the FSTC study most definitely shows that high-efficiency and best-in-class dishmachines outperform low-efficiency models by a good stretch. In fact, the high-efficiency machines used 54% less water and 37% less energy in per-hour rinse operation, while the best-in-class machine used 80% less water and 63% less energy. However, how you operate and maintain your warewashers has a huge effect on achieving these numbers.
So What Can You Do?
Whether you're keeping your existing dishmachine or are looking for a new energy-saving model, there are things you can do to maximize performance and save on energy and water.
"Sub-metering your machine to monitor water usage is a good step," Delagah suggests. "Some machines have one hot water connection, some have two. Install a water meter on each or better yet, wireless smart meters, which are available at comparable costs. This is really easy to do on new machines. Sub-metering allows you to set a performance benchmark and monitor water usage daily rather than rely on your utility to provide water usage data on a monthly or two-month basis."
Delagah suggests that for a few hundred dollars a smart meter provides five-minute interval data you can store on your hard drive. Smart meters and the data they provide also alert you to leaks right away. (Note: the cost of water rises 6% a year on average).
While total water use per hour of rinse operation became the study's measurement standard, Delagah says that in 12 of the 13 machines tested, rinse flow-rate accounted for only about 40% of total use. Clearly there are other areas where you can save on water and energy.
Overspray, which sends water shooting out of the machine at the load and unload ends or from one tank into another, occurs when the wares are placed in such a way that they block the wash and rinse sprayers. Sheet and hotel pans, trays, cutting boards and the like are the leading culprits, but employees often have to lay them flat (which, incidentally, also blocks the sprays from reaching properly racked wares) because the machine was not properly sized to accommodate these items upright, at an angle.
"Some regular-height machines can handle angled pans, but some can't," he says. If you're going to wash pans and trays, check the height, and opt for a machine with a tall opening and increase the separation between the wash and rinse tanks. "Having the extra space makes it easier to load full angled racks, reducing the potential for overspray," he explains.
"Laying these items flat on a standard rack means you're wasting a financial benefit," says Delagah. "In some cases, the costs wasted in doing it the wrong way can equal the cost of an extra employee." Newer machines use a fraction of the water that older machines use, but if you operate a new machine in such a way that it generates overspray, the water savings diminish.
Ongoing maintenance is key, too. Without it, even the most efficient machines will be energy and water hogs. Delagah points to a hotel in Berkeley, Calif., that operated a dishmachine with three large water tanks. Without proper maintenance, the automatic fill cycle no longer worked. Because an employee had to stand there and push the fill button for four or five minutes, someone decided to use a felt-tip marker to hold the button in, with a drying rack jerry-rigged to hold the marker in place. When the employee got distracted by another task and didn't come back for an hour or so, thousands of gallons of water were wasted.
Pressure regulators and gauges often break but the damage isn't detected during normal operation. "It makes sense to do ongoing maintenance during off-hours to make sure your machines are running properly and using water and energy as efficiently as possible," Delagah says.
Proper employee training will help you avoid problems. "Work with the manufacturer's rep to make sure your staff is trained," he says. "Also make sure your employees and maintenance people communicate with each other."
Additional steps to maximizing dishmachine performance and efficiency include proper pre-scrapping, proper loading to ensure wares are exposed to the sprayers, regularly checking water temperatures and chemicals, and setting up planned maintenance, especially to clean and delime sensors, spray arms and heating elements.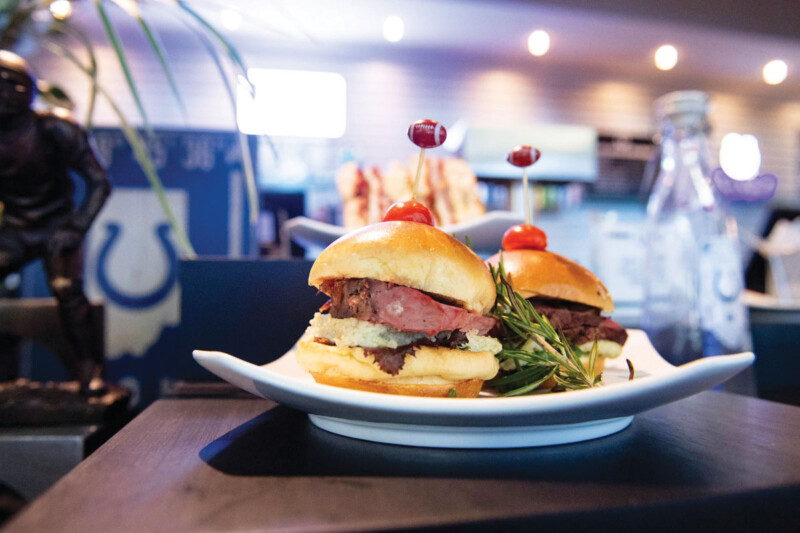 Design
"It used to be you went to a ballgame and had a hot dog and a beer, and you were happy and that was it," says Chris Bigelow, president of...