FER 2019 Management Excellence Awards Selection Advisory Board Members
Chains:
James Pool, TurboChef/Middleby; Mike Whiteley & Lou Anich, Hatco Corp.; Kris Gyori, Cal-Mil (formerly w/Cambro Mfg.); Dave Hinton, Electrolux; Jason Prondzinski, Boelter Cos.; Gerry Kenlon, Metro/Ali Group; Keith Kelly, Ice-O-Matic/ Ali Group; Rick Caron, Welbilt; Barb Campbell, Henny Penny; Kevin Clark, Scotsman/Ali Group; Tom Krisch, Antunes; Larry Deutsch, Vollrath Co.; Bud Ward, ITW FEG; Ursula Vermillion, Wasserstrom.
Dealers:
Dennis Park, Vollrath Co.; Mark Pumphret, Hatco Corp.; Penny Hutner, Advance Tabco; Todd Griffith, Alto-Shaam; Greg Fischer, Cambro Mfg.; Rich Packer, American Metalcraft; Chase McAllister, Eagle Group; Beth Hammer, Unified Brands; Jeff Duncan, American Panel; Michelle Wibel, Nemco Food Equipment; Kevin Woods, Globe Food Equipment/ Middleby; Peter Nordell, Edlund Co./Ali Group; Deb Hanson, Vulcan/ITW FEG; Chris Karssiens, Standex.
Noncommercial Operator/ Consultancy:
Rod Collins, Rod Collins Assoc.; Joe Carlson & Nancy Lane, Sandstone Group; Cliff Baggott, Cres Cor; Tom Szafranski, Heritage Foodservice Group; Steve Gill, ThermalRite/Everidge; John Frishman, J. Frishman Assoc.; Stephanie Gilbert, Hobart/ITW FEG; Kurt Eichmeyer, Wood Stone Corp.; Jack Scott, Alto-Shaam; Nancy Fera, Metro/Ali Group; Teri Brewer, Thermo-Kool/Mid-South Industries; Danielle McMiller, Structural Concepts; Bob McNamara, Power Soak/Unified Brands.
Service Agencies:
David Neidlinger & Frank Gorman, Welbilt; Gary Kramer, Hatco Corp.; Mike Orlando, T&S Brass & Bronze; Eddie Garmon, Aquion; James Broeker, Vulcan/ITW FEG; Rob Taylor, Southbend/Middleby; Mike Jones, Alto-Shaam; Patrick Walker, Electrolux; Tom Vanderbosch, Scotsman/ Ali Group.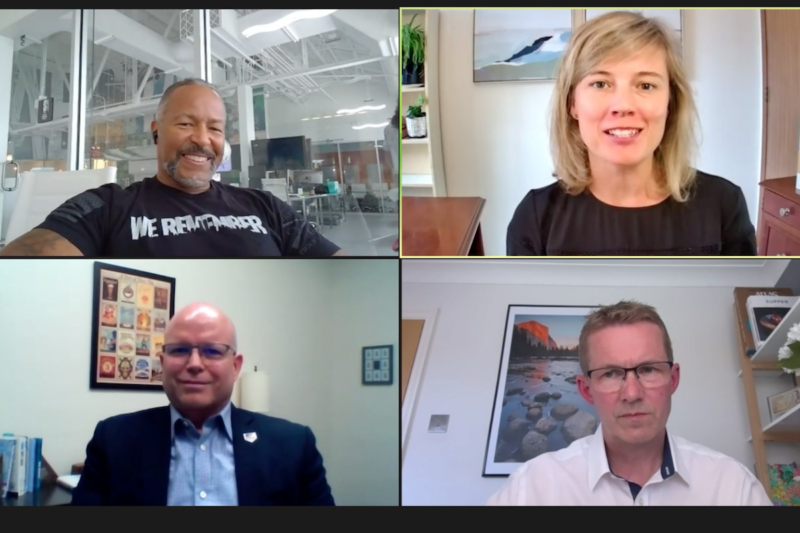 Event Coverage
From the U.K. to Nashville, Tenn., and beyond, challenges and changes in the foodservice industry have more parallels than one may suspect.