A Step-by-Step Guide on How To Choose a Door-Type Dishmachine
Energy Star Version 3.0 pushes door-type dishmachines to the next level of efficiency.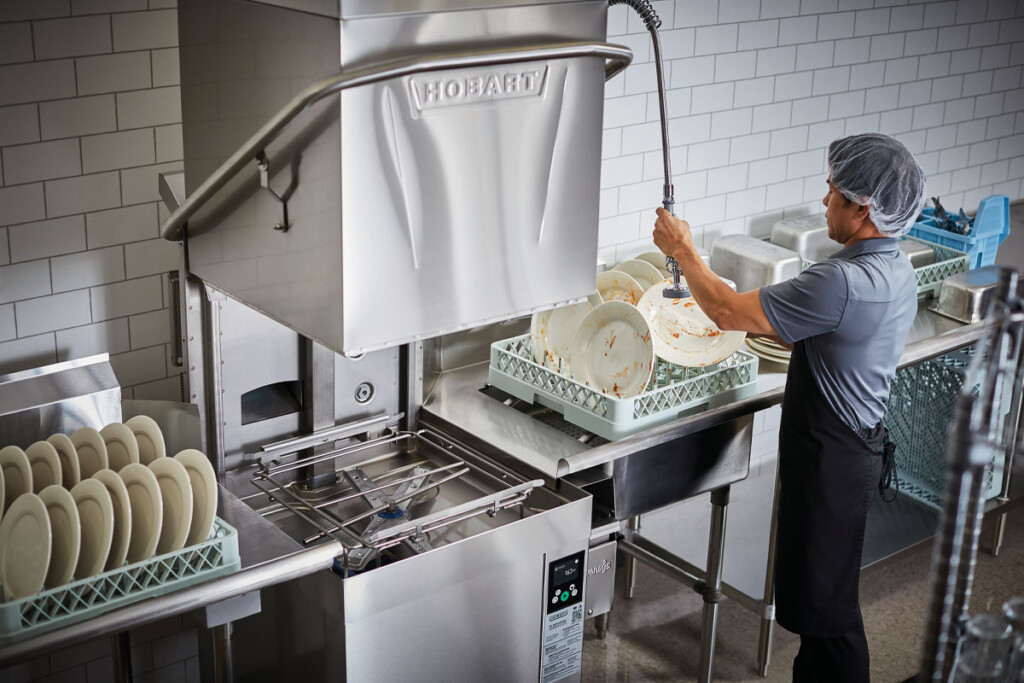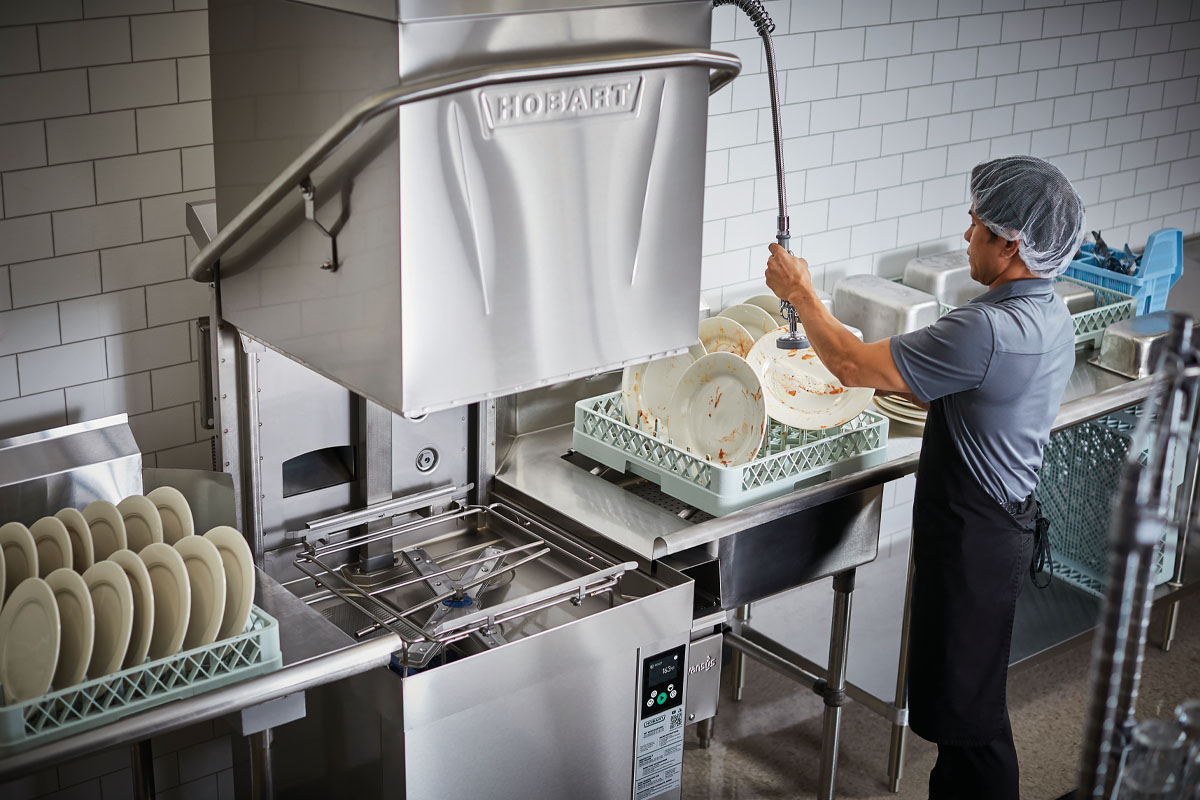 Today's high-temperature door-type dishmachines are smarter, save more energy and wash more effectively with less water compared with previous models. Many manufacturers have designed the latest models to meet Energy Star Version 3.0 requirements, which took effect in July.
Take a look and you'll find models with loads of refined (and sometimes new to the line) features, from wash arms that deliver better coverage to stacked wash chambers for faster throughput. Consider door-opening measurements, ventless capabilities and throughput requirements, too, when specifying a model.
Saving Resources
Energy Star's Version 3.0 for door-type dishmachines lowers the idle energy consumption threshold from 0.70 kW to ≤0.55 kW. It also adds a new energy-saving requirement—wash cycle energy consumption of ≤0.35 kWh/rack.
What does that mean for you? If you choose an Energy Star-rated model, you'll save on average 40% more energy and water, or $1,500 annually compared with standard units. And while less than 25% of models are efficient enough to qualify, the good news is that now even standard models likely meet the old Energy Star qualifications and are far more efficient than standard models from eight years ago.
Manufacturers over time have used different techniques to save energy in their models, but most common are things like more efficient wash and rinse pump motors, fan motors and booster heaters. For the bigger savings that qualify models for an Energy Star rating, manufacturers use heat reclamation systems.
More manufacturers now offer ventless door-type dishmachines. These units use a coil of cold inlet water placed in the top of the machine to condense steam produced by the hot wash and rinse water. The steam preheats the inlet water as it condenses before it goes to the booster heater, saving energy. A side benefit is that the system eliminates the need for a Type II exhaust hood, saving both additional energy and installation costs.
To reclaim heat and save energy, at least one manufacturer offers a model that submerges the booster heater in the water tank, using the wash water temperature to preheat the rinse water in the booster heater tank. Another manufacturer has a drain water heat reclamation system that puts an additional heat transfer coil in the base of the machine that heats incoming cold water while it cools drain water below 140ºF. That saves booster heater energy and eliminates the need for additional water to temper the drain water (required by code in most places).

Washing Up

With Energy Star water use qualifications pushing the limits of what's physically necessary to get dishes clean, manufacturers continue to find ways to make wash cycles as effective as possible. For better coverage and soil removal, one manufacturer now uses X-shaped wash arms and another uses triple wash arms.
More machines use rinse pumps to guarantee the rinse water pressure. That ensures adequate coverage of clean 180ºF water to properly sanitize dishware. Though small, the additional pump does add to energy use. So, one maker now offers a choice of "Econo" or "Turbo" boost on rinse cycles of some models, giving you a choice based on the soil level of dishes.
Adjusting cycle times and adding more wash cycles to a model also has enabled makers to certify machines with NSF as pot-and-pan washers as well as dishmachines, so they can do double duty for you.
Technology Advancements
As manufacturers use more electronics to control performance, functions and features—like automatic tank fill, door-actuated start and interlocks, auto delime cycle, auto heat recovery system wash cycle, leak detection and many others—they've tied them and self-diagnostics into touch-screen control panels on more models.
Newer features include cycle programmability and on one model, a programmable, energy-saving sleep mode, and Wi-Fi-connectivity. On a few models, the latter comes with smartphone apps that can track and display performance stats as well as diagnostics to let you know if a machine needs attention or servicing.
Specifying a Model
Setting the right dishmachine specs for an operation is a matter of asking and getting answers to the right questions. In addition to performance, you'll want to know about durability, reliability, annual and lifetime cost of ownership, warranty, service network, and quite literally whether it's a good fit.
MEASUREMENTS. The opening on a standard machine with the door or hood raised is about 17 inches. To accommodate sheet pans, stockpots and large hotel pans, a number of manufacturers make a "tall" version of their standard units with openings that measure about 27 inches. Which type to choose depends on the dishware you plan to wash.
Make sure that you have enough clearance in the dishroom area for a hood or door fully open, and recognize that ventless models may stand taller than standard units. If the ceiling heights are low, one maker offers a model that measures with the door closed 63-inches tall, one of the shortest of all ventless machines on the market.
VENTLESS VERSUS VENTED. There are many reasons to consider ventless models despite their more expensive upfront cost. First and foremost is when the cost of installing a hood exceeds the cost of the dishmachine you're thinking of buying, or when it's simply not possible to install a hood. Other situations in which these units make sense include kitchens that don't have enough hot water, or in which the HVAC system struggles to keep up. Many ventless models operate with just a cold-water inlet on 208/240V service.
THROUGHPUT. Depending on the model, high-temperature door-style dishmachines wash 30 to about 60 racks per hour. That's a wide range, and is usually based on the model's shortest cycle time. The dishware in your operation may require a longer cycle in some models, reducing their throughput.
You need a dishmachine that can handle the number of racks you expect during peak service times. Also look for a model that can handle the type of dishware and level of soil you expect to run through the dishmachine. Remember, there are several models now NSF-certified for both dishware and pots and pans, for example, if you have a mix in your kitchen. If all you have are smallwares, then a standard model will work.
If you need a higher rate of throughput but don't have the room for a rack-conveyor machine, a few manufacturers make double-rack machines (twice the width of a standard model), and one recently introduced a double-rack machine with upper and lower chambers that fits in the same footprint as a standard model. The upper chamber operates like a typical door-type dishmachine, while the lower chamber is accessed like an undercounter model. The chambers can operate on the same or different wash cycles.
BOOSTER HEATERS. You'll need a booster heater to raise rinse water temperature to 180ºF. Most models offer built-in booster heaters, though they're optional on some models, so you can choose an external heater if you want (to take advantage of existing gas or steam hookups, for example). Choose from 40ºF or 70ºF rise versions.
HOOKUPS. Don't forget to match up electrical service and a water hookup, and you'll obviously need a drain nearby. Ask about annual operating costs for those utilities, as well as chemical supplies such as detergent and rinse aid. Finally, get references, and test models using your dirty dishware. You're sure to find an ideal match.
Clean Team
The following high-temperature door-type dishmachines – all ventless – mark the latest offerings from manufacturers.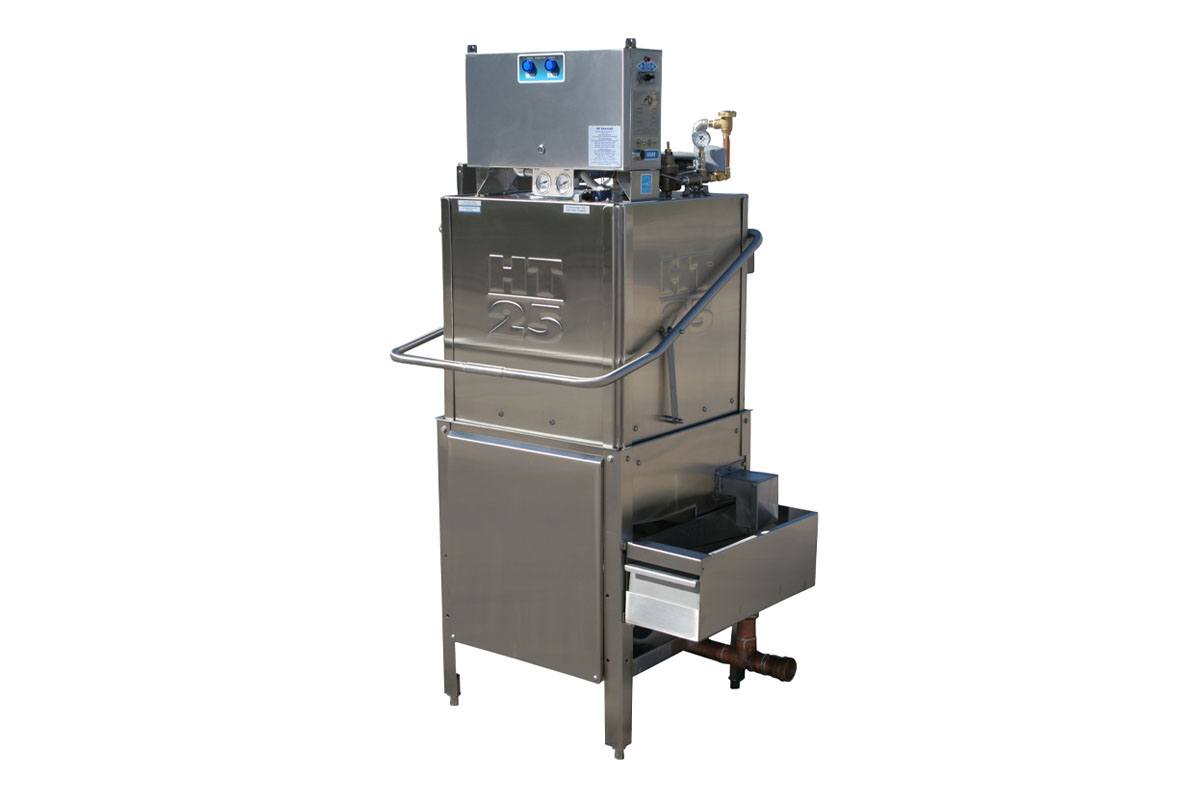 American Dish Service
Model: HT-25
Throughput: 72 racks/hr.
Door Opening: 18-in.H
Website: americandish.com
Editor's note: Be sure to check cycle times when comparing racks per hour.
---
CMA
Model: 180-VL Tall
Throughput: 40 racks/hr.
Door Opening: 28-in.H
Website: cmadishmachines.com
---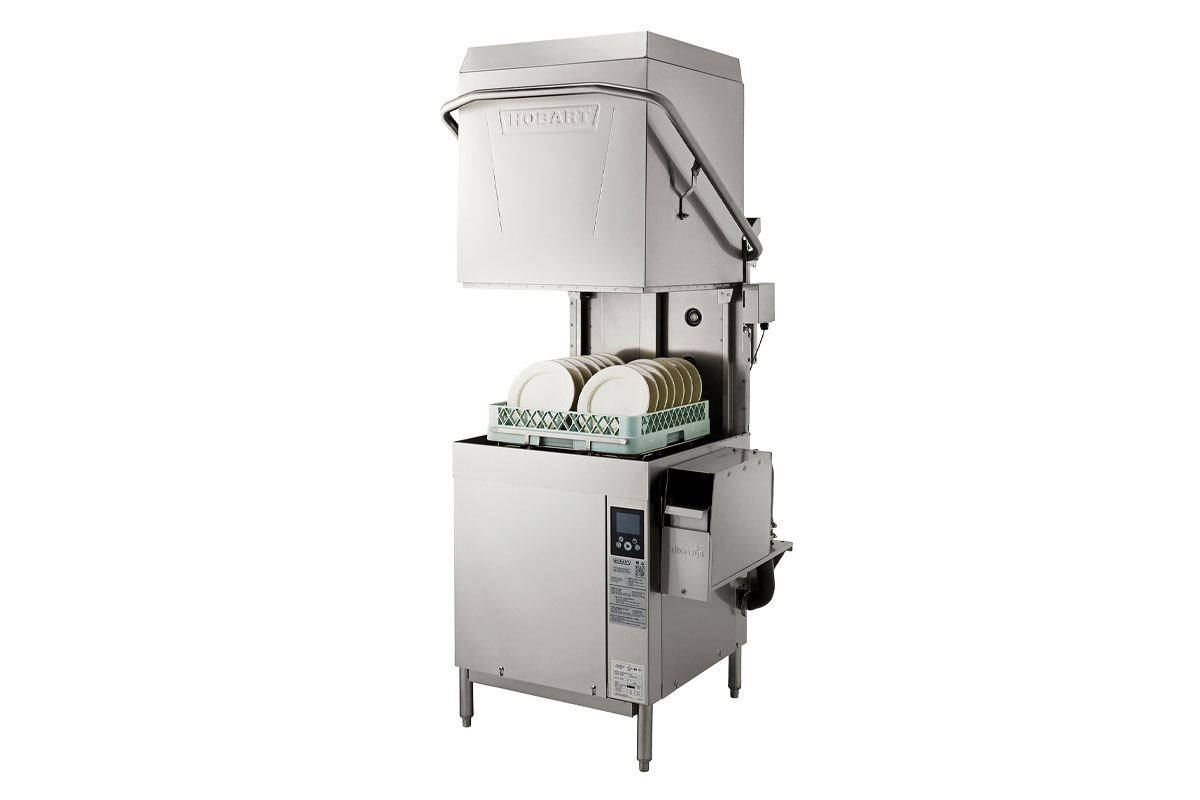 Hobart
Model: AM16VL-BAS Base Electric
Throughput: 45 racks/hr.
Door Opening: 17-in.H
Website: hobartcorp.com
---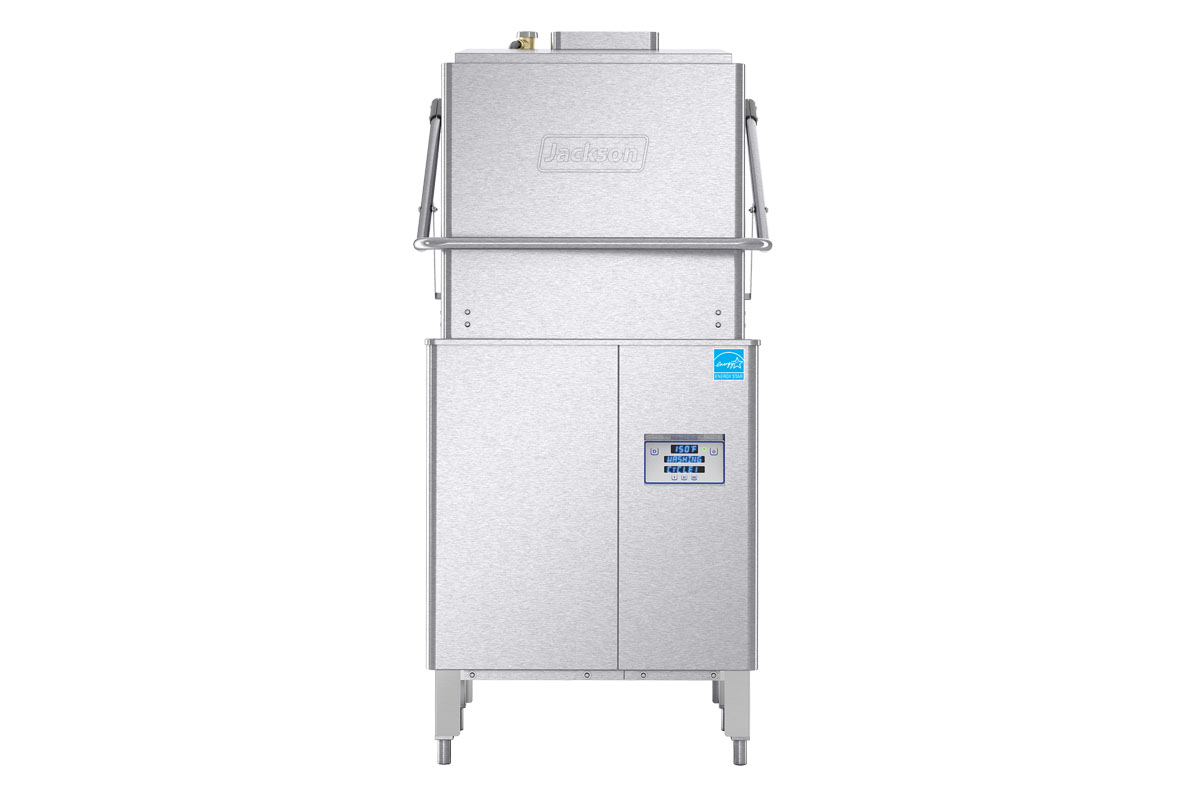 Jackson
Model: DynaStar
Throughput: 40 racks/hr.
Door Opening: 17 ½-in.H
Website: jacksonwws.com
---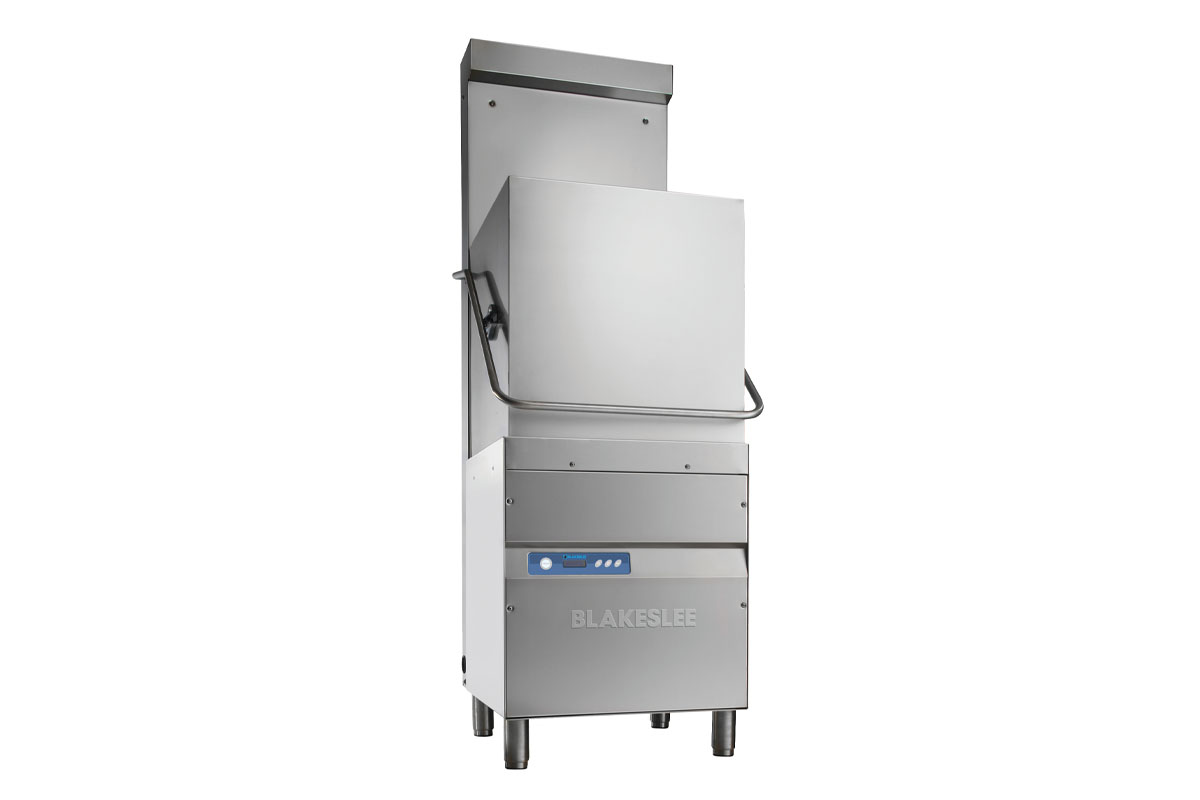 Blakeslee
Model: D-18V-3
Throughput: 30 racks/hr.
Door Opening: 16 1/8-in.H
Website: blakesleeinc.com
---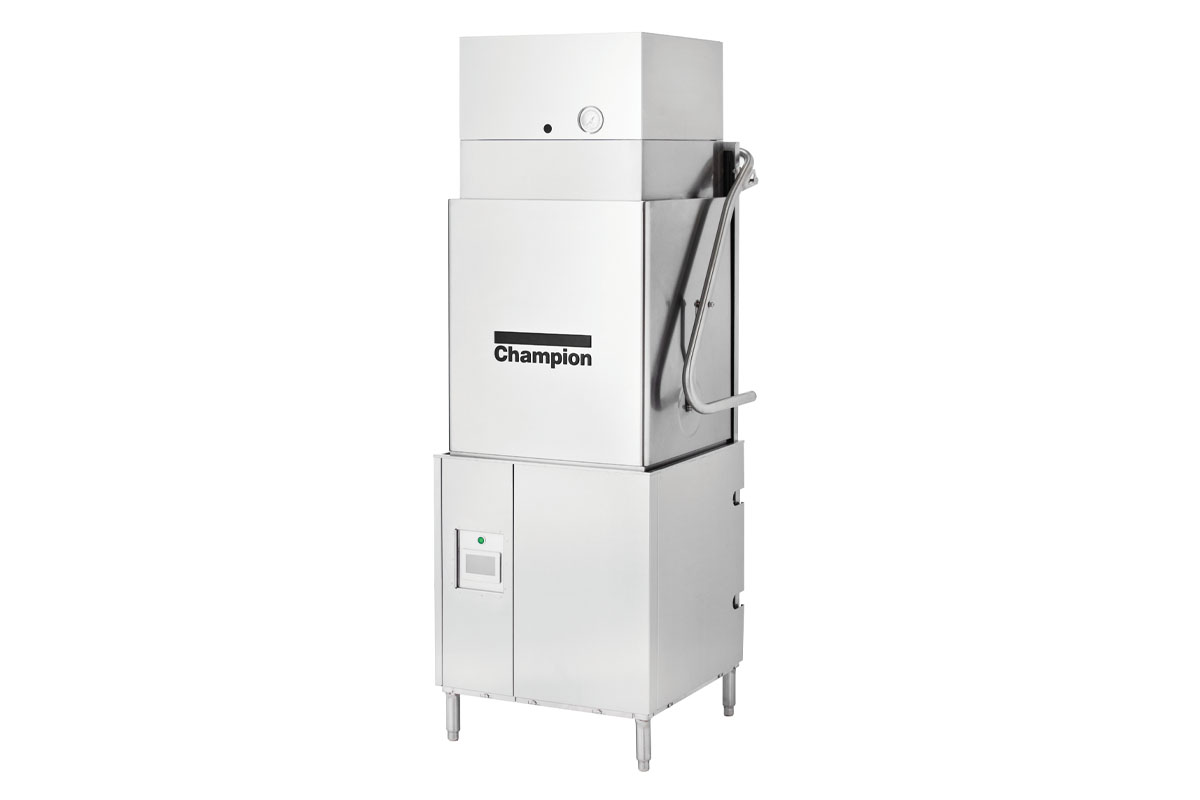 Champion
Model: DH-6000T
Throughput: 40 racks/hr.
Door Opening: 27-in.H
Website: championindustries.com
---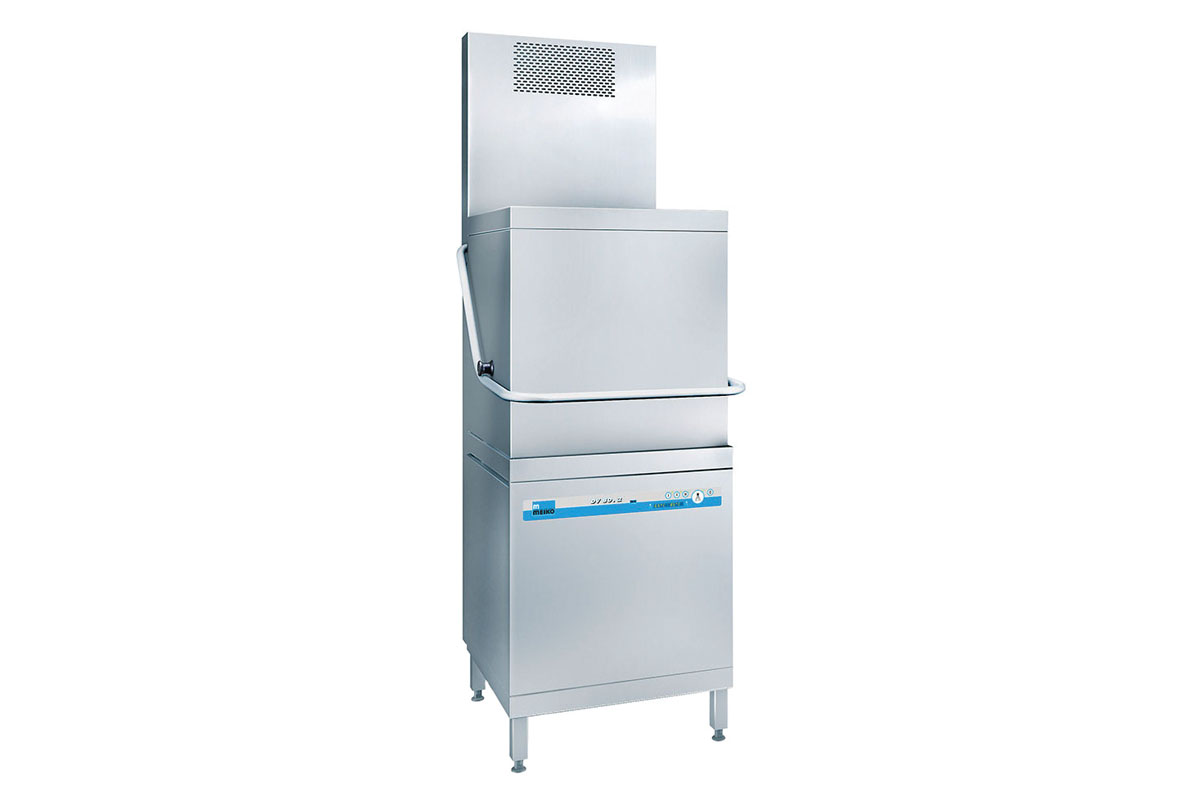 MEIKO
Model: DV 80.2 with Waste Air Heat Recovery System
Throughput: 61 racks/hr.
Door Opening: 17 5/16-in.H
Website: meiko.us
---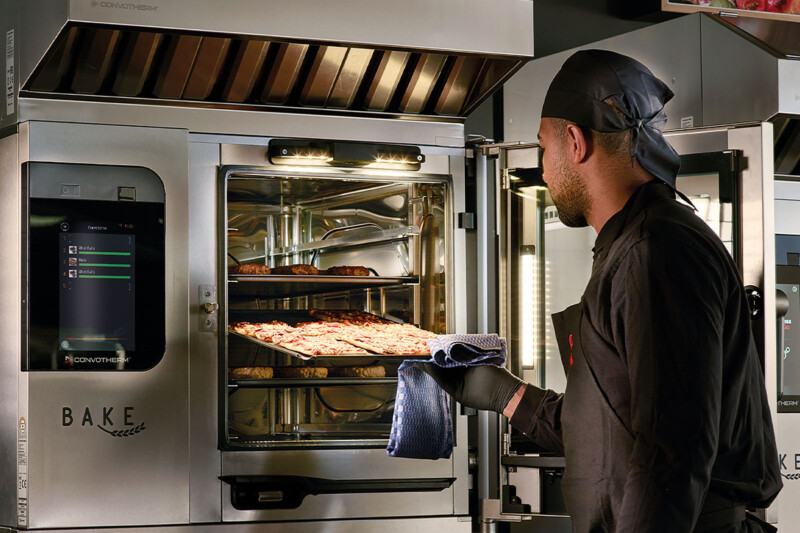 Combi Ovens
Today's combi ovens are smarter and more energy efficient, reducing the need for skilled labor and cutting utility costs.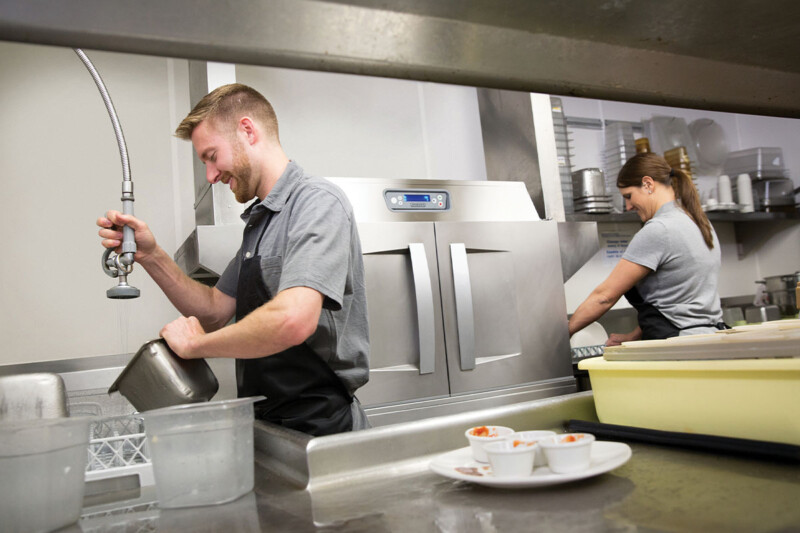 Equipment Comparisons
Forget steamy dishrooms; some of the newest rack conveyors improve environmental comfort and reduce overhead costs.