Optimizing Today's Delivery Kitchens
Now that delivery kitchens have become an industry staple, how can you optimize operations?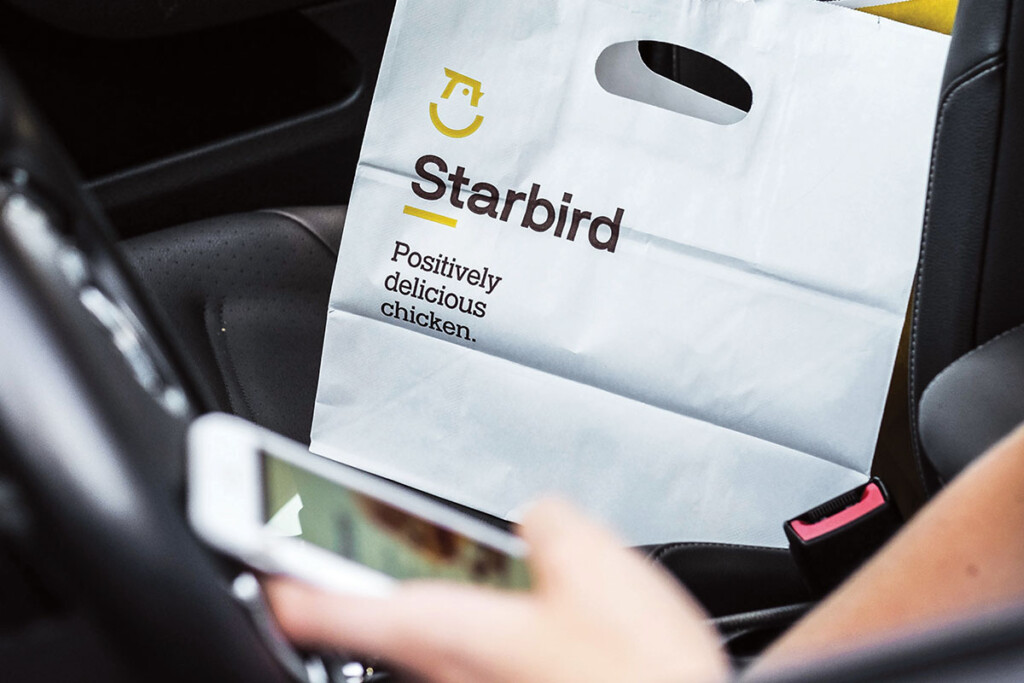 Delivery kitchen growth has exploded in the past two years, fueled by pandemic behavior changes. As consumers acclimated to ordering online out of necessity, a restaurant's presence became more about digital real estate and less about physical real estate. Business models vary for delivery kitchens—many include pickup—but they all focus on bringing online orders to more people, using less space.
"The way that people are thinking about restaurants is changing," says Graham Humphreys, CEO of The Culinary Edge restaurant consultancy. "Having a restaurant no longer means having a kitchen and table and chairs. … People are thinking about a restaurant as something they interact with through their phones. They think of it as a brand that is independent of a physical location."
Industry analyst Technomic predicts that delivery kitchens will garner less attention in 2022, but that they'll "retain a permanent place in the industry." Here's how some operators are taking delivery kitchens to the next level—and delivering sales growth.
THE GHOST KITCHEN MODEL
An easy way to expand in the delivery-only segment is to join a ghost kitchen facility—be it a warehouse packed with kitchens or a parking lot dotted with kitchen trailers. Some ghost facilities handle kitchen setup, staffing and operations, working under a licensing agreement. In other cases, the restaurant is responsible for designing and equipping the kitchen, although basic items like sinks and a ventilation hood might be preinstalled.
The Absolute Brands, which owns Dog Haus, a gourmet hot dog, sausage and burger concept, operates nine ghost kitchens. "You can decide to open a location and within two or three months be in business," says Director of Operations Raz Mahrouk. "That would never happen if you decided to open a brick-and-mortar." Opening a traditional location requires site selection, lease negotiations, submitting plans to local government for approval and building/remodeling, often with a dining room. You can streamline the process by signing a lease with a ghost kitchen facility. "The infrastructure is ready. All you need is to buy a few pieces of equipment, hire a few staff members and you have an open business," says Mahrouk. Lease terms tend to be shorter—one or two years versus 10 years—giving businesses the flexibility to test a new concept or market. If business booms, they might decide to move onto their own structure.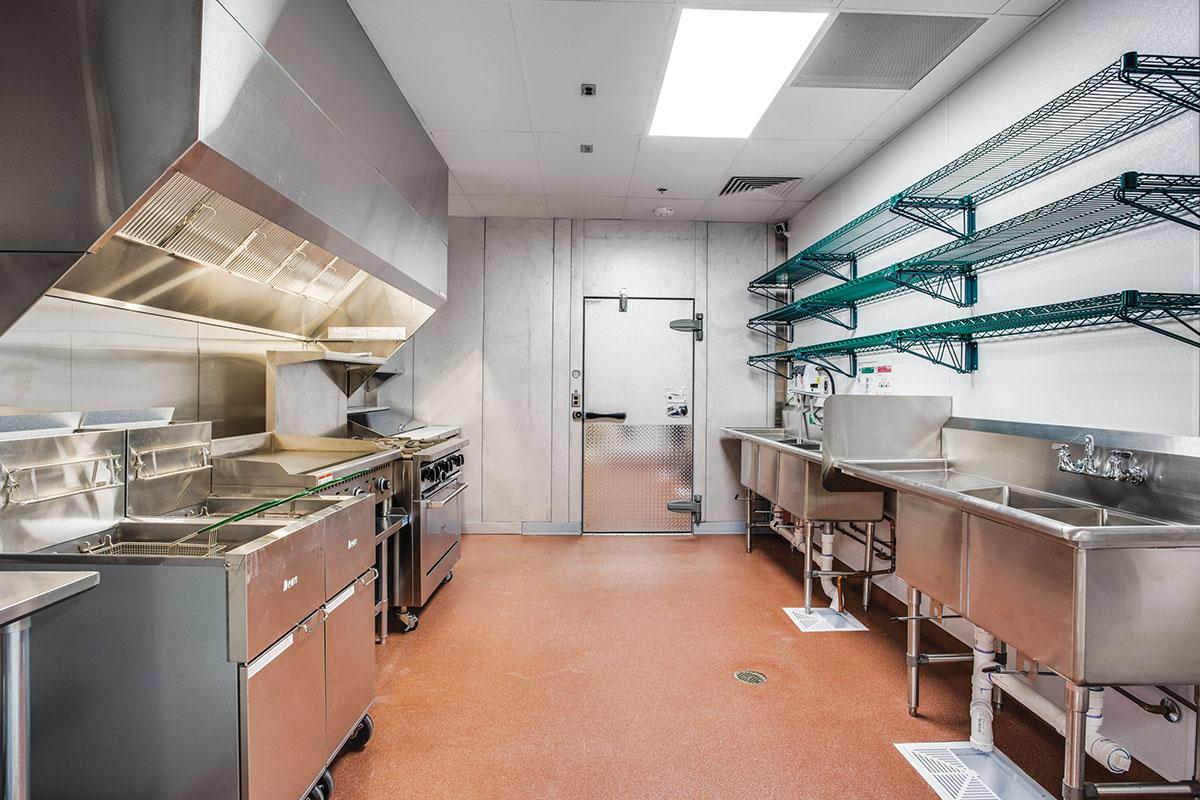 A ghost kitchen's compact size keeps operating costs down, but it also poses design challenges. "You're operating out of a 200 to 250-square-foot room that's prefab," Mahrouk says. "Now you've got to figure out the best way to lay that out—what's the most important equipment you need and what can you leave out." For example, The Absolute Brands substituted wall-mounted salamanders for charbroilers to free up space.
Vertical design is key, agrees Aaron Noveshen, founder and CEO of Starbird, a quick-service chef-driven chain based in California that operates three ghost kitchens and six traditional locations, as well as stadium and airport sites. "You have to think about every layer you have to work with," says Noveshen, who also is the founder of The Culinary Edge. "You might have an undershelf mounted piece of equipment that's holding grilled chicken and above that you might have small batches of fried chicken."
Keep in mind the specific space demands of a delivery concept, says restaurant consultant Humphreys: "You need more storage for to-go ware and to-go packaging. You need a staging area for completed orders to keep everything straight."
"Now you've got to figure out the best way to lay that out—what's the most important equipment you need and what can you leave out."
—Raz Mahrouk, The Absolute Brands
VIRTUAL BRANDS
When most people hear "Dog Haus restaurant," they probably think about hot dogs. "But we also had an amazing chicken sandwich that no one knew about," Mahrouk says. "We wanted to get the word out." This was 2019, and the idea of virtual brands that exist only online for the purpose of delivery and pickup was catching on. Company execs wondered: Why not develop a virtual chicken concept to get more attention online? The Bad Mutha Clucka virtual brand hatched in 2020. Customers can order directly from the brand's website or from third-party delivery services—but they won't find a storefront anywhere. Today, The Absolute Brands owns five virtual concepts and operates another in conjunction with plant-based food manufacturer Impossible Foods.
The virtual brands operate out of the company's ghost kitchens, as well as out of Dog Haus restaurants, with about 95% of franchisees offering at least one. "The virtual concepts are optional," Mahrouk says. "No one has to do it, but most want to because of the additional revenue they've been able to generate," about 20%-25% of total sales. Some older, smaller Dog Haus locations have only two fryers, making it difficult to take on all the virtual brands. New units come equipped with four fryers to meet the increased demand. Some franchise owners are redesigning older kitchens to fit a third fryer—a small investment considering the sales potential—but sometimes there's simply no space. New kitchens also feature a two-line setup, rather than just one line, to accommodate for the growth. Separate fry and grill lines each lead into their own assembly tables; items meet up at the expo station.
Over the past two years, Starbird launched four virtual brands: Starbird Wings, Starbird Salads, Starbird Bowls and Gardenbird. With five Starbird-owned brands listed on third-party apps, "we now have five times the opportunity to capture a sale," says CEO Noveshen. His advice for operating a virtual brand? "Keep it simple." About 80% of the items offered by the virtual brands also appear on the Starbird menu. Employees prepare the virtual brand items in Starbird's restaurants and ghost kitchens, leveraging existing equipment and processes. Starbird Bowls introduced only one new ingredient to the line, a grain blend; Gardenbird frames a whole menu around Starbird's plant-based protein, without introducing any new SKUs. Starbird Salads adds only a couple salads to those listed on the main Starbird menu, but by making it its own entity, the brand ranks in the Top 5 on DoorDash when customers search for "salads" in the San Francisco area. Starbird Wings necessitated the biggest design modification. With seven house-made flavors for wings, the restaurant set up a separate sauce-tossing section, outside of its main two-line island.
Order-consolidation technology tracks all the moving parts, integrating orders from all five brands and across various sales platforms. "It handles all the different ways in which people order food, whether it's third-party, through our app or through our web," Noveshen explains. "You don't have to have six separate tablets." The technology also "throttles orders," controlling the number of deliveries/pickups per time slot to prevent backups.
THE STANDALONE KITCHEN
Chipotle's new Digital Kitchens don't have a dining room or a front line for making orders. Instead, customers can only build their burritos and bowls digitally, ordering through Chipotle's website and app, or through a third party. The company opened its first Digital Kitchen in Highland Falls, N.Y., in November 2020 and followed a year later with a location in Cuyahoga Falls, Ohio.
"It's one additional format to have, particularly in those proven and established markets where we have a lot of older restaurants that don't have Chipotlane [drive-thru] access," says Chief Development Officer Tabassum Zalotrawala. "In places like that where we can secure real estate and add just a small restaurant, it may not need a dining room, because one mile down the road is a Chipotle with a full dining room." Not every Chipotle Digital Kitchen will feature a Chipotlane. "Imagine an urban location where there's no way to add a vehicular lane. We might build that Digital Kitchen with a walkup window," Zalotrawala notes.
With no dining room, the Digital Kitchens require about half the square footage of a typical unit—a significant reduction in overhead costs. The back-of-house area is comparable to a traditional Chipotle's. "You need everything you need to deliver the proper Chipotle menu. There's no compromise. It's the same size range, same size hood. You can expect to find the same prep materials, same walk-in refrigeration. All of that is going to be identical to the traditional Chipotle," says Zalotrawala, noting that sales volume at these smaller footprint locations has been comparable to traditional locations. "The early results are super-promising. They are higher than what we had expected. We are able to do it at a higher margin because most of the orders are pickup versus delivery."
What you will see that's different than a traditional Chipotle is bigger real estate for delivery and pickup shelves, says Zalotrawala. The company experimented with heated shelves but ditched the idea after finding it reduced food quality. "It can impact the integrity of the packaging and ultimately the bowl or burrito," she says. "Moisture gets on the bag, goes through to the burrito and it has the potential to get soggy the longer it sits on a hot shelf."
"People are thinking about a restaurant as something they interact with through their phones."
—Graham Humphreys, The Culinary Edge
Traffic flow is an important design consideration. The Highland Falls unit, which has in-store pickup, features two entrances—one for delivery drivers and one for customer pickup, each with a shelving area. The Cuyahoga Falls location also has two access points: a Chipotlane and a walkup window.
A digital makeline keeps production flowing and reduces errors. Each order appears on a digital monitor, clearly identifying how the customer would like it customized and when it needs to be ready. No more paper slips to track. "When you're running a digital kitchen, there's no room for compromise on technology," Zalotrawala urges. "If you ask for your food to be ready at 11 a.m., we need to ensure as an operations team that the order is ready by 11."
Chipotle is still fine-tuning the Digital Kitchen design. "I wouldn't claim that we've hit the jackpot and have finalized our model," Zalotrawala says. "It's all about getting better and learning along the way." For example, Chipotle is considering adding an employee break area in future versions. While the company expects that most of its growth will be with traditional format restaurants, a handful of Digital Kitchens are in the pipeline, she says. "The results coming out of these first few really prove the model."
The Host Kitchen
Wow Bao, a fast-casual Asian concept, has jumped on the delivery-kitchen bandwagon but is taking a different route. The chain has helped nearly 500 operators nationwide double as Wow Bao delivery kitchens. Operators purchase proprietary Wow Bao menu items through a national distribution chain and prepare them for delivery. Partners need a steamer and flattop to finish precooked items, or they can substitute a rice cooker and a kettle for the steamer and a skillet for the flattop.
The goal is for partners to bring in at least $2,000 extra per week with Wow Bao delivery. About 35% goes to food and packaging costs and 25% to third-party commissions, leaving operators with 40% profit, if they leverage their staff.
In early 2020, Wow Bao's fare was available from six locations in and around Chicago—and at another six in major airports. Wow Bao expects its menu items to be available at 1,000 delivery locations by year's end. "If we were going to open 500 locations in the past two years, we could never have done that. We could never have signed the deals and hired the people," says Geoff Alexander, president and CEO of Wow Bao. "This has allowed us to grow our national footprint at no capital expenditure to us … and has created incredible margins for our operating partners."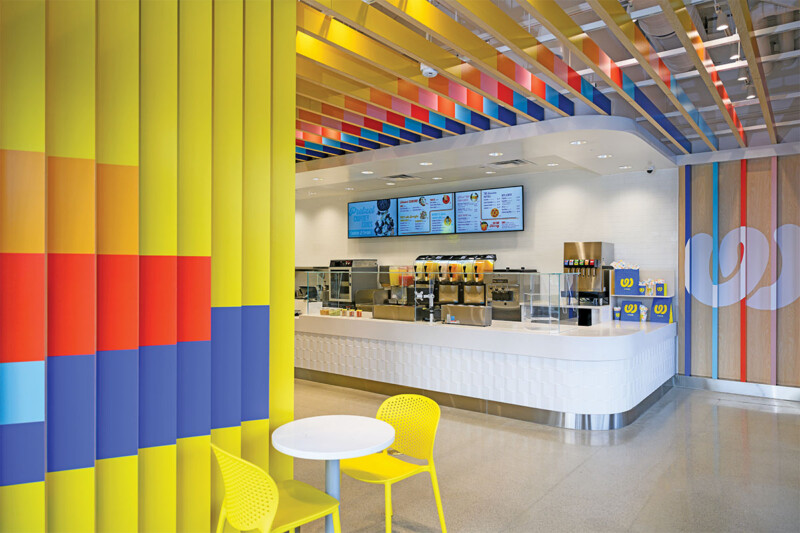 Kitchen Design
Wetzel's Pretzels, the multiunit bakery of shopping mall fame, now offers its soft pretzels and more at street-side through its latest concept.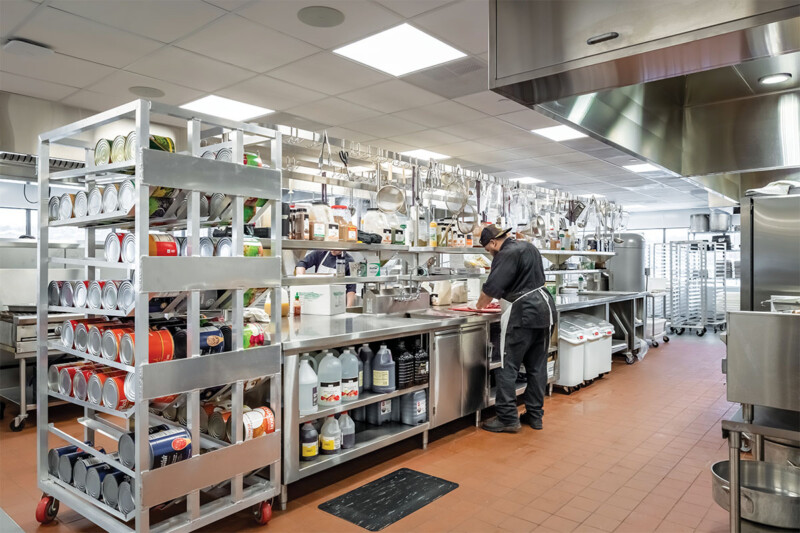 Kitchen Design
Open Arms of Minnesota—a volunteer-powered, nonprofit organization that provides meals to critically ill Minnesotans—needed more room.