Serving Students at Fountain Inn High School
Greenville County Schools adapts a base servery design to meet the shifting needs of a leading-edge high school.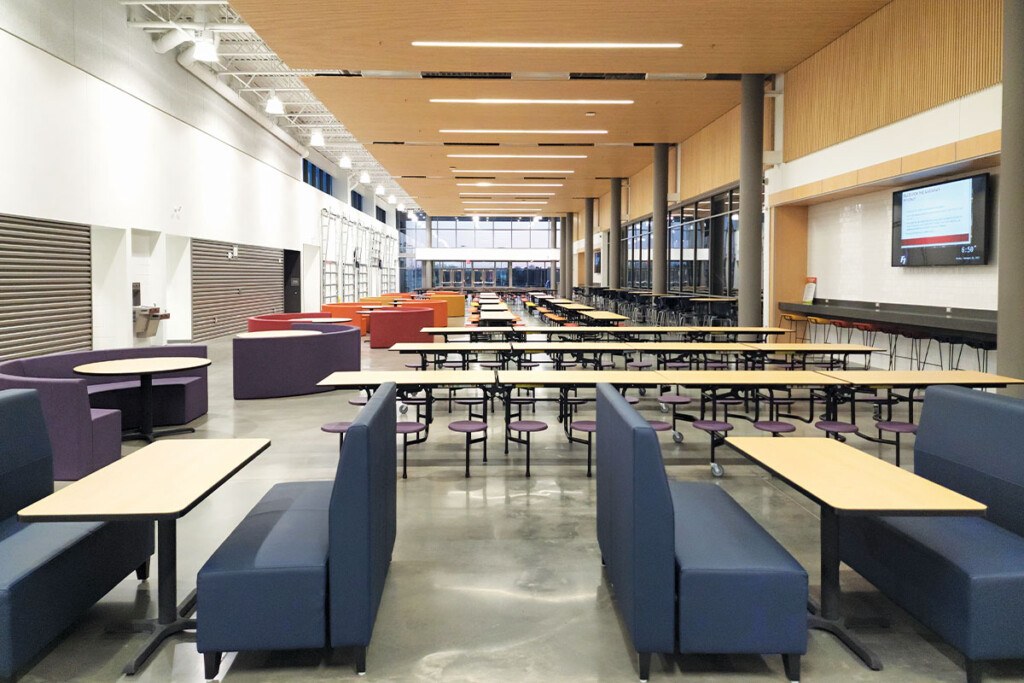 In Fountain Inn, S.C., the newly opened Fountain Inn High School has evolved the concept of traditional education. The school focuses on infusing the arts with science, technology, engineering and mathematics, or STEAM, with an emphasis on advanced manufacturing.
The school's design and layout reflect the shift. "Our building has an entire wing dedicated to the Institute of Automation & Engineering," says Principal Maureen Tiller. "Mechatronics, engineering and computer science classes are all housed in this collaborative space; it has the look and feel of a college campus."
Fountain Inn High's servery is equally collaborative. Its front-of-house doubles as both a dining area and a general project space for students. With its warehouse-high ceilings, polished concrete floors and natural wood accents, the space seats up to 350 students at foldable tables and colorful banquettes. Large flat-screen displays and windows overlooking the space help activate it. Befitting its industrial setting, the servery sits behind six white rollup garage doors.
The 229,000-square-foot, $84 million school, which opened in August, currently serves a freshman class of about 350 students. By the 2024-2025 school year, it will enroll more than 1,000 students in grades nine through 12. The school has the capacity to serve up to 2,000 students.
Twists and Turns
For the district's foodservice planners, led by Greenville County Schools Director of Food and Nutrition Services Joe Urban with the assistance of Director of School Facilities Jaime Benton, reaching the servery's final layout involved its own evolutions.
"We were tasked with designing a kitchen layout that would be suitable for a school with an initial population of 1,000 students that would eventually double to 2,000," Urban says.
Urban and his team have ample experience in the field. "We operate nearly 100 kitchen facilities in the Greenville district, which gives us the benefit of drawing from the best and [avoiding the] worst practices of prior K-12 kitchen designs," says Urban, who has designed six GCS kitchens to date with two more in the pipeline. See FER's September 2021 issue for coverage of the district's Roper Mountain Science Center.
"As a support department, our main objective is to design spaces that are not only efficient for staff, but are also conducive for a pleasant dining experience for students, that can work within the tight lunch schedules of the K-12 environment," Urban says.
Planning for Fountain Inn High started in late 2017. Urban provided architects with an initial layout of a kitchen he knew would work for the school.
"We have a base kitchen model we like to use for all new facilities," Urban says. The layout maximizes flow and minimizes steps from the back-of-house to front-of-house through a series of parallel stations that allows food to be moved steadily from back to front. Walk-ins and dry storage anchor the back-of-house, opening onto the prep area with plenty of worktables. Prepped items then flow either to the cookline or to a line of pass-thru hot and cold holding cabinets that support the serving line.
As often happens during design phases, the school's footprint morphed, and Urban's preferred kitchen layout no longer fit the revised space. Adjusting the prep and cooking areas was a matter of going back to the CAD program and reconfiguring. He reduced the footprints for the dry storage area, manager's office and dishroom to gain the proper square footage needed for the prep and cooking areas.
Bay Watch
But when it came to the serving line, Urban's standard front-of-house layout hit a wall, literally. Although the overall foodservice square footage is comparable to that of other area high schools, the more than 6,000-square-foot servery and dining area lacked the length for GCS's signature, long serving line.
"We would have ideally liked an additional 50 feet for a straight-line servery," Urban says.
The solution for the more compact serving line, but with equal throughput capacity, came from Benton, who proposed a series of U-shaped areas, forming bays. The six bays, each about 160 square feet in size, come equipped with drop-in hot and cold food wells, a heated shelf food warmer and a reach-in cold merchandiser. Freestanding milk coolers help define the path of each serving area. Three cashier stations handle two bays each.
Pass-thru hot- and cold-holding cabinets, two of each, allow employees to conveniently move prepared food from the kitchen to the servery for four bays. A pair of reach-in hot- and cold-holding cabinets serve the two bays farthest from the kitchen.
Students enter a bay from the left side, choose a hot entree and cold items, then scan their ID cards at the cashier stand. Each bay can handle up to 400 customers per two-hour lunch period, the highest-volume meal period of the day.
Moving into the back-of-house, measuring nearly 6,000 square feet, the kitchen features a robust equipment lineup. Here, the school's culinary team, which will number 10 to 12 staff members as the school hits full capacity, turns out a daily made-from-scratch menu that earns rave reviews from students and staff alike. By way of proof, breakfast participation rates average about 38%, and for lunch, 89%, which is "an extremely high number," Urban says.
The cookline starts with an electric fryer battery with built-in filtration on the far end. Next comes a series of three double-deck convection ovens that handle a large portion of cooking, followed by a pair of double-deck boilerless steamers. A countertop tilting kettle used for many of the house-made sauces sits next to the steamers, and a 40-gallon tilting braising pan rounds out the under-hood equipment.
"We operate nearly 100 kitchen facilities in the Greenville district, which gives us the benefit of drawing from the best and [avoiding the] worst practices of prior K-12 kitchen designs."
—Joe Urban, Greenville County Schools
Behind the cookline, the prep area has ample worktable space for chopping, washing and prepping fruits, vegetables and proteins. A 312-square-foot walk-in cooler and a 380-squarefoot walk-in freezer back the prep area. The dry storage area covers about 690 square feet. A dishroom and a mop sink room with a washer and dryer round out the back-of-house.
The new kitchen's design takes maintenance and cleaning into account.
For starters, "our equipment choices focus on standard manufacturer models used district-wide," Urban says. "As a result, our internal maintenance team becomes very familiar with the equipment and are able to diagnose issues quickly and make repairs with parts we keep in stock."
As for cleaning, "most of the equipment is on casters to allow moving for cleaning," Urban adds. "We placed 50-foot hose reels, four in all, so they can be used to hot-hose clean all areas."
A Look Ahead
Fountain Inn High's foodservice operations will continue to evolve for the next three years as the school grows to capacity.
"As apprenticeship opportunities arise for our students and they become more responsible for their own time, we expect to be adding in grab-and-go options [to the current predetermined meal periods]," Principal Tiller says.
Facts
FOUNTAIN INN HIGH SCHOOL
FOUNTAIN INN, S.C.
MENU/SEGMENT: K-12 foodservice
OPENED: August 2021
NUMBER OF STUDENTS: Currently 350 students (ninth grade only), which will gradually increase each year; able to hold up to 2,000 students
SIZE: Kitchen: 5,895 square feet; dining area: 6,018 square feet
SEATING: 350
HOURS: Breakfast: 7:45-8:15 a.m.; lunch: 11:45 a.m.-2 p.m.
EQUIPMENT PACKAGE: $786,000
GREENVILLE COUNTY SCHOOLS: Jaime Benton, director of school facilities; Joe Urban, director of food and nutrition services
ARCHITECT: Craig Gaulden Davis, Greenville, S.C.
DEALER: Food Equipment Co., Greer, S.C.
WEBSITE: gcsfans.com
Equipment

STORAGE & PREP
Metro shelving
Bally walk-ins
Wasserstrom worktables, dish tables
Winston mobile proofer cabinets
Mars air curtains
New Age racks
Robot Coupe food processor
Advance Tabco hand sinks
Manitowoc ice maker
New Age can rack
Lakeside utility carts
COOKLINE & SERVERY
Southbend convection ovens
AccuTemp convection steamers, countertop kettle
Vulcan tilting braising pan
Eagle floor trough
Pitco fryers
Traulsen pass-thru heated cabinets, pass-thru refrig., heated reach-in cabinet, reach-in refrig.
Vollrath drop-in hot food wells
Amtekco drop-in cold food wells
Beverage-Air milk coolers
Wasserstrom serving counters
Delfield drop-in refrig. merchandiser
Hatco heated shelf food warmer
BSI food shields
WAREWASHING
Salvajor disposer
Hobart rack-conveyor dishmachine
Wasserstrom 3-comp. sink, overshelf, dish tables
Advance Tabco hand sink
T&S Brass wall-mounted hose reel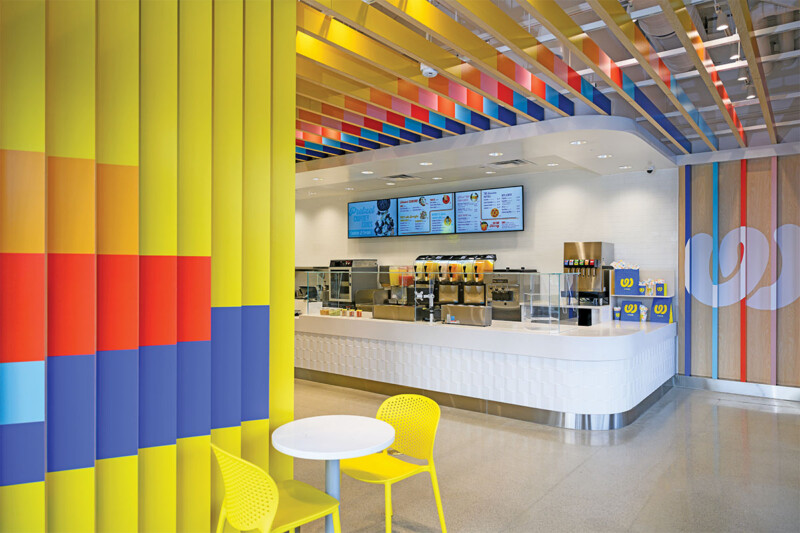 Kitchen Design
Wetzel's Pretzels, the multiunit bakery of shopping mall fame, now offers its soft pretzels and more at street-side through its latest concept.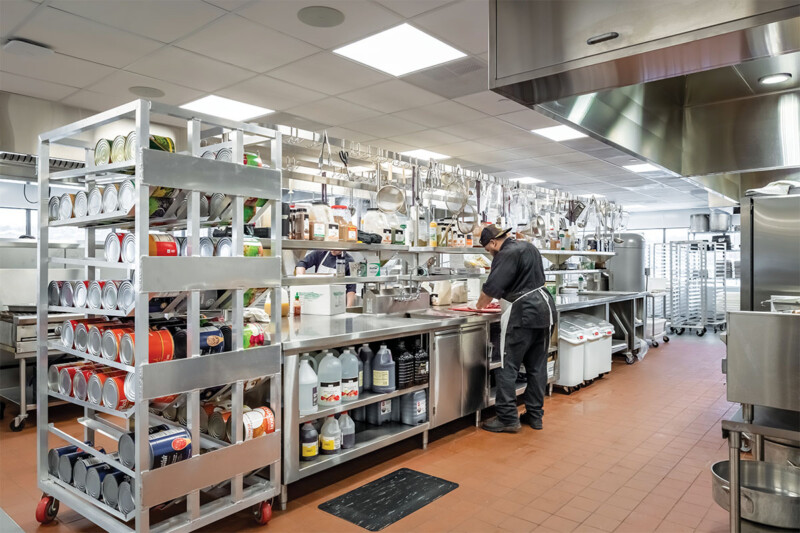 Kitchen Design
Open Arms of Minnesota—a volunteer-powered, nonprofit organization that provides meals to critically ill Minnesotans—needed more room.