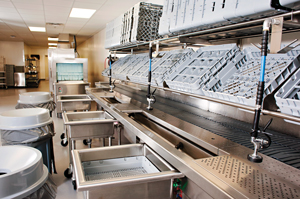 Few kitchen designers start out planning the warewashing area first, but it's a shame so many dishrooms seem to be afterthoughts, crammed, make-do-style into any space left over after the rest of the facility is designed. It's a shame because well-designed dishrooms are a critical component of a smooth-operating foodservice. We got in touch with Lisa Gibson, MBAM, Director of Nutrition & Food Service, Sanford Medical Center, Fargo, N.D. Her foodservice renovation by Ricca Design Studios' Principal Kathleen Seelye, FFCSI, includes an exemplary warewashing facility. The long rectangular space has two entrances dedicated to soiled wares and two exits dedicated to clean wares, so soiled and clean never cross. There's room for carts with soiled ware to be unloaded to scrapping and to line up before they go into a cart wash room. Cart wash has a second exit door that leads into the kitchen so that staff can roll clean carts to a staging area, ready to fill with fresh patient trays. In this dishroom design, pots and pans get their own cleanup area equipped with a power soak sink, a huge three-compartment sink and lots of special drying racks, which allow big pans to dry upright on an angle (not shown). Potwash is open to the dishroom but also directly accessible to the kitchen cookline via its own door. The photo here gives you an idea of the other very smart design elements that make this one of the most efficient dishrooms we've ever seen.
• This scrapping area features powerful, low-flow sprayers, big, mobile garbage cans, and a scrapping trough that leads to a pulper housed in its own room (outside of photo) to contain noise and odors. The scrapping area can accommodate one to three employees depending on need.
• A waste-heat recovery dishmachine (not budgeted) would capture the heat from steamy effluent and use it to preheat incoming water. This option reduces energy use but also alleviates a typical dishroom's steamy, wet and humid atmosphere.
• Dishrooms need plenty of airflow and proper ventilation to dispel the steam and humidity.
• Look into shelving options for dishrooms; don't just choose flat shelving. Makers offer shelves that form a "V" shape for angling pans or that have wider slats to hold specific pans and wares upright. This dishroom also has room to stage four dish dollies at the unload end.
• The dishmachine is equipped with a long unload area to allow wares to dry more without backing up the machine when employees can't get to them yet. Avoids the need to stack wet wares.
• A flight-type dishmachine is the right choice for the volume and type of wares. It's high-temp and includes a blower at the end to dry china and, most importantly, plastic wares and trays.
• Overhead racks angle ergonomically so employees can pull and fill as needed.
• Floors are epoxy and walls are epoxy paint. Make sure your walls withstand humidity and flooring is non-slip and properly sloped for draining. Take care in positioning drains.
• Each scrapping position features a soak sink for utensils, a critical feature. Agitating soak sinks are available today, as well.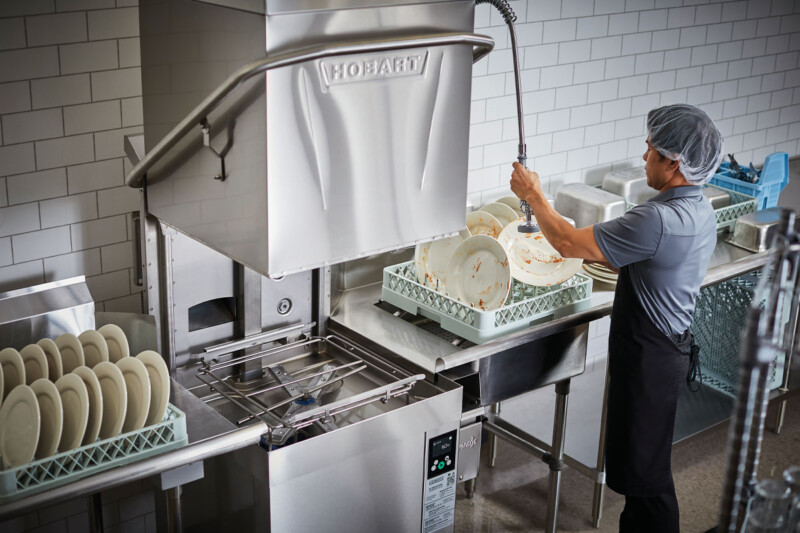 Equipment
Energy Star Version 3.0 pushes door-type dishmachines to the next level of efficiency.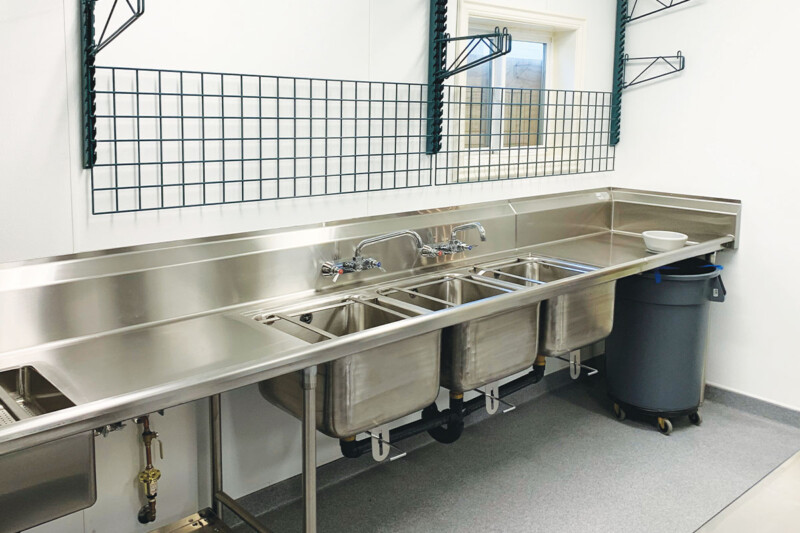 Equipment Comparisons
Study materials, construction and bowl sizes when specifying an off-the-shelf three-compartment sink.